The current time in Athens is 21:30 on September 23, 2023
Olympic Cycling News for August 18, 2004
Edited by John Stevenson
"Angry" Hamilton's comeback of the year
By Robert Smith, AFP/AAP
Tyler Hamilton
Photo: © AFP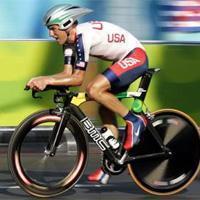 Tyler Hamilton bounced back from the disappointment of his short-lived Tour de France this year to capture the Olympic time trial gold medal.
The 33-year-old American, who has been in the shadow of six-times Tour winner and compatriot Lance Armstrong, powered to an 18-second victory in the time trial ahead of Russian defending Olympic champion Viatcheslav Ekimov and countryman Bobby Julich.
It was a momentous day for Hamilton to erase the bad memories of his injury-enforced withdrawal during the Tour and propel him to his career high point, clocking 57 minutes 31.74 seconds for the 48km course.
Hamilton, Armstrong's former teammate at US Postal, injured his back in a crash which led to his retirement during the 13th stage of the Tour.
"Fantastic. Unbelievable. It hasn't sunk it yet," Hamilton said. "I gave it everything I had. I've been angry ever since crashing out of the Tour, and I took that anger out here today."
Click here for the full story
Men's TT - Full results, report & photos
Men's TT - Live report
Bruyneel salutes Eki
Viatcheslav Ekimov (Russia)
Photo ©: AFP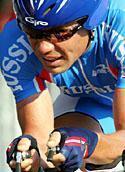 US Postal service directeur sportif Johan Bruyneel has been quick to pay tribute to evergreen Russian rider Viatcheslav Ekimov. Away from the Olympics, Ekimov is a key lieutenant for Lance Armstrong in US Postal, but was not expected to display the storming form that carried him to the silver medal in yesterday's men's time trial - except perhaps by Bruyneel.
"What can I say about Eki - at 38 years old?" said Bruyneel in a team newsletter. "I remember back in 2002 when Eki made his comeback with us, when he called and said - 'I want to race again and at least go on to defend my title at the 2004 Olympics.' I remember thinking that was a strong statement at the time and seemed like a crazy challenge, but he is such a professional and knows so much what he wants. When he is ready, he is ready - today was the best proof of that."
Bruyneel added that to defend his title so strongly, and nearly pull off the victory, four years later was a tremendous effort. "I'm really happy for him and even a little disappointed that he came so close to winning - it was an amazing performance," said Bruyneel. "After watching his effort, there is nothing else I can say. He's such a professional. He has been talking about the Olympics the whole year, even during the Tour de France. He gave everything we asked of him at the Tour and still was thinking about the Olympic time trial. Now I understand why."
Van Moorsel beats the pain, Barry excited
Zijlaard-Van Moorsel (Netherlands)
Photo ©: AFP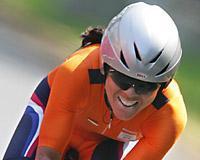 In taking a powerful victory in the women's time trial - beating runner-up Dede Barry (USA) by 24 seconds and bronze medallist Karin Thuerig (Switzerland) by 43 - Leontien Zijlaard-van Moorsel (Netherlands) was motivated by a desire to end her career on a high note and the sheer effort of will needed to beat the pain of the injuries from her road race crash.
But before the start she wasn't even sure that racing was a good idea. "I did have my doubts," Zijlaard-van Moorsel said about starting the time trial. "It was very difficult. I was very nervous, but after four years of training, I decided to give it my best."
Zijlaard-van Moorsel finished the race with "a terrible headache" that came on about 10km into the race, and aching all over from her injuries. The discomfort clearly showed at the finish. "It was tears of joy and pain at the same time, she said. "Especially the last 10 kilometers of the race were very painful.
"After my crash, I thought it was over," she added. "I didn't want my career to end in a bad way, that's why I competed. Top sport is not good for your health."
This Olympic gold medal won't quite be Zijlaard-van Moorsel's cycling swansong, though. She competes in the 3000m pursuit on the track later this week, an event in which she shares the status of hot favourite with world champion Sarah Ulmer (New Zealand). After that, Van Moorsel seems certain to retire, though she has decided that before, only to find the lure of competition too strong.
Zijlaard-van Moorsel's next move will probably be as a coach and mentor, training young athletes and helping them avoid mistakes such as her brush with anorexia in the late 90s. "But they have to be as dynamic as me," she said. "They have to be fighters, to have a fighting spirit."
Runner-up Dede Barry (USA) is also thinking about life after cycling. Married to US Postal's Michael Barry, who is in Athens representing Canada, Barry says she is considering starting a family. "We'll see what happens," she told The Morning Call. "I'm really enjoying cycling. We'll see what happens. … I am ready to enter the next phase and have kids."
For now, though, she's "really excited" about making the podium in Athens. "My preparation was really the key," said Barry, "To me, this is a dream come true. I focused on the task at hand. I focused on every pedal stroke. I did quite a bit of specific testing to make my time trial position better and every race I did this year was preparation towards the Olympics."
"It's a technical race," said Barry. "You have to get focused only to your abilities, to your technique and to your time. I have taken part in other time trials in the past, but for this one, I felt strong and confident from the beginning."
Barry believed she'd lost time on the second half of the course after recording the fastest split time so far. (However the split times show almost all of Zijlaard-Van Moorsel's 24 second advantage was made in the first half). "I think the heat got to me, as it did to all the riders," Barry said. "On the way back, there were two hills, that's where I lost my time. Leontien obviously saved something."
One thing that almost certainly did help was getting out of the Olympic village to a hotel near the TT course's start/finish. "The village is a little crazy … I think I definitely relaxed a little bit more by being down here, and that was the key," Barry said.
Women's TT - Results, report & photos
Women's TT - Live report
Australians react to Valen comments
By Kristy Scrymgeour
The Australian team has reacted in disappointed tones to comments made by Norway's Anita Valen after the women's road race on Saturday.
Norwegian newspaper VG reported that Valen was angry about Sara Carrigan's win, talked of a "secret room in their sports facility" and pointed out that Carrigan had not raced much this season, but had spent time at the AIS's training center in Italy instead.
"Before the race I underlined a lot of names of girls that could be the winner today," Valen said. "I didn't think of her at all. ... No way that she was a favourite."
When Cyclingnews caught up with Carrigan last night, she said, "I was really, really, really disappointed. We were teammates last year and we've had our differences but for someone to make something up like that... Actually I was just talking to her before you called and she explained to me that all she really said to the journalist was she was surprised that I had won because she hadn't seen me racing lately and that the journalists had turned it all around. If Anita is telling me the truth, and I like to believe she is, then it is just the journalists trying to put more dirt on the sport of cycling and that makes me even sadder."
Australian team coach James Victor was less restrained in his response. "They can take as much blood and urine from the Australian girls and all the Australian girls who have been in the AIS program over the years and they will find nothing," he said in response to Valen's veiled implication that Carrigan's success was not just down to teamwork. "The UCI know that. Of all the Australian girls they have tested over the year, they have all been clean. I believe that we have shown that we can compete in the one day races and that you can do it clean."
Referring to Valen's 'non-negative' test for caffeine in May 2003, over which no action was taken, Victor added, "For people who have tested positive in the past to come forward and say things like this is really sad."
AIS women's coach Warren McDonald stood by his star. "Sara has proven by winning races in the last year, placing at worlds that she has the ability to win," said McDonald. "She also showed very strong moments this year. She burnt out last year so this year she simply didn't do as much racing.
"It's the same as any sort of result these days. If somebody wins, people always say 'what are they taking.' I believe Sara is 100 percent clean. We believe that all of our girls are capable of doing it clean and we have proven that."
Ulmer increases focus for Athens
By Daniel Gilhooly, NZPA
Sarah Ulmer breaks Leontien Zijlaard Van Moorsel's previous world record in the women's individual pursuit at the 2004 World Track Championships
Photo: © Mark Gunter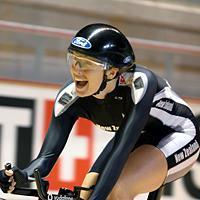 New Zealand track cycling star Sarah Ulmer admits to feeling the pressure that goes with being a world champion but is confident that a more selfish buildup will improve her Olympic gold medal prospects. Ulmer and coach Brendon Cameron deliberately left their arrival in Athens until Monday - less than a week before the 3000m individual pursuit qualifying on Saturday - to escape pressure and distractions.
"I flew into the village after the team function and opening ceremony because I'm trying to do everything catered towards my competition rather than anything else," she said. "I wouldn't have dreamed about that in Atlanta or Sydney. I just wanted to soak up everything to do with the Olympics. I'm very much more performance-based than what I was."
Several leading New Zealand athletes at these Games have tried to play down talk of pressure to avoid any extra burden. However, Ulmer was happy to confess she felt under pressure after making herself the favourite for the 3000m at these games by winning the world championship at Melbourne four months ago and breaking the world record.
"That's one of the things of being a world champ," she said. "I'm still fizzing on that and what I did there and I'm trying to take that confidence through to the competition rather than dwell on how many people I expect to win it."
Click here for the full story.
(All rights reserved/Copyright Knapp Communications Pty Limited 2004)