The current time in Athens is 21:32 on September 23, 2023 - For current weather, click here
28th Olympic Games - JO
Athens, Greece, August 14-28, 2004
Thursday, August 19, 2004
Ulmer increases focus for Athens
By Daniel Gilhooly, NZPA
Sarah Ulmer breaks Leontien Zijlaard Van Moorsel's previous world record in the women's individual pursuit at the 2004 World Track Championships
Photo: © Mark Gunter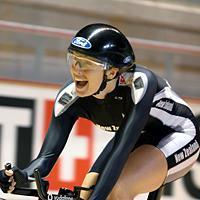 New Zealand track cycling star Sarah Ulmer admits to feeling the pressure that goes with being a world champion but is confident that a more selfish buildup will improve her Olympic gold medal prospects. Ulmer and coach Brendon Cameron deliberately left their arrival in Athens until Monday - less than a week before the 3000m individual pursuit qualifying on Saturday - to escape pressure and distractions.
"I flew into the village after the team function and opening ceremony because I'm trying to do everything catered towards my competition rather than anything else," she said. "I wouldn't have dreamed about that in Atlanta or Sydney. I just wanted to soak up everything to do with the Olympics. I'm very much more performance-based than what I was."
Several leading New Zealand athletes at these Games have tried to play down talk of pressure to avoid any extra burden. However, Ulmer was happy to confess she felt under pressure after making herself the favourite for the 3000m at these games by winning the world championship at Melbourne four months ago and breaking the world record.
"That's one of the things of being a world champ," she said. "I'm still fizzing on that and what I did there and I'm trying to take that confidence through to the competition rather than dwell on how many people I expect to win it.
A mysterious abdominal ailment affected her performance in Sydney four years ago, and she eventually finished fourth after being caught in the semifinals by eventually Leontien Zijlaard-Van Moorsel (Netherlands).
Nevertheless, Ulmer went on to win a second Commonwealth Games gold medal and the high point of her career to date in Melbourne. Any hangover from what happened at Sydney four years ago was long gone. "I don't really dwell on past competitions, even the good ones," she said.
"Occasionally I think about them and give myself a high five but generally speaking I don't, certainly not ones of four years ago. That's history."
Ulmer knows from experience that there are negatives associated with starting in the second half of the Games.
"Often when you're getting up early to hop on the rollers or go to breakfast you've got people who have already competed coming home from the night before," she said. "Sometimes it's pretty hard to stay focused. It takes longer to eat breakfast or go to the track but otherwise it's business as usual."
Neither Ulmer nor Cameron would comment on the performance of Zijlaard-Van Moorsel, who defended her Olympic time trial title in dominating style yesterday. Cameron said they wouldn't start thinking about the form of opponents until they advanced among the eight-fastest qualifiers from the qualifying round.
Ulmer said she was glad they had not left their arrival any later than Monday after discovering the velodrome is not fully covered, something they presumed would be the case at an Olympic Games. Since arriving, Ulmer and Cameron have been using the limited time available to practise at the velodrome and get to grips with the levels of wind that whip through the track area.
The last two days' training had been better than their first visit on a very windy Monday, when Cameron struggled to provide the pace on a derny motorbike. "It was almost stopping the motorbike down one of the straights," he said.
Cameron said if they had realised the venue let so much wind to flow through, they would have tried to practise more at outdoor venues near their Bordeaux training venue in southern France. Seeking local knowledge from Greek cyclists working here as volunteers working, Cameron was optimistic wind wouldn't play a major role in the competitions.