The current time in Athens is 01:32 on December 9, 2023 - For current weather, click here
28th Olympic Games - JO
Athens, Greece, August 14-28, 2004
Track Day 6 Round Up - August 25, 2004
Two more golds complete Australian domination
Russia third in medals table after women's points race
By Rob Jones in Athens
The track portion of the Olympic cycling program concluded tonight with the men's keirin and Madison, and the women's points race. Australia confirmed its status as the dominant nation in track cycling by adding two golds and a bronze to its tally of nine track medals (including 5 gold) in the keirin and Madison, while Russia added the women's points gold to the men's points title it won yesterday.
Consistency pays off for Olga
Olga Slyusareva (Russia)
Photo ©: epicimages.us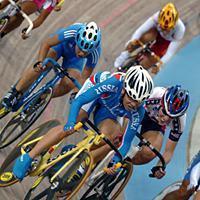 Unlike the men's lapfest, the women's 25 kilometre (100 lap) points race had not one person lap the field. Instead, Russia's Olga Slyusareva consistently nabbed intermediate sprints take the title ahead of Belem Guerrero Mendez (Mexico) and Maria Luisa Calle Williams (Colombia). Mendez , Williams (Colombia) and Gemma Pascual (Spain) tried in the first half of the race, but became bogged down with slower riders and were eventually brought back. Individual pursuit champion Sarah Ulmer (New Zealand) made a valiant attempt with the race two-thirds over, but she and Emma Davis (Great Britain) were quickly chased down.
In the first half of the race Calle Williams looked to be the strongest, with 12 points after the fifth sprint, followed by Guerrero Mendez at 8 points. However, Olga Slyusareva (Russia) took charge in the latter half of the race, winning three of the remaining five sprints, and collecting points in every one, to finish with 20 points to Guerrero Mendez's 14. Calle Williams hung on for bronze with 12 points, despite crashing in the final corner and not actually crossing the line, 3 points ahead of Erin Mirabella (USA).
Slyusareva commented after the race that she was dedicating her medal to her mother, whose birthday it is today.
Guerrero Mendez said that it was smart riding that brought her a medal. "It was a very difficult race. Normally I am not that fast, but on this fast track I was able to ride an intelligent and aggressive race. If you can combine these two elements, then you have a chance. But Olga was the strongest woman in the field, and is a good Olympic champion."
Aussies powerful in Madison
The Australian Madison team of Graeme Brown and Stuart O'Grady
Photo ©: epicimages.us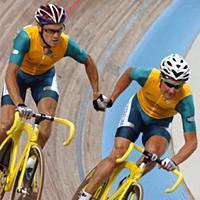 Australia brought in Stuart O'Grady to team up with Graeme Brown for the 200 lap Madison, and the combination was unbeatable. The duo were in every important move, and were the first of seven teams (along with Germany) to steal a lap on the field. The pair only won one of the sprints, but were consistently in the points, scoring in seven of the ten sprints for a total of 22 points. Switzerland, with Franco Marvulli and Bruno Risi, made a late surge to take the silver, by winning the final three sprints, overtaking Great Britain (12 points) and Germany, who finished fourth with nine points.
O'Grady was the key, chasing down attempts by rivals Switzerland, Great Britain and Germany to gain a lap. As the rest of the field faded, O'Grady seemed to get stronger, and even tried to steal another lap on a couple of occasions. Great Britain's team of Rob Hayles and Bradley Wiggins had to overcome a mid-race crash by Hayles, that was reminiscent of his crash in Sydney in four years ago, when the British team dropped to fourth from the silver medal position. This time, Hayles was able to rejoin the race, and then Pursuit gold medalist Wiggins took a lap on the field to put them in contention for a medal.
"This has been a great three days for me - a world record and two gold medals," said Graeme Brown. "It is unbelievable, I can't think of a better three days in my life. Basically, Stuey and I talked about possible scenarios, and how we would respond, and then it worked out pretty much the way we planned."
For the Swiss, the silver was sweet enough. "Silver, it is our dream." said Marvulli. "For Bruno this is his fourth Olympics, and nothing before, no diploma. We travelled all around the world to qualify for this (event), this means so much to us. Towards the end we could see that the Australians were too strong for us to gain another lap, so I talked with Bruno and we concentrated for the sprints."
"I never thought I would be so happy to win bronze" commented Hayles. "After crashing in Sydney while in the silver medal spot and dropping to fourth, and then finishing fourth in the pursuit here, I'm really chuffed at this medal. At first I thought history was repeating itself when I went down, but I just got my composure and then got back on the bike."
Double gold for Bayley
Ryan Bayley and Shane Kelly
Photo ©: epicimages.us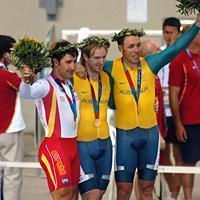 Ryan Bayley (Australia) joined countryman Graeme Brown as a double gold winner on the track with his win in the keirin. He won the final in dramatic style, powering past four other riders in the final lap to become the first rider to win both the keirin and sprint titles. Jose Escuredo (Spain) took the silver medal, while Rene Wolff (Germany) was next across the line, but was relegated after causing a crash which brought down Mickael Bourgain (France) in the last corner (Wolff moved up from the bottom of the track, causing a chain reaction which brought Bourgain down). This moved Bayley's team mate Shane Kelly up into the bronze medal spot.
Defending Olympic champion Marty Nothstein (USA) made a quick exit from the event, after finishing third in his first heat and fourth in the repechage, and world champion Jamie Staff (Great Britain) was relegated in the second round, which kept him out of the gold medal final. Theo Bos (Netherlands) also had bad luck, brought down in a crash in his second round heat by Greek rider Labros Vasilopoulos, who was disqualified.
"Today is very special" said Bayley. "I didn't get home until very late (after his sprint victory), so I was quite tired when I arrived at the velodrome today. But in the first round my legs opened up very good, and in the second it was the same. Then, just before our final the Madison was run, and it was unbelievable to watch. It Gee'd up the whole team. The race went just the way I wanted it; I don't know what happened (with the crash), I didn't see anyone, I just put my head down."
Escuredo gave Spain its fourth track medal, and feels that his luck is changing. "I am extremely happy to finally have won this medal," he said. "I have felt sometimes at the world championships and Olympics that luck was against me in the past."
Cycling now takes a day off, before starting up again on Friday with the women's mountain bike race at the Parnithia venue.
Final track cycling medal standings
                     Gold    Silver  Bronze  Total
                     
1 Australia             5       2       2       9
2 Great Britain         2       1       1       4
3 Russia                2       1       0       3
4 Germany               1       0       3       4
5 Canada                1       0       0       1
5 New Zealand           1       0       0       1
7 Spain                 0       2       2       4
8 France                0       1       1       2
8 Netherlands           0       1       1       2
10 China                0       1       0       1
10 Japan                0       1       0       1
10 Mexico               0       1       0       1
10 Switzerland          0       1       0       1
14 Belarus              0       0       1       1
14 Colombia             0       0       1       1