Recently on Cyclingnews.com
The current time in Athens is 01:56 on January 31, 2023 - For current weather, click here
28th Olympic Games - JO
Athens, Greece, August 14-28, 2004
August 25: Women's Points Race, 25 km
Slyusareva becomes Olympic champion
By Jeff Jones
Olga Slyusareva (Russia)
Photo ©: epicimages.us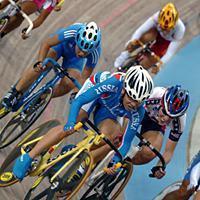 The pressure was on Olga Slyusareva's shoulders coming into the women's points race this evening, and the 35 year old Russian did not succumb to it, taking a fine victory with a 6 point advantage over Mexico's Belem Guerrero and 8 points over Colombia's Maria Luisa Calle. Slyusareva, who is the world record holder in the women's 200m sprint (10.831 seconds, set in 1993) used her most powerful weapon to good effect, winning three of the 10 sprints on offer to amass more points than her opposition, which was watching her closely.
Slyusareva started slowly, but in the last half of the race showed her excellent recovery powers to make up the disadvantage to Guerrero and Calle. "I lost the first two sprints, so in the beginning I didn't really think that I could still win this race," she said. "Finally it all went well, because I was very strong today.
"I am world champion in the points race since 2001, but that's not the most important. First of all, there is the birth of my son, that's really important in my life. After that, there is now this gold medal."
How it unfolded
Katherine Bates (Australia)
Photo ©: epicimages.us

The 100 lap race featured a sprint for points (5, 3, 2, 1) every 10 laps, with the proviso that if a rider lapped the field, she would receive 20 bonus points. The first attack was made by Australian Kate Bates, who opened up a 100m lead to take the first sprint by a comfortable margin ahead of Erin Mirabella (USA), Slyusareva and Yong-Mi Kim (Korea). After Bates was caught, there was an immediate counter attack by Guerrero and Calle, who quickly took half a lap on the field. They stayed away to take the second sprint with Guerrero ahead of Calle, while Yoanka Gonzalez (Cuba) took third ahead of Slyusareva.
The pair kept working as Spaniard Gemma Pascual counter-attacked and caught them, also managing to take the third sprint from Calle and Guerrero. Britain's Emma Davis was the next to close the gap to form a leading group of four riders, and this was getting dangerous for Slyusareva. Calle won the fourth sprint ahead of Guerrero, Pascual and Davis before the breakaway was finally caught by a splintering peloton.
Maria Luisa Calle Williams (Colombia)
Photo ©: epicimages.us

Italian Vera Carrara took a flyer with a few laps to go to win the fifth sprint ahead of Mirabella, Bates and Calle, who was now leading the race outright. Next it was Frenchwoman Sonia Huguet who launched an attack, chased by Slyusareva and Visser (Ned). The peloton reacted but not in time to prevent Slyusareva winning the sixth sprint ahead of Visser, Huguet and Guerrero.
The inevitable counter attack came from Emma Davis, with Olympic pursuit champion Sarah Ulmer playing her only card and closing the gap. The pair opened up half a lap lead, with Ulmer taking the seventh sprint from Davis, Slyusareva and Visser. But the gap was not big enough and they were reeled in by the bunch. Slyusareva took control by winning the eighth sprint ahead of Carrara, Kyriaki Konstantinidou (Greece) and Mirabella and the Russian was now in the lead.
Erin Mirabella (USA)
Photo ©: epicimages.us

After a short lived attempt by Ulmer to attack, the penultimate sprint was also won by Slyusareva in front of Ulmer, Mirabella and Guerrero. All the Russian had to do now was finish the race and prevent anyone from taking a lap, and that did not present a problem. The final sprint was won by German Katrin Meinke ahead of Gonzalez, and Guerrero, with Slyusareva taking the remaining point for fourth. That gave her 20 points in total and the Olympic title for the first time in her long career, which includes four world points championships in a row (2001-2004).
Photography
Images by www.epicimages.us
Images by AFP Photo
Results
1 Olga Slyusareva (Russia)                   20 pts
2 Belem Guerrero Mendez (Mexico)             14
3 Maria Luisa Calle Williams (Colombia)      12
4 Erin Mirabella (USA)                        9
5 Vera Carrara (Italy)                        8
5 Sarah Ulmer (New Zealand)                   8
7 Kate Bates (Australia)                      7
7 Gemma Pascual (Spain)                       7
9 Yoanka Gonzalez Perez (Cuba)                5
9 Katrin Meinke (Germany)                     5
9 Adri Visser (Netherlands)                   5
12 Emma Davies (Great Britain)                4
13 Sonia Huguet (France)                      2
14 Meifang Li (China)                         1
15 Lada Kozlikova (Czech Republic)            0
16 Kyriaki Konstantinidou (Greece)          -18
17 Yong-Mi Kim (Korea)                      -19
18 Lyudmyla Vypyraylo (Ukraine)             -20
DNF Santia Tri Kusuma (Indonesia)           -40