The current time in Athens is 18:52 on December 9, 2022 - For current weather, click here
28th Olympic Games - JO
Athens, Greece, August 14-28, 2004
Results First round Second round Finals Track 101
August 25: Men's Keirin finals
Bayley does it again
By Jeff Jones
Ryan Bayley pulls away
Photo ©: epicimages.us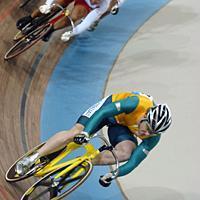 Olympic sprint champion Ryan Bayley demolished his opposition in the final of the men's keirin to take the title and his second gold medal of this Olympics. Starting his sprint from well over a lap to go, Bayley rode the last 200m in 10.601 seconds to beat Jose Escuredo (Spain). In the battle for bronze, Rene Wolff (Germany) crossed the line ahead of Shane Kelly (Australia) and Josiah Ng (Malaysia), but both Wolff and Ng were disqualified for taking out Frenchman Mickael Bourgain (France) on the finishing straight, giving Kelly the bronze.
The Australians had the numbers in the final as Kelly took the derny bike ahead of Bayley and Wolff. The German dropped back with 6 laps to go to leave Bourgain in third wheel, but the two Aussies were controlling things. Bayley backed off Kelly's wheel with 4 to go, prompting Escuredo to come round, and when the bike pulled off it was the Spaniard leading with Kelly following and Bayley in fifth. Bayley didn't wait as long this time to fire up, and wound it up on the finishing straight with 1 lap to go to power around everyone and win by a couple of bike lengths. Escuredo was a clear second, but the jostling for the bronze medal saw Bourgain touch wheels behind Kelly and go down. It was later ruled that Wolff and Ng had caused the crash.
Marty Nothstein (USA)
Photo ©: epicimages.us

For 22 year Bayley, who became the youngest ever world keirin champion in 2001 when only two riders finished on their bikes, winning two gold medals at the Olympics was more than a dream. The West Australian had to back up from the men's sprint final last night, but showed that he still hadn't lost his kick. "Today was a good day for me," he said. "The race went as I wanted to go. It was very hard to wake up this morning but after that it went OK."
Ryan Bayley and Shane Kelly
Photo ©: epicimages.us

Spain's Escuredo capped off a solid performance by his country on the track by taking silver, saying that he was "extremely happy because I finally won a medal here. I had a good year, including a good World Championships in Melbourne."
For the experienced Kelly, winning bronze was a bonus after he finished in fourth place. "I hoped I was in third place and here I am now with the bronze medal around my neck." Kelly also paid tribute to his teammate Bayley, saying "Over the last year, Ryan just stood up and was unbelievable. When he doesn't want to train, he doesn't, but when he wants to, he does it seriously."
Australia finished the track meet with an unprecedented five gold medals, which when added to Sara Carrigan's gold in the women's road race equalled the country's combined gold medal tally of six cycling golds ever since the Olympics began. And all this despite (or because of?) the war waged against track cycling in the Australian media, principally by the AOC, over the last few months.
Photography
Images by www.epicimages.us
Images by AFP Photo
Rene Wolff (Germany) rides to the line in the second round of the men's keirin as Labros Vasilopoulos (Greece) and Theo Bos (Netherlands) hit the deck
Shane Kelly (Aus) congratulated by the crowd after winning a bronze in the men's keirin
Results
For 1st-6th

1 Ryan Bayley (Australia)             10.601
2 Jose Escuredo (Spain)
3 Shane Kelly (Australia)
DNF Mickael Bourgain (France)
REL Rene Wolff (Germany)
REL Josiah Ng (Malaysia)

For 7th-12th
                                      10.685
7 Lukasz Kwiatkowski (Poland)
8 Jens Fiedler (Germany)
9 Labros Vasilopoulos (Greece)
REL Ivan Vrba (Czech Republic)
DNS Theo Bos (Netherlands)
DNS Jamie Staff (Great Britain)