Recently on Cyclingnews.com
90th Tour de France - July 5-27, 2003
2003 Tour de France journals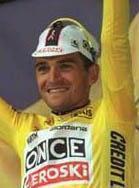 TdF 2002
Photo: © Sirotti
Igor Gonzalez de Galdeano
Nationality: Spanish
Team: ONCE
Igor Gonzalez de Galdeano finished fifth in last year's Tour de France and was expected to be major protaganist in the centenary edition, but a combination of a broken collarbone and French bureaucracy has kept him at home, where he is keenly watching the Tour and sharing his insights on Cyclingnews.
Tour de France entries
It was on stage 4 of last year's Tour de France that Igor Gonzalez de Galdeano found himself in the yellow jersey after ONCE's win in the team time trial. He stayed in the lead until stage 11, when Lance Armstrong stretched his legs on the climb of the Col de Tourmalet to the ski resort of La Mongies. Igor eventually came fifth in last year's Tour and this year he was looking in good shape, as witnessed by his second place in a mountainous stage 5 of the Tour of Germany, but then he crashed in the final stage and broke his collarbone.
De Galdeano was also caught up by French bureaucracy, as he was using the drug salbutamol at last year's Tour for asthma. The French anti-doping council (CPLD) suspended him from racing on French soil because of a positive test and although the UCI ruled at the time that it wasn't a positive test, the CPLD adopted the more stringent World Anti-Doping Agency rules in its decision to sanction the ONCE rider. Under UCI and Tour de France rules he was negative, but under French law he was positive, and he copped a six month ban from racing in France. Although he was going to fight that, it became academic once he broke his collarbone earlier in June.
So this year he is at home, keenly watching the race. Igor will be sharing his insights on Cyclingnews throughout this year's Tour.
Cyclingnews' live coverage of the 90th Tour de France is powered by