90th Tour de France - July 5-27, 2003
2003 Tour de France rider journals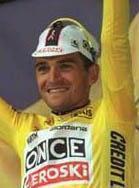 TdF 2002
Photo: © Sirotti
Igor Gonzalez de Galdeano
Nationality: Spanish
Team: ONCE
Igor Gonzalez de Galdeano finished fifth in last year's Tour de France and was expected to be major protagonist in the centenary edition, but a combination of a broken collarbone and French bureaucracy has kept him at home, where he is keenly watching the Tour and sharing his insights on Cyclingnews.
Igor's diary is translated from Castellano by Martin Hardie
Tour de France entries
Stage 20 - It's all over
Finally, this Tour has arrived at its end.
It has been a fascinating Tour, and to start with you have to congratulate all the riders who have been able to finish this centenary Tour. It was a Tour, but as it was the centenary Tour it had to be different, and it has lived up to its promise.
Perhaps the result was no different than we expected, as the winner was the great favourite, and also the second place getter went to the one we presumed it would. And from the start in Paris everything happened. The first leader gave us a surprise, and with it launched a race that wouldn't stop until it returned to its starting point... Paris.
This Tour has crowned Armstrong and placed him in the group of the chosen ones, in that group that I catalogue as being extraterrestrial, since after haven ridden two Tours myself, to think that somebody has the capacity to win five consecutively, is simply incredible.
Now I want to congratulate Armstrong, after winning this tour he has demonstrated that he still a champion, since this time perhaps he was not so superior, but it was with his knowledge that he has been able to recover from all of the incidents along the route and go on to win such a difficult Tour, as he declared he would.
Lance, I invite you to continue riding the Tour since I believe that you are still you are able to win it a sixth time.
Well done and congratulations to Ullrich for being able to leave behind you that difficult situation that you have had during the season and to return to be the great rider that you have always been. Jan, Cycling thanks you for it!
To Vinokourov, you have been the surprise of Tour, congratulations and well done, not only for finishing on the podium but because of your great season. Your performance reminds us that it is still possible to go out and be competitive in more of the season than many of the great riders do.
To the rest, I must mention the great performance of Euskaltel-Euskadi, with Zubeldia and Mayo who have relaunched the team towards higher things. Euskaltel-Euskadi are a team that continues growing, and they will have much more to say in the future.
Also CSC with Hamilton at their head, have had an excellent Tour, winning the team's classification, winning three stages and obtaining fourth position in the general classification. Congratulations.
Even without any more in this Tour it would have been more than enough. We are now waiting for the 2004 Tour, mainly as there have been people who by circumstances or for other reasons were not able to demonstrate great things in this Tour. They can try and demonstrate their potential in the next one, a safe one.
I hope to enter that group of riders in 2004, although this year I still have the Vuelta left, for which I am preparing well, and where I hope to be one of the protagonists.
Until next time and thanks for joining me in watching this great Tour.
Igor.
Stage 19 - It had to happen
Perhaps I was waiting for this. I'd say that the surprise is that Millar has won. Not because he does not have the ability...but because after all of the gambling, the winner was not Armstrong or Ullrich. Armstrong knew how to protect his advantage. Ullrich fell but still with everything he wouldn't have been able to close the gap. The chrono did not help him. It was fast, and the differences between first and tenth were not great.
I give my congratulations to Armstrong. He has been the strongest, although people will agree with me when I say that he has not been as strong as other years. But he has demonstrated that he is the most intelligent, and with that intelligence he has had the strength to win his fifth Tour. I have seen him enjoy the podium. Possibly, it has cost him more than any other.
As far as the rest are concerned, Zubeldia and Mayo go away with a bad taste in their mouths. A great Tour but a bittersweet ending. What seemed to be heading for the podium, has ended up as 5th and 6th.
In the Tour you don't forgive others. And if you forgive, at the end you will pay for it.
Nevertheless, congratulations to all the cyclists. We needed a Tour like this. It was all about cycling. The rest has been left behind.
Thanks,
Igor
Stages 17-18: The breakaways that hurt
One can see that the relentless march onward of this Tour just doesn't stop. Yesterday we saw an escape that commenced at the start, but today it was harder to produce the escape, and perhaps that is what caused the average speed to be so high.
When it takes so much for the break to come together, the kilometres are agonising for those riders who are disputing the general classification, or for those who are very tired, since all they want is some tranquillity after all the stress they have endured. You sit there and see that everyone seems to want to get into the escape...that nobody cares about...and it doesn't stop...it just continues on...and with it the peloton is strung out...and you just sit back and say: "Will you please get away already!"
These are the kilometres that you do not see on TV, but for the riders these are the worst types of stages.
Tomorrow it is a special day, it is going to decide the Tour. In favour of whom? It is not easy. But perhaps if you analyse previous Tours and seeing that Armstrong has recovered towards the end of the race...well it gives me an idea of who the winner is going to be.
Ullrich has not yet been able to win one chrono against Armstrong when they both have equal physical condition...for that reason I believe that aside from gaining his fifth tour Armstrong is going to be the winner after the chrono. It is certain that Ullrich is very good, but perhaps he will not take as much time as he did in the previous, harder chrono. But there will not be much difference between them.
The rest of the positions are now pretty well determined. Perhaps the only one that will lose out will be Mayo. Surely Hamilton will pass him.
This Tour now is about to arrive at its end. And in the best possible way...with great suspense as to who will be the winner.
Stage 16 - Wednesday, July 23: Pau - Bayonne, 197.5 km
This Tour does not rest
Each rider has sought his moment in this Tour. Hamilton no less than anyone else. And what a stage he rode today and as a result he got the most important reward - the stage victory.
But having the stage doesn't mean things stop there. Now he has put himself in a position to threaten Vinokourov's third position, and as a result Telekom had to put almost all the team to work. This Tour does not rest. Hamilton knew to take advantage of the fatigue that reigns supreme in the teams at this point of the Tour and until Telekom organized themsleves at the front his time could not be brought down.Euskaltel, who independently of this are having a great tour had to really put in an effort to try and maintain their positions in the general. The Tour does not pardon ayone and all those who aspire to the primary positions in the overall are great riders.
As I had hoped, this was such a hard stage, but at this point of the Tour these types of stages don't usually determine much between the strong men. All are dedicated to defending what they have and to keeping their strength for the race against the clock this coming Saturday. All believe that will be their day. The day to defend their positions, and if they have a good day, to improve their positions. It is normal. They have got many kilometres in their legs, and unless you are very far off in the general or you have a big day as Hamilton did, it's better to keep a low profile as you really feel that you would rather be finished and that it was all over.
Now two stages come that will allow those who fight out the general to recover and again we will see enter the game those that they want to be protagonists for a day. There will also be the sprints. They are not going to have an task easy to try and keep control since in this race at this point, as I have said before, you have barely any strength and the teams are weakened.
Now we must wait until Saturday. And a fascinating Saturday it will be for sure.
Stage 15 - Monday, July 21: Bagnères-de-Bigorre - Luz-Ardiden, 159.5 km
It was incredible again today!
Falls, attacks, fadings. What more could you ask for? What's more, you could throw a handkerchief over the lot of them.
Armstrong was intelligent. On the Tourmalet, he kept his cool when Ullrich attacked and knew not to show how he was feeling, later he did show it when he was on Luz Ardiden. Look at how strong he was! When he fell, and was left behind at the tail of the group...and then, in the end, it was he who won!
Perhaps, in the last kilometres of the puerto, Ullrich believed he could reduce the gap by about 20 seconds. And what we have now is a Tour that is still open until the final chrono.
But the game is also for 2nd and 3rd position. Vinokourov has been strong but he had a bad day and he knew enough to maintain his calm so as not to lose too much time. Perhaps neither Euskaltel did not know enough to take advantage of the situation, since if they did they didn't work to distance to him more. Maybe taking into account the bonus time at the end, Mayo has gained some seconds to move closer to his companion, and they could be important in the end.
From now on, I don't think much will happen and everybody is going to dedicate themselves to defending until the chrono. But this Tour is different, I have been wrong and therefore, we will continue to have expectations.
Igor
Stage 14: Saint-Girons - Loudenvielle, 191.5 km
How naive I was!
How naive I was... I thought that there would be a decisive move today, a final outcome after the Peyresourde! Madre mia - how different the Tour seems from home! But with everything we have seen, we can't help wanting more. But I think that more might be impossible.
I still cannot forget Beloki. It's a pity. Each day I am more sure that this would have been his Tour. I am not going to deny to you that I also am sad, but if somebody could have made a statement here it would have been Beloki, partly because of his three podium finishes. I have spoken with him and he is better. Come on Beloki!
Talking of today's stage, you have to emphasise the bravery of Vinokourov. He is going for the podium, and today he even wanted the yellow jersey. And it only stayed where it was by a fraction. I still believe in Armstrong but do not see him as super - he gave no help to Ullrich on the ascent and this indicates that he is just fair. But as I have commented over the days everything is controlled.
The podium has moved further away from Zubeldia. Perhaps those attacks of Laiseka and Mayo prompted the attack of Vinokourov and that in turn has caused Zubeldia's drift away in the general classification. If Euskaltel-Euskadi want to reach the podium in Paris they will need to clearly work out which rider has the most potential to do it.
Tomorrow the Tour may possibly remain as is [on the overall classification], but it will be necessary to wait for the chrono to ultimately decide the first three positions.
By the way, Ullrich to me looks very good.
Stage 13: Toulouse-Axe 3 Domaines (Plateau de Bonascre), 197.5km
A new rider to succeed Armstrong?
I always have said that when the day arrives in which Armstrong does not win the Tour, his successor was going to be a new rider. And perhaps I haven't been completely mistaken. I see this Ullrich as a new rider. Don't you all think so?
To me he is like he was when he began. A centred, ambitious man who each day has more options to win this Tour. After winning yesterday, I saw an emotional Ullrich, like he was when he obtained his first Tour victory. That demonstrates that he has put his bad times- that case of the positive test and his knee injury - behind him. A demonstration that he is a champion on and off the bike on which he has recovered both as a cyclist and person. Cycling has recovered a champion, and we all have to be happy about that.
Today's stage followed the set script for these types of days. And this Tour has us hooked. Today we saw the climbers who are not that far off in the general come into play, and who, aside from looking to improve in the general, are looking for that stage victory. Today Carlos Sastre was the one awarded with the victory. Congratulations Carlos.
But we have seen Armstrong demonstrate again some signs of weakness. The truth is that at the moment he is defending himself very well, but I must pose a question: Will he have a bad day? What will happen then? It is necessary not to forget that in previous Tours he was so superior that the bad days maybe were not noticed.
Today's bad day was for Mayo, however his team mate Zubeldia is looking very good. Haimar wants to move closer to the podium, although ahead he has a hard nut to crack. In front of him by 3 minutes, and at the moment looking good to me, is of course Vinokourov.
The coming stages are very hard and recovery is going to be important.
Mañana mas - Tomorrow more
Igor
Stage 12 - Friday, July 18: Gaillac - Cap' Découverte, ITT, 47 km
Ullrich shows his candidacy to win the Tour
Did anybody think it was going to happen the way it did? The ride of Ullrich, incredible! A dream chrono. Differences that we have not seen since the era of Induráin. What was it? The heat? The hardness of the route? I don't know. What is clear is that Ullrich has been the best Ullrich of recent years. A Ullrich that has put himself completely in the race, and has shown his candidacy to win tour. Take care with Ullrich! A rider with a lot of character and very brave.
And now what? What is Armstrong thinking? It is clear that he has received a strong psychological blow. He has always been superior at this point of the Tour, but now he is not. Anyway, Amstrong is a man who in other races, who without being strongest, has demonstrated to be intelligent and to work very well tactically.
Therefore, the tactics are going to be important in this tour. The climbers have lost a lot of time. Now it is their turn. I hope that they are not waiting for somebody to fail, but they provoke any failure. That will give the Tour a lot of life and vibrancy.
Hacia los Pyreneos - onwards towards the Pyrenees.
Stage 11 - Thursday, July 17: Narbonne - Toulouse, 153.5 km
The Tour has arrived at its important part.
Today has been a day more of recovery for the men who will dispute the general. Active recovery. Because it is active, it also clearly serves to wear some of them down.
Today was given back to those that play the game of looking for the glory of one day. The chosen one was Flecha, and he demonstrated a great conviction to obtain it. It was a victory that I hope helps a little in their search for a sponsor for the next few years.
I have seen with joy that my team is recovering from the blow we received from the loss of Beloki. Today it was Nozal who has been fighting for the victory. It was not his day but this effort will help liven up the team as they face the rest of the tour.
Tomorrow, another decisive stage arrives. The individual time trial, which will be so crucial in the face of the Pyrenees. In principle, I believe that Armstrong hopes to create some good differences between himself and the climbers such as Mayo. However, he is going to have two tough competitors. One is going to be Hamilton, and the other Ullrich, two men who handle themselves well against the clock and whom I believe still have not said their last word. Vinokourov is going to be the hidden factor. He is not bad against the clock, but we need to see how he handles one of this length.
After them will be the Euskalteles, who with Mayo at their head are making this a great tour. They could be the most prejudiced by the chrono, where it is assumed Zubeldia will defend better. Although Mayo is not in his terrain, he will do pretty well. We will see.
For the stage victory, surely good time trialists like Millar and Bodrogui will enter into the game.
...mañana, the result.
Igor.

Stage 10 - Tuesday, July 15: Gap - Marseille, 219.5 km
Cheer up, Joseba
I apologise for not writing yesterday but it was not a good day.
I was writing my impressions of the stage when ...Crash!! My companion Beloki fell. I was shocked, sad and without any power to react. I left everything I was doing and just stopped still. My mind went back to my fall in Germany, and I won't deny it...tears fell from my eyes as I cried. You think of what it cost to prepare yourself, the hard work of training, and so quickly a fall takes away from you all of your dreams. But sport is like that. I can only say: cheer up Joseba! You have demonstrated that you are worthy, the best of you is still to come and you have achieved so much.
Of the others...Armstrong has got rid of an important rival, but for sure he is not alone in this. We have Hamilton, Mayo and Vinokourov who have earned a lot of points towards standing on the podium in Paris. But one that we should not forget is Ullrich. Maybe this is the one man of all of them with the most intent to aspire to the podium. Firstly, remember that the Tour is a race of elimination, there remains many difficult stages, and we could see Ullrich go to the maximum. Both Ullrich and Hamilton could come out of the shadow that falls behind Armstrong. Mayo will be the man to make the moves in the mountain as in the first place he has the disadvantage in the chrono, and it is these changes that will cause to make the race continue to be fascinating.
The Tour continues. Today we have seen a typical stage after such hard ones, in which the riders that have lost so much time in the general are allowed to come into the play and with it a victory for Jacob Piil of CSC. Congratulations.
Tomorrow, a day to recuperate strength, as everyone is going to need it.
Stage 8 - Sunday, July 13: Sallanches - L'Alpe d'Huez, 219 km
An incredible spectacular
Well I wasn't disappointed with this stage!
Today we witnessed an incredible spectacular. I congratulate all the riders for their effort and for demonstrating to us once again that cycling is a most beautiful sport.
Armstrong has demonstrated that he is the dominator, but perhaps the Tour, at this moment, has a chance of taking a different course. The differences are not that big. We saw a Beloki who was more attacking, similarly Hamilton.
But the greatest surprise has been Mayo. With strength and rhythm he has taken a grand victory and in turn profited favorably in relation to Beloki, Armstrong and Hamilton. It has been years since we have seen a stage that was so interesting.
Today we saw that perhaps Armstrong wanted to sentence the Tour to the same finale that he did two years ago; he wanted to attack at the bottom of the climb in an attempt to clear away those behind that challenge him in this Tour, but his intentions did not culminate with success.
But it is clear that Armstrong has been the only rider who has been capable of going further in a Tour, unlike his rivals - or those that have maintained they are his rivals. Now this Tour, after the last four years, appears that to be more open than ever. Tomorrow, no doubt, we will see how they all recuperate from this effort.
What is clear is that after today we can expect a vibrant Tour and one overall much more tactical, and now that their are no great differences at the top of the general, the possible escapes could worry some more than others. We will see how the teams move.
Don't miss it!
Igor
Stage 7 - Saturday, July 12: Lyon - Morzine, 230.5 km
Hot and Hard
Not as hot and hard as is possible, but what we have seen has been sufficient to give us an idea of who is now out of the running for the general classification. First Simoni, later Botero...and that was without even any of the important riders attacking. Maybe after the first hard week, men like Botero paid dearly for it in today's first day of the mountains, but I don't think that this is what has happened to Simoni. In his case it is difficult to ride two grand tours in the same year and I think that he is now paying for his effort to win the Giro.
Taking into account the others, today four teams have demonstrated their good form: Euskaltel-Euskadi, iBanesto.com, ONCE-Eroski and U.S. Postal.
U.S. Postal will have to defend but the others will have to start thinking about attacking now that they have riders who could count in the general, but for others, following my experience, it may be better for them to start looking for a stage win rather than the general. Although today was the premiere contact, tomorrow will be a day to look for these attacks. I wait with some anxiety tomorrow's stage, and I hope that I don't get disappointed.
Virenque has surged back to the top in the Tour. Congratulations, a great stage and a deserving leader's jersey. As leader he can lift the work off the shoulders of U.S. Postal and that is good for Armstrong, although in the end it will be Armstrong who will have to continue to control the Tour. I hope that tomorrow Armstrong is not going to do what he has usually done on the first day in the mountains. Attack and leave everyone behind. Not for him, but for us, the fans, so that it will leave the Tour open and interesting for us to follow. Because of this, I hope that if anyone creates differences they will not be too big.
Mañana veremos - Tomorrow we will see.
Igor
Stage 5 - Thursday, July 10: Troyes - Nevers, 196.5 km
Forget Mario; Petacchi the next dominator
The Tour doesn't rest. After the team time trial the day before, we saw there was no time left on the road today for reflection. And with this, the riders continue in an unstoppable fashion on the road towards Paris.
From the start, there were numerous attempts to get away. All riders in the Tour seek to be one of the protagonists in one stage or another, and today there were five valiant riders. Five men who the others must not allow too much time; they were all good rollers and above all, the synchronisation between them as they headed towards the finish was always good.
Behind, the peloton had to enlist practically all of the teams in order to make sure that the possibility of a sprint finish wasn't diminished. Surely the teams that still haven't gained themselves a win are starting to get nervous, although when we see the power of Petacchi there seems little that his adversaries can do at the moment about that. Petacchi has become the next great dominator of the sprinting world, and its almost as if you could nearly forget the great Mario and his hegemony in this speciality.
But also another day, another crash; this one has hurt my team-mate Angel Vicioso. We hope as always that it will prove to be nothing, although the sight of him coming to the finish without his right hand on the handlebar didn't give me high spirits.
Tomorrow and the day after are two marathon stages. They will serve to cause some more wear and tear on the peloton before they confront the Alps. Hard, of course - but that is what it is like for the cyclists. And without the need to mention, it will be great cycling.
Hasta la proxima en los alpes - see you soon in the Alps,
Igor
Stage 4 - Wednesday, July 9: Joinville - Saint-Dizier, TTT, 69 km
A beautiful race
US Postal
Photo: © Yuzuru Sunada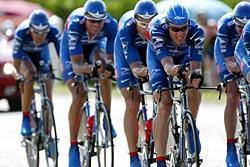 It's beautiful, isn't it?
I personally love this form of racing. The teams working as a block looking to take the victory. A different type of victory, one that you can win as a team and not simply one member in particular. Maybe what we do least in cycling is achieve more triumphs together.
Congratulations to U.S. Postal for their great time trial. It's known that together they are a team full of good climbers and pacemakers, but as a team today they have achieved a great moment. Of course I don't want to lose the opportunity to congratulate Victor Hugo Peña, my old team mate during my years at Vitalicio and with whom I have a good friendship. Well done and enjoy the crown!
I don't want to deny my sadness concerning ONCE-Eroski not taking the win. Of course the leader would have been Beloki and an important victory for all ... but second place is second place. It is almost winning, but in the end you end up without anything.
But let's try and draw some conclusions: the most positive is for Armstrong, he has now created some important gaps between himself and his rivals, and he goes with his team to the front of the race. The second beneficiary is my comrade, Beloki, in that he is following U.S. Postal in taking time out of his rivals. But the differences are not great, although the one who was most disadvantaged is Simoni ... he lost more than three minutes.
The surprise came at the hands of iBanesto.com, who with a renewed team achieved the highest mark of the day.
However, from now on, U.S. Postal has to defend, and the rest ... well now we'll see what happens.
Stage 3 - Tuesday, July 8: Charleville-Mézières - Saint-Dizier, 167.5 km
The script continues & TTT predictions
Alessandro Petacchi
Photo: © Sirotti

These days the script continues ... Yesterday was a fast stage where the race entered into a fight for the yellow jersey and where it was decided that Nazon has been elected to wear it until tomorrow.
At the moment I am missing Zabel a little bit, and I hope that soon he will take his first win in this Tour, but what a phenomenal start for Petacchi! With the work of his team and his turn of speed we are left in no doubt as to who controls the sprints at the moment.
Today will be an important day. For me it is less so than last year as it was on a day like today that I was able to wear the leader's jersey. It is something that I will never forget in my life, and I assure you all that it still sends shivers down my spine.
On a day like today it is important that the whole team completely connects mentally and physically, both riders and the technical crew. The mindset of everyone has to be to win and the whole team has to work well in order that each one can give their maximum. The difference between one team and another is simply that. It is important that the riders do not lose their concentration as if they do fall behind, they could hold up the whole chrono. But even if it is difficult to believe it happens with teams, as some can work very well as a group but still end up in a position that is not as high as they could have been.
And to finish I will predict the outcome of the team time trial only once. I will say that the candidates to win tomorrow are: US Postal and ONCE-Eroski. They both fit the bill. But of course you will understand if I tell you that I would like it if my team wins. But whoever wins will be the best on the day!
Stage 2 - Monday, July 7: La Ferté-sous-Jouarre - Sedan, 204.5 km
Crash recovery, the CPLD & a tranquil day
Tyler Hamilton
Photo: © C.Henry/CN

Talking of crashes... As I commented yesterday, these types of crashes always result in victims and sometimes the injuries can have a long-term effect. I feel sorry for Leipheimer, Casper and equally for Hamilton; although he decided to continue he must have a very painful body.
It makes you furious that after having prepared for the Tour over such a long time a crash can see months of hard work disappear leaving you with only the result of having to go home. I have had some experience this year with this. Well, I am having a few 'experiences' this year...
I am now starting to recover from my crash. I am training relatively normally after having three weeks without even touching the bike. I had to go from practically zero and because of that it is difficult for me to give 100 percent, but I will be in good form for the Vuelta a España.
On the subject of my second 'experience', it's about, as you may know know, last year's Tour. The CPLD (Conseil de Prévention et de Lutte contre le Dopage - the French Council for the Prevention and Struggle against Doping) decided that my level of salbutamol was too high. High for them that is, even though to this day the UCI still says that it was within the rules.
Maybe, after some time has passed I will give my account of the problem, but for now suffice to say that it shows a problem with the structure of our sport. We are supposed to be under the rules of the UCI, and so that's what it says on our licences. But what actually happens is that you have cases before many different committees, each with its own rules. The criteria have to be unified so that what governs this sport are the rules of only one governing body. That way these sorts of injustices would not occur. Not to me, nor to any other sportsperson.
Now today's stage was something atypical for the Tour. In the two Tours I have ridden I have never seen a tranquil stage. And today was a tranquil stage where what we saw was a race different to all others, with an escape which was at 1 minute 40 seconds with less than 7 kilometres to go and then was captured by the peloton at the 4 kilometre mark. Maybe it was that last short steep hill that took its toll.
Today, victory for Baden Cooke. The Australians have made a very strong start, and that's even without McEwen taking a stage. Tomorrow's seems pretty safe, they will ride it faster, but with the strong teams trying to conserve their strength for the day after tomorrow.
Agur eta bihar arte - goodbye and until tomorrow,
Igor.
Stage 1 - Sunday, July 6: Saint-Denis/Montgeron - Meaux, 168 km
Authoritative victory; Unnecessary crashes
Alessandro Petacchi
Photo: © Sirotti

The days in which are maybe the most attractive for the spectactor have arrived, and coming with them are these potential crashes, that sadly today have provided a spectacular show, but also always end up leaving one or more fewer in the peloton.
The cause of this type of crash is usually the presence of determined riders that try to go for the sprint without actually having any companions who can help them, and without really any options to take the victory. This is what happens when you have these non-experts who haven't got total control. These zigzags that they produce in the final kilometres are the things that cause the crashes: the sprinter to the sprint, the climber to the mountain...and each rider to his assigned job. That way we would avoid many crashes like that of today.
Congratulations to Fassa for finishing off their great work with the victory of Petacchi. A victory achieved with authority. But, today was the first day in which the sprinter's teams spent a lot of energy working to prevent any early breakaways. Maybe it is because of a lack of confidence, or maybe it is for reasons of strategy. We saw how good Zabel, Freire or McEwen all are, and with the possibility that from tomorrow they will start to work more with these victories in mind that they all seek so anxiously.
Finally for today, I feel that Zabel will prove to be the strongest man in the sprint during the length of this Tour. I saw him today after his puncture and he had the capacity to fight his way back to the front, although in the end he finished without any luck in the sprint.
Mañana será otro día - Tomorrow wil be another day
Igor
Prologue - Saturday, July 5: Paris, Prologue TT, 6.5 km
The first psychological strikes are made
Paris, Saturday July 5, and at last the nerves of the last week have disappeared, and then in only six fast kilometres. In the Tour Prologue what is important is not the difference that you can create between you and your rivals or what they can take out of you, but it is far more of an initial psychological strike that you can give to them or they can give to you.
Here to lose five, seven or 30 seconds clearly doesn't matter that much either way, especially when we see that the Tour is in the end the race is resolved by a matter of minutes. But the fact is that the differences of today may quite possibly give us a clue as to what sort of form those who are in the running to dispute this Tour have brought with them to Paris.
There are always surprises and Euskaltel's Haimar Zubeldia has to be mentioned in this regard. He is a man that maybe in recent years has not performed to the level that was expected of him. But as you say about a friend: if he had it once, he will always have it. Haimar had great results as a neo-professional and it is no surprise nor strange to see him deliver such an excellent result in the Prologue.
Jan Ullrich
Photo: © Jeff Tse

But coming to the strongmen; first of them was Ullrich, he finished, with Zubeldia and after McGee ... and this was a surprise. Ullrich was better than many had expected him to be. But the others who are considered to be in the running are were we thought they might be. My companion Beloki is in a good position in respect of his adversaries.
The winner, McGee, is someone that has always been a good against the clock and in the end he took the victory. Even if maybe it was thanks to the misfortune of Millar, but that is how cycling is.
But to finish up for today I have to underline the performance of Simoni as very few expected that he would perform as he did in the Prologue. After seeing him do so well we should, when we are placing our bets, keep his name in mind. He is mentally strong and always rides with a hunger to do well.
Hasta mañana
Igor
Cyclingnews' live coverage of the 90th Tour de France is powered by