86th Giro d'Italia - Grand Tour
Italy, May 10-June 1, 2003
Main Page Live Report Results Previous Stage Next Stage
Stage 14 - May 24: Marostica-Alpe Pampeago, 162 km
Gibo flies at Pampeago; Garzelli just won't crack
By Tim Maloney, European Editor in Pampeago
Gilberto Simoni's 'grinta'
Photo: © Sirotti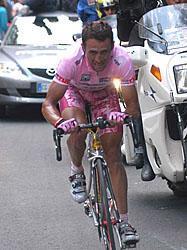 Stage 14 started in Marostica's Piazza Scacchi, world famous for a human chess match, while today, on the steep final slopes of Alpe di Pampeago, the other human chess match between Maglia Rosa Simoni (Saeco) and Stefano Garzelli (Vini Caldirola-So.Di) continued, with Simoni trying to put as much time between himself and Garzelli in light of tomorrow's time trial. As his ecstatic supporters from Palu di Giovo danced in the street, Simoni explained that today was a day of revenge for him.
"When I was second (at Alpe di Pampeago) behind Pantani, I was thinking about that today...I had the same emotions and the same pain in my legs. After four years, it was great! There were so many people (on the mountains) today and it was great to race for them. I have to thank my teammates for the great job they did. The break (with Belli) made a lot of work, but (Saeco) stayed calm and we did the job."
It a great stage win for Simoni, but the Saeco man just couldn't deliver a knockout punch to his rival Garzelli. Despite his 11 month suspension and having only six races in his legs this season, Garzelli is giving Simoni a real run for his money in this year's Giro d'Italia. About only gaining another 30 seconds on Garzelli, Simoni explained that "I'm not a drago (dragon) and I can't perform miracles. My efforts are all grinta (guts)...and tomorrow will be all grinta (guts). Tomorrow I can do well...1'20" is close but I'm confident I can do pretty well."
Marco Pantani
Photo: © Sirotti

Finally a better ride today from marvelous Mexican climber Julio Perez-Cuapio (Panaria), who started the Giro with stomach problems. "I wasn't good at the beginning of the Giro but lately, I've improved a bit," he said. "I'm hoping that it keeps going well and that I can even win one of the upcoming stages with a climbing finish. Today I knew it was such a hard climb and that Simoni would attack. I did my best and I'm happy the way it went."
A tired Marco Pantani seemed somewhat satisfied, saying that "nothing is normal in a bike race, so...it's OK. I don't know how well I'll do in the next week, but I'm here (at the Giro) and I'm happy with that."
How it unfolded
Dolomiti
Photo: © Sirotti

It was a hot midday start in Marostica for the tough 162km haul through the Dolomiti to Val di Fiemme and the mountaintop finish at the ski resort of Alpe di Pampeago. After the abandon of Gabriele Balducci (Vini Caldirola-So.Di) from a sore knee, a big break of 15 got away on the road to Fiera di Primero before the Intergiro, where UK champion Julian Winn (fakta-Pata Chips) took the sprint for a time bonus. As soon as the 23km climb up to Passo Rolle began, it was time for diminutive Colombian climber Fredy "Speedy" Gonzalez (Colombian-Selle Italia) to say "ciao" to his break buddies.
Gonzalez took the first of four GPM's ahead of his rival Zaballa (Kelme) and the remains of the break at 35", with Belli (Lampre), Lanfranchi (Panaria), Nocentini (Formaggio Pinzolo), Lunghi (Alessio) and Gobbi (DeNardi-Colpack). Saeco's "treno rosso" led the plotone over Rolle at 4'00. Up the ascent of Passo Valles, Gonzalez continued his adventure 1'30" ahead of the chasing six and 5'00 ahead of the gruppo Maglia Rosa, led by Tonti and Cunego.
As the skies above the Dolomiti filled with clouds and the temperatures dropped, Tonkov tried to make a move on Passo Valles from the main group to bridge across to the break from the gruppo Maglia Rosa, but he just couldn't make much time on either Saeco's "treno rosso" or the break.
With 42km to go over the penultimate climb of Passo San Pellegrino, the situation was that Speedy took the GPM, over 1'00 in front of Belli's chasing sextet, where Zaballa took second place. Tonkov was still chasing hard at 4'00, while Saeco's "treno rosso" had kept the pace up just 30" behind the Russian. Popovych (Colnago-Landbouwkredeit) was having a tough day, hanging on the back of the ever-diminishing gruppo Maglia Rosa. Last night, the talented young Ukrainian had a sore throat and fever, but he was hanging tough.
Treno Rosso
Photo: © Sirotti

On the long, fast descent from San Pellegrino to Moena in val di Fiemme, Maglia Verde Gonzalez paid the price for his 55km solo move and was caught by the six chasers with 25 km to go. The break had 2'45" on Tonkov and 3'15 on Saeco's "treno rosso" and Gonzalez had bonked and could only hold on to the rest as the final ascent Alpe di Pampeago approached.
Saeco soon sucked up Tonkov, while Zaballa was skipping turns, acting like he had cramps, but Belli and Lanfranchi were not buying it and yelled at him and Gonzalez to start working. Behind the break, with 20km to go, Pantani, locked on maglia rosa Simoni's wheel, was obviously feeling good as he joked with Domina's sprinter Giovanni Lombardi. The Domina rider was still up there, doing a brilliant job of supporting talented climber Scarponi.
At 15km to go, the break was speeding along Avisio River, a famous Dolomiti trout stream, 2'45" ahead of the peloton, but Saeco's treno rosso was riding hard and the gap was dropping with every kilometre. With 10km left, the break heard over their radio earpieces that the jig would soon be up, with the gruppo Maglia Rosa at 1'45". 20 riders were left in Simoni's group, while up front, Zaballa's cramps miraculously disappeared and he attacked from the break with 8km to go.
Simoni goes for it
Photo: © Sirotti

Perez-Cuapio (Panaria) was leading Simoni's group with 7km to go. The orange-clad Mexican climber had regained his legs as the Dolomiti appeared, while Saeco kept local lad Bertagnolli up front to control the pace. Belli accelerated after Zaballa and soon there were just two riders ahead.
Just like on Zoncolan, Belli was soon solo, while the first acceleration by Maglia Rosa Simoni with 5km to go just exploded the group. Garzelli, Popovych, Perez-Cuapio, Casagrande, Pantani, Scarponi and Rumsas were all that were left after Simoni's first move, but it was just the first test and Simoni slowed.
Garzelli tries
Photo: © Sirotti

After another kilometre, it was bada bing, bada boom again, as in response to an attack by the surprising Yaroslav Popovych, Simoni made another move from sixth position up the right side of the road. Only Popo could respond, while Garzelli didn't try to follow Simoni, preferring to remain with his teammate Mazzoleni. Pantani was not having a great day and began to lose time as soon as Simoni went the second time.
As the steep, straight road ascended with 3.5km to go to, Simoni caught and dropped Belli and it was "un uomo solo all commando". The magnificent Maglia Rosa Simoni simply flying up Alpe di Pampeago. Garzelli heroically tried to limit his losses as Simoni had gained 20" on him. Popo had come back and it was Garzelli, Perez-Cuapio and tough guy Rumsas chasing Simoni.
Grimacing with pain and satisfaction, Simoni suffered plenty in the last kilometres but managed to put 35" into Garzelli, plus a 20" bonus and was now 1'19" in the lead. A super Rumsas was right with Garzelli for third, back as leader of Lampre. Perez-Cuapio seemed to regain his legs today and was fourth at 49", along with Popovych. Another better day for Aitor Gonzalez (Fassa Bortolo) at 1'55", while Pantani was just OK at 2'03".
Another bottle
Photo: © Sirotti
On the overall classifica, Simoni gained 43" on Garzelli, while Noč' is third at 3'39". However Noč lost 6" to Popovych, who is still in fourth on GC but may take third from the Alessio rider with a good time trial tomorrow. Rumsas is now fifth, 59" behind Popovych and gained time on his teammate Casagrande who didn't have a great day today on Alpe di Pampeago and dropped to sixth. And it was an excellent ride today by Austrian hard man Georg Totschnig to maintain seventh.
Stage 15 - May 25: Merano-Bolzano 42.5km
Along the vineyards of Adige River valley, Sunday's time trial isn't as simple as it looks on paper. Local rider Quinziato told Cyclingnews that "this TT is hard!". The weather in Bolzano may be hot and with a headwind likely, the first 30km are mostly flat until the tough 2.3km San Paolo climb. Then it's downhill back across the Adige and into Bolzano.
Garzelli will be looking to take back time from Simoni, who will be looking to limit the potential damage inflicted on his advantage by the Vini Caldirola man. Popovych certainly hopes to move past Noč', who is a weak time trialist, into third on GC, while Rumsas has got the young Ukrainian and third place in Milano in his sights.
As for the stage win, certainly Aitor Gonzalez will looking to redeem himself with a winning TT performance from Merano to Bolzano, while former World TT champ Serguei Gontchar is another podium prospect on Sunday.
Photography
Images by Fotoreporter Sirotti
Images by herneweb.com
Results
1 Gilberto Simoni (Ita) Team Saeco                           4.46.43 (33.901 km/h)
2 Stefano Garzelli (Ita) Vini Caldirola-SO.DI                   0.35
3 Raimondas Rumsas (Ltu) Lampre                                 0.36
4 Julio A. Perez Cuapio (Mex) Ceramiche Panaria-Fiordo          0.49
5 Yaroslav Popovych (Ukr) Landbouwkrediet-Colnago
6 Andrea Noe' (Ita) Alessio                                     0.56
7 Francesco Casagrande (Ita) Lampre                             0.59
8 Eddy Mazzoleni (Ita) Vini Caldirola-SO.DI                     1.17
9 Wladimir Belli (Ita) Lampre                                   1.38
10 Georg Totschnig (Aut) Gerolsteiner                           1.43
11 Aitor Gonzalez Jimenez (Spa) Fassa Bortolo                   1.50
12 Marco Pantani (Ita) Mercatone Uno - Scanavino                2.03
13 Massimo Codol (Ita) Mercatone Uno - Scanavino                2.08
14 Serguei Gontchar (Ukr) De Nardi-Colpack                      2.09
15 Franco Pellizotti (Ita) Alessio
16 Kim Kirchen (Lux) Fassa Bortolo                              2.42
17 Dario Frigo (Ita) Fassa Bortolo                              2.50
18 Dariusz Baranowski (Pol) CCC-Polsat                          3.00
19 Michele Scarponi (Ita) Domina Vacanze-Elitron                3.08
20 Volodimir Bileka (Ukr) Landbouwkrediet-Colnago               3.21
21 Constantino Zaballa Gutierez (Spa) Kelme-Costa Blanca
22 Sandy Casar (Fra) FDJeux.com                                 3.29
23 Steve Zampieri (Swi) Vini Caldirola-SO.DI                    3.44
24 Scott Sunderland (Aus) Team fakta-Pata Chips                 4.01
25 Charles Wegelius (GBr) De Nardi-Colpack                      4.28
26 Paolo Lanfranchi (Ita) Ceramiche Panaria-Fiordo
27 Marzio Bruseghin (Ita) Fassa Bortolo                         4.36
28 Marco Velo (Ita) Fassa Bortolo
29 Sylvester Szmyd (Pol) Mercatone Uno - Scanavino              4.38
30 Leonardo Bertagnolli (Ita) Team Saeco                        5.00
31 Damiano Cunego (Ita) Team Saeco                              5.01
32 Adolfo Garcia Quesada (Spa) Kelme-Costa Blanca               5.13
33 Luis F. Laverde Jimenez (Col) Formaggi Pinzolo Fiave         5.37
34 Thomas Brozyna (Pol) CCC-Polsat
35 Fredy Gonzalez (Col) Colombia-Selle Italia
36 Joaquim Castelblanco (Col) Colombia-Selle Italia
37 Graziano Gasparre (Ita) De Nardi-Colpack
38 Radoslaw Romanik (Pol) CCC-Polsat                            5.44
39 Pietro Caucchioli (Ita) Alessio                              6.08
40 Dario David Cioni (Ita) Fassa Bortolo                        6.32
41 Rinaldo Nocentini (Ita) Formaggi Pinzolo Fiave               6.40
42 Gianni Faresin (Ita) Gerolsteiner                            6.52
43 Denis Lunghi (Ita) Alessio                                   7.01
44 Ignacio Gutierrez Cataluna (Spa) Kelme-Costa Blanca
45 Giuseppe Muraglia (Rus) Formaggi Pinzolo Fiave               7.10
46 Koos Moerenhout (Ned) Lotto-Domo                             7.25
47 Daniel Clavero (Spa) Mercatone Uno - Scanavino               7.36
48 Roberto Conti (Ita) Mercatone Uno - Scanavino
49 Jorgen Bo Petersen (Den) Team fakta-Pata Chips               8.00
50 Vladimir Miholievic (Cro) Alessio
51 Francesco Vila Errandonea (Spa) Lampre
52 Michele Gobbi (Ita) De Nardi-Colpack                         8.06
53 Rodolfo Massi (Ita) Colombia-Selle Italia                    8.11
54 Vladimir Duma (Ukr) Landbouwkrediet-Colnago
55 Sergiy Adyeyev (Ukr) Landbouwkrediet-Colnago                 8.12
56 Giuliano Figueras (Ita) Ceramiche Panaria-Fiordo             8.38
57 Cristian Gasperoni (Ita) Mercatone Uno - Scanavino           8.39
58 Fortunato Baliani (Ita) Formaggi Pinzolo Fiave               9.59
59 Ronny Scholz (Ger) Gerolsteiner                             11.34
60 Giovanni Lombardi (Ita) Domina Vacanze-Elitron              13.04
61 Andrea Tonti (Ita) Team Saeco                               13.09
62 Gerhard Trampusch (Aut) Gerolsteiner                        13.10
63 Mario Scirea (Ita) Domina Vacanze-Elitron                   13.26
64 Dario Andriotto (Ita) Vini Caldirola-SO.DI
65 Gian Paolo Cheula (Ita) Vini Caldirola-SO.DI
66 Alessandro Spezialetti (Ita) Team Saeco                     13.28
67 Gianluca Tonetti (Ita) Tenax                                13.33
68 Raffaele Illiano (Ita) Colombia-Selle Italia                14.19
69 Piotr Chmielewski (Pol) CCC-Polsat                          14.53
70 Fabio Sacchi (Ita) Team Saeco                               15.24
71 Carlos Dacruz (Fra) FDJeux.com
72 Hernan D. Munoz (Col) Colombia-Selle Italia                 15.26
73 Uwe Hardter (Ger) Gerolsteiner                              15.30
74 Mauro Gerosa (Ita) Vini Caldirola-SO.DI                     15.37
75 Oscar Pozzi (Ita) Tenax                                     15.38
76 Magnus Backstedt (Swe) Team fakta-Pata Chips                15.40
77 Tom Stremersch (Bel) Landbouwkrediet-Colnago
78 Alexis Rodriguez (Spa) Kelme-Costa Blanca                   15.52
79 Matteo Carrara (Ita) De Nardi-Colpack                       17.14
80 Cristiano Frattini (Ita) Tenax                              17.41
81 Scott Davis (Aus) Ceramiche Panaria-Fiordo                  18.15
82 Leonardo Giordani (Ita) De Nardi-Colpack                    18.27
83 Leonardo Zanotti (Ita) De Nardi-Colpack
84 Nick Gates (Aus) Lotto-Domo                                 18.46
85 Bo Hamburger (Den) Formaggi Pinzolo Fiave                   18.57
86 Daniele Bennati (Ita) Domina Vacanze-Elitron                21.35
87 John Freddy Garcia (Col) Colombia-Selle Italia
88 Simone Bertoletti (Ita) Lampre
89 Alessandro Petacchi (Ita) Fassa Bortolo
90 Salvatore Scamardella (Ita) Landbouwkrediet-Colnago
91 Bernhard Eisel (Aut) FDJeux.com
92 Seweryn Kohut (Pol) CCC-Polsat
93 Francesco Secchiari (Ita) Domina Vacanze-Elitron
94 Mario Manzoni (Ita) Mercatone Uno - Scanavino
95 Luca De Angeli (Ita) Colombia-Selle Italia
96 Daniele Pietropolli (Ita) Tenax
97 Martin Hvastija (Slo) Tenax
98 Sergio Barbero (Ita) Lampre
99 Steffen Weigold (Ger) Gerolsteiner
100 Marius Sabaliauskas (Ltu) Team Saeco
101 Rene' Joergensen (Den) Team fakta-Pata Chips
102 Lorenzo Bernucci (Ita) Landbouwkrediet-Colnago
103 Ruber Alverio Marin (Col) Colombia-Selle Italia
104 Jimmy Casper (Fra) FDJeux.com
105 Regis Lhuillier (Fra) FDJeux.com
106 Julian Usano Martinez (Spa) Kelme-Costa Blanca
107 Kurt Asle Arvesen (Nor) Team fakta-Pata Chips
108 Frederic Guesdon (Fra) FDJeux.com
109 David Derepas (Fra) FDJeux.com
110 Werner Riebenbauer (Aut) Team fakta-Pata Chips
111 Fabio Baldato (Ita) Alessio
112 Bogdan Bondariew (Ukr) CCC-Polsat
113 Jan Svorada (Cze) Lampre
114 Robert Forster (Ger) Gerolsteiner
115 Juilian Winn (GBr) Team fakta-Pata Chips
116 Gert Steegmans (Bel) Lotto-Domo
117 Gabriele Colombo (Ita) Domina Vacanze-Elitron
118 Frank Hoj (Den) Team fakta-Pata Chips
119 Manuel Quinziato (Ita) Lampre
120 Matteo Tosatto (Ita) Fassa Bortolo
121 Jordi Riera Valls (Spa) Kelme-Costa Blanca
122 Paolo Fornaciari (Ita) Team Saeco
123 Johan Verstrepen (Bel) Landbouwkrediet-Colnago
124 Moreno Di Biase (Ita) Formaggi Pinzolo Fiave
125 Giuseppe Palumbo (Ita) De Nardi-Colpack
126 Ruslan Gryschenko (Ukr) Landbouwkrediet-Colnago            21.45
127 Fabiano Fontanelli (Ita) Mercatone Uno - Scanavino
128 Bradley Wiggins (GBr) FDJeux.com
129 Hector O. Mesa Mesa (Col) Formaggi Pinzolo Fiave           22.04
130 Lars Ytting Bak (Den) Team fakta-Pata Chips                22.22
131 Angelo Furlan (Ita) Alessio                                22.46
132 Dario Pieri (Ita) Team Saeco                               22.50
133 Gianpaolo Mondini (Ita) Domina Vacanze-Elitron             23.07
134 Alberto Ongarato (Ita) Domina Vacanze-Elitron              23.09
135 Guido Trenti (USA) Fassa Bortolo                           23.32
136 Andrus Aug (Est) De Nardi-Colpack
137 Biagio Conte (Ita) Formaggi Pinzolo Fiave
138 Massimo Apollonio (Ita) Vini Caldirola-SO.DI               23.35

Outside time limit

139 Graeme Brown (Aus) Ceramiche Panaria-Fiordo                28.35
140 Crescenzo D'amore (Ita) Tenax                              29.11
141 Ivan Ravaioli (Ita) Mercatone Uno - Scanavino              31.44
DNS Robbie McEwen (Aus) Lotto-Domo
DNS Nicolas Fritsch (Fra) FDJeux.com
DNF Luca Mazzanti (Ita) Ceramiche Panaria-Fiordo
DNF Gabriele Balducci (Ita) Vini Caldirola-SO.DI
DNF Ief Verbrugghe (Bel) Lotto-Domo
DNF Thierry Marichal (Bel) Lotto-Domo
DNF Kevin Van Impe (Bel) Lotto-Domo
DNF Marcel Strauss (Swi) Gerolsteiner
DNF Sergei Lelekin (Rus) Tenax
DNF Pavel Tonkov (Rus) CCC-Polsat
 
Points
 
1 Gilberto Simoni (Ita) Team Saeco                                25 pts
2 Stefano Garzelli (Ita) Vini Caldirola-SO.DI                     20
3 Raimondas Rumsas (Ltu) Lampre                                   16
4 Julio A. Perez Cuapio (Mex) Ceramiche Panaria-Fiordo            14
5 Yaroslav Popovych (Ukr) Landbouwkrediet-Colnago                 12
6 Andrea Noe' (Ita) Alessio                                       10
7 Francesco Casagrande (Ita) Lampre                                9
8 Eddy Mazzoleni (Ita) Vini Caldirola-SO.DI                        8
9 Juilian Winn (GBr) Team fakta-Pata Chips                         8
10 Wladimir Belli (Ita) Lampre                                     7
11 Georg Totschnig (Aut) Gerolsteiner                              6
12 Rinaldo Nocentini (Ita) Formaggi Pinzolo Fiave                  6
13 Aitor Gonzalez Jimenez (Spa) Fassa Bortolo                      5
14 Marco Pantani (Ita) Mercatone Uno - Scanavino                   4
15 Michele Gobbi (Ita) De Nardi-Colpack                            4
16 Massimo Codol (Ita) Mercatone Uno - Scanavino                   3
17 Constantino Zaballa Gutierez (Spa) Kelme-Costa Blanca           3
18 Serguei Gontchar (Ukr) De Nardi-Colpack                         2
19 Bo Hamburger (Den) Formaggi Pinzolo Fiave                       2
20 Franco Pellizotti (Ita) Alessio                                 1
21 Ruslan Gryschenko (Ukr) Landbouwkrediet-Colnago                 1
 
Mountains
 
Passo Di Rolle - km 99.4
 
1 Fredy Gonzalez (Col) Colombia-Selle Italia                      10 pts
2 Constantino Zaballa Gutierez (Spa) Kelme-Costa Blanca            6
3 Michele Gobbi (Ita) De Nardi-Colpack                             4
4 Paolo Lanfranchi (Ita) Ceramiche Panaria-Fiordo                  2
5 Denis Lunghi (Ita) Alessio                                       1
 
Passo Di Valles - km 111.9
 
1 Fredy Gonzalez (Col) Colombia-Selle Italia                      10 pts
2 Constantino Zaballa Gutierez (Spa) Kelme-Costa Blanca            6
3 Paolo Lanfranchi (Ita) Ceramiche Panaria-Fiordo                  4
4 Denis Lunghi (Ita) Alessio                                       2
5 Michele Gobbi (Ita) De Nardi-Colpack                             1
 
Passo Di S. Pellegrino - km 124.9
 
1 Fredy Gonzalez (Col) Colombia-Selle Italia                      10 pts
2 Constantino Zaballa Gutierez (Spa) Kelme-Costa Blanca            6
3 Paolo Lanfranchi (Ita) Ceramiche Panaria-Fiordo                  4
4 Denis Lunghi (Ita) Alessio                                       2
5 Michele Gobbi (Ita) De Nardi-Colpack                             1
 
Alpe Di Pampeago - km 162
 
1 Gilberto Simoni (Ita) Team Saeco                                15 pts
2 Stefano Garzelli (Ita) Vini Caldirola-SO.DI                     10
3 Raimondas Rumsas (Ltu) Lampre                                    6
4 Julio A. Perez Cuapio (Mex) Ceramiche Panaria-Fiordo             4
5 Yaroslav Popovych (Ukr) Landbouwkrediet-Colnago                  2
 
Intergiro
 
1 Juilian Winn (GBr) Team fakta-Pata Chips                   1.53.59
2 Rinaldo Nocentini (Ita) Formaggi Pinzolo Fiave
3 Michele Gobbi (Ita) De Nardi-Colpack
4 Constantino Zaballa Gutierez (Spa) Kelme-Costa Blanca
5 Bo Hamburger (Den) Formaggi Pinzolo Fiave
6 Ruslan Gryschenko (Ukr) Landbouwkrediet-Colnago
7 Hector O. Mesa Mesa (Col) Formaggi Pinzolo Fiave
8 Leonardo Giordani (Ita) De Nardi-Colpack
9 Alexis Rodriguez (Spa) Kelme-Costa Blanca
10 Denis Lunghi (Ita) Alessio
11 Wladimir Belli (Ita) Lampre
12 Paolo Lanfranchi (Ita) Ceramiche Panaria-Fiordo
13 Fabio Sacchi (Ita) Team Saeco
14 Bradley Wiggins (GBr) FDJeux.com
15 Fredy Gonzalez (Col) Colombia-Selle Italia
16 Paolo Fornaciari (Ita) Team Saeco
17 Uwe Hardter (Ger) Gerolsteiner
18 Dario Pieri (Ita) Team Saeco
19 Steffen Weigold (Ger) Gerolsteiner
20 Martin Hvastija (Slo) Tenax
 
Most combative
 
1 Fredy Gonzalez (Col) Colombia-Selle Italia                      12 pts
2 Constantino Zaballa Gutierez (Spa) Kelme-Costa Blanca           11
3 Gilberto Simoni (Ita) Team Saeco                                 6
4 Stefano Garzelli (Ita) Vini Caldirola-SO.DI                      5
5 Paolo Lanfranchi (Ita) Ceramiche Panaria-Fiordo                  5
6 Michele Gobbi (Ita) De Nardi-Colpack                             5
7 Juilian Winn (GBr) Team fakta-Pata Chips                         5
8 Raimondas Rumsas (Ltu) Lampre                                    4
9 Rinaldo Nocentini (Ita) Formaggi Pinzolo Fiave                   4
10 Julio A. Perez Cuapio (Mex) Ceramiche Panaria-Fiordo            3
11 Yaroslav Popovych (Ukr) Landbouwkrediet-Colnago                 2
12 Denis Lunghi (Ita) Alessio                                      2
13 Andrea Noe' (Ita) Alessio                                       1
14 Bo Hamburger (Den) Formaggi Pinzolo Fiave                       1
 
Azzurri d'Italia
 
1 Gilberto Simoni (Ita) Team Saeco                                 4 pts
2 Stefano Garzelli (Ita) Vini Caldirola-SO.DI                      2
3 Raimondas Rumsas (Ltu) Lampre                                    1
 
Trofeo Fuga Piaggio
 
1 Fredy Gonzalez (Col) Colombia-Selle Italia                      57 pts
2 Michele Gobbi (Ita) De Nardi-Colpack                            23
3 Wladimir Belli (Ita) Lampre                                     21
4 Constantino Zaballa Gutierez (Spa) Kelme-Costa Blanca           16
5 Paolo Lanfranchi (Ita) Ceramiche Panaria-Fiordo                 15
6 Rinaldo Nocentini (Ita) Formaggi Pinzolo Fiave                  15
7 Denis Lunghi (Ita) Alessio                                      15
 
Trofeo Fast Team
 
1 Lampre                                                    14.23.22
2 Vini Caldirola-SO.DI                                          2.23
3 Fassa Bortolo                                                 4.09
4 Mercatone Uno-Scanavino                                       5.36
5 Alessio                                                       6.00
6 Team Saeco                                                    6.48
7 De Nardi-Colpack                                              9.01
8 Landbouwkrediet-Colnago                                       9.08
9 Ceramiche Panaria-Fiordo                                     10.42
10 CCC Polsat                                                  11.08
11 Kelme-Costa Blanca                                          12.22
12 Colombia-Selle Italia                                       16.12
13 Formaggi Pinzolo Fiave'-Ciarrocchi                          16.14
14 Gerolsteiner                                                16.56
15 Team fakta-Pata Chips                                       24.28
16 Domina Vacanze-Elitron                                      26.25
17 FDJeux.com                                                  37.15
18 Tenax                                                       43.39
19 Lotto-Domo                                                  44.33
 
Trofeo Super Team
 
1 Lampre                                                          44 pts
2 Vini Caldirola-SO.DI                                            32
3 Alessio                                                         21
4 Team Saeco                                                      20
5 Fassa Bortolo                                                   19
6 Ceramiche Panaria-Fiordo                                        17
7 Landbouwkrediet-Colnago                                         17
8 Mercatone Uno-Scanavino                                         17
9 Gerolsteiner                                                    11
10 De Nardi-Colpack                                                7
11 CCC Polsat                                                      3
12 Domina Vacanze-Elitron                                          2
13 Kelme-Costa Blanca                                              0
14 FDJeux.com                                                      0
15 Team fakta-Pata Chips                                           0
16 Formaggi Pinzolo Fiave'-Ciarrocchi                              0
17 Colombia-Selle Italia                                           0
18 Lotto-Domo                                                      0
19 Tenax                                                           0
 
General classification after stage 14
 
1 Gilberto Simoni (Ita) Team Saeco                          65.45.39
2 Stefano Garzelli (Ita) Vini Caldirola-SO.DI                   1.19
3 Andrea Noe' (Ita) Alessio                                     3.39
4 Yaroslav Popovych (Ukr) Landbouwkrediet-Colnago               4.09
5 Raimondas Rumsas (Ltu) Lampre                                 5.08
6 Francesco Casagrande (Ita) Lampre                             5.33
7 Georg Totschnig (Aut) Gerolsteiner                            6.45
8 Franco Pellizotti (Ita) Alessio                               7.18
9 Marco Pantani (Ita) Mercatone Uno - Scanavino                 8.19
10 Wladimir Belli (Ita) Lampre                                  8.41
11 Serguei Gontchar (Ukr) De Nardi-Colpack                      9.56
12 Michele Scarponi (Ita) Domina Vacanze-Elitron               10.31
13 Massimo Codol (Ita) Mercatone Uno - Scanavino               11.25
14 Dariusz Baranowski (Pol) CCC-Polsat                         11.44
15 Eddy Mazzoleni (Ita) Vini Caldirola-SO.DI                   12.35
16 Dario Frigo (Ita) Fassa Bortolo                             13.02
17 Julio A. Perez Cuapio (Mex) Ceramiche Panaria-Fiordo        14.42
18 Marco Velo (Ita) Fassa Bortolo                              14.53
19 Aitor Gonzalez Jimenez (Spa) Fassa Bortolo                  17.12
20 Giuliano Figueras (Ita) Ceramiche Panaria-Fiordo            17.29
21 Leonardo Bertagnolli (Ita) Team Saeco                       18.13
22 Marzio Bruseghin (Ita) Fassa Bortolo                        18.19
23 Kim Kirchen (Lux) Fassa Bortolo                             19.51
24 Sandy Casar (Fra) FDJeux.com                                20.13
25 Adolfo Garcia Quesada (Spa) Kelme-Costa Blanca              20.43
26 Gianni Faresin (Ita) Gerolsteiner                           21.53
27 Pietro Caucchioli (Ita) Alessio                             23.33
28 Graziano Gasparre (Ita) De Nardi-Colpack                    25.48
29 Radoslaw Romanik (Pol) CCC-Polsat                           26.01
30 Luis F. Laverde Jimenez (Col) Formaggi Pinzolo Fiave        26.40
31 Sylvester Szmyd (Pol) Mercatone Uno - Scanavino             27.53
32 Scott Sunderland (Aus) Team fakta-Pata Chips                28.40
33 Thomas Brozyna (Pol) CCC-Polsat                             31.11
34 Fredy Gonzalez (Col) Colombia-Selle Italia                  31.28
35 Dario David Cioni (Ita) Fassa Bortolo                       31.33
36 Vladimir Miholievic (Cro) Alessio                           31.52
37 Paolo Lanfranchi (Ita) Ceramiche Panaria-Fiordo             32.14
38 Ignacio Gutierrez Cataluna (Spa) Kelme-Costa Blanca         33.22
39 Damiano Cunego (Ita) Team Saeco                             33.25
40 Gerhard Trampusch (Aut) Gerolsteiner                        34.58
41 Denis Lunghi (Ita) Alessio                                  34.59
42 Joaquim Castelblanco (Col) Colombia-Selle Italia            35.01
43 Constantino Zaballa Gutierez (Spa) Kelme-Costa Blanca       35.06
44 Vladimir Duma (Ukr) Landbouwkrediet-Colnago                 38.09
45 Francesco Vila Errandonea (Spa) Lampre                      38.54
46 Daniel Clavero (Spa) Mercatone Uno - Scanavino              39.34
47 Steve Zampieri (Swi) Vini Caldirola-SO.DI                   39.57
48 Hernan D. Munoz (Col) Colombia-Selle Italia                 42.32
49 Cristian Gasperoni (Ita) Mercatone Uno - Scanavino          48.37
50 Koos Moerenhout (Ned) Lotto-Domo                            53.41
51 Sergiy Adyeyev (Ukr) Landbouwkrediet-Colnago                54.32
52 Marius Sabaliauskas (Ltu) Team Saeco                        54.59
53 Roberto Conti (Ita) Mercatone Uno - Scanavino               55.06
54 Matteo Carrara (Ita) De Nardi-Colpack                       55.15
55 Andrea Tonti (Ita) Team Saeco                               55.27
56 Alexis Rodriguez (Spa) Kelme-Costa Blanca                   55.30
57 Kurt Asle Arvesen (Nor) Team fakta-Pata Chips               57.47
58 Fortunato Baliani (Ita) Formaggi Pinzolo Fiave              58.29
59 Rinaldo Nocentini (Ita) Formaggi Pinzolo Fiave              59.22
60 Alessandro Spezialetti (Ita) Team Saeco                     59.55
61 Charles Wegelius (GBr) De Nardi-Colpack                   1.00.19
62 Leonardo Zanotti (Ita) De Nardi-Colpack                   1.00.54
63 Piotr Chmielewski (Pol) CCC-Polsat                        1.01.29
64 Bo Hamburger (Den) Formaggi Pinzolo Fiave                 1.04.08
65 Jorgen Bo Petersen (Den) Team fakta-Pata Chips            1.09.11
66 Sergio Barbero (Ita) Lampre                               1.10.09
67 Daniele Pietropolli (Ita) Tenax                           1.10.55
68 Bernhard Eisel (Aut) FDJeux.com                           1.11.51
69 Volodimir Bileka (Ukr) Landbouwkrediet-Colnago            1.13.15
70 Gabriele Colombo (Ita) Domina Vacanze-Elitron             1.13.50
71 David Derepas (Fra) FDJeux.com                            1.14.42
72 Gian Paolo Cheula (Ita) Vini Caldirola-SO.DI              1.15.20
73 Fabio Sacchi (Ita) Team Saeco                             1.15.37
74 Ronny Scholz (Ger) Gerolsteiner                           1.19.10
75 Carlos Dacruz (Fra) FDJeux.com                            1.20.24
76 Raffaele Illiano (Ita) Colombia-Selle Italia              1.20.50
77 Giuseppe Muraglia (Rus) Formaggi Pinzolo Fiave            1.23.23
78 Uwe Hardter (Ger) Gerolsteiner                            1.24.30
79 Tom Stremersch (Bel) Landbouwkrediet-Colnago              1.25.06
80 Rodolfo Massi (Ita) Colombia-Selle Italia                 1.25.37
81 Alessandro Petacchi (Ita) Fassa Bortolo                   1.26.02
82 Hector O. Mesa Mesa (Col) Formaggi Pinzolo Fiave          1.26.07
83 Oscar Pozzi (Ita) Tenax                                   1.26.10
84 Giovanni Lombardi (Ita) Domina Vacanze-Elitron            1.27.56
85 Fabio Baldato (Ita) Alessio                               1.28.04
86 Cristiano Frattini (Ita) Tenax                            1.29.27
87 Magnus Backstedt (Swe) Team fakta-Pata Chips              1.30.30
88 Giuseppe Palumbo (Ita) De Nardi-Colpack                   1.31.04
89 Steffen Weigold (Ger) Gerolsteiner                        1.32.24
90 Scott Davis (Aus) Ceramiche Panaria-Fiordo                1.33.33
91 Mario Manzoni (Ita) Mercatone Uno - Scanavino             1.33.45
92 Paolo Fornaciari (Ita) Team Saeco                         1.34.10
93 Michele Gobbi (Ita) De Nardi-Colpack                      1.34.15
94 Mario Scirea (Ita) Domina Vacanze-Elitron                 1.38.29
95 Ruslan Gryschenko (Ukr) Landbouwkrediet-Colnago           1.39.33
96 Lorenzo Bernucci (Ita) Landbouwkrediet-Colnago            1.39.34
97 Juilian Winn (GBr) Team fakta-Pata Chips                  1.40.02
98 Daniele Bennati (Ita) Domina Vacanze-Elitron              1.40.13
99 Gianluca Tonetti (Ita) Tenax                              1.41.14
100 Mauro Gerosa (Ita) Vini Caldirola-SO.DI                  1.42.48
101 Fabiano Fontanelli (Ita) Mercatone Uno - Scanavino       1.45.28
102 Simone Bertoletti (Ita) Lampre                           1.45.39
103 Dario Andriotto (Ita) Vini Caldirola-SO.DI               1.47.15
104 Manuel Quinziato (Ita) Lampre                            1.48.00
105 Julian Usano Martinez (Spa) Kelme-Costa Blanca           1.48.09
106 Leonardo Giordani (Ita) De Nardi-Colpack                 1.49.05
107 Seweryn Kohut (Pol) CCC-Polsat                           1.49.53
108 Ruber Alverio Marin (Col) Colombia-Selle Italia          1.50.16
109 Alberto Ongarato (Ita) Domina Vacanze-Elitron            1.51.07
110 Jan Svorada (Cze) Lampre                                 1.51.50
111 Frank Hoj (Den) Team fakta-Pata Chips                    1.55.42
112 Rene' Joergensen (Den) Team fakta-Pata Chips             1.56.48
113 Angelo Furlan (Ita) Alessio                              1.57.30
114 Jordi Riera Valls (Spa) Kelme-Costa Blanca               1.59.16
115 Biagio Conte (Ita) Formaggi Pinzolo Fiave                2.01.31
116 Matteo Tosatto (Ita) Fassa Bortolo                       2.01.42
117 Lars Ytting Bak (Den) Team fakta-Pata Chips              2.01.52
118 Frederic Guesdon (Fra) FDJeux.com                        2.03.23
119 Johan Verstrepen (Bel) Landbouwkrediet-Colnago           2.04.03
120 Andrus Aug (Est) De Nardi-Colpack                        2.06.45
121 Guido Trenti (USA) Fassa Bortolo                         2.08.19
122 Dario Pieri (Ita) Team Saeco                             2.09.07
123 Werner Riebenbauer (Aut) Team fakta-Pata Chips           2.09.11
124 John Freddy Garcia (Col) Colombia-Selle Italia           2.09.30
125 Robert Forster (Ger) Gerolsteiner                        2.09.47
126 Nick Gates (Aus) Lotto-Domo                              2.10.48
127 Regis Lhuillier (Fra) FDJeux.com                         2.11.36
128 Luca De Angeli (Ita) Colombia-Selle Italia               2.11.46
129 Salvatore Scamardella (Ita) Landbouwkrediet-Colnago      2.13.35
130 Massimo Apollonio (Ita) Vini Caldirola-SO.DI             2.14.39
131 Jimmy Casper (Fra) FDJeux.com                            2.14.52
132 Gianpaolo Mondini (Ita) Domina Vacanze-Elitron           2.15.19
133 Francesco Secchiari (Ita) Domina Vacanze-Elitron         2.15.54
134 Martin Hvastija (Slo) Tenax                              2.16.21
135 Gert Steegmans (Bel) Lotto-Domo                          2.16.27
136 Bradley Wiggins (GBr) FDJeux.com                         2.16.56
137 Moreno Di Biase (Ita) Formaggi Pinzolo Fiave             2.17.32
138 Bogdan Bondariew (Ukr) CCC-Polsat                        2.25.50
 
Points classification
 
1 Alessandro Petacchi (Ita) Fassa Bortolo                        183 pts
2 Stefano Garzelli (Ita) Vini Caldirola-SO.DI                    127
3 Gilberto Simoni (Ita) Team Saeco                               100
4 Jan Svorada (Cze) Lampre                                        83
5 Francesco Casagrande (Ita) Lampre                               63
6 Magnus Backstedt (Swe) Team fakta-Pata Chips                    60
7 Bernhard Eisel (Aut) FDJeux.com                                 60
8 Yaroslav Popovych (Ukr) Landbouwkrediet-Colnago                 49
9 Andrea Noe' (Ita) Alessio                                       42
10 Eddy Mazzoleni (Ita) Vini Caldirola-SO.DI                      42
11 Kurt Asle Arvesen (Nor) Team fakta-Pata Chips                  40
12 Giovanni Lombardi (Ita) Domina Vacanze-Elitron                 40
13 Moreno Di Biase (Ita) Formaggi Pinzolo Fiave                   38
14 Daniele Bennati (Ita) Domina Vacanze-Elitron                   38
15 Graziano Gasparre (Ita) De Nardi-Colpack                       34
16 Gabriele Colombo (Ita) Domina Vacanze-Elitron                  32
17 Julio A. Perez Cuapio (Mex) Ceramiche Panaria-Fiordo           30
18 Giuliano Figueras (Ita) Ceramiche Panaria-Fiordo               30
19 Angelo Furlan (Ita) Alessio                                    30
20 Fabio Baldato (Ita) Alessio                                    29
21 Raimondas Rumsas (Ltu) Lampre                                  28
22 Graeme Brown (Aus) Ceramiche Panaria-Fiordo                    28
23 Franco Pellizotti (Ita) Alessio                                27
24 Marco Pantani (Ita) Mercatone Uno - Scanavino                  26
25 Crescenzo D'amore (Ita) Tenax                                  26
26 Vladimir Duma (Ukr) Landbouwkrediet-Colnago                    24
27 Dario Pieri (Ita) Team Saeco                                   24
28 Constantino Zaballa Gutierez (Spa) Kelme-Costa Blanca          23
29 Jimmy Casper (Fra) FDJeux.com                                  23
30 Michele Scarponi (Ita) Domina Vacanze-Elitron                  22
31 Marco Velo (Ita) Fassa Bortolo                                 22
32 Gerhard Trampusch (Aut) Gerolsteiner                           22
33 Georg Totschnig (Aut) Gerolsteiner                             20
34 Lorenzo Bernucci (Ita) Landbouwkrediet-Colnago                 20
35 Paolo Lanfranchi (Ita) Ceramiche Panaria-Fiordo                18
36 Bo Hamburger (Den) Formaggi Pinzolo Fiave                      17
37 Fredy Gonzalez (Col) Colombia-Selle Italia                     16
38 Sandy Casar (Fra) FDJeux.com                                   15
39 Leonardo Bertagnolli (Ita) Team Saeco                          15
40 Kim Kirchen (Lux) Fassa Bortolo                                15
41 Fabio Sacchi (Ita) Team Saeco                                  14
42 Werner Riebenbauer (Aut) Team fakta-Pata Chips                 14
43 Matteo Carrara (Ita) De Nardi-Colpack                          13
44 Giuseppe Palumbo (Ita) De Nardi-Colpack                        13
45 Wladimir Belli (Ita) Lampre                                    12
46 Aitor Gonzalez Jimenez (Spa) Fassa Bortolo                     12
47 Ignacio Gutierrez Cataluna (Spa) Kelme-Costa Blanca            12
48 Fabiano Fontanelli (Ita) Mercatone Uno - Scanavino             11
49 Serguei Gontchar (Ukr) De Nardi-Colpack                        10
50 Dario Frigo (Ita) Fassa Bortolo                                10
51 Marius Sabaliauskas (Ltu) Team Saeco                           10
52 Andrus Aug (Est) De Nardi-Colpack                              10
53 Guido Trenti (USA) Fassa Bortolo                               10
54 Piotr Chmielewski (Pol) CCC-Polsat                              9
55 Lars Ytting Bak (Den) Team fakta-Pata Chips                     9
56 Fortunato Baliani (Ita) Formaggi Pinzolo Fiave                  8
57 Juilian Winn (GBr) Team fakta-Pata Chips                        8
58 Gianni Faresin (Ita) Gerolsteiner                               7
59 Robert Forster (Ger) Gerolsteiner                               7
60 Vladimir Miholievic (Cro) Alessio                               6
61 Denis Lunghi (Ita) Alessio                                      6
62 Rinaldo Nocentini (Ita) Formaggi Pinzolo Fiave                  6
63 Julian Usano Martinez (Spa) Kelme-Costa Blanca                  6
64 Dariusz Baranowski (Pol) CCC-Polsat                             5
65 Luis F. Laverde Jimenez (Col) Formaggi Pinzolo Fiave            5
66 Dario David Cioni (Ita) Fassa Bortolo                           4
67 Michele Gobbi (Ita) De Nardi-Colpack                            4
68 Luca De Angeli (Ita) Colombia-Selle Italia                      4
69 Martin Hvastija (Slo) Tenax                                     4
70 Massimo Codol (Ita) Mercatone Uno - Scanavino                   3
71 Thomas Brozyna (Pol) CCC-Polsat                                 3
72 Sergiy Adyeyev (Ukr) Landbouwkrediet-Colnago                    3
73 Raffaele Illiano (Ita) Colombia-Selle Italia                    3
74 Oscar Pozzi (Ita) Tenax                                         3
75 Biagio Conte (Ita) Formaggi Pinzolo Fiave                       3
76 Francesco Vila Errandonea (Spa) Lampre                          2
77 Cristiano Frattini (Ita) Tenax                                  2
78 Ruslan Gryschenko (Ukr) Landbouwkrediet-Colnago                 2
79 John Freddy Garcia (Col) Colombia-Selle Italia                  2
80 Marzio Bruseghin (Ita) Fassa Bortolo                            1
81 Adolfo Garcia Quesada (Spa) Kelme-Costa Blanca                  1
82 Jorgen Bo Petersen (Den) Team fakta-Pata Chips                  1
83 Steffen Weigold (Ger) Gerolsteiner                              1
84 Mario Manzoni (Ita) Mercatone Uno - Scanavino                   1
 
Mountains classification
 
1 Fredy Gonzalez (Col) Colombia-Selle Italia                      77 pts
2 Constantino Zaballa Gutierez (Spa) Kelme-Costa Blanca           48
3 Gilberto Simoni (Ita) Team Saeco                                43
4 Stefano Garzelli (Ita) Vini Caldirola-SO.DI                     36
5 Marzio Bruseghin (Ita) Fassa Bortolo                            15
6 Paolo Lanfranchi (Ita) Ceramiche Panaria-Fiordo                 11
7 Ruslan Gryschenko (Ukr) Landbouwkrediet-Colnago                  9
8 Francesco Casagrande (Ita) Lampre                                8
9 Andrea Noe' (Ita) Alessio                                        6
10 Yaroslav Popovych (Ukr) Landbouwkrediet-Colnago                 6
11 Raimondas Rumsas (Ltu) Lampre                                   6
12 Michele Gobbi (Ita) De Nardi-Colpack                            6
13 Denis Lunghi (Ita) Alessio                                      5
14 Julio A. Perez Cuapio (Mex) Ceramiche Panaria-Fiordo            4
15 Pavel Tonkov (Rus) CCC-Polsat                                   4
16 Luis F. Laverde Jimenez (Col) Formaggi Pinzolo Fiave            3
17 Marco Pantani (Ita) Mercatone Uno - Scanavino                   2
18 Eddy Mazzoleni (Ita) Vini Caldirola-SO.DI                       2
19 Pietro Caucchioli (Ita) Alessio                                 2
20 Fortunato Baliani (Ita) Formaggi Pinzolo Fiave                  2
21 Oscar Pozzi (Ita) Tenax                                         2
22 Magnus Backstedt (Swe) Team fakta-Pata Chips                    2
23 Wladimir Belli (Ita) Lampre                                     1
24 Adolfo Garcia Quesada (Spa) Kelme-Costa Blanca                  1
25 Roberto Conti (Ita) Mercatone Uno - Scanavino                   1
26 Kurt Asle Arvesen (Nor) Team fakta-Pata Chips                   1
27 Rinaldo Nocentini (Ita) Formaggi Pinzolo Fiave                  1
28 Volodimir Bileka (Ukr) Landbouwkrediet-Colnago                  1
 
Intergiro classification
 
1 Moreno Di Biase (Ita) Formaggi Pinzolo Fiave              36.28.10
2 Magnus Backstedt (Swe) Team fakta-Pata Chips                  0.26
3 Jan Svorada (Cze) Lampre                                      1.16
4 Constantino Zaballa Gutierez (Spa) Kelme-Costa Blanca         1.18
5 Jimmy Casper (Fra) FDJeux.com                                 1.30
6 Giuseppe Palumbo (Ita) De Nardi-Colpack                       1.31
7 Ignacio Gutierrez Cataluna (Spa) Kelme-Costa Blanca           1.38
8 Juilian Winn (GBr) Team fakta-Pata Chips                      1.56
9 Fredy Gonzalez (Col) Colombia-Selle Italia
10 Sandy Casar (Fra) FDJeux.com
11 Fortunato Baliani (Ita) Formaggi Pinzolo Fiave
12 Sergei Lelekin (Rus) Tenax
13 Bo Hamburger (Den) Formaggi Pinzolo Fiave                    1.59
14 Fabiano Fontanelli (Ita) Mercatone Uno - Scanavino
15 Rinaldo Nocentini (Ita) Formaggi Pinzolo Fiave               2.02
16 Julian Usano Martinez (Spa) Kelme-Costa Blanca
17 Alessandro Petacchi (Ita) Fassa Bortolo
18 Vladimir Miholievic (Cro) Alessio
19 Kurt Asle Arvesen (Nor) Team fakta-Pata Chips
20 Robert Forster (Ger) Gerolsteiner                            2.04
 
Most combative classification
 
1 Alessandro Petacchi (Ita) Fassa Bortolo                         53 pts
2 Fredy Gonzalez (Col) Colombia-Selle Italia                      46
3 Constantino Zaballa Gutierez (Spa) Kelme-Costa Blanca           38
4 Stefano Garzelli (Ita) Vini Caldirola-SO.DI                     28
5 Magnus Backstedt (Swe) Team fakta-Pata Chips                    26
6 Gilberto Simoni (Ita) Team Saeco                                23
7 Moreno Di Biase (Ita) Formaggi Pinzolo Fiave                    22
8 Jan Svorada (Cze) Lampre                                        19
9 Kurt Asle Arvesen (Nor) Team fakta-Pata Chips                   11
10 Francesco Casagrande (Ita) Lampre                              10
11 Bernhard Eisel (Aut) FDJeux.com                                10
12 Jimmy Casper (Fra) FDJeux.com                                   8
13 Ignacio Gutierrez Cataluna (Spa) Kelme-Costa Blanca             8
14 Marzio Bruseghin (Ita) Fassa Bortolo                            7
15 Paolo Lanfranchi (Ita) Ceramiche Panaria-Fiordo                 7
16 Gabriele Colombo (Ita) Domina Vacanze-Elitron                   7
17 Giuseppe Palumbo (Ita) De Nardi-Colpack                         7
18 Daniele Bennati (Ita) Domina Vacanze-Elitron                    7
19 Fabio Baldato (Ita) Alessio                                     6
20 Fortunato Baliani (Ita) Formaggi Pinzolo Fiave                  6
21 Giuliano Figueras (Ita) Ceramiche Panaria-Fiordo                6
22 Ruslan Gryschenko (Ukr) Landbouwkrediet-Colnago                 6
23 Angelo Furlan (Ita) Alessio                                     6
24 Sandy Casar (Fra) FDJeux.com                                    5
25 Juilian Winn (GBr) Team fakta-Pata Chips                        5
26 Andrea Noe' (Ita) Alessio                                       5
27 Yaroslav Popovych (Ukr) Landbouwkrediet-Colnago                 5
28 Eddy Mazzoleni (Ita) Vini Caldirola-SO.DI                       5
29 Rinaldo Nocentini (Ita) Formaggi Pinzolo Fiave                  5
30 Michele Gobbi (Ita) De Nardi-Colpack                            5
31 Raimondas Rumsas (Ltu) Lampre                                   4
32 Julio A. Perez Cuapio (Mex) Ceramiche Panaria-Fiordo            4
33 Vladimir Miholievic (Cro) Alessio                               4
34 Bo Hamburger (Den) Formaggi Pinzolo Fiave                       4
35 Giovanni Lombardi (Ita) Domina Vacanze-Elitron                  4
36 Fabiano Fontanelli (Ita) Mercatone Uno - Scanavino              4
37 Julian Usano Martinez (Spa) Kelme-Costa Blanca                  4
38 Crescenzo D'amore (Ita) Tenax                                   4
39 Franco Pellizotti (Ita) Alessio                                 3
40 Marco Velo (Ita) Fassa Bortolo                                  3
41 Leonardo Bertagnolli (Ita) Team Saeco                           3
42 Gianni Faresin (Ita) Gerolsteiner                               3
43 Dario David Cioni (Ita) Fassa Bortolo                           3
44 Oscar Pozzi (Ita) Tenax                                         3
45 Robert Forster (Ger) Gerolsteiner                               3
46 Martin Hvastija (Slo) Tenax                                     3
47 Marco Pantani (Ita) Mercatone Uno - Scanavino                   2
48 Luis F. Laverde Jimenez (Col) Formaggi Pinzolo Fiave            2
49 Thomas Brozyna (Pol) CCC-Polsat                                 2
50 Denis Lunghi (Ita) Alessio                                      2
51 Sergiy Adyeyev (Ukr) Landbouwkrediet-Colnago                    2
52 Matteo Carrara (Ita) De Nardi-Colpack                           2
53 Raffaele Illiano (Ita) Colombia-Selle Italia                    2
54 Lorenzo Bernucci (Ita) Landbouwkrediet-Colnago                  2
55 Biagio Conte (Ita) Formaggi Pinzolo Fiave                       2
56 Graeme Brown (Aus) Ceramiche Panaria-Fiordo                     2
57 Michele Scarponi (Ita) Domina Vacanze-Elitron                   1
58 Adolfo Garcia Quesada (Spa) Kelme-Costa Blanca                  1
59 Pietro Caucchioli (Ita) Alessio                                 1
60 Vladimir Duma (Ukr) Landbouwkrediet-Colnago                     1
61 Francesco Vila Errandonea (Spa) Lampre                          1
62 Marius Sabaliauskas (Ltu) Team Saeco                            1
63 Fabio Sacchi (Ita) Team Saeco                                   1
64 Cristiano Frattini (Ita) Tenax                                  1
65 Guido Trenti (USA) Fassa Bortolo                                1
66 John Freddy Garcia (Col) Colombia-Selle Italia                  1
 
Azzurri d'Italia classification
 
1 Alessandro Petacchi (Ita) Fassa Bortolo                         23 pts
2 Stefano Garzelli (Ita) Vini Caldirola-SO.DI                     13
3 Gilberto Simoni (Ita) Team Saeco                                11
4 Kurt Asle Arvesen (Nor) Team fakta-Pata Chips                    4
5 Fabio Baldato (Ita) Alessio                                      4
6 Francesco Casagrande (Ita) Lampre                                3
7 Bernhard Eisel (Aut) FDJeux.com                                  2
8 Gabriele Colombo (Ita) Domina Vacanze-Elitron                    2
9 Daniele Bennati (Ita) Domina Vacanze-Elitron                     2
10 Andrea Noe' (Ita) Alessio                                       1
11 Raimondas Rumsas (Ltu) Lampre                                   1
12 Giuliano Figueras (Ita) Ceramiche Panaria-Fiordo                1
13 Jan Svorada (Cze) Lampre                                        1
14 Angelo Furlan (Ita) Alessio                                     1
15 Crescenzo D'amore (Ita) Tenax                                   1
 
Trofeo Fuga Piaggio classification
 
1 Magnus Backstedt (Swe) Team fakta-Pata Chips                   210 pts
2 Ignacio Gutierrez Cataluna (Spa) Kelme-Costa Blanca            208
3 Constantino Zaballa Gutierez (Spa) Kelme-Costa Blanca          203
4 Sergiy Adyeyev (Ukr) Landbouwkrediet-Colnago                   155
5 Marzio Bruseghin (Ita) Fassa Bortolo                           135
6 Fredy Gonzalez (Col) Colombia-Selle Italia                     129
7 Julian Usano Martinez (Spa) Kelme-Costa Blanca                 127
8 Fortunato Baliani (Ita) Formaggi Pinzolo Fiave                 119
9 Martin Hvastija (Slo) Tenax                                    119
10 Sandy Casar (Fra) FDJeux.com                                   94
11 Bo Hamburger (Den) Formaggi Pinzolo Fiave                      87
12 Gianni Faresin (Ita) Gerolsteiner                              80
13 Thomas Brozyna (Pol) CCC-Polsat                                80
14 Vladimir Miholievic (Cro) Alessio                              74
15 Fabio Sacchi (Ita) Team Saeco                                  74
16 Cristiano Frattini (Ita) Tenax                                 64
17 John Freddy Garcia (Col) Colombia-Selle Italia                 50
18 Carlos Dacruz (Fra) FDJeux.com                                 48
19 Moreno Di Biase (Ita) Formaggi Pinzolo Fiave                   47
20 Denis Lunghi (Ita) Alessio                                     38
21 Gilberto Simoni (Ita) Team Saeco                               37
22 Jimmy Casper (Fra) FDJeux.com                                  36
23 Jorgen Bo Petersen (Den) Team fakta-Pata Chips                 36
24 Volodimir Bileka (Ukr) Landbouwkrediet-Colnago                 36
25 Jan Svorada (Cze) Lampre                                       36
26 Oscar Pozzi (Ita) Tenax                                        34
27 Giuseppe Palumbo (Ita) De Nardi-Colpack                        33
28 Frank Hoj (Den) Team fakta-Pata Chips                          31
29 Leonardo Zanotti (Ita) De Nardi-Colpack                        28
30 Kurt Asle Arvesen (Nor) Team fakta-Pata Chips                  26
31 Wladimir Belli (Ita) Lampre                                    26
32 Leonardo Bertagnolli (Ita) Team Saeco                          26
33 Michele Gobbi (Ita) De Nardi-Colpack                           23
34 Daniele Pietropolli (Ita) Tenax                                16
35 Paolo Lanfranchi (Ita) Ceramiche Panaria-Fiordo                15
36 Rinaldo Nocentini (Ita) Formaggi Pinzolo Fiave                 15
37 Alexis Rodriguez (Spa) Kelme-Costa Blanca                      14
38 Hernan D. Munoz (Col) Colombia-Selle Italia                    13
39 Ronny Scholz (Ger) Gerolsteiner                                13
40 Manuel Quinziato (Ita) Lampre                                  13
41 Jordi Riera Valls (Spa) Kelme-Costa Blanca                     13
42 Luis F. Laverde Jimenez (Col) Formaggi Pinzolo Fiave           12
43 Giovanni Lombardi (Ita) Domina Vacanze-Elitron                 12
44 Scott Davis (Aus) Ceramiche Panaria-Fiordo                     12
45 Stefano Garzelli (Ita) Vini Caldirola-SO.DI                    11
46 Lorenzo Bernucci (Ita) Landbouwkrediet-Colnago                 11
47 Thierry Marichal (Bel) Lotto-Domo                              11
48 Eddy Mazzoleni (Ita) Vini Caldirola-SO.DI                      10
49 Andrea Noe' (Ita) Alessio                                       8
50 Marco Velo (Ita) Fassa Bortolo                                  8
51 Piotr Chmielewski (Pol) CCC-Polsat                              8
52 Juilian Winn (GBr) Team fakta-Pata Chips                        6
53 Raffaele Illiano (Ita) Colombia-Selle Italia                    6
54 Yaroslav Popovych (Ukr) Landbouwkrediet-Colnago                 5
55 Raimondas Rumsas (Ltu) Lampre                                   5
56 Marius Sabaliauskas (Ltu) Team Saeco                            5
57 Hector O. Mesa Mesa (Col) Formaggi Pinzolo Fiave                5
 
Trofeo Fast Team classification
 
1 Lampre                                                   197.35.37
2 Alessio                                                      11.57
3 Fassa Bortolo                                                13.54
4 Team Saeco                                                   14.51
5 Mercatone Uno-Scanavino                                      21.03
6 Vini Caldirola-SO.DI                                         27.38
7 CCC Polsat                                                   29.26
8 Ceramiche Panaria-Fiordo                                     32.00
9 De Nardi-Colpack                                             42.28
10 Gerolsteiner                                                43.05
11 Kelme-Costa Blanca                                          44.39
12 Landbouwkrediet-Colnago                                     54.18
13 Colombia-Selle Italia                                     1.14.52
14 Formaggi Pinzolo Fiave'-Ciarrocchi                        1.38.14
15 Team fakta-Pata Chips                                     1.38.57
16 FDJeux.com                                                1.49.58
17 Domina Vacanze-Elitron                                    2.08.03
18 Tenax                                                     2.45.26
19 Lotto-Domo                                                3.41.30
 
Trofeo Super Team classification
 
1 Fassa Bortolo                                                  334 pts
2 Domina Vacanze-Elitron                                         281
3 Lampre                                                         258
4 Alessio                                                        235
5 Team Saeco                                                     210
6 Vini Caldirola-SO.DI                                           207
7 Ceramiche Panaria-Fiordo                                       193
8 Landbouwkrediet-Colnago                                        160
9 Team fakta-Pata Chips                                          142
10 Gerolsteiner                                                  138
11 De Nardi-Colpack                                              126
12 Lotto-Domo                                                    114
13 FDJeux.com                                                    105
14 Kelme-Costa Blanca                                            101
15 Mercatone Uno-Scanavino                                        98
16 CCC Polsat                                                     84
17 Colombia-Selle Italia                                          62
18 Tenax                                                          47
19 Formaggi Pinzolo Fiave'-Ciarrocchi                             45