93rd Milan - San Remo - CDM
Italy, March 23, 2002
2001 Results Preview Start List Past winners
A few words with Erik Zabel
World Number One Zabel challenged for his fifth Milan-San Remo
By Julie Walsh, Cyclingnews correspondent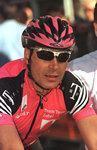 At Tirreno-Adriatico
Photo: © Sirotti
We caught up with Erik Zabel, arguably the best sprinter in the world, to ask him about his season's goals and preparation. Milan San Remo and the World Championships will be his major focus for the year, he told us, and he sees Freire and Cipollini as his major competition for these races.
Zabel has the record for the most Tour de France sprinter's jerseys, winning the title six times. This year, he is not predicting another green jersey win (although he'd like to) because of the increased pressure among teams to gain recognition and publicity for their sponsors. "The Tour is no longer just about the yellow jersey. Every team wants to have a rider in the green jersey," said Zabel.
This year's Milan San Remo is going to test the German sprinter's ability more than ever. His season so far has not been as victorious as season's past. He's had one stage win (the stage when Gian Matteo Fagnini broke his collarbone) and a handful of podium finishes. Fagnini was Zabel's primary lead-out man.

With Jan Ullrich at the Telekom team launch
Photo: © AFP
Other riders with great form looking for a win this Saturday include Oscar Freire, Mario Cipollini, Danilo Di Luca, Paolo Bettini, Fabio Baldato and Robbie McEwen. However, the Mapei duo of Freire and Bettini may be Zabel's greatest threat. The two displayed teamwork in the second stage of the Tirreno-Adriatico – a stage in which the race profile emulates the finale of MSR – when Freire worked to ensure Bettini's win. Freire has been outspoken about his determination to win MSR; maybe Bettini will return the favor.
Zabel has done nothing different in his training than he's done in his 10 years as a pro. At 5ft 10in (180cm) and 154 pounds (70kg), he rides mega miles at moderate intensity. "I don't do anything special or different. I never try anything new," he says. "Ninety-five percent of the time I ride base miles and five percent I'll do sprints. "Nothing more than 10-15 second intervals." When asked why he's so great, Zabel credits his genes. "It just came naturally to me."

Winning at Tirreno
Photo: © Sirotti
His team-mates, coaches and entire Telekom staff know that Zabel is a man who knows how to work. "He's by far the hardest working rider on the team," says Mario Kummer, the assistant director of Telekom. "He has a lot of natural ability, but no one works harder than Erik," he added. Zabel begins his race season each year at the beginning of February in Mallorca (where he owns a home and spends much of the winter) and races all the way through the six-day races during the winter.
With four MSR wins and his work ethic, Zabel knows what it takes to prepare for this race – the longest of the year. He is, in fact, Mr. Milan-San Remo.