Vuelta News for September 25, 2002
Edited by Jeff Jones

Stage 16 wrap up
The 16th stage of the Vuelta produced some interesting racing, and a morale boosting win for Santiago Botero and the Kelme team. Botero was one of five survivors of a 12 man break that went away after 55 km. In the end it came down to two Kelmes (Botero and Gutierrez), two Coasts (Plaza and Perez) and an iBanesto rider (Aitor Osa). Kelme had the faster finishers, so when Botero jumped on Luis Perez's wheel with 1 km to go all he had to do was stay behind and come round him in the sprint. He did so, denying the persevering Perez another chance of a stage win.
Back in the peloton, the only real action occurred on the day's main climb, the Cat. 1 Puerto de Pajares. Kelme set a hot tempo, isolating Roberto Heras from his US Postal teammates. However strangely neither the Kelme riders nor any of the other top 10 GC riders chose to risk an attack, and the effort was wasted with another 50 riders rejoining the front group on the run into the finish.
Full results & report
Live report
Photos
Danilo Di Luca's Vuelta Diary
Post stage comments
Santiago Botero (Kelme, 1st stage)
Santi Botero
Photo: © AFP

"I am very happy, you would not believe how I've suffered in this Vuelta. I dedicate this victory to my wife, and to my team, and especially to Quique Gutiérrez since it's the fourth time I've won a stage at the Vuelta."
"I've suffered a lot and this gives me a lot of morale to keep working for the team, and celebrating a victory for Aitor Gonzalez or Oscar Sevilla. I almost thought I would abandon on the Angliru stage, but I decided to stay and help my teammates. After all, that's why we are professionals and
Botero also was quick to dismiss talk of rivalry between him and Jose Gutierrez, his teammate in the break. "We are good friends, and I have worked for Gutierrez in breaks before where he has won."
Roberto Heras (USPS, 1st GC)
Roberto Heras
Photo: © Lavuelta.com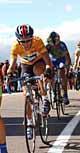 "There was no alarm on the climb and no-one attacked. I simply punctured after the climb as can happen to anyone. My teammates helped me with everything and I'm very thankful because they sacrificed their skins for me."
The next few stages will see Heras in his home territory of Bejar. "I am very happy because I'm coming home again in amarillo. I will try to give more joy to the fans."
On Thursday's stage, Heras commented that "I know the Covatilla and it is on this climb I must attack to increase the gaps."
Heras' team director Johan Bruyneel admitted that he had some nervous moments during the stage, but "we don't have too many riders to watch. I felt calmer when Vandevelde and Chechu Rubiera were back with him."
Aitor González (Kelme, 2nd GC)
"The team worked very well for when Heras was alone it was possible to take time from him, but on this occasion it was not to be."
Oscar Sevilla (Kelme, 3rd GC)
Oscar Sevilla
Photo: © Lavuelta.com

Oscar Sevilla was also quick to downplay an ongoing rivalry in the Kelme team between he and Aitor Gonzalez. At the press conference in Oviedo yesterday, Sevilla said that he accepted Gonzalez's apology which was given during the press conference. "There is still a lot of the Vuelta left to race, and I have not said my last word. I am not finished by any means."
Today he added that "Everything will be clarified when the Vuelta is finished because now it is necessary to be concentrated on the race," in response to more talk about the internal Kelme rivalry.
"There are still some hard days left to try and put the leader in difficulty."
Joseba Beloki (ONCE, 4th GC)
"After Heras was isolated on the Pajares, we expected them to try to put him on the ropes, particularly as there were five Kelme riders in the group and two ahead, but instead it came to no result.
TV figures show L'Angliru's popularity
Sunday's 15th stage from Gijón to L'Angliru was the most popular stage of the Vuelta so far in terms of Spanish TV audience figures. Organisers Unipublic announced that the stage was followed by an average audience of 3,745,000 viewers, which corresponded to an audience share 34.3%, the second highest of the day.
The complete broadcast of the stage, including the post race interviews, was followed by 3,692,000 viewers, which corresponded to a 34.4% viewing share. The minute with the highest audience rating came at 17.52, with 4,758,000 viewers (44.7% share) watching the action.
The stage was also popular in Italy, where 2,500,000 viewers saw RA13's transmission of the race, a figure that is higher than some of the Giro stages.
48 tested on rest day
48 riders were tested during the Vuelta's second rest day, with all results being negative. The teams tested were ONCE-Eroski, Euskaltel-Euskadi, US Postal Service, Kelme-Costa Blanca, Index-Alexia and Milaneza-MSS. So far in the Vuelta there have been no positive tests.
Stage 17: Benavente - Salamanca, 145.6 km
Tomorrow's stage 17 is a short transitional leg between Benavente and Salamanca. It contains no categorised climbs but the middle part of the stage is uphill. It should be a stage for the sprinters, who only have a few chances left in this Vuelta to win. That means the teams of Alessandro Petacchi (Fassa Bortolo) and Erik Zabel (Telekom) will be on the alert to keep any breakaways in check. Can Zabel finally get his stage win?
Join us tomorrow at 14:45 CEST/05:45 PDT/08:45 EDT/22:45 Aust. EST for live coverage of Stage 17.
(All rights reserved/Copyright Knapp Communications Pty Limited 2002)