Recently on Cyclingnews.com
Amy Gillett: January 9, 1976 - July 18, 2005
Photo ©: Mark Gunter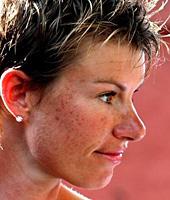 The 2005 Amy Gillett Foundation Charity Ride diary
Organised by 2005 Australian road champion Lorian Graham, the 10-day Amy Gillett Foundation Charity Ride is aimed at raising awareness among motorists and cyclists to promote road safety.
Kicking off in Maitland on Saturday, December 3 and finishing almost 1000 kilometres later in Brisbane on December 12, the group wishes to demonstrate that prevention of needless injuries and deaths on the roads, such as the one that killed Amy Gillett and seriously injured five of her team-mates in Germany this year, can be done with patience and respect.
"It's not such a big ask for everyone to be more considerate," said Lorian. "Cyclists should obey the rules and drivers should be aware of cyclists and exercise caution. What's more important - a couple minutes of your time or someone's life?"
Funds raised by the ride will go towards the Amy Gillett Foundation.
2005 entries
Tribute to Amy Gillett
See also: The AIS women's team diary