Amy Gillett: January 9, 1976 - July 18, 2005
Photo ©: Mark Gunter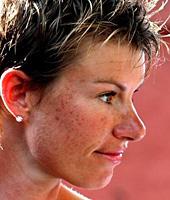 The 2005 Amy Gillett Foundation Charity Ride diary
Organised by 2005 Australian road champion Lorian Graham, the 10-day Amy Gillett Foundation Charity Ride is aimed at raising awareness among motorists and cyclists to promote road safety.
Kicking off in Maitland on Saturday, December 3 and finishing almost 1000 kilometres later in Brisbane on December 12, the group wishes to demonstrate that prevention of needless injuries and deaths on the roads, such as the one that killed Amy Gillett and seriously injured five of her team-mates in Germany this year, can be done with patience and respect.
"It's not such a big ask for everyone to be more considerate," said Lorian. "Cyclists should obey the rules and drivers should be aware of cyclists and exercise caution. What's more important - a couple minutes of your time or someone's life?"
Funds raised by the ride will go towards the Amy Gillett Foundation.
Day 4 - Port Macquarie Community Ride
By Pete Forbes
Latte art.
Photo ©: Pete Forbes

Our riders were greeted by a cast of well over 100 Port Macquarie cycling enthusiasts this morning to take part in the Community Ride organised by Graham Seers and Annie Morton from the Port Macquarie Cycling club. Two rides were organised, a 30km ride for experienced bunch riders, as well as a recreational 7km ride. The aim of today's ride was to reach out to the Port Macquarie community to promote safe cycling in a large bunch. Issues addressed were riding two abreast at all times in a bunch, and making sure that even on a bunch ride motorists a catered for at intersections.
Look out!
Photo ©: Pete Forbes

Following the small formalities a few cups of coffee and a Rotary bbq, some of the riders chose to do some extra kilometres with the Port Macquarie juniors led by Graham Seers. An extra 60km was completed and added to the riders gauges in what seems to be a new challenge of reaching 1000km well before Brisbane. A couple of riders now have 400km plus on their dials since beginning on Saturday.
The cakes are waiting!
Photo ©: Pete Forbes

Riders enjoyed a relaxing afternoon, while preparing to head to the Port Macquarie Club criterium to sell more raffle tickets for both the daily raffle and our major prize. Riders continue to raise the awareness of the Amy Gillett Foundation through appearing at the local club meeting. All riders took the opportunity to get attention to some stiff muscles, and crooked backs by some massage therapy courtesy of Jamie Bennett.
News flash!
One very bike-friendly cafe
Photo ©: Pete Forbes

Our one-off signed jersey auctions will be extended to people outside of the Charity Ride communities. More on this in the next installment of the Amy Gillett Foundation Charity Ride Diaries…
Photography
For a thumbnail gallery of these images, click here
Images by Pete Forbes
See also: The AIS women's team diary