Amy Gillett: January 9, 1976 - July 18, 2005
Photo ©: Mark Gunter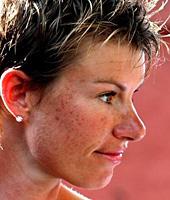 The 2005 Amy Gillett Foundation Charity Ride diary
Organised by 2005 Australian road champion Lorian Graham, the 10-day Amy Gillett Foundation Charity Ride is aimed at raising awareness among motorists and cyclists to promote road safety.
Kicking off in Maitland on Saturday, December 3 and finishing almost 1000 kilometres later in Brisbane on December 12, the group wishes to demonstrate that prevention of needless injuries and deaths on the roads, such as the one that killed Amy Gillett and seriously injured five of her team-mates in Germany this year, can be done with patience and respect.
"It's not such a big ask for everyone to be more considerate," said Lorian. "Cyclists should obey the rules and drivers should be aware of cyclists and exercise caution. What's more important - a couple minutes of your time or someone's life?"
Funds raised by the ride will go towards the Amy Gillett Foundation.
Day 3 Forster to Port Macquarie - 123km
By Pete Forbes
The Amy Gillett Foundation ride team
Photo ©: Pete Forbes

Riders moved into more of a routine on Day 3, both on and off the bike. An early start was declared as the mercury was due to tip well over 30 degrees. A photo opportunity with our team beckoned before departure. Departing at 6:30am our riders made solid progress out of the Forster region toward Taree. After some 'cycle dancing' pointing to the many holes in the road back to the highway, riders were greeted with a moderate head wind on entry to the highway. The tempo was set high after the riders regained their legs from Day 1. Each town en-route was ticked off quickly as the riders made their way to Kew. After a short nature and water stop, the riders continued on their way to Port Macquarie, enjoying varied road conditions and on the whole motorists showing their appreciation by way of kind 'tooting' gestures.
One of our riders, Mike Forbes, reluctantly departed today back to work and family commitments in Melbourne. Though we have now been joined by Cameron Hughes (Team Subway) who has made the trip down after finishing 9th in the South Bank Criterium at the weekend.
Riders enjoyed a rest afternoon, with the gear up for the Port Macquarie Community ride commencing at 6 am in the morning. We anticipate a great turn out, as Annie Morton and Graham Seers from Port Macquarie Cycling Club have engaged the Hastings River Cycling community in conducting two separate rides catering for riders of all abilities.
See also: The AIS women's team diary