Amy Gillett: January 9, 1976 - July 18, 2005
Photo ©: Mark Gunter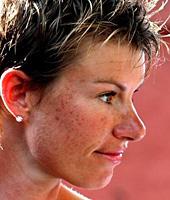 The 2005 Amy Gillett Foundation Charity Ride diary
Organised by 2005 Australian road champion Lorian Graham, the 10-day Amy Gillett Foundation Charity Ride is aimed at raising awareness among motorists and cyclists to promote road safety.
Kicking off in Maitland on Saturday, December 3 and finishing almost 1000 kilometres later in Brisbane on December 12, the group wishes to demonstrate that prevention of needless injuries and deaths on the roads, such as the one that killed Amy Gillett and seriously injured five of her team-mates in Germany this year, can be done with patience and respect.
"It's not such a big ask for everyone to be more considerate," said Lorian. "Cyclists should obey the rules and drivers should be aware of cyclists and exercise caution. What's more important - a couple minutes of your time or someone's life?"
Funds raised by the ride will go towards the Amy Gillett Foundation.
Wednesday, December 7
Day 5 - Port Macquarie - Nambucca Heads
By Dave Thomson
Port Macquarie CC
Photo ©: Pete Forbes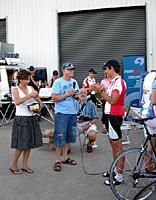 After what was a rest day for most of us, with exception for the 30 km Community ride and for Cameron Hughes who backed up for the local Criterium (and won), we were back out on the road heading north. A couple of local riders joined the group for the 6:30am start and went through to the highway before we headed north along the Pacific Highway.
Luckily the humid start disappeared and we were left with a calm overcast day. We were joined by Allan Duthie and Stephen Minkinson from Macksville Cycling Club, who rode with us through to Nambucca Heads as well as made some very generous donations towards the foundation. Riders were greeted with a mixture of smooth roads and wide shoulders along the highway. People were pretty good on the roads today with a lot of waves and friendly beeps, probably inspired by our new support car driver Pete's Uncle - Ted Strong. Ted joined us last night and will travel back to his home in Grafton.
Lorian flew out of Port Macquarie yesterday to go to Canberra to join the rest of the girls from the German accident on the AIS National Women's Camp. The camp serves multiple functions including as a reunion for the girls, assessing their progress and an AIS scholarship testing camp for next year's program. Lorian will fly back to join us in Grafton on Thursday afternoon before our function in Market Place (Cnr Prince and Pound St, Grafton) at 5:30pm.
Hughesie celebrates
Photo ©: Pete Forbes

A short refuel of the near empty tanks in Macksville, 12km short of Nambucca Heads, was recommended by Hughesie at one of the cyclists best friends (a bakery) provided the opportunity for Pete to talk with some locals about the foundation, raising awareness as well as funds. Hughesie was quick to point out all the local roads along the way where a bulk of his training is done when home (Scott's Head) from overseas commitments. Finally, it was on to Nambucca Heads, another 120 km completed maintaining above 30km/h average. The competition continues between TP, Pete and Hughesie to see who can get the most kms up before Brisbane. Terry is pretty happy with himself as he has cracked the 500km mark today, leading the way - closely followed by the 'young bull' Pete.
We were welcomed to Nambucca at lunch with representatives from the Valla, Bowraville and Nambucca Heads Loins clubs and Rotary Macksville. The lunch was provided at the local RSL. After lunch there was a small presentation by Pete about the Foundation and the charity ride. Pete also presented a number of gifts to each club in appreciation for their clubs support to the Foundation and the charity ride.
Jersey auction!
Addressing the problem
Photo ©: Pete Forbes

Two once-off signed jerseys have been placed on E-Bay in the last 24hrs. These jerseys have been donated by a number of famous cyclists and will all be auctioned by the 19th December. The first jersey on auction is an AIS track jersey, donated by Anna Meares, and signed by the Australian Track squad that recently returned from Moscow. Many Olympic Medallists and World Champions have signed this jersey.
Auction details here: cgi.ebay.com.au/ws/eBayISAPI.dll?ViewItem&rd=1&item=8734495538
The second jersey for auction is an Australian women's road jersey signed by the five remaining members of the 2005 AIS program, and Kate Nichols - AIS Development Scholarship holder 2005 and survivor of the accident in Germany. There will be more jerseys available for auction through eBay over the remainder of our journey to Brisbane. All proceeds of the auction will go to the Amy Gillett Foundation.
Auction details here: cgi.ebay.com.au/ws/eBayISAPI.dll?ViewItem&rd=1&item=8734497050
Photography
For a thumbnail gallery of these images, click here
Images by Pete Forbes
See also: The AIS women's team diary