Latest Cycling News, March 24, 2009
Edited by Gregor Brown
Contador laments loss of Lance Armstrong
Alberto Contador: "It's a pity to lose Lance"
Photo ©: Jacinto Vidarte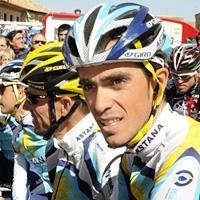 Alberto Contador has expressed regret at losing his Astana teammate Lance Armstrong due to a crash in the opening day of the Castilla y León in Spain. The seven-time Tour winner took a tumble, landing in a ditch with a fractured collarbone. It was the first opportunity for the two champions to race together prior to the Tour de France.
"It is a pity to lose Lance, because he was eager to gain some good training in this race," said Contador.
Armstrong was in the main group during the 176.3-kilometres stage from Paredes De Nava to Baltanás. The pace increased in the final kilometres and the Texan crashed near kilometre 160 and went off the right side of the narrow road.
"It was a good opportunity to work together at a race. Now I can only support him and hope he recovers as soon as possible in order to start the Giro d'Italia."
Contador finished in 27th with the same time as winner Joaquin Sobrino Martinez (Burgos Monumental - Castilla y Leon).
"I tried to protect myself from the wind to reserve my forces for tomorrow's time trial. In the last kilometres, I decided to move forward in the pack to avoid problems, so I did not see the crash."
Contador won the stage race in 2007 and 2008. He recently finished fourth and won two stages in Paris-Nice. He is a favourite for a third victory at Castilla y León.
Armstrong back on the bike soon?
Lance Armstrong faces time off after collarbone fracture
Photo ©: AFP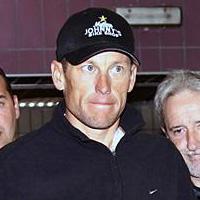 Lance Armstrong could be back on his bike sooner than expected after he broke his collarbone in the Vuelta a Castilla y León yesterday. While the American travelled back to the United States for possible surgery, specialists in Europe have theorised the consequences of such a pause in training and racing.
Doctor Gérard Nicolet, who has been working for the French cycling federation as well as the Tour de France in the past, gave some answers to L'Equipe on Tuesday, which featured Armstrong's misfortune on its opening page. Nicolet explained the procedures taken in case of a collarbone fracture, and added that Armstrong's loss of training and racing could only involve a few weeks.
"For a high level athlete, we generally practice an osteosynthesis, which means that we fix the collarbone with some material [metal plates, screws, wires, etc.]. Ten days or two weeks afterwards, he can train on the rollers again," said Nicolet, who believes that Armstrong could be back riding his bike on the road in three weeks.
While the accident will have a certain effect on the comeback of the seven-time Tour de France winner, the timing of the mishap may not compromise Armstrong's participation in the Giro d'Italia after all.
"It's still only March, even if the Giro [which starts May 9 - ed.] seems rather close. In my opinion, this will not compromise his comeback, but it will make it more difficult. This being said, some champions have peculiar reactions, doubling their motivation to get over a setback. On that level, there are often surprises."
Such as the one of Frédéric Guesdon, who at the same age as Armstrong (37) broke his collarbone on February 22 in the Volta ao Algarve in Portugal and came back to racing last Sunday at the GP Cholet in France. The accident cost the Française des Jeux rider only four weeks of his preparation for Paris-Roubaix on April 12.
"I didn't want to have surgery, as the fracture was clean," Guesdon explained. "Ten days after the accident, I was back on the rollers, and went on the road soon after. Sure, it was hard, as I could never come out of the saddle. But if I hadn't done it this way, the Classics wouldn't have been possible."
The Frenchman, who won Paris-Roubaix in 1997, will race over cobblestones tomorrow at the Dwars door Vlaanderen. "I've seen riders recover very fast, others suffering a setback. But I think he [Armstrong - ed.] can come back in time."
However, an osteosynthesis apparently also includes a risk, as explained doctor Christian Dalouède, a contributor to French magazine Sport et Vie. "The danger lies in a second crash on the same collarbone: the plate may twist. You need to change it and the screws are very hard to pull out in that case," Dalouède said. (HK)
Register your thoughts in our forum.
Eisel amazed by Cavendish's Sanremo win
Bernhard Eisel: "Cav, he's a legend"
Photo ©: Mark Gunter

Mark Cavendish win in Milano-Sanremo amazed teammate Bernhard Eisel. The Austrian led Cavendish on to the Cipressa in the race's finale, 28 kilometres before the sprinter went on to win by 11 centimetres.
"Cav at just 23-years-old is already a legend," Eisel told Cyclingnews.
Eisel and Cavendish prepared for Sanremo in Italy with the Eroica Toscana, March 7, and the Tirreno-Adriatico stage race, March 11 to 17. Cavendish won the final stage of Tirreno, four days before Sanremo.
"It was his first Sanremo so we rode the finale twice. He knew the importance of this race, as it is a Monument, but he was worried when he saw Le Mànie for the first time and he said, 'Oh my god, I am never going to make it.' He was climbing well in Tirreno, so we encouraged him to try."
Cavendish's win was made even more impressive considering it was his debut in the race. He was up against seasoned professionals who have tried for many years to win – Tom Boonen, Thor Hushovd and Daniele Bennati – and others were going for their second – Alessandro Petacchi and Filippo Pozzato.
"He was so nervous in the last days with so much pressure on his shoulders. The team worked hard for him, but for a 23-year-old to get the win, you have no words for that."
Cavendish is the youngest winner since Eddy Merckx won in 1966. Only Merckx and Ugo Agostoni (1914) have won the race at a younger age – both were 20.
For more read Cavendish came and conquered. Or log on to our forums to discuss.
Belgian teams for Dwars door Vlaanderen
Sylvain Chavanel (pictured) and Tom Boonen lead Quick Step in Dwars door Vlaanderen
Photo ©: Tim Van Wichelen

The two Belgian ProTour teams will be looking to impress in their home race of Dwars door Vlaanderen on Wednesday. Silence-Lotto is still without a win this season, while Quick Step has provided winners for the last two editions.
"There is a lot of pressure. Everyone realises that and it doesn't make things easier," said Silence-Lotto Sports Manager Marc Sergeant. "We want to score as soon as possible, but you can't order a victory."
He added that the team would count on its strong line-up in the upcoming Flemish Classics. The line-up for Dwars door Vlaanderen includes Leif Hoste, Greg Van Avermaet and Belgian champion Jürgen Roelandts.
Quick Step has the winners of the last two editions of the race in its line-up. In 2008, Sylvain Chavanel won for Cofidis and Tom Boonen won in 2007.
"We can count on those two, but don't forget Stijn Devolder," said Sport Director Wilfried Peters.
Silence-Lotto: Greg Van Avermaet, Jürgen Roelandts, Wilfried Cretskens, Leif Hoste, Staf Scheirlinckx, Roy Sentjens, Jonas Ljungblad and Sebastian Lang.
Quick Step: Tom Boonen, Stijn Devolder, Kevin Hulsmans, Jurgen Van de Walle, Kevin Van Impe, Wouter Weylandt, Kevin De Weert and Sylvain Chavanel. (SW)
A daughter for Hushovd
Thor Hushovd is a new dad
Photo ©: Shane Stokes

Thor Hushovd became the father on Monday night. His wife gave birth to Isabel, who came into the world at 3.5kg and 50.5cm. Mother and child are doing fine.
"We are very proud of our daughter," the Cervélo TestTeam rider told Sporza.be. (SW)
Cannavò remembered on Giro's maglia bianca
The organisers of the Giro d'Italia will remember former director of Italian newspaper La Gazzetta dello Sport, Candido Cannavò, at this year's race with a special jersey for the best young rider. The maglia bianca of the there-week Italian Grand Tour, May 9 to 31, will bear Cannavò's name.
Cannavò was director for 19 years, from 1983 to 2002. He helped the Italian sports newspaper become one of the most widely read of its kind in Europe.
He passed away February 22 at the age of 78. Doctors stated cardiovascular arrest as the cause of death.
The Giro d'Italia introduced maglia bianca in 1976 when it was won by Italian Alfio Vandi. The organisers continued awarded the jersey through 1994. It returned in 2007, won by Andy Schleck. Last year Riccardo Riccò won it.
Casagrande mountain biker
Italian Francesco Casagrande returns to race mountain bikes
Photo ©: Sirotti

Former professional Francesco Casagrande is winning again, but this time on a mountain bike with Team Galluzzi Cicli Taddei. The Italian from Tuscany has competed in 10 amateur mountain bike races with a good success rate: eight wins and two second places, according to La Gazzetta dello Sport.
The 38-year-old had a successful road career that included wins in La Flèche Wallonne (2000), San Sebastián (1998, 1999) and three stages of the Tour de France.
Casagrande failed a doping test for testosterone in March 1998 at the Giro del Trentino. He served a nine-month suspension, the International Cycling Union (UCI) upped it from the original six months by the Italian cycling federation (FCI). He also lost his job in 2004 when Lampre sacked him after he failed a blood control for hematocrit prior to the Vuelta a España.
He retired after riding the 2005 season with Naturino-Sapore di Mare.
Work for the world's leading cycling website
Cyclingnews, the world's leading cycling website, is recruiting writers based in the UK.
Applicants are required to have a keen interest and thorough knowledge of competitive cycling, as well as editorial or writing experience with excellent English skills. Writers should be competent in producing and subbing reports, news, results and features from the world of cycling, so fluency in a second language is also an advantage, as is experience in journalism, attention to detail and flexibility in hours.
Applicants may also be required to attend major cycling events. Training in online production techniques can be provided.
Please send your CV with a covering letter and examples of your work, via e-mail to daniel.benson@futurenet.com with "Cyclingnews online writer -" in the subject line.
(Additional editorial assistance provided by Hedwig Kröner and Susan Westemeyer.)
(All rights reserved/Copyright Future Publishing (Overseas) Limited 2009)