First Edition Cycling News, March 24, 2009
Edited by Les Clarke
Calamity in Castilla y León opener
Joaquin Sobrino (Burgos Monumental - Castilla y Leon)
Photo ©: AFP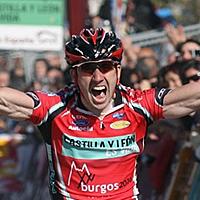 While all the attention was on Lance Armstrong's broken collarbone and partnership with Alberto Contador, the early skirmishes of this year's Vuelta a Castilla y León have indicated it should be an explosive race.
Local rider Joaquin Sobrino took the opening stage sprint ahead of Rock Racing's David Vitoria and Caisse d'Epargne rider Jose Joaquin Rojas.
"I was the trump card for the sprint and luckily I was able to get the jump in the last curve and surprise Rojas, who had done a great job," said the Burgos Monumental - Castilla y Leon rider. "With this victory my goals for this Vuelta are fulfilled, because today I was looking at all these amazing stars: Armstrong, Contador, Valverde.. I've never ridden on a day like today before, and to win was the best."
Sobrino paid tribute to the work done during the stage by his teammate, Raúl Santamaría. "We were lucky to have a teammate in the escape of the day, Raúl Santamaría, who did a great job and allowed us to avoid working in the bunch behind."
Back in that bunch meanwhile, Lance Armstrong was a victim of the helter skelter racing, his crash resulting in a broken collarbone. Astana directeur sportif in Castilla y León, Sean Yates, said that Armstrong was obviously "disappointed" with the injuries suffered but would be back on the bike soon.
"It's hard, but not the end of the world," said Yates. "Mentally, it's not good, but in three days it will be better.
"It's disappointing because people were expecting his return, as he had said. We were climbing a ladder and a now we're a step down," he added.
"I do not know exactly how long it will take you back after the surgery," Yates explained, saying that Armstrong was returning to the United States immediately.
Sastre unscathed in hectic start
Crashes marred the first stage of the Vuelta a Castilla y León, and while one of these took out Lance Armstrong, another Tour de France winner, Carlos Sastre, managed to get through the day without that misfortune.
"The falls were a shame, and have been motivated primarily by the tension [in the bunch] as everyone wants to be at the front on narrow roads that are often filled with gravel," Sastre told Spanish sports daily Marca. "I think that is what has made it more dangerous today," he added.
"The stage today was a little like we expected. A nervous day in an area where there is a lot of wind made the bunch ride fast throughout the stage," the Spanish veteran explained.
"It was a continuously twisty journey – left, right and through small towns. We have been fortunate that the wind was a headwind or tailwind, which enabled the peloton to more or less stay together," he added.
Sastre said that he has no problems with his own form, and that, "I was always kept more or less safe, and always protected by my colleagues. This helped me get through the stage without any mishap and continue with my preparations."
Coppi e Bartali begins with quality field
Cadel Evans during the Ruta del Sol.
Photo ©: Roberto Bettini

The Vuelta a Castilla y León has garnered the cycling world's media attention this week but another important Giro warmup race begins in Italy today – the Settimana Internazionale di Coppi e Bartali.
While Alberto Contador, Carlos Sastre, Alejandro Valverde and Denis Menchov are battling it out on Spanish roads, Grand Tour contenders Cadel Evans and Damiano Cunego will ride the five-day event that takes riders around the Emilia-Romagna and Tuscan regions.
Evans has been busy testing equipment after a solid performance in Paris-Nice, where he finished 21st overall. It's an indication the Australian is timing the peaks in his form well ahead of the Tour de France, and Coppi e Bartali serves as another important part of that process.
Cunego will also be using the race as preparation, albeit this year's Giro d'Italia, where he will again start as one of the favourites for the overall crown. The diminuitive Lampre rider will be up against countrymen Danilo Di Luca and Michele Scarponi, with the latter recently winning Tirreno-Adriatico.
Team Liquigas will focus on sprint stage wins however, with Francesco Chicchi heading a lineup that includes Kjell Carlström, Claudio Corioni, Vladimir Miholjevic, Andrea Noè, Gorazd Stangelj, Sylwester Szmyd and Brian Bach Vandborg.
O'Grady recovering, visited by Hushovd
Having undergone surgery for inujuries suffered as a result of his fall in Saturday's Milano-Sanremo, Stuart O'Grady is recovering and setting new objectives for the 2009 season.
Being forced to miss the Spring Classics, races in which O'Grady would have started as one of the favourites, is a bitter blow for Saxo Bank's Australain strongman. "I'm pretty devastated because I was really going well, flying under the radar and everything was looking good so I'm really disappointed," he said.
"I managed to dodge all the crashes in Tirreno (mid-March) and the carnage in Belgium so I was pretty happy with how things were going.
"I was really looking forward to leading the team into the Classics so it's very frustrating to be sidelined," he added.
O'Grady is no stranger to serious injury, and suffered life-threatening injuries in a crash at the 2007 Tour de France – during the same season he won Paris-Roubaix – and he's resigned to the fact he'll miss his favourite events of the season.
"It's healing okay so no more operations and although the doctors say at least three weeks before I can be back training I could probably be back on my bike in two," he said. "But realistically there's no point rushing back too early because I'll miss the Classics regardless and I was due to have time off after Paris-Roubaix anyway.
"But you've got to admit there's not too many years to go at this stage so when you miss one it's even more frustrating."
It means a change of plans that could bear fruit for the 35-year-old, although he's the first to admit that the Classics were his primary goal in 2009.
"I'll have to refocus the season goals because I'd pretty much put all my eggs in one basket for the Classics, but that's life," he said, adding, "I might have to look at the world championships or races later in the year now and set some different objectives."
While O'Grady's wife Anne Marie is expecting their third child, Thor Hushovd's partner was giving birth to their first in the same hospital as O'Grady, so a visit from the Norwegian – who finish third in Milano-Sanremo – was in order.
Head boy Staff leads UK class
By Daniel Benson
Jamie Staff (middle) heads up the GB team, sans Chris Hoy. Jason Kenny (left) will also ride.
Photo ©: AFP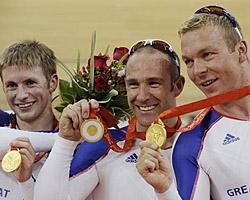 Olympic track hero Jamie Staff will lead the Great Britain team at the World Track Championships in Pruszkow, Poland, this week. The 35-year-old will be one of the team's most experienced riders, and will join fellow Olympians Ed Clancy, Jason Kenny and Victoria Pendleton. However the team will be without three of its Olympic champions – Bradley Wiggins, Sir Chris Hoy and Rebecca Romero.
"This is an experimental year in many regards, with a mix of experience and youth," Staff told Cyclingnews on of the Championships. "David Brailsford [British Cycling's Performance Director] has told us to go out there to enjoy and learn, so that's certainly helping take some of the pressure off the less experienced members of the team. Overall the mood in the camp is really good and everyone is relaxed."
Great Britain have dominated the last two Championships, in Majorca and Manchester, and won a total of seven Olympic gold medals in last year's Beijing Olympics, meaning they'll be many people's favourites to take home a flurry of gold medals once again. However with several members of the Olympic team missing and the team firmly focusing on the London Olympics in 2012, expectations have been lowered somewhat.
"Our preparation hasn't been as smooth as it was for the Olympics. We tapered for Beejing but this attempt has been a bit rushed. The positive is that we've all kept our form since the Olympics. I'm not recovering as well as last year and I'm not doing the same training volume but my top end speed is still there, and in my event that's what counts." said Staff.
With Sir Chris Hoy unable to compete after a crash in the last round of the World Cup in Copenhagen, Britain's male sprint team went through a round of trials earlier this month with the final line up decided with Staff, Jason Kenny and Matt Crampton – who is set to come into the Man 3 spot for the first time at a World Championships – set to compete.
Staff rides in Beijing.
Photo ©: AFP

"The French team will be our biggest challengers. They won the event last year in Manchester and riders like Gregory Bauge have been doing a lot of sprinting over the last few months."
However Staff won't just be racing at the Championships. The former BMX racer will be commentating on the proceedings once he's finished on the track. "I did some commentary at the World Cup in Manchester for the BBC and I'll be working for Eurosport in Poland this time around. It's really hard and you have to do a lot of preparation, a bit like track racing."
Full British Squad:
Men: Matthew Crampton, David Daniell, Ross Edgar, Jason Kenny, Jamie Staff, Jonathan Bellis, Steven Burke, Mark Cavendish, Ed Clancy, Peter Kennaugh, Chris Newton
Women: Anna Blyth, Victoria Pendleton, Shanaze Reade, Jess Varnish, Lizzie Armitstead, Katie Colclough, Wendy Houvenaghel, Joanna Rowsell
New French pursuit squad
While most talk has been of the notable absences in the British squad for the track world championships, the French men's team pursuit outfit will be untested at this level of competition.
L'Equipe has reported on the post-Olympic pressure that has resulted in a new quartet riding the men's team pursuit in Poland. Depreeuw Arnaud, Julien Duval, Ronan Guinaudeau and Mickaël Jeannin will represent France in the event.
Last year's Olympic quartet of Damien Gaudin, Matthieu Ladagnous, Christophe Riblon, Nicolas Rousseau had a diastrous Games campaign, disqualified in its first round match up with Denmark, which went on to take the silver medal.
Medvedev calls for greater controls
Russian President Dmitri Medvedev has called for greater technology to assist national authorities fight doping in sport.
Speaking at a meeting of athletes in Sochi, Medvedev said, "The main problem of doping controls in Russia stems from the fact that the methods used here do not correspond to strict European standards."
During the days of the Soviet Union, the greater perception was of Russia as an area where doping was systemic and covered up. There were numerous cases of this during the 1970s and 80s that weren't discussed until the fall of the Communist regime in the early 1990s.
In late February, Russian Prime Minister Vladimir Putin made a commitment to iunstitute more "stringent controls maintained by the state," while the Minister for Sport, Vital Mutko, has assured that by the end of the year Russia will have "built a modern anti-doping programme."
Work for the world's leading cycling website
Cyclingnews, the world's leading cycling website, is recruiting writers based in the UK.
Applicants are required to have a keen interest and thorough knowledge of competitive cycling, as well as editorial or writing experience with excellent English skills. Writers should be competent in producing and subbing reports, news, results and features from the world of cycling, so fluency in a second language is also an advantage, as is experience in journalism, attention to detail and flexibility in hours.
Applicants may also be required to attend major cycling events. Training in online production techniques can be provided.
Please send your CV with a covering letter and examples of your work, via e-mail to daniel.benson@futurenet.com with "Cyclingnews online writer -" in the subject line.
(All rights reserved/Copyright Future Publishing (Overseas) Limited 2009)