Track Cycling News, March 25, 2009
Edited by Laura Weislo
Phinney ready to shine in Poland
By Daniel Benson
Taylor Phinney hopes to score gold in Poland
Photo ©: Casey Gibson

American track specialist Taylor Phinney will lead a four-strong US team at the World Track Championships in Pruszkow, Poland this week. The 18-year-old Olympian will compete in the Individual Pursuit, Kilometre Time Trial, and Omnium, with Daniel Holloway and Colby Pearce listed in the Scratch and Madison. Shelly Olds will represent the women's team in the Points and Scratch events.
Speaking to Cyclingnews on the eve of the competition, a relaxed and confident Phinney was looking forward to the test. "The track is really fast. It's a bit like Manchester with its wide layout but it's good for pursuit. I've been doing 2K efforts from both a flying and standing start and today I'll do some 1K tests," he said.
Phinney flew to Poland, from the US, on Saturday to join his teammates, and with Olympic gold medallist and favourite, Bradley Wiggins (Garmin-Slipstream) turning his gaze to the road in 2009, the path could be clear for the Trek-Livestrong Under-23 rider to dominate after his US record-shattering performance at last month's World Cup in Copenhagen. Phinney clocked a time of 4:15.223 in the qualifying round, surpassing the previous mark of 4:19.800 set by Mariano Frederick in 1996, on his way to victory in the 4000m pursuit.
"If I can go as fast as I went in Copenhagen, I can win. There are a few good guys coming up so you never know what people can pull out on the day. With Wiggins not here it gives me a better chance. Last year I went to the Olympics knowing I was racing for second but now I know I'm in with a chance of winning. It's my chance to shine."
Despite its small numbers, the mood in the US team is good. "We have a good team and Daniel Holloway is a guy to watch out for in the future. He rides hard and takes chances so he could do something in the scratch [race]."
After the Worlds, Phinney will remain in Europe to compete in road races in Belgium, including the under-23 Tour of Flanders.
Head boy Staff leads UK Class
By Daniel Benson
Staff gives a roar after the British team won
Photo ©: Casey Gibson

Olympic track hero Jamie Staff will lead the Great Britain team at the World Track Championships in Pruszkow, Poland, this week. The 35-year-old will be one of the team's most experienced riders, and will join fellow Olympians Ed Clancy, Steven Burke, Jason Kenny and Victoria Pendleton. However the team will be without three of its Olympic champions - Bradley Wiggins, Sir Chris Hoy and Rebecca Romero.
"This is an experimental year in many regards, with a mix of experience and youth," Staff told Cyclingnews on the eve of the Championships. "David Brailsford (British Cycling's Performance Director) has told us to go out there to enjoy and learn, so that's certainly helping take some of the pressure off the less experienced members of the team. Overall the mood in the camp is really good and everyone is relaxed."
Great Britain have dominated the last two Championships, in Majorca and Manchester, and won a total of seven Olympic gold medals in last year's Beijing Olympics, meaning they'll be many people's favourites to take home a flurry of gold medals once again. However with several members of the Olympic team missing and the team firmly focusing on the London Olympics in 2012, expectations have been lowered somewhat.
"Our preparation hasn't been as smooth as it was for the Olympics. We tapered for Beijing but this attempt has been a bit rushed. The positive is that we've all kept our form since the Olympics. I'm not recovering as well as last year and I'm not doing the same training volume but my top end speed is still there, and in my event that's what counts." said Staff.
With Sir Chris Hoy unable to compete after a crash in the last round of the World Cup in Copenhagen, Britain's male sprint team went through a round of trials earlier this month with the final roster decided with Staff, Jason Kenny and Matt Crampton. It will be Crampton's first time at a World Championships, and he will take Hoy's spot as third man.
Staff is confident that Crampton will be up to the task, but knows the team will have to be perfect in order to win. "The French team will be our biggest challengers. They won the event last year in Manchester and riders like Gregory Bauge have been doing a lot of sprinting over the last few months."
However Staff won't just be racing at the Championships. The former BMX racer will be commentating on the proceedings once he's finished on the track. "I did some commentary at the World Cup in Manchester for the BBC and I'll be working for Eurosport in Poland this time around. It's really hard and you have to do a lot of preparation, a bit like track racing."
Full British Squad:
Men: Matthew Crampton, David Daniell, Ross Edgar, Jason Kenny, Jamie Staff, Jonathan Bellis, Steven Burke, Mark Cavendish, Ed Clancy, Peter Kennaugh, Chris Newton
Women: Anna Blyth, Victoria Pendleton, Shanaze Reade, Jess Varnish, Lizzie Armistead, Katie Colclough, Wendy Houvenaghel, Joanna Rowsell
Polished performances a premium in Pruszkow
Brits definitely beatable
By Les Clarke
Can the British overcome the post-Olympic malaise and recapture last year's dominance?
Photo ©: John Pierce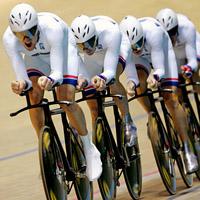 The first major meet since the 2008 Olympics, this year's world championships in Pruszkow, Poland, is a chance to gauge who is still suffering a post-Games hangover and which nations went back to work after Beijing.
Great Britain is still the team to beat, although there are some notable absences from its squad for these world titles; after its domination of the Olympics last year it comes as welcome news for those riders also making their way to Poland.
Sir Chris Hoy and Garmin-Slipstream pro Bradley Wiggins, who took five gold medals between them in Beijing, won't be making the trip. It certainly leaves the door wide open in both the men's sprint and endurance events.
Wiggins' Madison partner at the Beijing Games, Mark Cavendish, has been the talking point of these worlds thus far; thanks not just to his win in last weekend's Milano-Sanremo classic but for his surprise selection in the Great Britain squad after unequivocally announcing he wouldn't be riding the track after the Olympics.
"We're putting no pressure on him, but we're very excited to have him in the team," British Cycling's track performance manager, Heiko Salzwedel, told The Guardian. "We're keeping it very low key... He's doing no special preparation for the track, but coming straight from the road."
Continue to the full preview.
Cavendish keeps on track for road wins
By Gregor Brown
Cavendish comes off a brilliant win in Milan-Sanremo
Photo ©: Sirotti

Mark Cavendish will take his Milan-Sanremo-winning form to Poland for the World Track Championships this week. The Columbia-Highroad star was a surprise inclusion on the British team, especially considering he previously stated he would no longer race on the track. But the 23-year-old attributed his finishing kick to his background on the boards after his win in Italy last week, and will take on the scratch race on Thursday and Saturday's Madison as part of his road preparation.
"The reason I am so fast is because I have the leg speed. I get the leg speed from the track. You see me here after I win, but you don't see the fine details I put into my training and lifestyle to be able to be here," said the Columbia rider after he won the 298-kilometre Classic in Italy.
Cavendish vowed to give up the track after being the only Briton to come away from the Beijing Olympics without a medal. He left the Games bitter after he and his partner, Bradley Wiggins, failed to contend in the Madison. But he was lured back to the boards with an eye on honing his form.
"I don't benefit financially or in terms of being remembered in cycling from racing on the track. If you look at the fact that it is going to benefit my road career by keeping me fast, then it makes sense."
Reade returns to the track
Shanaze Reade is back
Photo ©: Stephen McMahon

The British team may be missing Sir Chris Hoy from its sprint team, but it has added an ace to its women's line-up with defending world champion Shanaze Reade. The Sky +HD rider and partner Victoria Pendleton were victorious in last year's Team Sprint, and Reade is hoping to nab a bit of glory after a disappointing Olympic Games in BMX, where she crashed out.
"Then the penny dropped and I wanted to race again and spoke to Steve Peters and Dave (Brailsford) who made me feel very welcome," Reade told British Cycling's Larry Hickmont. "I told them I wanted to do the Track Worlds as the Team Sprint is my event and I wanted to come here to defend the title. They said yes and set me a high standard to get into the team and doing that trial was more nerve wracking than doing the Worlds!"
Reade satisfied the requirements, and is ready to help defend the team's title with Pendleton. "I was really happy with the time though and I have got faster and faster since then so I am really looking forward to this race."
Chicken Pox forces O'Shea out of Worlds
The Australian team will head into the championships missing a key rider from its endurance team. Glenn O'Shea was forced to withdraw from the team after he caught a case of the chicken pox.
O'Shea, 19, has been in impressive form in the lead up to the Championships with wins in the Madison (paired with Leigh Howard) and teams pursuit at the UCI Track World Cup in Beijing in January as well as victories in both the points and scratch races at last month's Australian Championships.
"It's pretty disappointing because I've been working pretty hard all year and I've been riding really well," said O'Shea who with Howard successfully defended their Bendigo Madison title on March 8. "I felt fine for Bendigo but I got pretty crook after that."
O'Shea is on the mend, but did not have the form to contest the championships. Instead he returned home to Bendigo to recover ahead of planned international road and mid-season track objectives. He is now expected to fly to Europe in early April.
O'Shea will not be replaced with another rider for Poland and coaching staff will nominate the riders to start in all men's endurance events from the remaining five (Jack Bobridge, Rohan Dennis, Leigh Howard and the Cameron and Travis Meyer).
Irish team pursuit squad denied wildcard
By Shane Stokes
The quartet may have been seventh and then fifth in the last two World Cups, but the Irish team pursuit squad will have to sit out this month's world championships after failing to get a wildcard for the event.
The quartet of David O'Loughlin, David McCann, Paul Healion and Martyn Irvine went close to a ride-off for bronze in last month's World Cup meet in Copenhagen; their national record-breaking time of four minutes 11.587 seconds put them less than a second outside the ride-off for the bronze medal.
However, despite being eleventh in the world rankings, current UCI rules mean that they did not satisfy the criteria for qualification. In addition to being ranked in the top twenty, a country needs to have participated in at least one event at four out of five rounds of the World Cup.
Cycling Ireland appealed this on financial grounds and hoped to get a wildcard slot. However the national federation heard in recent days that this bid was unsuccessful.
"Cycling Ireland (CI) is disappointed that a place for the team pursuit has not been secured," said CEO Geoff Liffey this week. "However it fully understands the UCI criteria which is in place and why a place is not possible at the 2009 World Track Championships.
"The focus is now to continue to build on the recent progress over the next few months. The arrival of Phil Leigh [the new CI High Performance Director] is sure to add some new energy and ideas to the High Performance Team"
The news means that Ireland will have just one entrant in the track worlds, as was the case last season. David O'Loughlin was sixth in the individual pursuit in Manchester one year ago and will aim to improve on that. He was third in the Beijing World Cup and then last month finished second behind Taylor Phinney in Copenhagen.
The progress he and the team pursuit squad have shown are a boost to CI's developing track programme. It is aiming for a good showing in London 2012.
New French pursuit squad
While most talk has been of the notable absences in the British squad for the track world championships, the French men's team pursuit outfit will be untested at this level of competition. L'Equipe has reported on the post-Olympic pressure that has resulted in a new quartet riding the men's team pursuit in Poland. Depreeuw Arnaud, Julien Duval, Ronan Guinaudeau and Mickaël Jeannin will represent France in the event.
Last year's Olympic quartet of Damien Gaudin, Matthieu Ladagnous, Christophe Riblon, Nicolas Rousseau had a disastrous Games campaign, disqualified in its first round match up with Denmark, which went on to take the silver medal.
Spain holds on to 'Llaneras effect'
The Spanish track team is regrouping after the retirement of double-Olympic medallist Joan Llaneras. The Majorcan stepped down from high level competition, but now acts as an advisor to the team.
Spanish national coach Salvador Cabeza de Vaca told Marca.com that Llaneras will certainly be missed on the track. The squad is now looking to young riders like Contentpolis road professional Eloy Teruel, who placed second in the points race in the Manchester World Cup. "[Teruel] is a great talent," he said. "To take over from Joan Llaneras is a big responsibility, but also an extra motivation."
Leire Olaberria, a bronze medalist in the points race in Beijing, will take on the endurance events including the newly-added women's Omnium. Toni Tauler, Llaneras' silver medal Madison partner, will also be on tap to help the Spanish team achieve its goals in the team pursuit and endurance events.
Spanish selection for Pruszkow: Sergi Escobar, Toni Tauler, David Muntaner, Unai Elorriaga, Iban Leanizbarrutia, Albert Torres, Alfred Moreno, José Antonio Escuredo, Itmar Esteban, Juan Peralta and Ana Usabiaga, Alvaro Alonso, Hodei Mazkiarán, David Alonso, Eloy Teruel, Leire Olaberria, Gema Pascual and Helena Casas.
(All rights reserved/Copyright Future Publishing (Overseas) Limited 2009)