Latest Cycling News, February 20, 2009
Edited by Bjorn Haake
Cavendish's unbeatable lead-out delivers him to victory
By Kirsten Robbins in Paso Robles, California
Mark Cavendish takes win number two
Photo ©: Jon Devich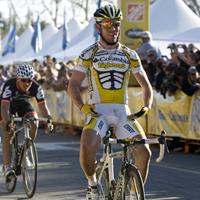 Mark Cavendish (Columbia-Highroad) took his second consecutive victory at the Tour of California stage five in Paso Robles against Tom Boonen (Quick Step). The pair of world-class sprinters complimented each other, but admitted victory boils down to a perfectly timed lead-out.
"We both rely on our teams," Cavendish said. "There are only a few guys in the world who, when they are put in a good position, can sprint and can keep it [victory]. I'm lucky that most of the time my team puts me in the best possible position and I can keep it."
Boonen agreed that the team with the better lead-out is the one that will take the victory. "If Mark starts his sprint in perfect condition, like he did today, it is almost impossible to pass him. It is the same with me," Boonen said.
Coming up on
Cyclingnews will cover the 60th edition of the Dauphiné Libéré live as of stage 4 on Wednesday, June 10, at approximately 15:00 local Europe time (CEST)/ 23:00 Australian time (CDT)/ 9:00 (USA East).

WAP-enabled mobile devices: http://live.cyclingnews.com/wap/
Columbia-Highroad's George Hincapie brought Cavendish through the one-kilometre mark and Mark Renshaw dropped him off with two hundred metres to go. No one could come around Cav before the line. "There are only four or five sprinters ... who are impossible to pass, unless they make a mistake," Boonen said. "Today I was waiting to see if Mark would lose speed because of the headwind but he kept accelerating and that's when I knew I was beaten."
Boonen focuses on Classics, not sprints
Tom Boonen (l) lost against Cavendish, but is more interested in the Classics.
Photo ©: Mark Johnson

Boonen was happy to be on the podium again. His big goal is the Classics in the spring – he will take sprint victories as they come, but does not specifically prepare for them.
"I don't train on my sprint. The only things I do is try to prepare for the Classics in the spring season. But everyone expects me to also compete in all the big field sprints." Boonen said finding the balance wasn't easy. "Most of the time I think of my season as two parts. I focus on the classics and I try to be safe and not take too many risks."
After the Classics, he turns his attention to the green jersey representing the best sprinter at the Tour de France in July. "I have two different objectives and so do a different training than someone who is a pure sprinter."
Cavendish agreed that his own abilities are suited more to a bunch sprint. "I think Tom has had a lot more experience than I," Cavendish said. "He has a lot of consistency whereas I can sprint, but I'm not the most consistent rider."
Boonen's Classics campaign will open in March, with Milano-Sanremo – a race where his sprinting ability could make the difference in finally taking a win, after coming in third in 2007.
Who can beat Levi in the Solvang time trial?
By Kirsten Robbins in Solvang, California
Who can beat Levi Leipheimer in the Solvang time trial?
Photo ©: Mitch Clinton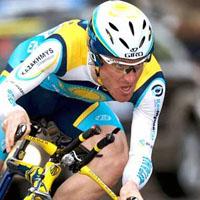 The Tour of California heads into the stage six time trial held in Solvang on Friday, and those 24 kilometres are arguably the most decisive in the race. The top four riders on general classification are separated by only 30 seconds, so the time trial is expected to create some significant time gaps. The question remains, however: is there anyone who can beat Leipheimer in the time trial that he has dominated for two consecutive years?
Leipheimer is the reigning Tour of California champion, but hot on his heels are triple time trial world champ Michael Rogers (Columbia-Highroad) and David Zabriskie (Garmin-Slipstream), who won the US National time trial crown last year.
Leipheimer's teammate Lance Armstrong has also proven to be in great form this week, having finished in the top 10 for the prologue. Chasing these four is a fleet of quality riders, including Columbia-Highroad's Thomas Lövkvist and George Hincapie, Garmin-Slipstream's Christian Vande Velde, Tom Danielson and Svein Tuft, Rock Racing's Oscar Sevilla and Enrique Gutierrez, Team Saxo Bank's Jens Voigt, Jason McCartney and Fränk Schleck, Liquigas' Ivan Basso and Vincenzo Nibali.
The time trial is once again held on the well-known out-and-back course through the Santa Ynez Valley. Though short by most standards, the steep climb up Ballard Canyon, combined with a technical descent, will separate the times. The quaint Danish town of Solvang hosts some of the ProTour teams annually for training camps, so riders vying for the overall crown have previewed the course multiple times and analysed every kilometre.
Read more about Leipheimer's main rivals.
Valverde responds to CONI hearing
Alejandro Valverde (Caisse d'Epargne) is not too pre-occupied with the CONI investigation
Photo ©: AFP

Alejandro Valverde has responded to his meeting with the Italian Olympic Committee (CONI) yesterday in Rome, Italy. Valverde declared that he had no doubt the ongoing investigation will eventually prove that he is innocent and that not much evidence has appeared against him.
Valverde's statement reiterated that he does not and never has had anything to do with doping. Furthermore, he was not sure what the accusations were based upon. "My legal representative has tried to obtain the data upon which CONI bases its case on." However, such data was not given to anybody on the Valverde camp.
Valverde's statement went on to say that no documents had been produced that showed a case against him. The Caisse d'Epargne rider did not want to preoccupy himself too much with the case for now. "I put all my efforts into my daily training to achieve the goals that I have set for myself this season."
Nydam OK after crash
Scott Nydam (BMC) broke his collarbone – oronically on then first dry day in the Tour of California
Photo ©: Jon Devich
Scott Nydam of the BMC Racing team crashed heavily in stage 4 of the Tour of California and broke his collarbone. Nydam had to abandon the race, but is determined not to let this setback adversely impact his season.
Directeur Sportif John Lelangue called it the scariest crash he had ever seen, in a manoeuvre that Nydam had done hundreds of times in races. "I was routinely going back to the car to drop off the jackets. I had to pass a jacket from my left hand to my right, and in the process, the sleeve or something grabbed my brake lever making my bars do a 180°," Nydam said.
He does not remember much from the actual crash. "I remember having a split second of panic that I was going down, but then the next thing I knew I was waking up in the ambulance." Nydam found it ironic that he made it through all the rainy days without a problem, but crashed on the first sunny stage.
He received a clean bill of health, after his concussion has healed well. But he re-injured his collarbone, which he broke in the Tour of Utah last year. "The old titanium plate will have to be replaced with a new one." Nydam may get his surgery again with Eric Heiden, who performed the operation last time.
The sooner the surgery takes place the sooner Nydam will be back on the bike, and he hopes to resume training next week. "My racing schedule picks up again at the end of March for Redlands and then hopefully European racing in April. I want to be fit enough to be on the Tour of Romandie team."
Nydam was very happy with the support of the team in bad times. "When I woke up in the ambulance and heard John talking, I realised that he left the race to come be with me and make sure I was okay." At the hospital team doctor Scott Major and PR Officer Georges Lüchinger were also waiting for Nydam. Support continued even after he left the emergency room. "John was with me the whole time and that is so comforting for a rider to know that not only are people worried and looking out for you, but that they are able to handle these sorts of situations."
The team arranged for a hotel for Nydam and that his fiancée Jennifer could join him. "The true test of a team comes when something like this happens, and I feel very fortunate."
Record breaking Tour Down Under
Lance Armstrong (Astana) sparked a lot of interest at the Tour Down Under
Photo ©: Mark Gunter

Figures released today show that the 2009 Tour Down Under was the biggest event ever staged in South Australia. Premier Mike Rann today announced the preliminary economic impact and research figures for the event, which was held from January 18-25.
"The 2009 Tour Down Under has broken almost every record for a sporting event held in South Australia," Rann said. "Visitor numbers were doubled, the economic impact was more than doubled, and the amount of media coverage has increased five-fold since the 2008 event." A massive $39 million was injected into the economy, compared to $17.3 million for 2008, an increase of 125 percent.
Rann was also happy with the spectator turnout. "36,200 people from interstate and overseas travelled to Adelaide and South Australia specifically to watch the event, compared with 15,100 people last year.
"The Tour Down Under has grown every year since its inception in 1999, and with the participation of cycling legend Lance Armstrong in 2009 we knew the results this year would be huge."
Television coverage also increased and the race was broadcast in Europe, Asia and the United States as well.
Tourism Minister Jane Lomax-Smith was positively surprised with the visitor numbers. "Crowd figures were even bigger than was first estimated, with over 760,500 people taking to the streets to watch the action during the seven days of racing."
Rann was already excited about next year's event. "The Tour Down Under was a massive boost for South Australia and we look forward to another fantastic event in 2010 when the event will again kick-off the prestigious UCI ProTour calendar."
The 2010 Tour Down Under will take place in South Australia from 17 to 24 January 2010. Full stage details and race routes will be announced in the coming months. For further information visit www.tourdownunder.com.au.
Vorarlberg announces two signings
Team Vorarlberg-Corratec signed two new riders this week and announced that it has been invited to "Rund um den Henninger Turm" (now called Eschborn-Frankfurt City Loop) on May 1.
The two new signings for the Austrian Professional Continental team are Belgian Wim van Huffel and German Sebastian Siedler. Van Huffel, 29, has had a hard time finding a team this winter, after not receiving a new contract from Silence-Lotto, where he had ridden for four years. He signed with two teams which did not come into being because they did not receive licenses, TlTeck-H20 and Crota-Turbo' Hoet. Most recently he rode for Revor-Jartazi as an elite without contract.
In 2005, van Huffel finished 11th overall in the Giro d'Italia. "There is no one in Belgium better than him in the mountains," said Vorarlberg team manager Thomas Kofler. "He can also do well in the difficult one-day races."
Siedler, 30, turned pro in 2004 with Team Wiesenhof. He rode for Milram in 2006 and 2007, before joining Skil-Shimano last year. He has won stages in the Bayern Rundfahrt, Tour de Picardie and Friedensfahrt. Kofler was happy to have signed, "another man with ProTour experience. With René Haselbacher, René Weissinger, Daniel Musiol and him, we have a strong sprint group."
The small Austrian team will appear in the Eschborn-Frankfurt City Loop on May 1, in Frankfurt, Germany. (SW)
Brent Thomson passes away
Brent Thomson died from complications after quadruple bypass surgery
Photo ©: Steve Boehmke

Brent Thomson, mountain bike industry legend and Trail Master of Bootleg Canyon, has lost his battle with complications from the quadruple bypass surgery he underwent in January.
The surgery went well and Thomson was coherent and talking after recovery. But a series of post-operative strokes took him back to the Intensive Care Unit where he eventually succumbed to complications from the surgery.
Thomson's son Barret was at his side with relatives as his condition worsened. "Brent appreciated and was aware of all of the love and support that the mountain bike industry has shown through this difficult time" said Barret. "There's been an outpouring of emotion and support from all of his friends and the industry, and we're making plans for a memorial event to be held at Bootleg Canyon over St. Patrick's Day Weekend (March 14-15.)"
To support the family, a PayPal account has been set up.
Konica Minolta gets ready for the Giro del Capo
The Konica Minolta team has announced its roster for South Africa's only registered UCI Tour event, the Giro del Capo (March 4-8). Konica Minolta is the only South African team to have beaten Barloworld in the race. In 2006 Peter Velits from Konica Minolta snatched overall victory from the big race favourites.
Konica Minolta Cycling Team was racing in South African one-day Classics the past weeks to prepare for the five-day stage race. "We are a small team with a number of young riders, thus we have to be specific about what we want to achieve each season, and the Giro del Capo is always an important objective of mine," said Team Manager John Robertson.
Spearheading the Konica Minolta Team will be the two climbers Dennis Van Niekerk and Kosie Loubser. Also in the team are Shaun Ward, Tiaan Swart, Pieter Seyffert and the Australian Casey Munro.
(Additional editorial assistance provided by Susan Westemeyer.)
Previous News Next News
(All rights reserved/Copyright Future Publishing (Overseas) Limited 2009)