Tour of California News, February 19, 2009
Edited by Greg Johnson
Cavendish dedicates victory to injured Kirchen
By Kirsten Robbins in Clovis, California, USA
Mark Cavendish (Columbia Highroad)
Photo ©: Jon Devich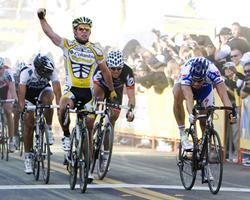 Mark Cavendish (Team Columbia-Highroad) finally secured a Tour of California stage victory on Stage 4, after two near misses for the American outfit. The Isle of Man rider, often described as the fastest man in the world, says he is under no illusions about how fast he really is.
"I'm not the strongest rider nor the best tactically minded rider either," said Cavendish. "But I'm unrivaled in the last 200 metres."
Cavendish dedicated victory to teammate Kim Kirchen, whose jacket was caught in his wheel, causing him to crash and break his collarbone during the stage. "That's a shame because I think he was going to be on for another good year," Cavendish said. "I want to send my best wishes to him and I'm glad we could win a stage for him."
Cavendish has taken back the victory that officials took from him during stage six of last year's race. Cavendish won the field sprint in Santa Clarita but officials relegated him for drafting back up to the peloton after he crashed with five kilometres to the finish.
"This is massive for me, for us and for the whole team," said Cavendish. "I thought I won one last year and it didn't get given to me. I had to win one this year and it didn't work out yesterday."
On the previous stage Cavendish wasn't able to contend for the victory, despite being amongst the top finishers. Instead teammate and lead-out man Mark Renshaw took another second place.
"There are a lot of factors that play into a sprint," explained Cavendish. "If one of them goes wrong then you aren't in contention. One or two things went wrong for us so I wasn't in contention. But bad stuff happens and you've got to make amends and that's what we did today."
Before Cavendish sprinted to victory the rider had to overcome a series of climbs that took the peloton through the foothills of the Sierra Mountains. "To be honest I wasn't planning on getting anywhere near the front in the finish today with all the climbing," Cavendish said. "The team did so, so well today and I had three or four of them who stayed with me on every climb. That really improved my morale."
Cavendish felt that the odds were in favour of him for the stage win after the final climb. "With a flat run in like that there was only one possible outcome, especially when you've got a team like mine," said Cavendish. "When they dropped me off with 100 metres to go there could only be one outcome."
Armstrong happy with California reception
By Mark Zalewski in Clovis, California, USA
Lance Armstrong with his Astana teammates
Photo ©: Jon Devich

While conventional wisdom says that an increase in crowd numbers at this year's Tour of California relate to Lance Armstrong's (Astana) return, the seven-time Tour de France winner thinks otherwise. Record crowds have turned out to every stage of the Tour of California so far, despite horrendous weather, with more expected as the weather turns nicer. Even for the climbing over the Sierra Nevada foothills, with snow banks measuring in feet, people were out to cheer on the riders.
"I think it is more about the event than me," said Armstrong. "It's been around for four years now and people are starting to appreciate it and look forward to it every year."
As much as the promoters of the event would like to think that the substantial spike in interest is due to their promotion efforts, the placement of Armstrong's photo on every piece of promotion material would suggest otherwise. More than 1,000 approved media credentials have been issued to this year's race.
"But it's not just me either," Armstrong said. "There are other riders they look forward to seeing. Obviously I appreciate, we all appreciate it... it's good to be here."
As for how his first race on United States of America soil since his retirement is going, Armstrong said: "It's a harder race than [Tour Down Under]. Obviously the weather was bad in the beginning and more climbs than the Tour Down Under, but Levi feels good and the team feels good."
Odd crashes continue in California
By Mark Zalewski in Clovis, California, USA
Crashes continued to wreak havoc on the peloton at the Tour of California's Stage 4, sending riders to the ground and some even to the hospital. The accidents continued despite the sunny and warm weather that finally arrived for the fourth stage.
Three of the four riders that hit the ground on Wednesday's stage were transported a local hospital, including some big names – Kim Kirchen (Columbia-High Road), Oscar Freire (Rabobank) and last year's KOM winner Scott Nydam (BMC).
Strangely the crashes all seemed to occur on the more benign stretches of road, and not the highly technical descents, made even more dangerous today by melting snow and sand.
"I saw that [Nydam] was coming back to give me the jackets from the other team members, and as he was looking back to see where I was, I saw his handlebars make a u-turn and he crashed right in front of the car," team director John Lelangue said in a statement. "It was really scary since I had to take quick action to avoid running him over. It looks like he may have broken the collarbone that he broke last year at the Tour of Utah.
"But compared to how scary the crash was, we can be very thankful that it is just a collarbone," Lelangue said.
The race medical staff confirmed that Kirchen broke his right clavicle and ribs, while Freire suffered a chest injury and two rib fractures.
"Kim crashed in a freak accident with his jacket in his wheel," Kirchen's teammate and stage winner Mark Cavendish said. "He was on his way to a good season so I want to send my best wishes to him and I'm glad I could win the stage for him."
Astana director Johan Bruyneel had to deal with his own riders crashing in odd places on the third stage, when race leader Levi Leipheimer went down on an uphill and smooth four-lane road.
"I don't know what it is... they are crashing a lot," he told Cyclingnews. "Today it was three or four big crashes and it's not like the course is dangerous, they are always crashing on the straight roads. I don't know what it is, it maybe the tension of the race. After three days of heavy rain I think they are pretty tired."
Rock Racing hopes California success leads to security
By Kirsten Robbins in Clovis, California, USA
Tyler Hamilton and Francisco Mancebo (Rock Racing) were in
Photo ©: Jon Devich

Rudy Pevenage and Lorenzo LaPage are working hard to find a secure co-sponsor opportunity for the US-based Continental team Rock Racing, and hope the outfit's Tour of California success will aid the search. The pair of Belgian directeurs are leading the squad in California, where Francisco Mancebo won the first stage in Santa Rosa for the outfit.
"I think the races here in California will be very important in finding a new sponsor," Pevenage told Cyclingnews.
Rumours that Rock Racing was experiencing financial difficulty started circulating in mid-December, when the title sponsor Rock & Republic acknowledged the need to downsizing staff within the company as a result of the recent financial hardships.
"I hope to continue with this team in the next years," said Pevenage. "But, that is not dependent on me. It depends on finding a good sponsor or a good co-sponsor. Rock Racing is a good sponsor and I think he [Michael Ball] would like to go on, but for the moment it is very difficult with the economy.
"We have a good team and we could make a lot of publicity all over the world," he added. "It was a big step for Mancebo to win and the best thing that could have happened for us. It's the biggest race in the USA and also in Europe because many people are watching. The win was emotional."
United States of America National Champion Tyler Hamilton addressed rumours surrounding the team at the stage four press conference. "With the economy, Michael Ball and Rock & Republic have suffered a little bit," Hamilton said. "But that is the same with any big company. Like he said from the beginning his team is here to stay.
"We're still here, we're still fighting," he added. "As a team, we all decided to make this thing work. We have to roll with the punches to help this team stay afloat. We are around for this year, that's for sure. There is no June deadline anymore."
Rock Racing owner Michael Ball offered Pevenage a leading position in November last year after a meeting in Los Angeles. The 54-year-old has not worked as a director sportif since being suspended in 2006 by T-Mobile for implications in Operación Puerto. He was known for mentoring Jan Ullrich on teams Telekom, Coast, Bianchi and T-Mobile.
LaPage signed on as the team's assistant directeur. The 42-year-old helped direct Italian Paolo Savoldelli (Discovery Channel Pro Cycling Team) to victory at the 2005 Giro d'Italia. He was also part of the Discovery Channel staff when Lance Armstrong won his fifth and sixth Tour de France titles.
Cervélo happy despite missing out
Cervélo TestTeam were happy with the way stage four unfolded, despite narrowly missing out on a placing in the final sprint. Norway's Thor Hushovd was again present in the sprint finish, taking fourth place a day after his first stage victory of 2009.
The squad managed to get Serge Pauwels in the day's breakaway, along with Jason McCartney (Saxo Bank), Tyler Hamilton and Francisco Mancebo (Rock Racing). The efforts of Pauwels and Hushovd please sport director Alex Sans Vega.
"For us the ride went just as we wanted it today," said Sans Vega. "Serge was out there and that allowed the rest of the team to take it a little easier, he did a superb job.
"If the road had more curves the breakaway might have held to the end, but the combination of the wind and the straight roads made it easier for the peloton to finally pull them in," he added. "That gave us another option of putting Thor in place as we did yesterday."
It wasn't all bad news for Cervélo TestTeam on Wednesday. German Heinrich Haussler secured his first victory of 2009 at the Vuelta a Algarve's opening stage in Portugal.
(All rights reserved/Copyright Future Publishing (Overseas) Limited 2009)