Latest Edition Cycling News, February 19, 2009
Edited by Greg Johnson and Bjorn Haake
UCI not enforcing 3:1 rule – yet
By Kirsten Robbins in Clovis, California
Pat McQuaid said teams are safe for now with the 3:1 rule
Photo ©: Mia Sullivan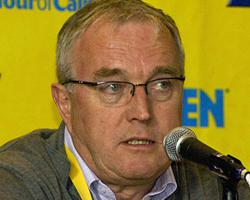 Pat McQuaid, the president of the International Cycling Union (UCI), said that the 3:1 rule will not be enforced in the Tour of California's stage 6, a 24-kilometre time trial held in Solvang on Friday. McQuaid also emphasised that there were no changes to current rulings, but that existing regulations will be strictly enforced very soon.
UCI code 1.3.024 states that the ratio between the length and the width of equipment cannot exceed 3:1. Nervousness had swept through the field this week with potential last-minute changes necessary to the time trial machines.
McQuaid emphasised that teams not complying with the code do not need to panic – yet. "They can use their equipment this week but we are going to start rigidly enforcing the rules very soon," he said.
"Just to make it clear this is not a new rule or a revision of an old rule," said McQuaid regarding UCI codes 1.3.023 applying to frames and 1.3.024 applying to frame accessories. "This rule has been there for several years now." It has come about largely because manufacturers, with the assistance of riders and teams, are looking to try to make refinements in order to gain split seconds here and there."
Many of the teams at the Tour of California, with the exception of Astana, have time trial equipment that does not comply with the UCI code. "We are not going to show up on Friday and say the riders can't use their bikes," he continued. "That would not be good for the integrity of the sport."
But teams are spending more and more time in the wind tunnels for testing. "The UCI has noticed that in the past year or two a certain number of teams are pushing that rule to its limit," McQuaid said.
Coming up on
Cyclingnews will cover the 60th edition of the Dauphiné Libéré live as of stage 4 on Wednesday, June 10, at approximately 15:00 local Europe time (CEST)/ 23:00 Australian time (CDT)/ 9:00 (USA East).

WAP-enabled mobile devices: http://live.cyclingnews.com/wap/
The UCI codes for equipment are set in place by a team of officials who specialise in materials. The commissaires at the time trial in Solvang have been given orders to take photos, measurements and write reports on the time trial bikes being used during stage 6.
The reports will be sent to the UCI following the event. "We are examining the situation to find out exactly where the problems are and where the rule is being pushed to and/or beyond its limit. This will give us more information as to how we can implement the rule and adhere to it correctly. "
The UCI modified the regulations so that cyclists competing in the hour record had to use a traditional racing bike. McQuaid compared the sports evolving technology and regulations implements from then to now. "I think people now agree with the decision that the UCI made regarding traditional equipment," said McQuaid. "We try to control the sport and the technical innovations in the sport for the benefit of the sport. Manufacturers are constantly trying to come up with new things for marketing reasons. It's a difficult balance that we try to achieve."
Cavendish says he is realistic, not arrogant
By Kirsten Robbins in Clovis, California, USA
Cav, you there? Mark Cavendish (Team Columbia - Highroad)
Photo ©: Jon Devich

Team Columbia-Highroad's Mark Cavendish believes his realistic nature is mistaken for arrogance. The Tour of California stage 4 winner was asked about his "brashness" following his win in America's largest stage race.
"Yes, I have a reputation of being arrogant," Cavendish said. "But, I'm the first to state my weaknesses and I'm the first to state when there is something that I'm not good at."
At just 23 years of age, Cavendish is already amongst the sport's most accomplished sprinters. Four stage wins at last year's Tour de France is just a small fragment of his list of successes last season and with victories already at this year's Tour of Qatar and California, the year ahead is also looking promising.
"When I set goals and aims they're realistic, they're not dreams; they're targets and I work towards getting those targets," he said. "When someone asks me if I think I'm fast – I think it speaks for itself. What I need is to be put in the best position. When I'm put in the best position, I'm able to finish it."
Cavendish hasn't been in the best position on every stage in California however. On stage three he was unable to execute the sprint the way he'd hoped, which saw his teammate and lead-out man Mark Renshaw taking his second runner-up finish of the week.
Contador makes season debut
Alberto Contador (Astana) will have a changed TT position soon
Photo ©: Roberto Bettini
Alberto Contador has started his preparation for the Tour de France with his first race of the season, the Volta ao Algarve in Portugal (February 18-22). The Spaniard talked about his build-up to the race and his hopes to be better than last year.
Contador trained with his Astana team in California, partially with the goal of getting his equipment ready. "The bike feels better than I had hoped for." He was also working on his time trial position. "We used the data from the wind tunnel testing to improve things and I wanted to get the new material as soon as possible."
Contador said the biggest change was the angle of his arms, which will allows for better breathing. "But once I have the bike I will test it on the road and play with all the parameters." In Portugal he is still using his old bike, limiting his ability to test his time trialing under race conditions. "I hope everything is ready for Paris-Nice." Contador has scheduled just five races before the Tour de France.
The 33-kilometre long time trial should offer the Spaniard a good test. "I would have preferred for it to be shorter. That distance could take too much out of me for now, but we will see where I stand."
Evans' season opens in Spain
Cadel Evans opened the season in Spain
Photo ©: Bert Geerts

Cadel Evans has begun his 2009 campaign with hilly terrain and slightly sore legs in the Ruta del Sol. Looking to gain some form in anticipation of the Ardennes Classics, Evans, like Davide Rebellin, Linus Gerdemann and Gilberto Simoni, is using the Vuelta a Andalucia as both a gauge of his off-season programme and preparation for the season's bigger targets.
Having re-launched his personal website, Evans spoke of the race's third stage where he took third behind the Italian pair of Rebellin and Filippo Pozzato. "The first hillier race for many in the group, so a few sore legs here today – myself included," said Evans on cadelevans.com.au.
Having been the target of speculation regarding his 2009 programme during the off-season, Evans is pleased with his progress thus far in southern Spain. "The stage? Up down, left and right... we were lucky it was dry; the roads would have been a little on the dangerous side in the wet.
"An early break of three cyclists got swallowed up 15km from the finish. Being a bit of a tough one, I tried – but failed – to put myself in a good position to sprint. I got up to third but couldn't get up to Rebellin and Pozzato, who took first and second, respectively. That's not too bad for my first outing of the season, if I say so myself.
"Tomorrow is a bit tougher again so that will be interesting. Now, I go to do something about these sore legs of mine!"
Another Australian sure to have a pair of sore legs, Mitchell Docker, is riding his first major stage race with new team Skil-Shimano. The talented Victorian signed for the Dutch outfit late last year and was sitting one place behind Evans on general classification after stage two.
Given the strength Docker has displayed thus far in his career, he may be another Australian aiming to make his mark in the Belgian Classics in two months' time.(LC)
Pevenage enjoying return to cycling
By Kirsten Robbins in Clovis, California, USA
Rudy Pevenage enjoys cycling a lot
Photo ©: AFP

Rock Racing sport director Rudy Pevenage is enjoying being back in cycling, having joined the outfit at the end of last year. The former T-Mobile team suspended Pevenage in 2006, along with Jan Ullrich and Oscar Sevilla, for their involvements with the Spanish doctor Eufemiano Fuentes.
"Cycling was always my life," said Pevenage. "I was a professional for 14 years and I was a directeur sportif for 16 years. At 55, I'd like to stay in this sport. If I can still be active in this sport then it is a good feeling to do what you like to do."
Pevenage encountered Team Columbia-Highroad, formerly called T-Mobile, for the first time since his dismissal at this year's Tour of California. Pevenage said many things have changed during his two years away from the sport.
"It is a little bit strange but this part of my life has passed and I am looking into the future," he said. "I learned a lot of things in the two years that I spent at home. One was that I always have to think of myself first.
"I did a lot of things to help a lot of people in the past," he added. "When you are at home alone, no one is calling you. It is a good lesson in life. Me and my family come first. I am happy to be here now."
Pevenage had a cycling career of his own, with a management career that included time at Telekom/T-Mobile in 1994-2002 and Coast/Bianchi in 2003. He guided Ullrich to victory at the 1997 Tour de France victory and three of his protégés swept the podium at the 2000 Summer Olympics in Sydney, Australia: Ullrich, Alexander Vinokourov and Andreas Klöden.
"I was motivated [to join Rock Racing] because Oscar Sevilla called me many times and said it would be nice if I came with the team because I had some experience and some changes were needed," Pevenage said. "The motivation was there for the riders and staff and it could be a nice moment."
Martin opens season on the podium
By Daniel Benson and Susan Westemeyer
Daniel Martin ready for Tour of Ireland fight
Photo ©: Stephen McMahon

Irish youngster Dan Martin of Team Garmin-Slipstream opened his season in promising fashion, finishing on the final podium and taking the the best young rider's jersey in the Tour Méditerranéen. An escape in the fourth stage and a good day on the final day's mountaintop finish atop Mont Faron left him in third overall.
It was familiar territory for the 22-year-old. "I used to train on the same roads when I was based in France so I knew what to expect during stage four. Riders were popping up the road so I decided to follow the wheels knowing that there was a good chance a group could get clear. One minute I looked back and we had a gap," said Martin.
In that fourth stage from Greasque to Bouc Bel Air, the Irishman was in the break with teammate Danny Pate, and finished the day in eighth place, 41 seconds behind stage winner Robbie Hunter. That moved him up to fourth overall.
"I'm surprised by my performance so far this season as I don't have great form. I tend to go well with lots of miles in my legs and in the heat and so far I've had neither," Martin told Cyclingnews from his base in Girona.
Martin was only 50 seconds down on leader Luis León Sánchez going into the decisive final stage to Mont Faron. His Garmin team saw a chance for him to take the overall win, and worked hard to break up the peloton on the final climb.
"Danny Pate even managed to get a gap on the leaders and he led by a few seconds." Sánchez was caught without teammates, and had to chase on his own, which split up the leading group.
Pate was eventually caught and passed, and Martin finished thirteenth on the stage, but he didn't see it as unlucky and was in fact pleased with his early season. "I've never felt this strong at this point in the season but I'm too early into my career to start setting objectives. I'm just learning at the moment and taking things steady."
In the next few weeks, Martin will take on two of the Spring Classics, Flèche Wallone and Liège-Bastogne-Liège for the first time.
Sánchez leads Caisse d'Epargne in France
Luis León Sánchez will lead his Caisse d'Epargne squad at this weekend's Tour cycliste international du Haut Var. The French event has expanded from a single day race – its 40th edition - to a two-day race this year.
Sánchez started his season at the opening ProTour event, Tour Down Under, in Australia. He has since finished runner-up on the Tour Méditerranéen's stage four and taken the overall win.
The squad will be directed by Yvon Ledanois.
Caisse d'Epargne for Tour du Haut Var: Andrey Amador, Imanol Erviti, Vasil Kyryienka, Dani Moreno, Luis Pasamontes, Fran Pérez, Mathieu Perget and Luis León Sánchez.
(Additional editorial assistance from Les Clarke)
(All rights reserved/Copyright Future Publishing (Overseas) Limited 2009)