News Feature, February 20, 2009
Who can beat Levi in the Solvang time trial?
By Kirsten Robbins in Solvang, California
Defending champion Levi Leipheimer takes a corner at full speed.
Photo ©: Mitch Clinton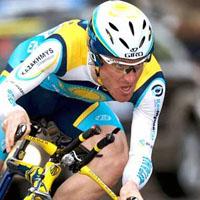 The Tour of California heads into the stage six time trial held in Solvang on Friday, and those 24 kilometres are arguably the most decisive in the race. The top four riders on general classification are separated by only 30 seconds, so the time trial is expected to create some significant time gaps. The question remains, however: is there anyone who can beat Leipheimer in the time trial that he has crushed for two consecutive years?
Leipheimer has a motivated Astana unit behind him, and he's the reigning California champion, but hot on his heels are triple time trial world champ Michael Rogers (Columbia-Highroad) and David Zabrskie (Garmin-Slipstream), who won the US National TT crown last year.
Leipheimer's teammate Lance Armstrong has also proven to be in great form this week, having finished in the top 10 for the prologue. Chasing these four is a fleet of quality riders, including Columbia-Highroad's Thomas L÷vkvist and George Hincapie, Garmin-Slipstream's Christian Vande Velde, Tom Danielson and Svein Tuft, Rock Racing's Oscar Sevilla and Enrique Gutierrez, Team Saxo Bank's Jens Voigt, Jason McCartney and Frãnk Schleck, Liquigas' Ivan Basso and Vincenzo Nibali.
The time trial is once again held on the well-known out-and-back course through the Santa Ynez Valley. Though short by most standards, the steep climb up Ballard Canyon, combined with a technical descent, will separate the times. The quaint Danish town of Solvang hosts some of the ProTour teams annually for training camps, so riders vying for the overall crown have previewed the course multiple times and analysed every kilometre.
The key contenders
Levi Leipheimer
Levi Leipheimer
Photo ©: Russ & Nancy Wright

Although he has won the last two time trials held on the Solvang course, Leipheimer admitted that his favourite time trial course was the prologue held on Coit Tower in San Francisco during the 2006 and 2007 event. However, he thinks that the Solvang time trial is a course designed to offer something for every type of time trialist. "It has all elements from a flat, straight road that are really hard because they are false flat uphill," Leipheimer said.
"It has some short climbs, short down hills, twisty roads and beautiful scenery. It caters to a good time trialist with a lot of experience. You are the one who has to push yourself to your limit. Normally other riders push you to your maximum in a road race. To do it on your own takes a lot of experience."
Leipheimer believes that Rogers will be his main threat in Friday's time trial. "He's in second place and he is a three time world time trial champion," Leipheimer said. "He is the most dangerous rival to me. There is also Dave Zabriskie who is also a very dangerous rival. Both he and Rogers are sitting in second and third and they are definitely the most dangerous."
He took a firm hold on the golden leader's jersey after stage 2 finish in Santa Cruz and he is counting on his early season form and experienced teammates to bring him into the stage 8 finale held in Escondido on Sunday, February 22. "I can't predict the future but as long as I'm feeling the way I have been and ride the way I've been riding, it will be very difficult for him [Rogers]," he continued. "But he is a great rider and anything is possible."
Lance Armstrong
Photo ©: Jon Devich

Lance Armstrong
Leipheimer's teammate Lance Armstrong made his American racing debut, since his 2005 retirement, at the opening prologue last Saturday. The veteran is expected to compete in the Solvang time trial on his recently-found Trek Livestrong time trial bike. The bike was stolen from the Astana team truck some time after the prologue in Sacramento.
The Sacramento police notified Astana team directeur Johan Bruyneel during stage 3 that Armstrong's time trial bike was found and in good condition. "I heard they found my bike, Johan came on the radio and said it was found," Armstrong said.
Michael Rogers
Michael Rogers
Photo ©: Jon Devich

Columbia-Highroad's main GC contender Michael Rogers is a triple time trial world champion who will no doubt want to deliver a good performance in the Solvang TT. Rogers arrived in top condition, having won the Australian national time trial championships and breaking the previous course record by 40 seconds. According to Rogers, the Tour of California is his main early-season focus.
"Winning the championships was a big step for me, to be able to do that in January," said Rogers, who was impressed with his 'winter fitness' after spending a lot of time on the indoor trainer back home in Varese, Italy. "I was second in the road race and had a good Tour Down Under. I was using it all to build up for this race. It is a very important race for Columbia-Highroad but for me as well. The last few years have been really up and down. Obviously Astana has a strong team with a lot of depth to contend with."
Dave Zabriskie
David Zabriskie
Photo ©: Jon Devich

US national time trial champion Dave Zabriskie admitted that he is feeling great after the foul weather conditions during the first four stages. "I'd prefer to be a little closer to Levi because I obviously have a deficit to make up and that's not going to be easy in the time trial," Zabriskie said. "I'll try as hard as I can to go as fast as I can go tomorrow. I had a really great off season. Our training camp in New Mexico was spectacular this year. It was nice weather, high elevation, good food, good people... I'm surrounded by a really positive environment. There's nothing that I would have done differently to prepare for this race."
Zabriske noted that the time trial may be his last opportunity to move forward in the overall. "Gaining more time back over the last two stages will be very challenging with the team that Astana has here," Zabriskie said. "I'm not a pure climber so that would be difficult. In a way tomorrow is important and may be the only day to gain time back. But you never know."
Svein Tuft
Svein Tuft
Photo ©: Mark Johnson

Svein Tuft, Canada's runner up in the time trial at last year's World Championships is sitting more than 15 minutes behind Leipheimer. While the overall win might me too far out of reach, Tuft has been motivated during this Tour of California and would like to test his legs in the Solvang time trial.
"This is my first race of the new season and the Tour of California is a new challenge for me," Tuft said. "I think we have a crew that's ripping here right now. If I can be a part of that then that's what I want to do. I've been trying to get my form going. I think you don't know where you actually are until you start racing. I saw the time trial course and people say that it suits me well. I don't know if I have the form to win it. But, I'm going to try hard.
Tom Zirbel
American Tom Zirbel proved to be a formidable time trial contender when he placed second by a slim margin to David Zabriskie in the US national Championships. He went on to place second in the Tour of San Luis held in Argentina in mid-January. Zirbel is hoping to improve on his top-ten performance in last year's Tour of California time trial.
"After my result in Argentina, we started looking at the Tour of California's Solvang time trial as a good target," Zirbel said. "I wanted to do the same thing as last year and save my energy for the time trial. That's what I have been doing, I am not burning matches catching up in the stages. I've lost some time on GC but that's all for tomorrow. Our best bet coming in was to save everything for the time trial and have a good performance there."
Zirbel went through a list of riders he would like to do well against in Friday's time trial. "Levi is been riding incredible in the last couple of years," he continued. "I expect him to be really good. Rogers and Zabriskie are both in it for GC win so I think they will go well. Svein Tuft had a break-out year last year at the World Championships. Floyd Landis is an unknown and Lance Armstrong will be up there. It is a stellar field and a good way to test my ability amongst them."
See also:
Cyclingnews' coverage of the Tour of California prologue
Cyclingnews' coverage of the 2008 Tour of California