First Edition Cycling News for April 7, 2009
Edited by Greg Johnson and Les Clarke
Breschel builds for Classics showdown
By Daniel Benson in Gent, Belgium
Watch out for Saxo Bank's Matti Breschel
Photo ©: Roberto Bettini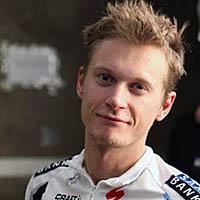 Denmark's Matti Breschel hopes to improve on his Ronde van Vlaanderen sixth place finish when he rides Gent-Wevelgem and Paris Roubaix later this week. In Sunday's race the Saxo Bank rider was granted a free role within the team and was allowed to ride for himself. It paid off; Breschel was the team's top finisher after Fabian Cancellera suffered mechanical problems and Frank Høy broke his collarbone in a crash.
"The team has been struggling for the past few weeks but we were still up for the race," he told Cyclingnews from his team hotel in Belgium. "Having a free role meant I could follow the moves I needed to and rest when I felt necessary. It was an active race but I was there when the action started."
Coming up on
Cyclingnews will cover the 60th edition of the Dauphiné Libéré live as of stage 4 on Wednesday, June 10, at approximately 15:00 local Europe time (CEST)/ 23:00 Australian time (CDT)/ 9:00 (USA East).

WAP-enabled mobile devices: http://live.cyclingnews.com/wap/
Despite his tender years Breschel has plenty of experience when it comes to the Spring Classics. He finished 14th in the 2007 edition of Paris-Roubaix and the former male model knows that following advice from former Danish professionals, Rolf Sørensen and Lars Michaelsen, will help his development.
"It would have been good to get on the podium in Flanders but I see the result as another stepping stone to build on, and that one day I can win the race," he said.
Asked if Gent-Wevelgem and a likely sprint finish will suit him more than the relentless climbs that litter Flanders, Breschel gave an honest answer: "I don't think I'm fast enough to beat Tom Boonen or Mark Cavendish but I'll be hoping the race is hard, with lots of cross winds," he said. "Perhaps I can do something on the Kemmelberg and open the race there, but the harder the race, the better I will go."
Gent-Wevelgem aside, Paris-Roubaix is the race Breschel has dreamed of winning since his childhood and once again he'll have a free role. "I've had my chances in these races before and I've been in the mix," said Breschel. "I know Riis wants a lot of cards to play with and that's fine with me."
But the question remains whether Breschel's free role within the team could be compromised by Cancellera's return to form. "Fabian, I think, will be strong but for me this is the perfect team as I get my chances to do well and I can learn from guys like Fabian and Stuart O'Grady," he said. "It's good to have different options too. We're not as strong as Cervelo or Quick Step right now, so may be we'll back off a little and see what we can do from that position."
Before Flanders Breschel had struggled for form after crashing hard in Tirreno-Adriatico. The rider hurt his back and was forced to slow his Classics preparation. "I didn't really know how my condition was shaping up but now I know the form is right there," he said.
Northern double dreaming for Devolder
Quick Step's Stijn Devolder
Photo ©: AFP

After securing a second Ronde Van Vlaanderen title on Sunday, Quick Step's Stijn Devolder dreams of a Northern double with hopes of victory at this weekend's Paris-Roubaix.
"I would like to achieve the double," Devolder told reporters a day after his win in Flanders. "Every rider still dreams [of winning] Roubaix and the Ronde...why wouldn't I?"
Devolder was delighted he again triumphed in Ronde Van Vlaanderen with a solo move, allowing him to enjoy the closing kilometre. "On the Bosberg I had a minute lead, but it was only in the last two or three kilometres that I could really enjoy my victory," he said. "I want to win this wonderful race a few times."
Devolder also explained that this year's Tour de France is definitely on his radar. After completing Roubaix his attention will turn to preparing for July in France, following a break, of course.
"After my break I'll start preparing for the Tour de France. I want to shine in the Tour," he said.
Sánchez claims País Vasco victory
By Monika Prell in Ataun, Spain
Sánchez with the Basque hat
Photo ©: Susanne Goetze

Spain's Luis León Sánchez (Caisse d'Epargne) won the opening stage of Vuelta al País Vasco, which finished with a bunch sprint in Ataun. Sánchez continued his tradition of dedicating the victory to his late brother, who died in a quad biking accident in 2005.
"My teammates did great work for me and I am happy that I have been able to win," said Sánchez. "I knew that I could do well and I dedicate this win to my brother who died in 2005, who surely is looking at me from above.
"I would like to keep the yellow jersey, but the upcoming stages will be very difficult," he added.
The 25-year-old won the sprint ahead of his compatriot Samuel Sánchez (Euskaltel - Euskadi) and Frenchman Jérôme Pineau (Quick Step) on the 142.5-kilometre stage. The race continues today with a 160-kilometre stage from Ataun to Villatuerta.
Sánchez's other brother, Pedro León Sánchez Gil, is a professional footballer in the Spanish league. While it's not their surname, both brothers carry the name León as a mark of respect to their late grandfather.
Click here for full results, report and photos.
Knee injury changes Sánchez's País Vasco approach
Samuel Sánchez (Euskaltel-Euskadi)
Photo ©: Susanne Goetze

Despite a troublesome knee and narrowly missing out on Vuelta al País Vasco stage one honours, Samuel Sánchez (Euskaltel - Euskadi) remains optimistic for the remainder of the race. The Olympic Games Road Race Champion finished second behind countryman Luis León Sánchez in the Ataun finish.
"It was a shame not to take the victory by half a wheel, but it was important to confirm that that both the team and I are good," Sánchez told Spanish sports daily Marca. "The final descent was dangerous because a few riders fell."
"The Arrate stage will produce a small group of favorites who will contest the race's general classification," he added.
Sánchez will be hoping to be amongst that elite selection, which depends on how a troublesome knee injury progresses. He was optimistic about his chances of overcoming the complaint.
"We need to watch its progression," he explained. "At the moment the knee is holding up well, but we have to see its progression over time. I need sleep, but I have come to this race without stopping. Now I'm fine, but I'm taking it slowly."
AFLD reports Armstrong's behaviour
Lance Armstrong (Astana)
Photo ©: Jon Devich

Lance Armstrong's behaviour during his 24th anti-doping control since returning to the sport may have landed the American in hot water with the World Anti-Doping Agency (WADA) and French Anti-Doping Agency (AFLD).
L'Equipe has reported that AFLD, which conducted the March 17 out-of-competition test, submitted a report to the International Cycling Union (UCI) and WADA on March 30. The report apparently details the abnormal behaviour observed before and during the surprise visit from the French agency.
UCI communications manager Enrico Carpani told L'Equipe: "The UCI is not competent to judge this case. Since this was a surprise test conducted by a national agency, it is therefore competent to judge."
At the time Armstrong had commented on the test via the social network website Twitter. He had said that blood, urine and hair were taken for analysis, although he didn't mention his reaction to the AFLD visit, simply saying that it was a surprise.
On his return to professional racing, Armstrong had promised a high level of transparency through an individual anti-doping programme to be conducted by the UCLA's Dr Don Catlin. That programme was disbanded on February 12, before Catlin had conducted any testing on Armstrong.
The news comes as discussion on Armstrong's infamous 1999 Tour de France samples and subsequent 2005 testing has been reignited. Speaking to the NYVelocity.com website, Australian sports scientist Michael Ashenden, who assisted in the development of urine testing for erythropoietin (EPO), has refuted claims made about mishandling of the samples.
"One of the things [...] is that the samples weren't analysed properly, that they were analysed using a different protocol than what was used in proper dope controls - and that's just not correct," said Ashenden.
"All of these checks and cross checks were put in place with these samples, so the data is valid," he continued. "The laboratory, I've checked with the people who did the analysis, and I very carefully went through it with them. They're absolutely 100 percent sure that these results are valid."
At the time of writing, Armstrong hadn't responded to news of the AFLD report via a team, personal press release or Twitter.
Chavanel gets Roubaix call-up
Sylvain Chavanel smiles confidently
Photo ©: Tim Van Wichelen

Sylvain Chavanel has spoken of the delight he feels after Quick Step team manager Patrick Lefevere included him in the squad's roster for this weekend's Paris-Roubaix. Chavanel has enjoyed a strong season to date, having claimed a stage victory at Paris-Nice and holding the race's yellow jersey before finishing third overall.
"For us Frenchmen the Roubaix has the same charm and importance as the Ronde does for the Flemish athletes," said Chavanel. "Being able to take part in the race as protagonist with such a strong team really means a lot to me."
Lefevere said the spot on his Paris-Roubaix squad is a reward for the Frenchman's efforts. Chavanel will work for the team's main hope and defending champion Tom Boonen.
"Sylvain really wanted to take part in this race," he said. "Adding him to the team for the race is the right reward as he has proven to have the qualities and capabilities required in both working for himself and for the rest of the team."
Chavanel's Spring Classics campaign this year has included Omloop Het Nieuwsblad, Dwars Door Vlaanderen, E3 Prijs Vlaanderen-Harelbeke and Ronde Van Vlaanderen.
"Roubaix closes an important series of races for me," said Chavanel. "A series of races that have seen myself in action right from the beginning of the year. I am really pleased to be able to finish, along with the rest of the team, this first part of the season with such an important race as Roubaix."
Nothing broken for Hushovd
Wevelgem still in doubt
Cervelo TestTeam has quashed reports that Thor Hushovd has a broken wrist, revealing he was back training yesterday. The Norwegian rider will decide later today whether he starts tomorrow's Spring Classic Gent-Wevelgem.
"We are pleased to report that Thor Hushovd has nothing broken, contrary to media reports," said a team release. "Thor was back on the bike today for more than 1 hour and tomorrow he will decide together with sport director Jean-Paul van Poppel if he will be able to ride Gent-Wevelgem."
Hushovd, the team's best hope for Wevelgem glory, was involved in a finishing straight crash at the weekend's Ronde van Vlaanderen. A group of riders went down in the final 400 metres as the riders swung towards the barrier, leaving one without anywhere to go.
G'day cobber: Haussler will still ride for Australia
Heinrich Haussler
Photo ©: Gregor Brown

Heinrich Haussler has confirmed he still intends on riding under an Australian licence from next season. The Australian-born German has been a revelation this season, fulfilling his potential to claim a swag of sprint victories and finish second at Milano-Sanremo.
"In 2010 I'll ride for Australia. My decision is final," Haussler told Telegraaf.nl. "I have noticed that I feel more Australian than German."
Haussler announced last year he would aim to ride the 2010 UCI World Road Championships in Melbourne, Australia under an Australian licence. Some believed however Haussler might flip on the decision to ensure he rides this year's UCI World Road Championships, given the form he has displayed this year.
In order for a rider to change national licences, they must forgo two years of competing at national events - namely UCI World Championship and Olympic Games events. Haussler skipped last year's UCI World Road Championships in Italy and the Beijing Olympic Games in China and will need to skip this year's UCI World Road Championships in Copenhagen, Denmark to qualify to ride for Australia at next year's event.
Sportif to raise funds for fire relief
Cyclo Sportif Victoria is pressing ahead with plans for a sportif in the Marysville and Lake Mountain district of Victoria, Australia which was devastated by fires earlier this year. Officials were in the region planning the ride just 10 days before one of Australia's largest natural disasters and have announced it will now be used to raise funds for the Australian Red Cross to help the community recover and rebuild.
"The devastation that the fires left in the area temporarily put the event on hold, however after much discussion and negotiation, it was decided that the event would proceed with the full support of the community," said a CSV announcement. "The event also provides the towns of the Murrindindi Shire with a chance to show the state that the local community is helping themselves recover and is ready to commence the long process of rebuilding their lives."
The Marysville - Lake Mountain Fire Relief Ride will be held on Saturday, May 2, 2009, with competitors able to contest either the 70 or 135 kilometre route. Oragnisers will donated $25 from each entry to the Australian Red Cross.
For more information visit: www.cyclosportifvic.com.au/Marysville_Lake_Mountain
USAC locks in Miller for athletics role
Jim Miller has been named USA Cycling's Director of Athletics effective immediately. Miller had been appointed to the position on an interim basis last February.
"I'm excited at the opportunity to lead USA Cycling's efforts in its pursuit of athletic excellence," said Miller. "Along with the solid coaching staff and support structure that's already in place, I'm looking forward to the challenge at hand.
"As an organisation, we already have a number of athletic programs that have proven to be tremendously successful," he added. "I hope to apply the same principles responsible for that success across all competitive disciplines and convey a sense of stability, confidence and long-term vision that our athletes and supporters can buy into."
Miller began his tenure at USA Cycling seven years ago and has since served USA Cycling in a variety of capacities. Hired in 2002 to manage the USA Cycling-run T-Mobile Women's Professional Cycling Team, Miller later became director of the women's national road team before overseeing all of USA Cycling's endurance-specific programs, including junior, U23 and women's.
As director of athletics Miller will oversee athletic programs for all major disciplines of competitive cycling: road, track, mountain bike, BMX and cyclo-cross. The ultimate goal for Miller is the success of American riders at the international level, as well as the development and support of future talent.
"Under Jim's direction I am confident that USA Cycling's athletic programs will continue to provide American athletes with the opportunity to achieve and sustain a high level of success," said USA Cycling Chief Executive Officer Steve Johnson.
Win on the Cyclingnews forum
Here's your chance to win the latest film about the world's favourite Classic, Paris-Roubaix.
Cyclingnews has four copies of Road to Roubaix to give away to readers who love their Classics. Cyclingnews reviewed it ahead of Christmas last year and liked it so much we had the guys at Masterlink Films send us some more to share.
It's easy. Just log on to the Cyclingnews forum and tell us: Why do the Spring Classics get you going?
You can tell us about your experiences at the races (if you've been fortunate enough to be there) or whilst watching them on TV. As long as you keep it brief (no more than 200-300 words) and exciting, you'll be in the running to win a copy of the film that delivers an intimate look at Paris-Roubaix. The contest closes the day after Paris-Roubaix, on April 13.
BikeRadar Live: ProCycling Hot Laps
The concept is simple. We have a host of lap times set prior to the show by professional riders, cycling celebrities and staff from ProCycling, BikeRadar, Cycling Plus and Cyclingnews. Challenge yourself and see if you can beat our times.
How to take part
Entry is £10, which can be booked at the registration tent on arrival at the show. You will be given ChampionChip timing equipment which will give you an accurate readout of the time it takes you to go round the circuit. If you beat the times set, the prizes go from bragging rights through to a share of a cash prize. Space is limited, so sign up as soon as you get to the show. Registration closes half an hour before each Hot Laps session starts.
Times
Hot Laps will take place from 10:30 am - 11:30 am and 7 pm - 8 pm on Saturday, May 30, and 7:30 am - 8:30 am on Sunday, May 31. The circuit will be dedicated solely to Hot Laps at these times.
Restrictions
You'll need to produce a photo ID, passport or driving license PLUS a household bill, and sign an indemnity. Under 18s will need a parent or guardian to sign for them. All riders must wear helmets, and bikes will be checked to make sure they are roadworthy and clean before you are allowed onto the circuit. Times are subject to change, and weather conditions permitting.
For more information, visit http://live.bikeradar.com/.
(All rights reserved/Copyright Future Publishing (Overseas) Limited 2009)