Latest Cycling News for April 7, 2009
Edited by Bjorn Haake
Gent-Wevelgem: Cavendish out for another Classic
Cavendish's preferred way of crossing finish lines
Photo ©: AFP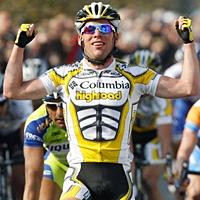 Mark Cavendish made all the headlines with his win in Milano-Sanremo, but the 23-year-old of Columbia-Highroad isn't finished yet and has more objectives for the remaining Classics. Gregor Brown spoke with the Briton in Sint-Martens-Leerne, Belgium, about Gent-Wevelgem, Tour of Flanders and Paris-Roubaix.
Cavendish first burst onto the scene when he won the 2007 Scheldeprijs. The then 21-year-old beat Robbie McEwen and Gert Steegmans that day and he went on to the Tour de France later that year. Unfortunately he abandoned early on.
The following year was a different story. He lined up in Brest for the start of the 2008 Tour de France with two stage wins from the Giro d'Italia under his belt. He ruled the sprints over the subsequent three-week race and took four wins – the most number of stages by a single rider in that edition.
Coming up on
Cyclingnews will cover the 60th edition of the Dauphiné Libéré live as of stage 4 on Wednesday, June 10, at approximately 15:00 local Europe time (CEST)/ 23:00 Australian time (CDT)/ 9:00 (USA East).

WAP-enabled mobile devices: http://live.cyclingnews.com/wap/
The ball hasn't stopped rolling since and this season is going better thanks to early season wins in the Tour of Qatar, Tour of California, Tirreno-Adriatico, and of course Milano-Sanremo. In that race he surprised many of the naysayers by surviving the long distance of 298 kilometres, which included several difficult climbs and he was the only one able to respond to the last-minute surge by Heinrich Haussler (Cervélo TestTeam).
Set for Gent-Wevelgem
He is ready to add another Classic victory to his palmarès, tomorrow, in Gent-Wevelgem. The 203-kilometre race will take in two ascents of the Kemmelberg prior to the finish. He headed into the race last year with two season wins, but this year an additional seven wins could give him the confidence to change last year's 17th placing into a win.
"It [season so far] gives me confidence against my competitors. Having a successful year shows I am on good form. It also gives my teammates confidence, they know that they can ride 100 per cent for me.
Read the full Cavendish interview.
Windy Wevelgem a chance for Clerc?
By Hedwig Kröner
Aurélien Clerc finished second last year
Photo ©: Bjorn Haake

With Belgian semi-classic Gent-Wevelgem coming up this Wednesday, ProTour teams continue their stay in the Northern European country after the Ronde van Vlaanderen this week-end. Swiss sprinter Aurélien Clerc is especially looking forward to the flattish route across Flanders, having finished second in Wevelgem last year. Together with his team AG2R La Mondiale - whose line-up after the Ronde hasn't changed - the 29-year-old hopes to perform well and maybe even top his 2008 result.
Speaking to Cyclingnews from Belgium on Tuesday morning, Clerc didn't hide the fact that Gent-Wevelgem is a major goal for him. "Of the three races this week [Ronde van Vlaanderen, Gent-Wevelgem and Paris-Roubaix - ed.] Gent-Wevelgem suits me the most," he said. "It's clear that this race is my objective."
Even though Clerc comes from the Swiss mountains, he developed a liking for the Belgian spring including its sometimes difficult weather conditions. Wind and rain, in fact, do not repel the rider. "Of course, I'd prefer it to be dry," he said. "But I don't mind [the rain and wind] at all. It only makes the race harder and more nervous. Bad weather can change the face of the race quite a lot, but it doesn't bother me."
On Tuesday, the weather forecast predicted rain and south-west wind up to 55 km/h for Wednesday, so Clerc and the other contenders might get their share of typical Flandrian spring climate. "It's a race where you don't get to the finish with the whole peloton, as it always eliminates many riders," reflected the AG2R rider. "In order to make a good sprint, you have to be in perfect condition and not have used all your energy once you get to the finish. If there is a lot of wind and rain, there might be many small groups in the finale and it will be even more difficult.
Positioning at Kemmelberg important
Crashes on the Kemmelberg can affect the outcome of the race
Photo ©: Sirotti
"The last climb is about 30 kilometres off the finish - the Kemmel - and that's where a good placing is important. That's where the groups are created, so it's really the key to the race. If there's wind, then it gets even more dangerous as the selection is even more thorough. The weather conditions influence this race enormously."
With other teammates including experienced all-rounders Martin Elmiger and Sébastien Hinault, AG2R has more than one card to play. Still, Clerc will be the team's man if he arrives in Wevelgem with the best. "If the race finishes in a group sprint like last year, I will get my chance," he said.
Losing out to three-time world champion Oscar Freire last year, Clerc nevertheless didn't have any regrets. "You're always a bit disappointed [to get second - ed.] when you're sprinting for victory, but after a short while, you get over it. Once you're on the podium of a prestigious race such as Gent-Wevelgem..."
Still, Clerc revealed that his heart beats even more for the queen of the cobbled classics, Paris-Roubaix. "For me, that's the most beautiful race of the year," he added. "It's the hardest one. I never had any great results there [Clerc finished 35th last year - ed.], but I love it. I manage to race it and finish, so I'd like to achieve a better result this year."
Contador sees rivals in good form
Defending champion Alberto Contador (Astana) in the Tour of the Basque Country
Photo ©: Susanne Goetze

Alberto Contador (Astana) is racing the Vuelta al País Vasco as one of his few preparation races for the Tour de France, his main goal for the 2009 season. Some of his potential rivals in July also race in the Basque Country and are showing good form.
The first stage of País Vasco was hilly, with eight classified mountains offering a god test on who is going well. "It was a tough beginning to the race. The whole stage was fast, but in the end not too decisive," Contador said.
The first group contained only about two dozen riders, with the second group 40 seconds back. "Some of the favourites were very motivated, especially [Antonio] Colom, Samuel Sánchez and [Damiano] Cunego, but others are going well, too, like Fränk Schleck, [Cadel] Evans, Luis León [Sánchez] and Joaquím Rodríguez." Contador took note how his rivals are shaping up in Spain.
The Spaniard himself feels well, "just not super," he admitted. "It was sufficient to be with the lead group. Purito [Joaquín Rodríguez] and Cunego were going really strong, but I wasn't too shabby and I am content with my race."
Contador expects an easier stage two (on Tuesday), "with a big group arriving and a bunch sprint in the end."
Landbouwkrediet-Colnago's De Waele 10th in Flanders
Bert de Waele (Landbouwkrediet-Colnago) on the Muur
Photo ©: Sirotti

Belgian Professional Continental team Landbouwkrediet-Colnago had a mixed bag of emotions after the Ronde van Vlaanderen on Sunday. Bert de Waele finished an excellent 10th and Bert Scheirlinckx was in the same group, in 19th. Kevin Neirynck was less happy with 94th place.
De Waele was very satisfied with his result, given the difficulties early on. "I didn't have the explosiveness, so I had trouble to stay in the front group on the early climbs. At one point when I was too far back there was a split in the peloton and I found myself in the second group."
De Waele was lucky that it also contained a few Quick Step riders, so the group reached the front again. "Later in the race I started to feel better and even the accelerations at the Bosberg I could handle well."
Scheirlinckx thought he could have also finished in the top ten. "The crash in the end [involving Thor Hushovd] left me without chances in the sprint. I was well positioned and still had some power in my legs."
Scheirlinckx felt well the whole day. "I handled the little climbs with ease. Between the cobbles of the Haaghoek and the climb of the Leberg I went on the offensive with two others, but I didn't get much help [from them] and we were caught soon."
Scheirlinckx knew that winner Stijn Devolder (Quick Step) was untouchable. "But a top five was possible on Sunday. I am at my best level in the last three years. I will now start my first Paris-Roubaix and I really want to show myself there."
Only Neirynck had a completely miserable day. "I had to change wheels three times. The first time was right before the Molenberg, not a good moment." He received a wheel from the neutral car. "But it was pumped up way too hard," Neirynck said. So he switched wheels again. The third change was necessary when spokes broke on his wheel.
He was able to get back to the peloton. "But it cost me a lot of strength and at that level they'll present you with the bill."
Flanders final accident report
Accidents were quite common and not all were as harmless as this one
Photo ©: Sirotti

The Tour of Flanders may have taken place a couple of days ago but new injuries and confirmations of old ones are still coming through. Worst effected was René Haselbacher (Vorarlberg-Corratec). The Austrian suffered fractures to his nose, frontal sinus bone and right elbow. He should be able to travel home today. Haselbacher crashed on the Molenberg and banged his head on the rough cobbles.
However his Directeur Sportif Rene Gut said leaving for home would only be possible if no complications arose. "But fortunately there were no head injuries, as initially suspected. He will have to wear a cast [on his arm] for three weeks and only then can he start training."
Carlos Barredo (Quick Step) crashed on the Koppenberg, injuring his chest and he was transferred to a hospital in nearby Oudenaarde.
Mirco Lorenzetto (Lampre-NGC) crashed heavily in Herzele, when he was taking off his long-sleeve jersey. An upcoming turn forced him to put his hands back on the bars and one of the sleeves was caught in his front wheel. He suffered head injuries, but his Directeur Sportif Fabrizio Bontempi indicated that the rider was doing okay despite the hard fall. "The tests excluded internal bleeding and fractures. But Mirco doesn't remember anything about the crash."
New Zealander Hayden Roulston (Cervélo TestTeam) suffered a knee injury.
As already reported in the previous news edition, initial fears that Roulston's teammate Thor Hushovd broke his wrist were unfounded and Hushovd has already been out on a training ride.
Sky appoints operations manager and looks for signings
By Daniel Benson
British Cycling performance director Dave Brailsford
Photo ©: Shane Stokes

The recently announced British professional cycling team – Team Sky – has today confirmed its latest hiring, Operations Manager Carsten Jeppesen. The former Dane spent eight successful years at CSC and will start his new role immediately. He will work between his native Denmark and the team's UK headquarters in the Manchester.
"The last few weeks have been a process of piecing the team together. I appointed Carsten Jeppeson, who has an organisation management background, and he will add forward planning and support to the structure of the team. He will be a very valuable addition," Performance Director Dave Brailsford exclusively told Cyclingnews.
Brailsford travelled to Belgium on the eve of the Tour of Flanders and spent several days near Gent. He gave a straightforward reason for his trip. "I'll give you one guess. There are quite a few riders here and you can't have a team without riders," he said.
However the man responsible for Britain's Olympic track domination was keen to stress that when it came to signing riders the team would go through official channels of either managers or agents and that all negotiations were being kept above board. "Obviously agents and managers are here and twenty five riders is the magic number we're aiming for. We've already approached more than that number but I can't say more than that."
UCI rules dictate that teams are not allowed to announce new signings until September 1. However riders are not prohibited from making announcements. "It's a tricky situation because the riders will be concentrating on racing and they're still under contracts with other teams. We want to be professional and discreet," he said.
When the team was publicly announced Brailsford did confirm that: ""There will be a core of British riders but the team will not just include home-grown talent. We'll need international riders and I don't ever envisage us having only British riders, but at the heart of the team will be a very British ethos: a British HQ, British staff and a British core."
The team hopes to contest the Tour Down Under when it commences racing in 2010, with the hope of earning a wildcard entry to the Tour de France.
Australian track cyclist found dead
Jobie Dajka, a professional track cyclist from Australia, was found dead at his home on Tuesday. The cause of the death is still under investigation. The news was broken by Nine Network.
Dajka had trouble in his career. In 2004 he was dumped from the Olympics team for lying about a doping inquiry. In 2005 he was given a three-year suspension by Cycling Australia for assault on Australia's head track coach, Martin Barras. In 2006 he received a suspended three-month jail term for that incident.
The three-year suspension was lifted early and afterwards Dajka admitted to having alcohol related problems and to have suffered depression.
Some of Dajka's successes include a team sprint Commonwealth gold in 2002 and the 2003 Worlds title in the keirin event.
Discuss the tragic event on our forum.
Kelly Benefit Strategies finds success in Uruguay
By Peter Hymas
Jake Keough (Kelly Benefit Strategies) sprints to victory
Photo ©: Marcelo Bonjour
The Kelly Benefit Strategies team, an American UCI Continental squad in its third year of racing, has kicked off the 2009 season in style, winning each of the Vuelta Ciclista del Uruguay's first four stages. In addition to the stage victories, the team leads three classifications: the overall race lead, best young rider and points.
Jake Keough, a 21-year-old Massachusetts native, has won stages one, three and four, each in a field sprint, while 35-year-old Reid Mumford out-sprinted his breakaway companions to take stage two. Mumford's victory transferred the leader's jersey from teammate Keough's shoulders to his and the team has defended the lead through the fourth stage.
"Our biggest aim was for the guys to get racing in their legs and then come away with a podium appearance, whether it was a stage win or possibly a jersey," said team manager Ken Mills to Cyclingnews. "There was no real plan for someone to go after the general classification.
"If we don't win the overall, I think we'll still come away with a pretty successful race. We've had four stage wins, four days in yellow, plus two other jerseys, with Keough leading the points and best young rider competitions."
For Keough, the victories have been a pleasant surprise, his first international wins as a professional. "Last year was tough," said Keough. "I had about 20 podium finishes, a lot of seconds and thirds, but only a few wins. This year, with the help of Jonas Carney and Ken Mills getting me through the winter and focusing on the weaknesses in my sprint, I think I've stepped up a level. Hopefully it's a good sign of things to come this season.
"Redlands and this are the first races we've done as a team in 2009. The racing we're doing now is tune-up racing and the fact that we're having so much success this early is really encouraging."
Racing in South America has been a good experience thus far. "It's a little tough because none of us speaks Spanish really well, but the locals are great," said Keough. "There are huge crowds every single day, every time we go through a town it's packed with screaming spectators and people are really excited that the Americans are on the podium."
Ng calls for indoor velodrome in Kuala Lumpur
By Jean-François Quénet in Kuala Lumpur
Malaysia's Azizulhasni Awang salutes the crowd
Photo ©: Shane Goss

Since the national team returned from the Track World Championships with their first medals, Malaysia has witnessed an increased amount of interest surrounding the discipline. Individual sprint runner-up Azizul Hasni Awang and kilometre silver medallist Rizal Tisin returned to their hometowns as national heroes. Sprinter Josiah Ng is hoping the momentum will lead to an indoor velodrome in the capital.
The sprinter is busy preparing for a race in Japan, where he'll be one of the five international riders invited to challenge the locals on the six-month long keirin circuit alongside Ross Edgar, Matthew Crampton, Teun Mulder and Shane Perkins.
A member of the Malaysian sprint team who finished sixth at the World's, Ng was thrilled by the achievements of his fellow compatriots. "We received fantastic support from the authorities here," he said. "But we now want to convince them to build an indoor 250 metres wooden velodrome, hopefully in Kuala Lumpur. I hope our performances will also inspire the people in power in addition to all the kids who are now dreaming of taking part in the national championships.
"My wish is to see every one of the thirteen states of Malaysia building a cheap outdoor concrete velodrome. Something like they have in Tasmania."
The Malaysian national team is forced to prepare for their races in Melbourne, Australia, since the facilities currently don't exist in the country with only two outdoor tracks operating: one in Ipoh and the Kuala Lumpur velodrome that was built for the 1998 Commonwealth Games.
Part of Ng's dream will come true soon if the Terengganu outdoor velodrome is built. "An important track cycling nation like Malaysia should have an indoor velodrome," Naim said. He confirmed the project is in the air and it will be presented to the new government soon. Malaysia appointed a new Prime Minister last week, who is known for being a strong supporter of cycling.
The Malaysian National Cycling Federation (MNCF) launched the national track championship in Kuala Lumpur for the first time this week (April 9-12). The world class riders will not take part but the backup riders Edrus Yunus and Fatenah will lead the field of 168 competitors, MNCF track committee chairman Datuk Naim Mohamad announced on Monday.
Win on the Cyclingnews forum
Here's your chance to win the latest film about the world's favourite Classic, Paris-Roubaix.
Cyclingnews has four copies of Road to Roubaix to give away to readers who love their Classics. Cyclingnews reviewed it ahead of Christmas last year and liked it so much we had the guys at Masterlink Films send us some more to share.
It's easy. Just log on to the Cyclingnews forum and tell us: Why do the Spring Classics get you going?
You can tell us about your experiences at the races (if you've been fortunate enough to be there) or whilst watching them on TV. As long as you keep it brief (no more than 200-300 words) and exciting, you'll be in the running to win a copy of the film that delivers an intimate look at Paris-Roubaix. The contest closes the day after Paris-Roubaix, on April 13.
Previous News Next News
(All rights reserved/Copyright Future Publishing (Overseas) Limited 2009)