Latest Cycling News for April 6, 2009
Edited by Bjorn Haake
Haussler: Quick Step deserved the win
By Gregor Brown in Meerbeke
Haussler made it across the line just before the others
Photo ©: Sirotti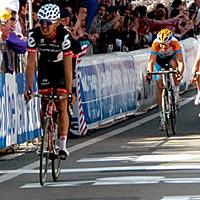 Heinrich Haussler acknowledged that Quick Step had the strongest team Sunday in Belgium's Ronde van Vlaanderen. The Cervélo TestTeam rider led home the bunch sprint for second behind Quick Step's Stijn Devolder.
"They were really strong and deserved to win," Haussler said to Cyclingnews. "The strongest guy always wins here, because this race is that hard."
Quick Step entered into action around kilometre 187. The team had Frenchman Sylvain Chavanel in a six-man move, which later allowed for a counter-move by Belgian Devolder.
Cervélo rode on the front through the race's key sections. It placed Thor Hushovd in the move with Quick Step's Tom Boonen on the Taaienberg; however, tactics nullified many of the counter-moves until Devolder bridged to teammate Chavanel prior to the penultimate Kapelmuur climb.
"I felt okay, but I did not have what I had before: that sixth gear, where I could just put it into the big ring, stand up and sprint. But I don't care anymore."
Haussler is proud of his two second places in the first two of cycling's five Monuments. He nearly won Milano-Sanremo two weeks ago with a surge 350 metres from the line. Cavendish reeled in the 25-year-old and won by 11 centimetres.
Haussler will have the doctor check out his knee (he crashed on the Kerkgate at kilometre 135) and prepare for the last two races of his spring season. He will be one of the favourites in Wednesday's Gent-Wevelgem and play a support role to Hushovd and Roger Hammond in Sunday's Paris-Roubaix.
Haussler has done great in the classics, now people in our forums are already wondering if he can win a Grand Tour. Chime in.
Van Hecke misses out on Ronde podium
Preben Van Hecke (Topsport Vlaanderen-Mercator) motors up the Muur
Photo ©: Sirotti

After yesterday's Ronde van Vlaanderen, Preben Van Hecke (Topsport Vlaanderen - Mercator) was quite disappointed that he missed out on a podium spot. It would have been a great achievement for the local rider who rides for a Pro Continental team.
Van Hecke was interviewed by Sporza immediately following the race. Still sweating, he recounted his efforts in which he and his two companions, Sylvain Chavanel (Quick Step) and Manuel Quinziato (Liquigas), were caught only within the last few kilometres. "It's a pity," said Van Hecke. "The Muur was just a little too much for me."
The former Lotto team member often trains on the Muur van Geraardsbergen, the penultimate climb where Stijn Devolder (Quick Step) made his decisive attack. "It is different when you do it after some 240 kilometres," he said. "Still, I was happy to be there, but the Muur was real fast and on top Devolder was gone."
There was still a chance for a podium spot, but the group didn't go too well in the end. Chavanel obviously wasn't interested in going after teammate Devolder in the front. "Maybe with one more guy in the break we could have stayed away," Van Hecke said.
Instead of getting one of his biggest results, Van Hecke now shows up in the results sheets as 25th, belittling the great race he did on Sunday.
Flanders accident report
Crashes are common in the Ronde van Vlaanderen and this year was no exception, with several riders sustaining injuries.
Caisse d'Epargne reported that its rider Vicente García Acosta broke the head of his left radius bone. García Acosta fell after 140 kilometres and was transferred to the hospital Elisabeth in Zottegem. The diagnosis was confirmed there and a cast put on his left arm. The rider was able to go to the team's hotel in the evening.
Less lucky was Frank Høj (Saxo Bank) who broke his collarbone midway through the race. He was also transferred to a hospital in Zottegem. Directeur Sportif Lars Michaelsen indicated on the team's website that the Spring Classics are over for Høj. "Frank is now being operated on his right collarbone. It's such a shame that he can't take part in the upcoming races because he was in really good condition and could have helped us ... today, and Sunday in Paris-Roubaix."
Thor Hushovd was almost at the finish line when he crashed in Meerbeke. The Norwegian of the Cervélo TestTeam broke his wrist.
País Vasco: The Astana show continues
By Gregor Brown
Astana looks set for repeat
Photo ©: Roberto Bettini

The Astana show looks to continue in the Vuelta al País Vasco this week, April 6 to 11. The team of Johan Bruyneel has won the Volta ao Algarve, Tour of California and Castilla y León to date this year, and with the 2008 defending champion Alberto Contador backed by strong teammates the Spanish stage race victory looks almost assured.
The Basque race takes in 829 kilometres and 34 classified climbs in six days. Its history – with winners like Luis Ocaña, Sean Kelly, Tony Rominger and Laurent Jalabert – and its ranking (ProTour) make it a hard fought affair.
Some of the Astana's best domestiques, something Contador missed in the Paris-Nice last month, will back attend. Haimar Zubeldia, Yaroslav Popovych, Sergio Paulinho, José Luis Rubiera, Chris Horner, Jesús Hernández and Alexsandr Dyachenko will support the 26-year-old triple Grand Tour winner in his quest for the double.
Read the entire preview of the race that starts today.
Columbia-Highroad chases stage wins in Basque Country
Kim Kirchen enjoyed the Basque hat twice last year
Photo ©: cyclinginside.com

Columbia-Highroad heads for the Vuelta al País Vasco in Spain this Monday with an identical strategy to 2008, which is going for stage wins. Last year, Columbia-Highroad's Kim Kirchen won two stages (stage two and stage four) and finished seventh overall.
"We'll start this year's race with exactly the same idea we had in 2008, of taking it day-by-day," said Sports Director Valerio Piva. "For the majority of our team here, the Tour of the Basque Country is the beginning of their build up for the Ardennes Classics.
"Initially we won't really be thinking about the overall classification, though. This is a very prestigious race where the Spanish are always extremely motivated and on top of that they've made the route a lot tougher this year. But I have no doubt we'll be in the thick of the action every day, whatever happens. And last year that worked out perfectly."
After fracturing his collarbone earlier this season in the Tour of California, Kirchen will not be taking part in the Basque Country and instead will start racing again at the Circuit de la Sarthe this week. "The Tour of the Basque Country would be too tough a comeback event for him," Piva said. "But I know he's very keen to get back into racing as soon as possible."
Columbia-Highroad's line-up for the Tour of the Basque Country: Michael Albasini, Craig Lewis, Thomas Lövkvist, Maxime Monfort, Marco Pinotti, Morris Possoni, Michael Rogers and Kanstantsin Siutsou.
Cavendish favoured in Wevelgem
By Bjorn Haake
Mark Cavendish (Columbia-Highroad) is the big favourite for Wednesday
Photo ©: AFP

Rarely is there such a clear favourite as Mark Cavendish (Columbia-Highroad) will be Wednesday at Gent-Wevelgem. The 203-kilometre race often ends in a bunch sprint, thanks to flat terrain which is interrupted only by the Monteberg/Kemmelberg combo that has to be completed twice by the peloton.
Cavendish showed at Milano-Sanremo and the Driedaagse De Panne-Koksijde that he is currently the world's fastest sprinter. The Manxman also displayed his climbing capabilities when he gave chase over the very same Kemmelberg that punctuates Gent-Wevelgem during De Panne's second stage.
Cavendish admitted having a plan last week when he rode after Tom Boonen (Quick Step) over the cobbled climb. "I wanted to do a test and see how to position myself on the Kemmelberg," he said. The test seemed to have succeeded and even if the race should split over the Kemmelberg, expect Cavendish amongst the frontrunners.
Read the full preview of Wednesday's race.
Vandenbroucke back
Frank Vandenbroucke (Cinelli) won his first race in four years
Photo ©: Niels De Wit

Frank Vandenbroucke's comebacks have been too numerous to count them but this time he seems to back it up with results. He finished the 2.2. La Boucle de l'Artois in third place overall, after winning the time trial on Saturday.
Vandenbroucke stormed the 15-kilometre time trial course in 20:22.25, at an average speed of more than 45 km/h. He beat Patrick Gretsch (Thüringer Energie Team) by one second. Vandenbroucke's teammate Bert Roesems completed the podium.
Vandenbroucke knew how to evaluate the success. "It is obviously no ProTour race," he said to the Nieuwsblad. "But I am feeling well right now. Vandenbroucke is not written off yet. Day by day I am getting stronger." It had been four years since Vandenbroucke won a race, "in 2005 in Zwevegem I took a kermis race."
Despite the success Vandenbroucke was self-critical. "I am not going well in the hills yet and I can still shed four or five kilograms." He will go to northern Italy now for some mountain training. "I am seeing some possibilities still for myself this year, maybe the Belgian time trial championships."
He did beat a former Belgian time trial champion with Roesems. Roesems, who formerly rode for Lotto, won the Belgian championships twice, in 1996 as an amateur and in 2004 as a professional. Second-placed Gretsch, who turns 22 on Tuesday, became German time trial junior champion in 2004. That year he also won the junior World Championships.
Vandenbroucke led the overall after the time trial, but surrendered the lead in the road race later in the day to Sergey Firsanov (Team Designa Køkken). Firsanov won solo, with Vandenbroucke ending the stage in 28th, a little less than a minute behind.
Brenes holds form in Mergelland
Costa Rican Gregory Brenes continues with good success in his Euro Debut. The winner of the 2008 Vuelta a Costa Rica finished 37th, but was the second best rider of his Differdange team in the 1.1 race.
Brenes is focused on getting his preparation right. "After my debut at the races in France, I worked hard and slowly I got used to the race rhythm here in Europe." Besides the faster racing he also had to adapt to the weather. "Last weekend with the rain it was also pretty cold. But my form is alright," he said.
The race was won by Mauro Finetto of CSF Navigare. Robert Retschke, teammate of Brenes, was the best placed Differdange rider in 21st place. Both Retschke and Brenes finished in the peloton, 3:18 behind the winner.
Brenes, still eligible for the U23 category, will ride the Circuit des Ardennes and la Rhône Alpes Isere next.
Ronde tourists set record
This year the number of riders in the Ronde van Vlaanderen voor Wielertoeristen was the highest number achieved, with 19,000 people. Many decided to do the famous hellingen one day ahead of the Tour of Flanders because of the nice weather.
The wanna-be Devolders could choose between three different routes of 70, 140 and 250 kilometres, the latter being more or less the original course tackled by the professionals on Sunday. 3,500 riders opted for this version, with the official start possible at 7am.
The 140-kilometre version cut out the flat parts between Brugge and the Molenberg but did include all 16 climbs of the day. Only the 70-kilometre Ronde had a reduced number of hellingen, but still featured the Muur van Geraardsbergen.
The event is quite popular with foreigners, especially from neighbouring Netherlands and Germany, but also Great Britain. About 700 Britons crossed the channel for the event. Approximately one fifth of the participants were from foreign countries.
The previous record was set in 2007, with 18,000 riders. In 2008, there was still a strong turn-out of 17,000, despite heavy rain showers and hail along the way.
Off-road routes for mountain bikers were also offered.
Win on the Cyclingnews forum
Here's your chance to win the latest film about the world's favourite Classic, Paris-Roubaix.
Cyclingnews has four copies of Road to Roubaix to give away to readers who love their Classics. Cyclingnews reviewed it ahead of Christmas last year and liked it so much we had the guys at Masterlink Films send us some more to share.
It's easy. Just log on to the Cyclingnews forum and tell us: Why do the Spring Classics get you going?
You can tell us about your experiences at the races (if you've been fortunate enough to be there) or whilst watching them on TV. As long as you keep it brief (no more than 200-300 words) and exciting, you'll be in the running to win a copy of the film that delivers an intimate look at Paris-Roubaix. The contest closes the day after Paris-Roubaix, on April 13.
BikeRadar Live: ProCycling Hot Laps
The concept is simple. We have a host of lap times set prior to the show by professional riders, cycling celebrities and staff from ProCycling, BikeRadar, Cycling Plus and Cyclingnews. Challenge yourself and see if you can beat our times.
How to take part
Entry is £10, which can be booked at the registration tent on arrival at the show. You will be given ChampionChip timing equipment which will give you an accurate readout of the time it takes you to go round the circuit. If you beat the times set, the prizes go from bragging rights through to a share of a cash prize. Space is limited, so sign up as soon as you get to the show. Registration closes half an hour before each Hot Laps session starts.
Times
Hot Laps will take place from 10:30 am - 11:30 am and 7 pm - 8 pm on Saturday, May 30, and 7:30 am - 8:30 am on Sunday, May 31. The circuit will be dedicated solely to Hot Laps at these times.
Restrictions
You'll need to produce a photo ID, passport or driving license PLUS a household bill, and sign an indemnity. Under 18s will need a parent or guardian to sign for them. All riders must wear helmets, and bikes will be checked to make sure they are roadworthy and clean before you are allowed onto the circuit. Times are subject to change, and weather conditions permitting.
For more information, visit http://live.bikeradar.com/.
Previous News Next News
(All rights reserved/Copyright Future Publishing (Overseas) Limited 2009)