Sea Otter Classic - 1
Monterey, CA USA, April 12-15, 2007
Main Page Results Overall standings Previous Stage Next Stage
Race 2 - Friday, April 13: Time Trial
Nash and Kabush win time trial
By Sue George in Monterey
Geoff Kabush (Maxxis)
Photo ©: FJ Hughes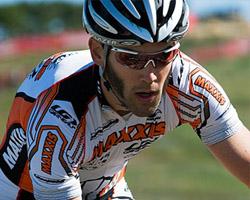 Cross country racers got a chance to warm up their legs with a short time trial this morning during day two of Sea Otter competition. Katerina Nash (Luna) and Geoff Kabush (Maxxis) took top honors in the tightly contested event in which less than 10 seconds separated podium finishers in both elite races.
Memories of a boggy, muddy 2006 time trial were not far from anyone's mind, and most racers were grateful for the dry, fast conditions on the sub two-mile course sandwiched on a hillside between the expo area and the dual slalom.
With the top men finishing in under three and half minutes; their efforts resembled more of an individual pursuit than a cross country mountain bike race. Racers' abilities to punch the climbs early in the lap and carry momentum through the later, tighter, more rutted sections were the keys to success.
Luna takes top two podium spots with near-tie
Katerina Nash (Luna)
Photo ©: FJ Hughes

The women went first, with intervals of 30 seconds separating each. Luna ladies Katerina Nash and Georgia Gould won the top two positions, nearly tied and within less than one second of each other. Willow Koerber (Subaru - Gary Fisher) finished third, four seconds back. Then followed Sue Haywood (Trek / VW) and Wendy Simms (Frontrunners) to finish off the podium.
After the race, Pan Am champion Gould commented on the brief duration of the event. "You warm up for an hour and then you're done so fast. The course was short and fast. I don't remember that much. But it wasn't as bad as I was expecting. I remembered it a lot worse."
Maybe that was because last year's short track and time trial courses were littered with hub-deep mud holes that seemed to be in different places for different racers. Subaru / Gary Fisher's Heather Irminger, who finished eighth, recalled with a laugh, "There was a man-eating puddle. Last year, it was like quicksand."
Standing in the bright sunlight after the race, fourth place finisher Haywood called the course, "a good opener for tomorrow and the next day. It was a tricky course for sure. The first part was all climbing and if you didn't get that nailed, you'd lose out.
"I think the strongest person will win today," predicted Haywood before results were available.
Last year's third place finisher Alison Sydor (Rocky Mountain / Haywood) just barely missed the podium by finishing in sixth, but she wasn't too disappointed. Today was just one of those days.
"There were quite a few ruts in the course, and you know you're going to hit one of them at least, but I hit every single one of them or that's what it felt like," said Sydor. "Then, at the end, someone had a flat and they were standing in the course fixing it. I was a little disappointed to have to slam on my brakes before the high speed part. But it was a solid ride and I stayed upright."
Finishing only six seconds back, Sydor was clearly among the strongest women out there. The Canadian's goal today was to do well enough today to set herself up for tomorrow's short track. "I came in with the objective of doing well today because I'm guessing the short track start positions are based on time trial. I just love the short track," she said with a big smile.
Kabush wins by five seconds
Geoff Kabush (Maxxis)
Photo ©: FJ Hughes

On the men's side, Pan Am champion Kabush (Maxxis) continued his early season winning ways with another victory. The Rocky Mountain / Haywood men were gunning for Kabush, but Max Plaxton and Seamus McGrath had to settle for second and third. Frenchman Jean Christoph Peraud finished fourth ahead of South African Burry Stander.
"It went pretty smooth today," said Kabush after the race, when his time stood atop the leader board, but before everyone else had finished. "I had a few little bobbles, but I kept it on line most of the time. I ran super light tires and full suspension which I think helped a bit. I got to look at course yesterday and pre-rode this morning." Kabush finished fourth in last year's time trial.
Kabush said he hoped the forecasted rains would hold off for tomorrow's short track, but more important to him is Sunday. "I think my main focus will be the cross country laps. I like it [referring to the two 19 mile laps which are longer than those raced at most other domestic pro cross country race - ed.). I like the longer races, you have to get in your head a bit more and pace yourself."
Absent from the podium were the Kona men. Last year's US cross country national champion Ryan Trebon finished 10th while his teammate, the reigning short track national champion Barry Wicks, finished 18th. Wicks called his performance "all right." Already looking to the short track, he said, "I feel pretty good. It's early in the season, so we'll see. The short track course is a pretty long course. I don't care if it rains or not. If it does rain, it won't change that much."
Jean Christophe Peraud (Orbea)
Photo ©: Sue George

Fourth place racer, Frenchman Jean Christophe Peraud, was one of a handful of racers who made the journey across the Atlantic only one week before next weekend's World Cup cross country race in Houffalize, Belgium.
Peraud finished second in last year's time trial and short track and third in the cross country. "We wanted to come back. It's important for Orbea." Peraud admitted he was still feeling the travel, but said, "I did my best. I wanted to do well, and I finished fast. I hope to be going well in Belgium next week if I can get over the jetlag."
In the meantime, racers will tackle the short track Saturday afternoon followed by the cross country on Sunday.
Photography
For a thumbnail gallery of these images, click here
Images by FJ Hughes/http://www.fhughesphoto.com/
Images by Sue George / Cyclingnews
Images by Mitchell Clinton/www.clintonphoto.com
Results

Elite Women

1 Katerina Nash (Cze) Luna                                   4.12
2 Georgia Gould (USA) Luna                                       
3 Willow Koerber (Can) Subaru-Gary Fisher                    0.04
4 Susan Haywood (USA) Trek/VW                                0.05
5 Wendy Simms (Can) Frontrunners-Steed Cycles                0.06
6 Alison Sydor (Can) Rocky Mountain - Haywood                    
7 Mical Dyck (Can) Trek/Terrascape Racing                    0.07
8 Heather Irmiger (USA) Subaru-Gary Fisher                   0.08
9 Zephanie Blasi (USA) Kenda / X-Fusion / Titus Mtb          0.09
10 Lene Byberg (USA) Specialized Factory Racing              0.12
11 Kathy Sherwin (USA) Titus                                     
12 Dellys Starr (USA) BMC/Sports Garage                      0.15
13 Kelli Emmett (USA) Giant                                      
14 Asa Erlandsson (Swe) Subaru-Gary Fisher                       
15 Kiara Bisaro (Can) Opus                                   0.16
16 Jenna Zander (USA) Bear Naked/Cannondale                  0.17
17 Melanie McQuaid (Can) BMC/Natures Path                        
18 Chloe Forsman (USA) Luna                                  0.18
19 Jennifer Gersbach (USA) BMC/Sports Garage                 0.20
20 Sue Butler (USA) Bear Naked/ Cannondale                   0.21
21 Shonny Vanlandingham (USA) Luna              
22 Lea Davison (USA) Trek/VW                                 0.22
23 Megan Monroe (USA) BMC-Sports Garage                      0.29
24 Nina Baum (USA) Bear Naked/Cannondale                         
25 Kristin Danielson (USA) Velo Bella                            
26 Mary-Ellen Ash (USA) Easton/Specialized                       
27 Emily Van Meter (USA) Bear Naked/Cannondale               0.31
28 Rie Katayama (Jpn) Trek                                   0.32
29 Kristina Maier (USA) BMC/ Sports Garage                   0.33
30 Shannon Gibson (USA)                                      0.34
31 Monique Sawicki (USA) Ergon / Ellsworth                   0.38
32 Melanie Meyers (USA) Ford Cycling                         0.41
33 Christie Pleiss (USA) Pass Pt                             0.50
34 Carolyn Van Vurst (USA) Trek VW - SE Region                   
35 Becca Blay (USA) Bear Naked/Cannondale                    0.51
36 Jennifer Tilley (USA) Velo Bella - Kona                   0.53
37 Theresa Richardson (USA) Bear Naked/Cannondale            0.58
38 Sheryl Loan (USA)                                         1.01
39 Rachel Throop (USA) Team Nova                             1.15

Elite Men

1 Geoff Kabush (Can) Team Maxxis                             3.26
2 Max Plaxton (Can) Rocky Mountain-Haywood                   0.05
3 Seamus Mcgrath (USA)                                       0.08
4 Jean Christophe Peraud (Fra) Orbea                             
5 Burry Stander (RSA) Africagt Bicycles                      0.09
6 Liam Killeen (GBr) Specialized Factory Racing              0.10
7 Christoph Sauser (Swi) Specialized Factory Racing              
8 Ruzafa Ruben (Can) Orbea                                       
9 Jeremy Horgan-Kobelsk (USA) Subaru-Gary Fisher             0.11
10 Ryan Trebon (USA) Kona                                        
11 Todd Wells (USA) Targetraining                                
12 Kris Sneddon (Can) Kona Les Gets Factory Team             0.13
13 Thomas Frischknecht (Swi) Swisspower                          
14 Ross Schnell (USA) Trek/VW                                    
15 Nino Schurter (Swi) Swiss Power                               
16 Sam Schultz (USA) Subaru-Gary Fisher                          
17 Adam Craig (USA) Giant                                    0.14
18 Barry Wicks (USA) Kona                                        
19 Michael Simonson (USA) Bells Brewery/Quiring Cycles00:    0.15
20 Sam Jurekovic (USA) U23 National Team                         
21 Jeff Schalk (Aus) Trek-VW East                            0.17
22 Brent Miller (USA) WTB/Foxshox/Santacruz                  0.18
23 Alan Obye (USA) SRAM                                          
24 Jeff Hall (USA) Salsa Cycles                                  
25 Colin Cares (USA) Usa Cycling U23 Nat'l Team              0.20
26 Jeremiah Bishop (USA) Trek/VW                             0.21
27 Federico Ramirez (CRa) La Ruta De Los Conquistadore00:    0.22
28 Eric Barlevav (USA) VRC-MSVRC-MS Society                  0.23
29 Mat Toulouse (Can) Team Maxxis                                
30 Aren Timmel (USA) Team Chico                                  
31 Bryan Fawley (USA) Hotel San Jose/Redbudsports            0.24
32 David Wood (USA) Bear Naked/Cannondale                        
33 Charlie Pendry (USA) Inland Construction - Btd            0.25
34 Carl Decker (USA) Giant                                       
35 Kevin Bradford Parish (USA) Lapierre                      0.26
36 Adam Snyder (USA) Balance Bar/Devo                        0.27
37 Chance Noble (USA) California Giant/Specialized               
38 Thomas Turner (USA) Cannondale                                
39 Cale Redpath (USA) 3D Racing                              0.29
40 Ben Thompson (USA) Santiam Bicycles / Breakaway               
41 Cody Peterson (USA) Scott Bicycles                            
42 Grant Kier (USA) Red Barn Bicycles                            
43 Kenny Burt (USA) Motion Based / Garmin Mtb                    
44 Nick Martin (USA) Trek/VW                                 0.30
45 Andy Schultz (USA) Montana State Univesity                    
46 Matthew Hadley (Can) Rocky Mountain Haywood                   
47 Ken Onodera (Jpn) Subaru-Gary Fisher                          
48 Miguel Valadez (USA) Zumwalts                             0.32
49 Kevin Smallman (USA) Bear Naked/Cannondale                    
50 Michael Raney (USA) Voodoo Cycles                         0.33
51 Glenn Fant (USA)                                              
52 Nat Ross (USA) Subaru-Gary Fisher                         0.34
53 Kelly Magelky (USA)                                           
54 Leonardo Sandoval (USA) Socal Specialized Team                
55 Kevin Rice (USA) Tokyo Joes/Golite                        0.36
56 Sloane Anderson (USA) Topeak-Ergon                        0.38
57 Matt Green                                                    
58 Michael Lee (USA) Trek                                    0.39
59 Eric Ransom (USA) Team Tamarack Resort                        
60 Mitchell Peterson (USA) Devo                              0.42
61 Shun Matsumoto (Jpn) Trek Japan                               
62 Paul Hanson (USA) Bear Naked/Cannondale                       
63 David Yakaitis (USA) Bpg/ Montano Velo                        
64 Trevor Downing (Isr) Bear Valley Bikes                    0.43
65 Dror Pekatch (USA) Subaru-Gary Fisher                     0.44
66 TJ Woodruff (USA) Momentumendurance.Com                   0.46
67 Dustin Wanstrath (USA) Team Tamarack                      0.59