Sea Otter Pro NRC Road Race - (NE)
Monterey, California, USA, April 14, 2007
Results &nbsp&nbsp&nbsp Mountain Bike Coverage&nbsp&nbsp&nbsp 2006 Results
Ramsey survives in suicide break for NRC win
Women's race cancelled midway after deluge
By Steve Medcroft at Laguna Seca raceway in California
Daniel Ramsey
Photo ©: Steve Medcroft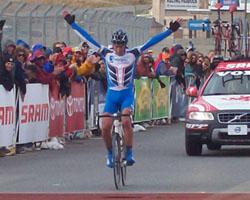 Daniel Ramsey (Team Successfulliving.com) escaped from the pro men's peloton twice on Sunday at the Sea Otter Classic NRC circuit race, staying away the second time to win while Redlands champion Andrew Bajadali (Jelly Belly) and Frank Pipp (Health Net/Maxxis) struggled against 30 mile-per-hour winds in a failed doomed attempt to bring him back.
Underway after a multiple delays
Early in the day, the elite women's race was stopped mid-race when a broad low layer of dark clouds settled over the venue and began dumping dangerous volumes of water on the world famous Laguna-Seca International raceway. After more than an hour of racing, USA Cycling officials decided that conditions on the track, which included running water and mud, were unsafe enough to invoke the 'Act of God' rule and called the race without declaring a winner.
The nasty weather cleared and after a water truck circled the course and hosed away errant debris, the men got underway after a ninety-minute delay.
With six of the scheduled 31 laps (for a total race distance of 65 miles) in the books, local rider Andy Jaques-Maynes (California Giant Strawberries) and 29-year old Daniel Ramsey (Team Successfulliving.com) managed to eke out a thirty-second lead on a field that seemed more content with huddling together against the wind and cold than being overly aggressive in neutralizing the threat.
"The plan was for me to go for KOM's," Ramsey said about the move. "I knew Andrew was up the road. We got together and went nice and steady. I told him I'd take the KOM points and he could take the Sprint points."
With ten laps remaining, attacks in the pack stretched then shattered the rest of the field and the leaders were caught.
"I had some teammates in (the chase group) so I knew I was going to have to be the first person to attack; they had been covering moves all day" Ramsey said about his second surge. And although his intention for the race had been simply the KOM category, Ramsey found himself alone off the front again. "(The main pack) must have been just watching each other because I didn't think I felt that good."
Ramsey said he was more motivated to stay away once he had a lead the second time. "My teammates were all back there covering for me. They all dug just as deep as I did to give me a hand so I wanted to give it everything I had." Ramsey also had to contend with 30-mph winds. "It was hard. The wind was strong. It was wet early on. You had to stay on your toes. But this course is as good as it gets in the rain and I just had the legs to keep on going."
Behind, a disorganized chased group filled with Ramsey's teammates kept things in hand for the solo breakaway rider. A late-laps effort by Andrew Bajadali and Frank Pipp couldn't take hold and a group of a half-dozen riders sprinted for the remaining podium spots.
Photography
For a thumbnail gallery of these images, click here
Images by Steve Medcroft/Cyclingnews
Images by Mitch Clinton/www.clintonphoto.com
Images by Larry Rosa/Larry Rosa Photography
Results
Men (provisional)

1 Daniel Ramsey (Team Successfulliving.com)         2:57:14
2 Brian Jenson (HRRC/Trek Stores)
3 Frank Pipp (Health Net/Maxxis)
4 Christian Valenzuela (Team Successfulliving.com)
5 Aaron Tuckerman (Team Rubicon)
6 Michael Grabinger (Team Successfulliving.com)
7 Alex Candelario (Jelly Belly)
8 Curtis Gunn (Team Successfulliving.com)
9 Andrew Bajadali (Jelly Belly)
10 Daniel Harm (Team Rubicon)