Sea Otter Classic - 1
Monterey, CA USA, April 12-15, 2007
Main Page Results Overall standings Previous Stage Next Stage
Race 3 - Saturday, April 14: Short Track
Compton surprises women's field with win
Peraud comes from behind for victory in men's race
By Sue George in Monterey
Katie Compton (Spike)
Photo ©: FJ Hughes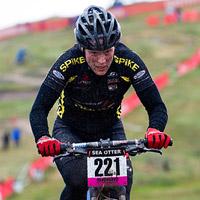 Katie Compton (Spike) and Jean Christoph Peraud (Orbea) emerged victorious at the end of a wet, cold, and muddy short track battle Saturday afternoon on a course sandwiched between the dual slalom course and the Laguna Seca Raceway, where gravity racers and road pros were simultaneously competing.
The short track got off to a tentative start after the men's semi-pro event, scheduled to happen before the elites raced, was postponed until later in the day. A deluge of rain drenched racers and spectators alike in the late morning and stopped all mountain bike, road, and BMX racing action for an hour or two.
In the women's race, US National cyclo-cross champion and accomplished track racer Katie Compton (Spike) surprised most of the field at the start by going all-out from the gun. Unlike the other fast ladies, Compton did not race the time trial yesterday and therefore was assigned a starting position near the rear of the women's field.
Yet, Compton didn't stay near the back for long. Before the halfway point of the first lap, she had worked her way to the front, where she led a group that included Luna's Georgia Gould and Gary Fisher / Subaru's Heather Irminger.
"I had to work hard to get up to the lead girls," said a muddy Compton after the race. "Then I had some momentum going down the hill, so I thought I'd carry it to the top and see what happened."
The women's race started
Photo ©: Sue George

Driving the pace in her trademark way, the 'cross specialist stayed at the front, and by lap three, she had built a 15 second lead.
It wasn't Compton's first short track. "I did it a long time ago," she said. The sloppy and chilly conditions on the grassy course were somewhat like a 'cross race, and her experience may have been an advantage. "I think the mud helped; however the course was not as smooth in 'cross. But the (skinny) tires and wheels I ran were good. They kept traction, so I could keep the pace uphill." Compton ran Aros 58 700c deep dish wheels by Cane Creek.
Compton indeed pushed the pace, uphill and down, and she finished with about a 30 second advantage after lapping many of her fellow competitors.
In her wake, yesterday's time trial winner Katerina Nash (Luna) first battled teammate Gould. Behind the blue-clad duo, another group of three chased, including Wendy Simms (Kona), Kiara Bisaro (Team RACE), and Willow Koerber (Subaru / Gary Fisher).
Gould suffered a crash and dropped back. As she chased to recapture lost places, she looked like she was struggling, but regained a more composed form near the end of the race. "I was up there, and I crashed on the downhill," said Gould. I lost a few seconds and three spots, and it took me a little while to get back into it. I never really got into my groove."
As the mud splattered up from the trail, some women tossed their glasses to their support crews. Those without often wiped their eyes and faces to keep their vision clear. Fortunately, with most ladies riding alone, they at least were spared the rooster tail from riders ahead.
On the last three laps, the rain resumed, but Compton rode on, looking strong and comfortable in her lead. Nash, Bisaro, Koerber, and Gould followed, each riding solo, chasing hard, but not changing places for the duration of the race.
"I sped up for the finish," said second-placed Nash, "but I was just a little far back. In the first lap, my legs just weren't ready. Then I warmed up and felt good, but at that point Katie had such a huge gap. She was too strong. I could see her on the switchbacks, but the gap was getting bigger and bigger."
Nash was undaunted by the slippery conditions everyone face. "This is mountain biking so you take whatever comes. I personally like when it's more challenging, especially the mud is kind of fun with the sliding around."
Peraud comes from behind for win
The men huddled under umbrellas and jackets until the last minute before their start, which was fast and furious from the gun. Ryan Trebon (Kona) set the pace, initially with rising star Sam Jurekovic (USA Cycling U23 National Team) hot on his heels. Trebon had reasons for his fast start. "It was so muddy, it was easier to pick your own line, and if someone balls in front of you, you could crash."
Todd Wells (GT) led the chase with Trebon's teammate Barry Wicks keeping tabs on his efforts. The field was strung out, in single file almost everywhere on the first lap as they negotiated slippery chicanes along the course.
By the end of the second lap, Trebon was off the front solo after Jurekovic couldn't hold Wells' pace and was caught and dropped by chasers. Wells continued to drive the chase, but he was marked by Wicks, who steadfastly maintained second in the chase group, thereby managing to keep any more organized effort from occurring.
"The Kona boys were working their tactics," said Max Plaxton, who sat in fourth behind Wicks.
About mid-way through the race, Wells ran out of juice and dropped rapidly off the pace, then driven by Plaxton, but still marked by Wicks. Peraud moved up and sat behind Plaxton. Geoff Kabush trailed a few seconds back on his own, but was looking stronger and stronger as the race went on.
With three to go, Peraud turned on the afterburners Trebon. "I felt good. I attacked and caught him," said Peraud. The course didn't slow Peraud down - he remarked that it wasn't nearly as bad as last year.
"I was doing all the work there because I'd been chasing (Trebon)," said Plaxton after the race. "I was hoping someone else would help me out, but when he (Peraud) passed me, I couldn't get on his wheel. I tried." Left on his own, Plaxton trailed Peraud by five seconds, and Wicks and Kabush rode together as a pair in fourth and fifth.
"The race went good until about two laps to go," said Trebon. That's when Peraud caught him as the two passed under the finish banner. "I could see him coming," said Trebon. "I was always saving a little bit and tried to hold on and maintain my position." However, a charging Peraud soon opened up a five second gap, an insurmountable lead he held until the finish.
Plaxton tried valiantly to catch Trebon, but he had to settle for third, in one of his best short track finishes ever. Kabush eventually dropped Wicks, and both finished solo, rounding out the podium.
Photography
For a thumbnail gallery of these images, click here
Images by FJ Hughes/http://www.fhughesphoto.com/
Images by Sue George / Cyclingnews
Images by Mitchell Clinton/www.clintonphoto.com
Results

Elite Women

1 Katie Compton (USA) Spike                                      
2 Katerina Nash (Cze) Luna Women's MTB Team                      
3 Kiara Bisaro (Can) Opus                                        
4 Willow Koerber (Can) Subaru-Gary Fisher                        
5 Georgia Gould (USA) Luna Women's MTB Team                      
6 Shonny Vanlandingham (USA) Luna Women's MTB Team               
7 Wendy Simms (Can) Frontrunners-Steed Cycles                    
8 Alison Sydor (Can) Rocky Mountain/Business Objects             
9 Dellys Starr (USA) BMC/Sports Garage                           
10 Heather Irmiger (USA) Subaru-Gary Fisher                      
11 Chloe Forsman (USA) Luna Women's MTB Team                     
12 Asa Erlandsson (Can) Subaru-Gary Fisher                       
13 Mical Dyck (Can) TREK/Terrascape Racing                       
14 Melanie Mcquaid (Can) BMC/Natures Path                        
15 Susan Haywood (USA) Trek/VW                                   
16 Megan Monroe (USA) BMC-Sports Garage                          
17 Jennifer Gersbach (USA) BMC/Sports Garage                     
18 Lene Byberg (Nor) Specialized Factory Racing                  
19 Chrissy Bono (USA) Intense Cycles                             
20 Kathy Sherwin (USA) Titus                                     
21 Lea Davison (USA) Trek/VW                                     
22 Kelli Emmitt (USA) Giant MTB Team                             
23 Carolyn Popovic (USA) Trek/VW East Coast                      
24 Kristin Danielson (USA) Velo Bella                            
25 Rie Katayama (Jpn) Trek                                       
26 Sabina Kraushaar (USA) HealthFx                               
27 Sara Bresnick-Zocchi (USA) Lynskey Performance                
28 Sarah Kerlin (USA) Another Bike Shop                          
29 Sue Butler (USA) Bear Naked/ Cannondale                       
30 Emily Van Meter (USA) Bear Naked/Cannondale                   
31 Monique Sawicki (USA) Ergon / Ellsworth                       
32 Patricia Buerkle (USA) Tahoe Northstar/Giant                  
33 Jennifer Tilley (USA) Velo Bella - Kona                       
34 Kristina Maier (USA) BMC/ Sports Garage                       
35 Shannon Bibson (USA)                                          
36 Christie Pleiss (USA) Pass PT                                 
37 Carolyn Van Vurst (USA) Trek VW - SE Region                   
38 Mary-Ellen Ash (USA) Easton/Specialized                       
39 Melanie Meyers (USA) Kenda/ Titus/ X-Fusion MTB Team          
DNS Sheryl Loan (USA) Bear Naked/Cannondale Mountain             
DNS Theresa Richardson (USA) Bike Team                           
DNS Nina Baum (USA) Bear Naked/Cannondale                        
DNS Becca Blay (USA) Bear Naked/Cannondale                       
DNS Zephanie Blasi (USA) KENDA / X-Fusion / Titus MTB Team       
DNS Jenna Zander (USA) Bear Naked/Cannondale                     
 
Elite Men - Heat 1 (Consolation)

1 Erik Tonkin (USA) Kona/Team S&M                                
2 Kelly Magelky (USA)                                            
3 Chance Noble (USA) Giant/Specialized                           
4 Thomas Turner (USA) Cannondale MTB                             
5 Nat Ross (USA) Subaru-Gary Fisher                              
6 Ken Onodera (Jpn) Subaru-Gary Fisher                           
7 Cody Peterson (USA) Scott Bicycles                             
8 Nick Martin (USA) Trek/VW                                      
9 Cale Redpath (USA) 3D Racing / Santiam Bicycles / Breakaway    
10 Ben Thompson (USA) Consulting                                 
11 Unknown                                                       
12 Adam Snyder (USA) Balance Bar/DEVO                            
13 Michael Andres (USA) Trek VW CA                               
14 Matthew Hadley (Can) Rocky Mountain - Haywood                 
15 Shun Matsumoto (Jpn) Trek Japan                               
16 Paul Freiwald (USA) Titus Cycles                              
17 Andy Schultz (USA) Montana State University                   
18 Mitchell Peterson (USA) Devo                                  
19 Kevin Smallman (USA) Bear Naked/Cannondale                    
20 Trevor Downing (USA) Bear Valley Bikes                        
21 Michael Raney (USA) Voodoo Cycles                             
22 Kenny Burt (USA) Motion Based / Garmin MTB Team               
23 Dror Pekatch (Isr) Subaru-Gary Fisher                         
24 Unknown                                                       
25 Lee Michael (USA) Coast                                       
26 Paul Hanson (USA) Naked/Cannondale                        
 
Elite Men - Final

1 Jean Christophe Peraud (Fra) Orbea                             
2 Ryan Trebon (USA) Kona                                         
3 Seamus Mcgrath (USA)                                           
4 Geoff Kabush (Can) Team Maxxis                                 
5 Barry Wicks (USA) Kona                                         
6 Todd Wells (USA) GT Bicycles                                   
7 Ruzafa Ruben (Can) Orbea                                       
8 Max Plaxton (Can) Rocky Mountain Haywood                       
9 Adam Craig (USA) Giant MTB Team                                
10 Sam Schultz (USA) Subaru-Gary Fisher                          
11 Nino Schurter (Swi) Team                                      
12 Liam Killeen (GBr) Specialized                                
13 Burry Stander (RSA) GT Bicycles                               
14 Christoph Sauser (Swi) Racing                                 
15 Jeremy Horgan-Kobelski (USA) Subaru-Gary Fisher               
16 Sam Jurekovic (USA) U23 National Team                         
17 Kris Sneddon (Can) Factory Team                               
18 Jeff Hall (USA) Salsa Cycles                                  
19 Ross Schnell (USA) Trek/VW                                    
20 Thomas Frischknecht (USA) Swisspower                          
DNS Kevin Bradford Parish (USA) Lapierre                         
DNS Grant Kier (USA) Red Barn Bicycles                           
DNS Bruce Muhlfeld (USA) Trek/VW                                 
DNS Sean Donovan (USA) Cytomax/KHS                               
 
Semi Pro Men

1 Tim Allen (USA) VooDoo                                         
2 James Williams (USA) Bendelitemtb.com                          
3 Nigel Hill (USA) TREK VW West Coast                            
4 Nathan Winkelmann (USA) Bike Lane/ Edward Jones                
5 Shane Bresnyan (USA) SOULCRAFT                                 
6 Denton Bowers (USA) INTENSE CYCLES                             
7 Timmy Evens (USA) Rebound SPL                                  
8 Damian Schmitt (USA) sunnyside sports                          
9 Allan Laframboise (USA) Don's Bikes/Intense                    
10 Sean Ollila (USA) Purelycustom.com                            
11 Lyle Warner (USA)                                             
12 Michael Hosey (USA) SOULCRAFT                                 
13 Art Nelsen (USA)                                              
14 Tsering Alleyne (USA) Team Lost Coast Brewery                 
15 Dean Poshard (USA)                                            
16 Luke Brechwald (USA) Rad Racing NW                            
17 Phil Roberts (USA) SF Velo/Cycles Gladiator                   
18 Evan Hyde (USA) KHS/Kenda                                     
19 Justin Swett (USA)