Sea Otter Classic - 1
Monterey, CA USA, April 12-15, 2007
Main Page Results Overall standings Next Stage
Race 1 - Thursday, April 12: Super D
Giant's Craig and Emmett win inaugural Sea Otter Super D
By Sue George in Monterey
The top five men raise their arms
Photo ©: Sue George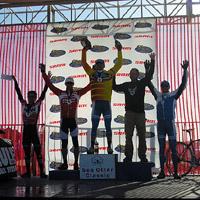 No one knew quite what to expect going into the first-ever Super D at the Sea Otter Classic, but at the finish line, the smiles on the faces the racers said it all. Team Giant's Adam Craig and Kelli Emmett won both the pro men's and women's races in tight finishes under clear blue, sunny skies, and a chilly wind.
Last year's Super D national champion Craig was not sporting a stars and stripes jersey; instead he wore the crisp white and blue standard team uniform. He looked powerful and smooth as he crossed the line at high speed after seven minutes and 11 seconds with a five second gap on the next three riders, Jurgen Beneke (unattached), Chris Eatough (Trek/VW), and Carl Decker (Giant).
Despite being the 1993 men's downhill world cup champion, Beneke's identity remained unknown and was not revealed until several hours after the race; his number did not appear on the startlist distributed by organizers and even his fellow competitors didn't know him. Next-generation cross country racers Craig and Eatough could not identify the mystery fast man.
Emmett won by two seconds ahead of Mical Dyck (Trek / Terrascape Racing) and by three seconds over Mary Ellen Ash (Easton / Specialized). Marla Streb (Luna) and Tara Llanes (Giant) rounded out the podium
National champion Craig shows his downhill skills
The Super D
Photo ©: James Huang

Racers literally got a running start. From the line, they ran with their bikes for the first section. Then, they mounted up and were off to tackle a steep, hard initial climb before getting to the heart of the downhill portion of the course.
The first climb quickly strung out the men's field although everyone remained close. Nino Schurter (Swiss Power) led over the top, with pro cross country racer Craig back in fifth.
On the initial downhill section, Craig said, "I tried to draft off them. I led a bit at the bottom." Referring to unknown Beneke, Craig said, "Then crazy homeboy came mobbing by me on those waterbars. We were pushing a ton of side-moving air (in a cross wind). The last headwind was tough. I had a gap coming onto the finish and I went into it really hard." The finish section was a false flat power section, open and exposed to the day's incessant winds.
Eatough, an experienced Super D racer and the six-time 24 hours of Adrenaline Solo World Champion, was pleased with his third place. "It was my first race of the year, it was a different kind of a race. There was nothing technical on the course. It was high speed with roller bumps you had to jump off. It took good positioning and courage."
Kelli Emmett, Adam Craig, and Carl Decker (Team Giant)
Photo ©: Sue George

"I played it fairly smart. I made a few small mistakes that might have cost me second, but I wouldn't have beat Adam," he said with admiration for Craig's fast ride. Eatough is in town for tomorrow night's world premier of 24 Solo, the movie which documents his attempt at a seventh consecutive world title last season.
The course may not have been technical in a rocky, rooty way, but a good deal of courage was required to really go for it, especially over the dry, washed-out, rutted sections and water bars. Craig called the race "hard and scary" and commented on its difficulty.
"It was a technical course. Everyone said there was no singletrack going into it, this isn't mountain biking…but you have to be a good rider to pin it down that stuff. Just cause you have to be so natural and comfortable on your bike. If you're off by a teeny bit over those things, those ruts…" Craig drifted off before expressing concern for the many racers who would follow him down the course in the other categories later in the afternoon.
Emmett bides her time and sprints to victory
If you get left behind,
Photo ©: James Huang

The top three women were all new to Super D, but that didn't stop them from showing the others how it was done. Emmett finished two seconds ahead of Dyck and three seconds ahead of Ash. Streb (Luna) and Llanes (Giant) took fourth and fifth.
"It was so fun," said a beaming Emmett as she was congratulated by teammate Craig. "Mical took off right away. Then Marla caught me on the descent and passed me for a bit. She was definitely letting it go in the jumps out there. But I knew I had time on my side. I played it conservative."
Marla Streb (Luna) with her biggest supporter and favorite fan,
Photo ©: Sue George

Emmett bided her time. "I have a little better sprint this year - I've been working on it a bunch. I knew it would come down to the sprint at the end. It would be a matter of how long you could sprint. I have a long sprint, so I went early. I think coming from a cross country background was an advantage."
Going into the day, Emmett admitted, "I wanted to win, but I was intimidated by all the downhillers that were gonna be there. It was definitely not the usual suspects so you never know. I knew Marla would be tough to beat."
Holding her 11 month-old daughter Nico in her arms after the race, Marla Streb summed up the day best when she said, "It was such a fun time. Out of all the races I do, I think this one with the most enthusiasm after the race. All the riders are ecstatic. We're all finishing together.
"It's the only downhill where everyone is together. It's also the only event where the downhillers and the cross country racers can play together."
Photography
For a thumbnail gallery of these images, click here
Images by James Huang / Cyclingnews
Images by Sue George / Cyclingnews
Results
Elite Women

1 Kelli Emmett (USA) Giant                                        7.11
2 Mical Dyck (Can) Trek / Terrascape Racing                       0.02
3 Mary Ellen Ash (USA) Easton / Specialized                       0.03
4 Marla Streb (USA) Luna                                          0.06
5 Tara Llanes (USA) Giant                                         0.09
6 Rie Katayama (Jpn) Trek                                         0.13
7 Dellys Starr (USA) BMC / Sports Garage                          0.15
8 Lea Davison (USA) Trek / VW                                     0.20
9 Kiara Bisaro (Can) Opus                                         0.22
10 Monique Sawicki (USA) Ergon / Ellsworth                        0.35
11 Jen Gersbach (USA) BMC / Sports Garage                         0.50
12 Chrystal Tunnell (USA) Morewood SRAM Cycles                    0.53
13 Alexandria Fabbro (USA) Vello Bella                            0.54
14 Megan Monroe (USA) BMC / Sports Garage                         1.03
15 Sabrina Jonnier (Fra) Monster Energy / Iron                    1.09
16 Wendy Reynolds (USA) Bear Naked / Cannondale                   1.15
17 Niki Gudex (USA) Scott / SRM                                   1.50
18 Amber Zirnhelt (Can)                                           1.56
19 Hiroka Nakagawa (Jpn) Team Commencal                           3.42

Elite Men
 
1 Adam Craig (USA) Giant MTB Team                                 6.16
2 Jurgen Beneke (Ger)                                             0.05
3 Chris Eatough (USA) Trek / VW                                   0.05
4 Carl Decker (USA) Giant MTB Team                                0.05
5 Eric Barlevav (USA) VRC-MSVRC-MS Society                        0.07
6 Nino Schurter (Swi) Swiss Power                                 0.09
7 Jeff Hall (USA) Salsa Cycles                                    0.15
8 Bryan Fawley (USA) Kenda/X-Fusion/Titus                         0.24
9 Chance Noble (USA) California Giant / Specialized               0.25
10 David Wood (USA) Bear Naked / Cannondale                       0.26
11 Unknown                                                        0.27
12 Michael Andres Bradford (USA) Trek / VW Regional California    0.30
13 Kevin Parish (USA) Lapierre                                    0.31
14 Scott Fellers (USA) Supercede                                  0.32
15 Michael Raney (USA) Voodoo                                     0.34
16 Cody Peterson (USA) Scott Bicycles                             0.44
17 Eric Ransom (USA) Team Tamarack Resort                         0.45
18 Oliver Bock (USA) Motionbased                                  0.46
19 Shun Matsumoto (Jpn) Trek Japan                                0.51
20 Dustin Wanstrath (USA) Team Tamarack Resort                    0.53
21 Justin Willoughby                                              1.10
22 Michael Jones (Can) MMR Camps Marin Bikes                      1.11
23 John Wilson                                                    1.18
24 Unknown                                                        2.23
25 Jan Koles                                                      6.04
DNF Trevor Downing (USA) Bear Valley Bikes                            
DNF Paul Hanson (USA) Bear Naked / Cannondale                         
DNF Aren Timmel (USA) Team Chico                                      
DNF Federico Ramirez (CRc) La Ruta de los Conquistadores              
DNF Thomas Frischknecht (Swi) Swiss Power                             
DNF Glenn Fant (USA)