MTB news & racing round-up for May 22, 2008
Welcome to our regular roundup of what's happening in mountain biking. Feel free to send feedback, news, & releases to mtb@cyclingnews.com and results, reports & photos to cyclingnews@cyclingnews.com.
Edited by Sue George
NMBS round #3 cross country sees new winners
By Dave McElwaine in Santa Ynez, California
Kelli Emmett (Giant MTB) was ecstatic with
Photo ©: Dave McElwaine

With 103 degree temperatures at the Chamberlain Ranch in the California's Santa Ynez Valley, the heat was a bigger obstacle for racers to overcome than the course itself at round three of the National Mountain Bike Series (NMBS).
Kelli Emmett (Giant MTB) rode a smart elite women's cross country, picking off riders one at a time, and notched her first cross country win in an NMBS race. Australian Sid Taberlay (Avanti SRA) succeeded in the elite men's cross country, a race of attrition, ahead of Geoff Kabush (Maxxis) and Barry Wicks (Kona).
In the women's race, Georgia Gould (Luna MTB) led for three quarters of the race but succumbed to heat exhaustion and had to be taken to the hospital. While Gould is leading the competition to qualify for one of the two United States Olympic Team women's positions, the heat exhaustion brought an end to her streak of NMBS wins that dates back to 2006.
Catherine Pendrel (Luna MTB) battled Emmett for the lead but could only manage second place while the Trek/VW women rounded out the podium with Lea Davison, Jenny Smith, and Mical Dyck filling the remaining sports.
The race started like so many other NMBS races, with Gould quickly going to the front, followed by team-mate Katerina Nash. Nash seemed to falter uncharacteristically and fell back a few positions, leaving fellow Luna MTB rider Catherine Pendrel to chase Gould.
"I definitely was feeling the heat out there," said Prendrel. "Then Kelli caught me at the beginning of the second lap and that actually saved my race, because before that all I could focus on was suffering, and after she passed me I had a rabbit."
Emmett slowly but surely pulled herself up from eighth position towards the leading riders. She could be seen high above the race venue descending like the Super D star that she is, but it was her climbing ability that finally allowed her to pass Pendrel.
"I knew it was a matter of survival out there today," said Emmett. "Heat generally doesn't bother me too much so I knew that if I rode steady I would work my way up. I've been riding a dirt bike so it has been helping me with the descending skills." Emmett was not the only one having a good day; in total, four of the women on the podium, (all but Smith), enjoyed their best ever NMBS finish today.
Sid Taberlay (Avanti SRA) celebrates
Photo ©: Dave McElwaine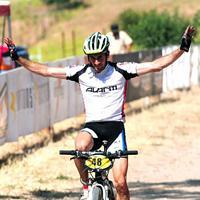 As the elite men's competitors lined up for their event all were aware of the carnage that had taken place in the women's race earlier due to the heat. Many of the men had ice packs on their backs trying to keep their core temperatures down. Expecting it to be a hot day, the race organizers and UCI officials had shortened the race to two and a quarter laps. With lap times of approximately 48 minutes, it was still to be a two hour suffer-fest.
As he often does Todd Wells (GT Bikes) won the start and single-handedly created the separation that would become key to the race. Within minutes Wells was towing Wicks, Taberlay, and Jeremy Horgan-Kobelski (Subaru / Gary Fisher). Kabush was dangling off the back, between 50-100 metres behind the bunch.
The racers completed a quarter of a lap before coming through the start/finish to begin the first full lap. By this point Kabush seemed to surge and almost made contact with the leaders. Halfway through the lap Horgan-Kobelski was gapped off the back of the lead group, which seemed to temporarily stall Kabush's forward progress.
"I was pacing myself but it (the heat) hit me all of a sudden then I just didn't have it," admitted Horgan-Kobelski.
Kabush echoed Horgan-Kobelski's comments, describing the conditions in California as intense "It was pretty intense out there with the heat and I was just cooking early on," he said. "I didn't want to make those efforts to get on the lead group, then I caught the group going into the last lap.
"On the last significant climb I was just about to make contact [with Wicks and Taberlay] when Sid attacked," he added. "I thought I might have a chance coming into the end but I kind of blew a corner on the descent."
"I was just trying to be smart out there and keep the fluids going," said winner Taberlay. "I got put in the front and when I saw Geoff coming [and said to myself] 'if he gets back on he has a pretty good kick'. Barry then dropped off the back and I had to ride the last couple miles by myself."
Wells and Horgan-Kobelski (Subaru/Gary Fisher) would finish fourth and fifth. The top five racers came into the finish with at least a 30 second gap between each of them. Most went straight to sit in the shade near the finish line while replenishing their fluids after crossing the line and nobody moved for about 20 minutes.
Short track action
Katerina Nash (Luna MTB) crossed
Photo ©: Dave McElwaine

The short track course at the Chamberlain Ranch in Los Olivos was one of the flattest that the racers will face all year. The only hill was the scene of virtually every attack in the race, but significant headwinds forced the racers to ride in packs, making any solo breakaway very difficult. Unlike the cross country, the short track podium saw familiar faces atop the podium.
In dusty 100 degree heat Katerina Nash (Luna MTB) again proved she is the queen of elite women's short track by winning. Without team-mate Georgia Gould in the race, due to the effects of the heat exhaustion she suffered in Saturday's race, Nash was challenged by a host of other competitors. Emmett continued to have a fantastic weekend by taking second in an exciting sprint with Heather Irmiger (Subaru/Gary Fisher). Dyck was fourth, followed by Pendrel.
Kabush rode a very tactical elite men's short track and beat Wicks in a sprint to the line. At least five racers had a shot at victory with only a lap to go, with Horgan-Kobelski finishing a strong third followed by Wells and Taberlay.
See Cyclingnews' full coverage of all events from the NMBS #3 in Santa Ynez, California.
Swiss excel at European cross country championships
Swiss racers dominated the European cross country championships in St. Wendel, Germany last weekend by taking the top two spots plus fourth place in the elite men's race and winning both the U23 men's and women's events.
Among the elite men, Florian Vogel won with a time of 2:06:42, 34 seconds ahead of Christoph Sauser and 1:14 ahead of Jakob Fuglsang (Denmark). Ralph Näf (Switzerland) and Christoph Soukup (Austria) rounded out the top five.
Eight men got away early. Eventual winner Vogel rode with physical and mental strength and intensified the pace to whittle down the group further. World Champion Julien Absalon, who has already won three of three World Cups this season, was a victim of the high pace and eventually finished 15th.
Before the end, Sauser attacked and got away. Vogel and Fuglsang chased until Vogel attacked his companion and bridged up to Sauser. On the final lap, the Vogel proved to be the stronger of the two Swiss riders on the steep climbs as he escaped for a solo win.
In the elite women's race, it was defending champion Sabine Spitz (Germany) who kept her title for another year with a win in 2:08:59. In second was world champion Irina Kalentieva (Russia) at 38 seconds and in third was Gunn Rita Dahle Flesjaa (Norway). Laurence Leboucher (France) and Eva Lechner (Italy) rounded out the top five.
Spitz attacked on the fourth lap and last year's European championship silver medallist Kalentieva couldn't answer. After three weeks off from competition due to illness, Kalentieva took second in a sprint finish with Dahle Flesjaa.
"It was extremely close – to be honest, I didn't think that I was going to be able to take Gunn-Rita, so for me I extremely happy that I did. That said I would have been happy with the bronze medal too. The sprint just added a bit of fun to it," Kalentieva said, with a big grin after the finish.
Nino Schurter, another Swiss racer, took the U23 men's title while Nathalie Schneitter (Switzerland) won the U23 women's race.
See Cyclingnews' full coverage of the European cross country championships.
Peaty continues reign as downhill king of Lisboa
Steve Peat races some steps
Photo ©: Santa Cruz Syndicate
The ninth annual Lisbon Downtown race sent riders on the infamous cobblestone stairways winding down the old city from the Castelo de Sao Jorge. As cats scrambled off the race track, citizens watched from their laundry-filled balconies to see Steve Peat take his seventh consecutive win. Santa Cruz Syndicate team-mate Greg Minnaar was in second, just 0.46 seconds behind him with Filip Polc (Kenda Tomac) in third at 2.33 seconds.
The Lisboa Downtown came just a week after racing the UCI World Cup in Maribor, Slovenia. The urban downtown downhill event took place on Saturday with four scheduled practice runs, a semi-final and the final.
Minnar won the semi finals with Peat and Polc in second and third. Local talent Roger Gonzalez finished fourth followed by Emanuel Pombo in fifth. Peat was riding with an injured finger, which he had dislocated on his final practice run.
"My [semi-final] run was solid, but kind of hard because photographers step into the course and it is hard to set up for your lines," said Minnaar. "I managed to hit everything I wanted, and some sections I just rolled through really well."
Podium:
Photo ©: Santa Cruz Syndicate

In the finals, Peat continued his reign as downhill king of Lisbon, finishing ahead of Minnaar and Polc.
"The race was good today. I think Steve was lucky. I had to fake a mistake to let the old boy win!" joked Minnaar after his second-placed run. "Things went pretty good. I felt a bit of pressure from the old man. I made a little mistake on top and a costly mistake at the bottom, but that's racing and that's how it goes. I'm happy for Steve today, winning seven times in a row!"
"I'm stoked!" said Peat after his win. "It's luck! I don't know why I get good luck, but I did. After practice and qualifier I really didn't think I could win today. I knew everyone was fast, especially Greg. My qualifier was shocking. I really had to focus, but I've been in this situation before and I can deal with it."
See Cyclingnews' full coverage of the Lisboa Downtown.
Bromont round opens Canada Cup season
The start of the elite men's cross country race
Photo ©: Marek Lazarski

At the opening round of the Canada Cup in Bromont, Quebec, young U23 racers won both the men's and women's cross country events. Racers tackled a relatively dry and dusty 4.3km course, partially the same as for the upcoming World Cup set for early August. Organizers have promised that the cross country will be twice as long in August, but late snows prevented clearing the entire trail in time for last weekend.
Emily Batty (Trek Bicycle Store Team) took top honors in the women's race ahead of Amanda Sin (3 Rox Racing) and Jean Ann McKirdy (Rocky Mountain/Pro-Cycle). In the elite men's race, Raphaël Gagné (Rocky Mountain) won with Derek Zandstra (3 Rox Racing) in second and Eric Batty (Trek Store Canada) in third.
In the downhill, top honors went to Micayla Gatto (Commencal/Marzocchi) who won the elite women's race ahead of Danice Uyesugi (pinkbike.com) and Kim Huard (Ind). Geritt Beytagh (Morewoodbikes USA) was the fastest man although the fastest Canadian man was second placed Steve Smith (Cove Factory). Despite crashing during his run, Smith will be the one to wear the Canada Cup leaders' jersey. Charles-Alexandre Dubé (Intersport/DHRacer) finished third.
The downhill course included some long swooping berms, a section along the fall line through the trees, a granite face, a man-made section of patio rocks and a hard pedal to the finish.
See Cyclingnews' full coverage of round one of the Canada Cup.
Lehikoinen and Bernhard capture wins
By Lukas Haider
Matti Lehikoinen (MS Intense Factory Racing)
Photo ©: MS-Intense Factory Racing
The Austrian National Downhill Championships, the so called Staatsmeisterschaften, were held at the Zauberberg Bikepark in the town of Semmering. The competition was not limited to Austrians, however, and the race boasted a strong international field.
After being plagued by technical problems during his World Cup run in Maribor one week ago Matti Lehikoinen (MS-Intense Factory Racing) showed his potential by taking home his first win of the season with a time of 2:48.29. Californian talent J.D. Swanguen came in second, only 0.98 seconds behind his team-mate, and edging the best Austrian, Markus Pekoll (SOLID Aclass Factory Team Planai) from Schladming, down to third place by another 2.50 seconds.
In the women's elite category Austrian World Cup racer Petra Bernhard (Ancillotti - FSC tieschen) won in a time of 3:07.56 ahead of MS-Intense's Mio Suemasa, who was recovering from last week's crash at the World Cup in Maribor. Anita Molcik (Union four Elements) finished third.
See Cyclingnews' full coverage of the Staatsmeisterschaften.
Test of Metal route changes
Organizers of the Test of Metal announced a rideable re-route of the Rock & Roll, the much-dreaded hike-a-bike in first half of the 67km point to point race in Canada.
"There's some talk that it should be renamed Muzak, " Miller joked about the trail work done. The hike-a-bike has always been a concern for racers and organizers, and this year, Test of Metal, Inc., the not-for-profit that runs the Test, paid to build an alternate route that runs parallel and switches back to the top of the hike-a-bike.
"This year we're allowing riders to choose their route," Miller said. "The hike-a-bike and the ride will be open, but I think that most people want to stay on their bikes and will choose the riding route." Which route will be faster will depend on the rider.
The Test of Metal will also continue its popular Ambassador Program for this year. It's a group of nearly a dozen local mountain biking enthusiasts who ride the course and assist racers encountering difficulty.
"These folks have all ridden the race and felt the pain. They will do almost anything to get a stranded rider back on the trail from fixing mechanicals to offering encouragement," Miller said.
The race kicks off Saturday, June 13 at 11:00 am in Squamish.
Tour of Durango launch party set
The Tour of Durango, set for October 11-12, announced a launch party on Thursday, June 5 from 4:00 pm to 7:00 pm at Carver's Brewing Company located at 1022 Main Avenue in Durango, Colorado. The Tour of Durango is a weekend-long event to showcase the interconnectivity and proximity of the local trail network and to encourage etiquette and sharing of Durango's local trails. On June 5, organizers will unveil the route.
The first day of the event, includes a competitive mountain bike and trail running event that will start and finish at Three Springs. On the second day, the Tour will begin on the Animas River Trail, and hit all local trailheads in town. The event concludes with a block party on Main Street. Cyclists and runners are invited to form teams or enter individually.
The event is supported in part by Trails 200, a non-profit that builds and maintains local trails and educates trail users in the Durango area.
Nat Ross diary: Singlespeed USA
Mark Lalonde
Photo ©: Clay Higgins

Held in conjunction with the USA Cycling Mountain Bike National Calendar for Ultra Endurance event #2 "Dirt, Sweat and Gears (DSG)", Singlespeed USA was a fun event for singlespeeders that went down the day before. The event description on the website for Singlespeed USA (SSUSA) described the event as "The Trifecta of Singleness beginning at noon the day before DSG. Participants will ride their single speeds on an undisclosed course for more than one hour and less than 46,000. Five percent of the field will go on to participate in the second chapter of pedal pushing. The third and final chapter is quite bumpy…"
Hmm...sounded intriguing. Initially, I had wanted to race my Rig in this event, but figured it would hamper my ability to defend my title in the 12-hour race on Saturday. Looking back, I should have done both.
The men's field was stacked and the women's field was whacked (only one woman tough enough registered). The event promoter Clay Higgins wanted my personality involved by commentating, so I asked two of my partners in crime Rebecca Rusch and Yuri Hauswald to join me in my freak show on the mike. Styled out in our festive attire we started the event in true singlespeed style with a psych-out in the cross-country. All the fast guys lined up in what they though was the front of the line while talkin' smack amongst each other before the gun went off. Grant (the co-promoter) psyched everybody out when he started the race backwards from the rear of the field, so everybody quickly turned around and chased his bunny ears and mailbox bike into the ground.
The cross-country course entailed two shortened laps on the DSG course, without the first two miles of steep hills taken out for the wimpy singlespeeders. Right away, Jesse and Marko LaLonde developed a gap on the competition and went on to finish one-two in the first event. Did I mention that competitors had to chug a PBR [Pabst Blue Ribbon beer - ed.] or a Root Beer in between laps?
Read the complete diary entry.
(All rights reserved/Copyright Future Publishing Limited 2008)