MTB index page for all MTB content
National Mountain Bike Series #3 (NMBS) - 2
Santa Ynez (Los Olivos), California USA, May 16-18, 2008
Main Page Results Overall standings Previous Race Next Race
Race 5 - May 17: Elite Women Cross Country
Emmett claims first cross country win
By Dave McElwaine in Santa Ynez, California
Kelli Emmett (Giant MTB) was ecstatic with
Photo ©: Dave McElwaine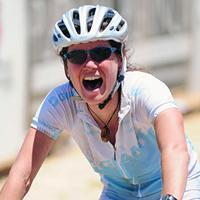 With 103 degree temperatures at the Chamberlain Ranch in the California's Santa Ynez Valley, the heat was a bigger obstacle for the women to overcome than the race course itself. Kelli Emmett (Giant MTB) rode a smart race, picking off riders one at a time, and notched her first cross country win in a national race.
Georgia Gould (Luna MTB) led for three quarters of the race but succumbed to heat exhaustion and had to be taken to the hospital. Catherine Pendrel (Luna MTB) battled Emmett for the lead but could only manage second place while the Trek/VW women rounded out the podium with Lea Davison, Jenny Smith, and Mical Dyck filling the remaining sports.
The race started like so many other NMBS races, with Gould quickly going to the front, followed by team-mate Katerina Nash. Nash seemed to uncharacteristically falter and fell back a few positions, leaving fellow Luna MTB rider Catherine Pendrel to chase Gould.
"I definitely was feeling the heat out there," said Catherine. "Then Kelli caught me at the beginning of the second lap and that actually saved my race, because before that all I could focus on was suffering, and after she passed me I had a rabbit."
Emmett slowly but surely pulled herself up from eighth position towards the leading riders. She could be seen high above the race venue descending like the Super D star that she is, but it was her climbing ability that finally allowed her to pass Pendrel.
Georgia Gould (Luna Women's MTB) leading a long train
Photo ©: Dave McElwaine

"I knew is was a matter of survival out there today," said Emmett. "Heat generally doesn't bother me too much so I knew that if I rode steady I would work my way up. I've been riding a dirt bike so it has been helping me with the descending skills."
"I've been riding with Katie Compton [US National Cyclo-cross Champion] back home and she has been putting the screws to me every day so it's paid off nicely," explained Emmett of the improvement in her skills.
For most of the race Gould seemed to be riding another solo time trial. She had put a two minute gap on the other racers when she was forced off her bike on the last lap due to nausea and heat exhaustion. While Gould is leading the competition to qualify for one of two United States Olympic Team positions, the heat exhaustion brought an end to her streak of NMBS wins that dates back to 2006.
Trek/VW's women had their best day in recent history with the trio of Smith, Davison, and Dyck holding fourth through sixth up until Gould's retirement, when they all moved up a spot. The trio were never really able to work together as a team as each had different strengths on the hot, hilly course.
Trek/VW women has a fantastic day
Photo ©: Dave McElwaine

Smith compared the heat during the race to her experience in Africa's Cape Epic mountain bike event which she race earlier this season. "Honestly it was hotter today and faster," she said. "I started at the back and I tried to be really patient. Once I got to fourth or fifth position around the first feed zone I tried to ride conservatively."
"It was like riding in a frying pan," added Davison. "I know heat is not my strength but then my legs came around and I started picking them off."
Four of the women on the podium, with the exception of Smith, enjoyed their best ever NMBS finish today. Absent from the competition today was United States National Champion Mary McConneloug, Wendy Simms (Kona), Willow Koerber (Subaru/Gary Fisher), and Shonny Vanlandingha (Luna MTB).
The elite women will compete on Sunday in short track cross country event. With Gould unlikely to start, Nash will be difficult to beat. In Sunday's Super D race, United States National Champion Rachael Lloyd will be on hand to give Emmett a serious challenge.
Photography
For a thumbnail gallery of these images, click here
Images by Dave McElwaine/www.trailwatch.net
Results
1 Kelli Emmett (USA) Giant MTB Team                 1.45.08
2 Catherine Pendrel (Can) Luna Womens MTB Team         0.11
3 Lea Davison (USA) Trek/VW                            2.05
4 Jennifer Smith (NZl) Trek/VW                         3.04
5 Mical Dyck (Can) Trek/Terrascape Racing              5.30
6 Heather Irmiger (USA) Subaru-Gary Fisher             5.53
7 Katerina Nash (Cze) Luna Womens MTB Team             5.55
8 Rachel Lloyd (USA) Proman/Paradigm                   6.54
9 Susan Haywood (USA) Trek/VW                          7.21
10 Emily Van Meter (USA) Sobe/Cannondale               8.22
11 Krista Park (USA) Kenda-Titus-Hayes                 9.26
12 Nina Baum (USA) Sobe-Cannondale                    11.16
13 Annajean Dallaire (USA) Sobe-Cannondale            12.12
14 Sue Butler (USA) Monavie/Cannondale                13.30
15 Heather Holmes (USA) Kenda/Titus/Hayes             14.04
16 Chloe Forsman (USA) Luna Womens MTB Team           14.25
17 Zephanie Blasi (USA) Kenda Titus Hayes             15.00
18 Amanda Riley-Carey (USA) Kenda/Titus/Hayes         16.46
19 Shannon Gibson (USA) Velo-Bella/Kona               18.30
20 Sarah Kerlin (USA) Another Bike Shop/Velo Bella    21.04
21 Maureen Kunz (USA) Lost Coast Brewery              23.54
22 Jennifer Tilley (USA) Velo Bella/Kona              24.46
23 Theresa Richardson (USA) Sobe Cannondale           25.18
24 Joy Duerksen (USA) Cole/Marten Transport           25.43
25 Sarah Kaufmann (USA) Titus/Roaring Mouse Cycles    26.04
26 Carolyn Popovic (USA) Cicle/Bear Valley Bikes      32.00
27 Pua Sawicki (USA) Ellsworth                        34.26
28 Heather Ranoa (USA) Intense                        34.26
29 Rachel Throop (USA) Devo                           35.15
30 Judy Freeman (USA) Tough Girl/Contessa             37.54
DNF Cassandra Perkins (USA) Sobe Cannondale                
DNF Georgia Gould (USA) Luna Womens MTB Team               
DNF Jenna Zander (USA) Sobe Cannondale                     
DNF Christie Pleiss (USA) Cicle/Bear Valley Bikes          
DNF Patricia Buerkle (USA) Tahoe Northstar/Giant           
DNF Danae York (USA) Velobum.Com/Turner Suspension Bikes