MTB index page for all MTB content
Staatsmeisterschaft Downhill - CN
Semmering, Austria, May 18, 2008
2007 Results Results
Lehikoinen and Bernhard capture wins
By Lukas Haider
Matti Lehikoinen (MS Intense Factory Racing)
Photo ©: MS-Intense Factory Racing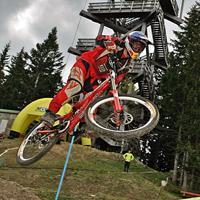 The Austrian National Downhill Championships, the so called Staatsmeisterschaften, were held at the Zauberberg Bikepark in the town of Semmering. The competition was not limited to Austrians, however, and the race boasted a strong international field.
After being plagued by technical problems during his World Cup run in Maribor one week ago Matti Lehikoinen (MS-Intense Factory Racing) showed his potential by taking home his first win of the season with a time of 2:48.29. Californian talent J.D. Swanguen came in second, only 0.98 seconds behind his team-mate, and edging the best Austrian, Markus Pekoll (SOLID Aclass Factory Team Planai) from Schladming, down to third place by another 2.50 seconds.
In the women's elite category Austrian World Cup racer Petra Bernhard (Ancillotti - FSC tieschen) won in a time of 3:07.56 ahead of MS-Intense's Mio Suemasa, who was recovering from last week's crash at the World Cup in Maribor. Anita Molcik (Union four Elements) finished third.
Photography
For a thumbnail gallery of these images, click here
Images by MS-Intense Factory Racing
Results
Elite men

1 Matti Lehikoinen (Fin) MS Intense Racing Team                 2.48.29
2 JD Swanguen (USA) MS Intense Racing Team                      0.00.98
3 Markus Pekoll (Aut) SOLID Aclass Factory Team Planai          0.03.48
4 Michi Staufer (Aut) zauberberg bikers                         0.05.65
5 Mathias Haas (Aut) FSC tieschen                               0.07.40
6 Mario Sieder (Aut) SOLID Aclass Factory Team Planai           0.08.16
7 Tim Eaton (Aus) Cycling Australia                             0.08.58
8 Ricky Lee (Aus) Cycling Australia                             0.09.08
9 Walter Martinschitz (Aut) Union Verticalracing Villach        0.09.65
10 Raffael Maltrovsky (Aut) ASVÖ iron racing                    0.10.44
11 Jörg Neuhart (Aut) www.bikeprofi.com                         0.10.63
12 Marcel Vasko (Svk)                                           0.10.66
13 Jan Javornik (Svk) sck velosprint nitra                      0.11.67
14 Robert Nagl (Aut) Zauberbergbiker Semmering                  0.11.80
15 Alexander Mikowitsch (Aut) Team Scott Lactat                 0.12.05
16 Rüdiger Jahnel (Aut) Intense-Mountainbiker.at                0.12.60
17 Martin Strasser (Aut) GRV Windischgarsten / RSP Racing       0.13.19
18 Georg Sieder (Aut) SOLID Aclass Factory Team Planai          0.13.28
19 Jakob Eisner (Aut) Bikeclub Stabil Stattegg, Bikestore.cc    0.13.49
20 Matthias Stonig (Aut) ironhorse playbiker                    0.14.52
21 Vitko Matej (Svk) Kaktus Bike                                0.14.80
22 Roland Seereiner (Aut) Team Scott Lactat                     0.15.09
23 Noah Grossmann (Ger) Double Dragon / Intense                 0.15.44
24 Arkadiusz Perin (Pol) Mk Bike online                         0.15.68
25 Philipp Inselsbacher (Aut) GRV, Cicona DH-Racing Team        0.15.92
26 Andras Szecskay (Hun) George KSE                             0.16.86
27 Andy Zehentner (Aut) ASKÖ Trendsport X-Dream                 0.18.05
28 Jonasz Rozdzynski (Pol)                                      0.19.99
29 Tomasz Jezierski (Pol) Grupa Kolarska MK Bike                0.20.18
30 Martin Hoferek (Cze) Bike Hazard Racing Team                 0.20.44
31 Petr Heinik (Cze) SUZUKI-RB                                  0.20.48
32 Roland Strauß (Aut) Maloja - Cosmicsports                    0.20.55
33 Matus Paulovic AVK19880404 sck velosprint nitra              0.20.91
34 Christian Daxner (Aut) MTB Schladming                        0.21.11
35 Tomas Polasek (Cze)                                          0.21.65
36 Stefan Voitl (Aut) ARBÖ rsp racing team                      0.22.41
37 Mario Koch (Ger) SC Gerhausen                                0.22.57
38 Tobias Meister (Aut) TSV Frankenmarkt                        0.22.96
39 Walter Jammernegg (Aut) Union Verticalracing Villach         0.23.27
40 Thomas Blech (Ger) tomzn-racing-team                         0.24.95
41 Benjamin Meier (Aut) www.bikestore.cc                        0.25.08
41 Hendrik Jonke (Aut) RC Andas Biken                                  
43 Patrick Schipper (Aut) Union Verticalracing Villach          0.25.42
44 Peter Wilhelm (Aut) ASVÖ iron racing                         0.25.43
45 Manfred Nagl (Aut) Zauberbergbikers Semmering                0.25.83
46 Gerhard Wagenhofer (Aut) Team Scott Lactat                   0.26.10
47 Klaus Reichmann (Aut) ARBÖ Bang BRothers Klagenfurt          0.26.20
48 Rade Curcic YUG19680927 Team Scott Lactat                    0.28.18
49 Martin Chenicek (Cze) SUZUKI-RB                              0.31.76
50 Peter Röschner (Aut) Frontline Santa Cruz                    0.31.79
51 Peter Dorfinger (Aut) Union Vertical Racing Villach          0.32.19
52 Lukas Marko (Aut) Udssr                                      0.32.37
53 Raphael Spitzer (Aut) ARBÖ Bang Brothers Klagenfurt          0.32.78
54 Michele Scheriau (Ita) MASTERSPORT PEDALE TARVISIANO         0.33.59
55 Umar Jakob Schaffer (Aut) Grazer Stadtpark Racing Team       0.34.06
56 Bernhard Walzthöni (Aut) Team Peto Zams                      0.34.35
57 Markus Jentzsch (Ger) SC Gerhausen                           0.35.97
58 Alexander Naringbauer (Aut) RC Sparkasse Tulln               0.36.10
59 Malina Michal (Cze) Jakos Bike                               0.40.10
60 Georg Nagl (Aut) Zauberbergbiker Semmering                   0.48.61
61 Flo Scheikel (Aut) MTB RC Parschlug                          0.55.64
62 Federico Piussi (Ita) MASTERSPORT PEDALE TARVISIANO          0.57.25
63 Walter Zeidler (Aut) BC Stoahupfa Leibnitz                   0.57.68
64 Barnabás Tóth (Hun) Bringabanda                              1.12.72
65 Jürgen Steindl (Aut) ARBÖ Bang Brothers Klagenfurt           1.27.40
66 Laurie Dinham (Aus) Cycling Australia                        2.31.43
 
Elite women

1 Petz Bernhard (Aut) Ancillotti - FSC tieschen                 3.07.56
2 Mio Suemasa (Jpn) MS Intense Racing Team                      0.03.73
3 Anita Molcik (Aut) Union four Elements                        0.07.26
4 Helene Valerie Fruhwirth (Aut) Ciclopia - Morewood            0.08.90
5 Birgit Braumann (Aut) Intense-Mountainbiker.at                0.12.00
6 Angelika Hohenwarter (Aut) SC-Hermagor                        0.16.64
7 Dalma Kiss (Hun) Bringabanda SC                               0.25.36
8 Monika Rosifka (Aut) Drahteselteam Salzkammergut              0.26.33
9 Elke Rabeder (Aut) RSC Bikestation Öamtc Bad Ischl            0.35.73
10 Helena Bosloua (Svk) Norco Bikes                             0.46.37
 
Juniors

1 Boris Tetzlaff SOLID Aclass Factory Team Planai               2.51.23
2 Justin Norek Racing Team Dayco                                0.10.73
3 Manuel Gruber Andas Biken                                     0.12.96
4 Matej Laktis SCK velosprint nitra                             0.13.54
5 Stephan Maderthaner Bike Team Ginner                          0.16.05
6 Florian Assman Bodenhaftung Bikestore                         0.16.09
7 Andreas Gasser Union Verticalracing Villach                   0.16.77
8 Michael Matt MB Racing Team                                   0.16.88
9 Mario Reinbacher Giga Sport                                   0.17.21
10 David Pala Cervenka SubForm team                             0.17.29
11 Florian Wilhelm ASVÖ iron racing                             0.17.58
12 Jakob Kreisel Bikestore                                      0.19.57
13 Elias Vonier RSP racing team                                 0.21.02
14 Milos Turanovic sck velosprint nitra                         0.22.90
15 Lukaš Šindler cervenka sub form team                         0.23.77
16 Matej Ivancik sck velosprint nitra                           0.23.78
17 Julian Kraus Team Scott Lactat                               0.26.94
18 Jiri Klimes Koloshop.cz team o.s.                            0.28.61
19 Martin Slovak Cervenka SubForm team                          0.30.64
20 Andreas Wassertheurer GRV Windischgarsten                    0.35.26
21 Thomas Tschebul rc parschlug/göritz                          0.38.14
22 Timo Bürgler bikestore                                       0.45.35
23 Florian Leidinger GRV Windischgarsten                        0.45.83
24 Michal Slavik Blockbuster DH Team                            0.54.58
25 Teresa Hovka                                                 2.15.35
 
Masters

1 Andreas Federsel zauberbergbikers                             3.03.50
2 Markus Krapfenbauer Bikeprofi                                 0.01.06
3 Georg Vit ARBÖ Bang Brothers Klagenfurt                       0.05.30
4 Peter Deppner SU MTB Team Cycle-Circle                        0.05.74
5 Werner Jessner Intense-Mountainbiker.at                       0.07.44
6 Mario Rennhofer zauberbergbikers                              0.13.26
7 Petr Machálek AMK Mladost Hodonín                             0.18.74
8 Andrej Slivka                                                 0.18.83
9 Christoph Grill RSC ÖAMTC Bikestation Bad Ischl               0.20.39
10 Simon Daniel ARBÖ Bang Brothers Klagenfurt                   0.22.33
11 Michael Novotny                                              0.24.62
12 Patrick Schickengruber BC Stoahupfa Leibnitz                 0.25.36
13 Miklos Csorba Bringabanda Sc.                                0.40.57
14 Michael Pecsi Union Verticalracing Villach                   0.43.99
15 Karel Hána                                                   0.48.07