MTB news & racing round-up for June 14, 2007
Welcome to our regular roundup of what's happening in mountain biking. Feel free to send feedback, news, & releases to mtb@cyclingnews.com and results, reports & photos to cyclingnews@cyclingnews.com.
Edited by Sue George
Koerber rides to best-ever European World Cup performance
By Sue George
Willow Koerber (Subaru-Gary Fisher)
Photo ©: Rob Jones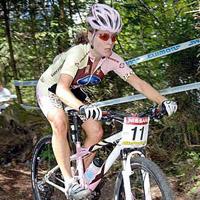 Willow Koerber rode to fifth place in the World Cup cross country race last Saturday in Champéry, Switzerland, on a technical, rooty course, that suited her well. It was the American Subaru/Gary Fisher rider's best finish in a European World Cup. She spoke with Cyclingnews on her way home to Asheville, North Carolina.
Based on her World Cup ranking going into the event, Koerber was given a good spot on the starting line that set her up well. "I had a really awesome start. I lined up 11th because it was my overall position going into the race. 11, it's my lucky number. Since I was in a slightly awkward position due to some barricades, I went for the hole shot. I led for a minute and a half," said, the excitement obviously filling her voice at the memory.
"I missed any crashes. It started up a really steep climb, the steepest of the course. I fell a little back but went into singletrack comfortably in seventh or eighth place. For most of the race, the riders in front of me switched around a bunch, like Katerina [Nash (Luna MTB Team)] and Mary [McConneloug (Kenda/Seven)]."
The Champéry podium
Photo ©: Rob Jones

Koerber eventually passed Katarina and then, with two laps to go, McConneloug, too, who appeared to be cramping. She was joined by U23 Austrian racer Elisabeth Osl (Tonis Pro Team Kirchberg); the two would battle it out the rest of the day, with Osl climbing better and Koerber riding the singletrack faster. "Ivonne [Kraft (La Carrera-BTS)] was riding in fifth all day. There were points where we could see her."
The pair worked hard to reel in Kraft, who unexpectedly pulled into the tech support pit near the end of the race. "I think she had a flat," said Koerber.
Koerber and Osl pushed each other for the duration, each going for that sweet final podium spot. "With one lap to go through feed zone, I attacked, but she hung," said Koerber. "Then she attacked me on gravel, and I stayed with her. I led up climb. She passed me, and I rested behind her there, and I told myself 'I haven't done all these hill efforts for nothing.' I attacked as hard as I could and I got a gap. Going into the last downhill section and a few climbs until the finish, I went for it. The race really got exciting for me in those last eight minutes."
To read the complete feature, click here. Or read complete coverage of the men's and women's cross country World Cup races.
Lehikoinen wins second career World Cup downhill
Matti Lehikoinen (Team G-Cross Honda)
Photo ©: Rob Jones

23 year-old Matti Lehikoinen (Team G Cross Honda) won his second World Cup race of his career, in the rainy town of Champéry. The small ski resort was hosting the World Cup circuit for the first time, and the organisers presented the top riders in the world with the most extreme downhill course the series has ever ridden. With a steepness that made walking the course a dangerous affair, the daily afternoon thunder showers also made for one of the toughest races in recent history.
The afternoon showers poured into the venue regularly around four o'clock every day, making the course slippery and difficult. Lehikoinen's teammate Greg Minaar felt victim to the course, and he wasn't even riding. He was walking the course after training on Friday and fell down a steep section of track dislocating his left shoulder. Minaar managed after two attempts to get his shoulder back into place himself, but was forced to miss Saturday training as the swelling in his shoulder subsided.
Lehikoinen, fortunately, had trouble-free training sessions despite a few departures from the course, and elected to run Crank Brothers 5050 flat pedals for the tight and twisty track that had very little pedalling.
In the semi finals, team management directed Lehikoinen to stop on course and run a slower time with the aim of starting earlier in the day, around 4pm. Lehikoinen rode to plan and finished mid field exactly, position 40.
Sam Hill (Iron Horse/Monster Energy)
Photo ©: Rob Jones
The finals started and other top riders came down in the dry, including Steve Peat (GBR) who quickly took the hotseat and prayed for rain. But his stay in the hotseat was no more than 20 minutes as Lehikoinen hit the course just as the rain started. The bottom section of the track was getting slick, but not enough to stop the charging Finn who bumped Peat from the hotseat and settled in for the rest of the race. It wasn't long before the rain started to pour down turning the race into a survival course and the crashing began in earnest. Minnar, for example, crashed twice in the slippery conditions during his run, losing more than 20 seconds in one fall as his bike got entangled in the safety fencing.
In fact, all top riders crashed in the drenching conditions. The sheer steepness of the track, and the rain, made the course nearly unrideable in sections. The last rider to come done was Australian World Champion Sam Hill (Iron Horse/Monster Energy) and despite his incredible qualifying time, no-one expected him to beat Lehikoinen as the conditions were so extreme. Amazingly, he came within 1.63 seconds of taking the win and showed why he is World Champion.
The course was so steep and so treacherous that the only way to get injured riders off the mountain was to pluck them off the mountain with a helicopter, which was fondly called "Carcass 'Copter" and "Yard Sale Collector." The sounds of the beating helicopter blades were heard repeatedly though the day plucking up course casualties.
"I'm so happy for the team that we came out on top today," said Lehikoinen after his win. "This is such a crazy course and the weather was so tough to pick, but the tactics worked well. I knew that if I could get down the hill in the dry, I could run a fast time, and my race time is still the second fastest of the whole week here, so I'm happy about that. Sam's run was amazing and I thought he was going to get me until the last corner. To be sitting third overall now is a great feeling going to Mont-Sainte-Anne, a course I really love."
Fabien Barel (Kona Les Gets)
Photo ©: Rob Jones
Steve Peat (Santa Cruz Syndicate) came in second ahead of Hill.
Fabien Barrel (Kona Les Gets) put in a notable performance. "It was going to be a challenging race with the pressure of being close to home and the engagement required to succeed. After eight months off the bike and 11 months without riding a World cup race, I finally get back on a podium in a nice 4th place."
Many of the downhillers will head to Scotland this weekend to race at Fort William then on to Mont Saint Anne for the next World Cup.
Read full coverage of the men's and women's downhill World Cup in Champéry.
Fort William to host Worlds test 4X event
Four cross racers and downhillers are heading to Fort William, Scotland, for a pre-World Championship test event to be held June 16-17. After a downhill competition Saturday afternoon, the Supercross (round #3), with timed seeding runs and a straight knockout competition (World Cup format), happens in the evening. Then Sunday, racers will tackle the next round (#4) of the British National 4X series.
The weekend's events will draw an international crowd, with many racers eager to preview the brand new 4X course for the upcoming World Championships in September. Full details of these race are on www.nps4x.com
Everest awards go Sawicki and Eatough
Monique Sawicki
Photo ©: Team MATA

Chris Eatough and Monique Pua Sawicki were awarded as male and female mountain bikers of the year for the Everest awards at the Teva Games. The public submitted nominations online, and the winners were selected by an editorial committee.
27-year-old Monique Pua Sawicki (Team Ergon/Ellsworth) starting winning with the NORBA National series marathon title 2005 and then followed with the 24 hour solo national championships, and she's been winning ever since. She specializes in endurance events like marathons and 12 hour races.
Chris Eatough (Trek VW) is the six time 24 Hours of Adrenaline World Solo Champion and is currently leading the American National Ultra Endurance (NUE) series of 100 mile races.
Zimbabwe aims for gold at African MTB Champs
Zimbabwe confirmed their entry for the African mountain bike championships due to be held in Windhoek, Namibia, on the July 28. The event is a Beijing Olympics Qualifying event, and the Zimbabweans will see stiff competition from two time continental winner, Namibian Mannie Heymans. Heymans has won the Trans Alp and Cape Epic multi-day stage races in past seasons. South Africans Burry Stander and Kevin Evans will also be riders to watch. The Zimbabwe squad includes 2005 Zimbabwean mountain bike National Champion Antipass Kwari and Wonder Matenje who has spent time with Roger De Vlaeminck's European cyclo-cross racing team.
Zimbabwe men's squad: Antipass Kwari, Wonder Matenje, Prince Ngundu, Michael Murdoch, Wayne Davidson, Trevor Volker, Warren Carne, Lee McNab, Garth Steinbach and Des Stephens
Zimbabwe women's squad: Margie Gibson
Smear the Weir
If you tried to enter the Downieville Downhill scheduled for July 15, but were turned away because the event was full, you have a second chance.
FOX Racing Shox is sponsoring the "Smear the Weir" campaign. To enter, you must submit 100 words on how you plan to Smear the Weir and break his record, your buddy's, or just plain survive. All submissions must be received by June 15th. Contest will be judged by Mark Weir, with a winner announced June 22.
Send entries to: weir@foxracingshox.com
Draugelis and Shogren win inaugural Stoopid 50
Betsy Shogren (WV Big Wheel/Cannondale)
Photo ©: Bob Popovich

The Stoopid 50 brought together Pennsylvania's all stars for a sweet day of backcountry singletrack racing. Racers gathered under bright, sunny skies to ride the technical Pennsylvania terrain.
Brandon Draugelis (Bare Naked / Cannondale) comfortably rode his own race, showing a deep yet relaxed focus reminiscent of Chris Eatough's style as he won the inaugural Stoopid 50 Mile Race. 22-year-old Draugelis divides his time between fast cross country races and specialty endurance events.
This year Draugelis is looking to take a step up on the podium at the 24 Hours of Adrenaline World Solo Championships. His bronze medal performance in the 2006 event in Conyers, Georgia, might have surprised some, but not those who race with him. "The kid is rock solid, not only explosively fast, but smooth and fluid," said fellow competitor Tom Miller. "These seem to be required attributes needed to compete at the new level of endurance racings since Eatough stepped into this genre in 2000."
Racers were treated to great scenery
Photo ©: Bob Popovich

Betsy Shogren (WV Big Wheel/Cannondale) put in a hard few hours chasing her thoughts as she rode far clear ahead for the victory in the women's event. "Betsy thought second place rider Tiffany Kinney (Summa Care) was leading and kept her pace high until she was told at the halfway mark that she was clearly off the front at a pretty safe distance," said event promoter Chris Scott. This is Betsy's second win in the area as she also won the 2006 Wilderness 101, an event in the NUE series.
For full race coverage, click here.
Next MASS event benefits environmental education
The next event in the Mid Atlantic Super Series (MASS), the Neshaminy Classic, scheduled for June 17 in Langhorne, Pennsylvania, will raise money to support Idlewood, a nationally recognized environmental station with a 125-acre habitat for songbirds, deer and a variety of wetlands animals. Its trails are also known as some of the best, and hardest, mountain bike trails in the area.
Langhorne is a town once synonymous with speed of another sort. "At one time, Langhorne Speedway was once second only to Indianapolis in terms of importance," said Media Director Ken Getchell, a native of the area. "Indy cars and NASCAR raced here annually and it was known as one of the fastest, most difficult and dangerous places to race cars in all the world."
According to John Miller, Mid-Atlantic Super Series Director and one of the co-promoters of the event, "[Sponsor] Guy's Racing is committed to the local environment. If the weather is severe, we are able to communicate with our racers through our website (www.masuperseries.com) to postpone the event." The club is especially protective of the new trails that many of its members have been laboring on since last December in preparation for this race.
(All rights reserved/Copyright Knapp Communications Pty Limited 2007)