Recently on Cyclingnews.com
MTB index page for all MTB content
An interview with Willow Koerber, June 14, 2007
Making the World Cup podium
Willow Koerber rode to fifth place in the World Cup cross country race last Saturday in Champéry, Switzerland, on a technical, rooty course, that suited her expertise well. It was the American Subaru/Gary Fisher rider's best finish in a European World Cup. She spoke with Cyclingnews' Sue George on her way home to Asheville, North Carolina.
Willow Koerber (Subaru-Gary Fisher)
Photo ©: Rob Jones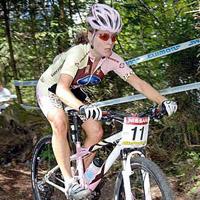 Based on her World Cup ranking going into the event, Willow Koerber was given a good spot on the starting line that set her up well. "I had a really awesome start," Koerber said, the excitement filling her voice at the memory. "I lined up 11th because it was my overall position going into the race. 11, it's my lucky number. Since I was in a slightly awkward position due to some barricades, I went for the hole shot. I led for a minute and a half."
"I missed any crashes. It started up a really steep climb, the steepest of the course. I fell a little back but went into singletrack comfortably in seventh or eighth place. For most of the race, the riders in front of me switched around a bunch, like Katerina [Nash (Luna MTB Team)] and Mary [McConneloug (Kenda/Seven)]."
Koerber says she eventually passed Nash and then, with two laps to go, McConneloug, (who Koerber says appeared to be cramping) as well. She was joined by U23 Austrian racer Elisabeth Osl (Tonis Pro Team Kirchberg); the two would battle it out the rest of the day, with Osl climbing better and Koerber riding the singletrack faster. "Ivonne [Kraft (La Carrera-BTS)] was riding in fifth all day. There were points (on the course) where we could see her."
The pair worked hard to reel in Kraft, who unexpectedly pulled into the tech support pit near the end of the race. "I think she had a flat," said Koerber.
The Champéry podium
Photo ©: Rob Jones

Koerber and Osl pushed each other for the duration, each going for that sweet final podium spot. "With one lap to go through feed zone, I attacked, but she hung," said Koerber. "Then she attacked me on gravel, and I stayed with her. I led up climb. She passed me, and I rested behind her there, and I told myself 'I haven't done all these hill efforts for nothing.' I attacked as hard as I could and I got a gap. Going into the last downhill section and a few climbs until the finish, I went for it. The race really got exciting for me in those last eight minutes."
Notably absent from the race was reigning World Cup champion Gunn-Rita Dahle Flesjå (Multivan Merida), who returned home to Norway to seek diagnosis and medical treatment for health problems that have been plaguing her season. Koerber would not speculate on how the absence of Dahle Flesjå might have affected the race. "I can't say because in my career so far, I haven't been able to ride with her up in the top three positions," she said humbly, "but she hasn't been feeling well this year, so it may not have affected the race much."
"I told myself, 'I haven't done all these hill efforts for nothing.' I attacked as hard as I could, and I got a gap."
-Willow Koerber reveals the mental side of World Cup racing.
The Chinese women did not fare as well in this World Cup as they have in previous editions this season. For example, the best Chinese finisher, Ren Chengyuan (who won the World Cup opener) only finished 14th in Champéry. "It was due to the technical aspect of the course," said Koerber. "It doesn't let you hide. Skills are important. They are very strong, but they are just starting to be more skilled technically."
Koerber says she's only home for a few days - she next heads to Deer Valley for the next NMBS race before going to Canada for the next two World Cups. In fact, Koerber's only other two World Cup podium appearances were in Mont Sainte Anne: third in 2004 and fourth in 2005, so she feels her chances are good.
Georgia Gould (Luna), Willow Koerber (Subaru - Gary Fisher), and Alison Sydor (Rocky Mountain / Haywood) at Sea Otter
Photo ©: FJ Hughes

"I'm so excited for it," said Koerber, who will be racing on the home turf of Canadian Marie-Helene Premont (Rocky Mountain/Haywood), now ranked third overall in the World Cup. "The travel is easier. I can be in my bed up until four days beforehand. It's really cool to race there. If you can be anywhere near Marie Helen, you can't hear, because everyone is so excited and cheering for her."
She's also looking forward to the US National Championships, to be held at Mount Snow, Vermont, in late July. "I want to win in Vermont. It's a course I've won on before. I'd like to have a great day there. Not everything is in my control in any race of course, but I love that course and am looking forward to racing it."
After Champéry, Koerber sits in eighth place in the World Cup standings as the highest ranked American. Her strong performance sets her up well for the rest of the season. "It's nice have good result in your heads and your legs. And eight is a good number," said Koerber, who said she can find meaning in just about any number. "It's infinity on the side."