MTB index page for all MTB content
Stoopid 50 - NE
State College, Pennsylvania, June 10, 2007
2006 results Results
Draugelis rides tempo while Shogren brings home the bacon
Brandon Draugelis (Bear Naked/Cannondale)
Photo ©: Chris Scott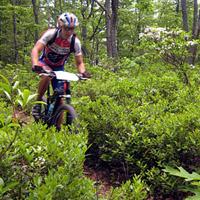 The Stoopid 50 brought together Pennsylvania's all stars for a sweet day of backcountry singletrack. The only person missing was local Ryan Leech, (VisitPA.com), also the US Cyclo-cross National Masters Champion, who injured himself the day before the race while moving relatives. Leech was still on the course at the event supporting his VisitPA.com teammates with his mom.
Brandon Draugelis (Bare Naked / Cannondale) comfortably rode his own race, showing a deep yet relaxed focus reminiscent of Chris Eatough's style as he won the inaugural Stoopid 50 Mile Race. 22-year-old Draugelis divides his time between fast cross country races and specialty endurance events. This year Draugelis is looking to take a step up on the podium at the 24 Hours of Adrenaline World Solo Championships. His silver medal performance in the 2006 event in Conyers, Georgia, might have surprised some, but not those who race with him.
"The kid is rock solid, not only explosively fast, but smooth and fluid," said Tom Miller who is becoming some sort of fixed gear wanderlust racer. "These seem to be required attributes needed to compete at the new level of endurance racings since Eatough stepped into this genre in 2000."
Betsy Shogren (WV Big Wheel/Cannondale) put in a hard few hours chasing her thoughts as she rode far clear ahead for the victory in the women's event.
"Betsy thought second place rider Tiffany Kinney (Summa Care) was leading and kept her pace high until she was told at the halfway mark that she was clearly off the front at a pretty safe distance," said event promoter Chris Scott. This is Betsy's second win in the area as she also won the 2006 Wilderness 101. Shogren is the proud breadwinner for her loving husband Gunnar, who contributes chauffeur services getting them to their events.
Betsy Shogren (WV Big Wheel/Cannondale) was first placed woman.
Photo ©: Chris Scott

How it unfolded
The race rolled slow and easy out of the Penn Roosevelt State Park in Pensylvania's Rothrock State Forest. It was paced for the first mile before the start. The boys with gears quickly got the jump on the field that had a huge percentage of singlespeeders.
The dominant Draugelis had a lead, solo, of 5 minutes by the first aid station where Wes Schempf (VisitPA.com) and Gunnar Shogren (WV Big Wheel/Cannondale) were riding side by side on their singlespeeds. Then Shogren stopped for some more energy drink. Schempf was able to get a gap as he kept rolling past the aid station--he had is own VisitPA.com support car at the top of the next climb.
Wes Schempf took third overall
Photo ©: Chris Scott

Shogren ruled East Coast pro scene for a decade, and he's currently runs the Mid Atlantic Cyclo-cross master's class, but he still mixes it up on his singlespeed offroad during the summer. Shogren rallied against Schempf until a progressively failing tubeless rear tire emptied his big air, blew up his back-up pump, and brought him to the point of making the costly switch to a tube while borrowing a pump. Yet he still rolled in third. Ray Adams took second behind Schempf.
Both the men's and women's master class winners were ecstatic with their rides praising the course. Andrea Slack (Bike Line ) had a fun smile on her face the whole day while master Shawn Withers (Sugoi/DeFeet/Speedplay/Lake) pushed the pace (on his singlespeed) doing well in the overall, too.
Gunnar Shogren
Photo ©: Chris Scott

"This was an ideal kick-off to the single-lap marathon events for the MASS," said Mid Atlantic Super Series (MASS) promoter Mike Kuhn. The MASS plans to build on the Stoopid momentum. The other marathons include: one near Lykens, PA; the Rocktober Challenge at RB Winter State Park; Michaux's Terror of Teaberry; and the reincarnation of the God's Country mountain bike race in a long play format.
Photography
For a thumbnail gallery of these images, click here
Images by Bob Popovich
Images by Chris Scott
Results
Men Open
 
1 Brandon Draugelis (Bear Naked/Cannondale)                              4.16.46
2 Aaron Snyder (South Mountain Cycles)                                     12.16
3 TJ Platt (Gary Fisher 29 / Trek of Pittsburgh)                           24.58
4 Andrew Hoover (World Cup Ski and Cycle)                                  26.08
5 Nathan Piekielek (Meredith Group/GPOA Cannondale Cycling Team)           28.24
6 Mike Keefer (Gettysburg Bicycle / Hammer Nutrition)                      33.58
7 Shane Gouldthread (Ultimate Sports / KHS)                                40.52
8 Matt Mcelroy (Shirks)                                                    46.21
9 Matt Miller (Gothum Cyclists)                                            46.51
10 Rich Straub (Mt. Nittany Wheelworks)                                    48.13
11 Andrew Kemble                                                           55.37
12 Peter Sontheimer (Gettysburg Bicycle Cupcake Factory)                   59.27
13 David Fahnestock (LSV/Kelly Benefit Strategies)                         59.31
14 Mike Kuhn (VisitPA.com)                                               1.00.13
15 Travis Coldsmith (Gettysburg Bicycle Cupcake Factory)                 1.00.25
16 Chris Mayhew (ACA/TRC)                                                1.01.29
17 Fred Handel (Mt Nittany Wheelworks)                                   1.01.57
18 Shawn Stafford (Bike Line)                                            1.03.40
19 Evan Gross (Beans Bike Shop)                                          1.04.25
20 Brian Younkin (Stackin' Cheddah)                                      1.07.22
21 Martin Kell (Wild Blues)                                                     
22 Todd Denlinger                                                        1.13.04
23 Adam Shrigley (Mt. Nittany Wheelworks)                                1.13.35
24 Chip Kogelmann (Alpine Cutters)                                       1.26.18
25 Nick Pedatella (Mt. Nittany Wheelworks)                                      
26 Brian Vitulli (Shirks)                                                1.29.54
27 Robert Lamb (Beans Bikes)                                             1.32.27
28 Neil Popovich                                                         1.33.52
29 Marty Mckeon (Guys Racing)                                            1.34.32
30 Anthony Groves (B-Team)                                               1.35.14
31 Joel Hoerni (The Cycle Works)                                         1.36.29
32 Allen Runkle (Mt. Nittany WheelWorks)                                 1.37.39
33 Eric Reid (Bikesport)                                                 1.38.34
34 Brian Kenny (CAMBA)                                                   1.44.04
35 Thomas Fenush (Bike Line)                                             1.44.31
36 Andrew Falk (Hollyloft / Kwik-Fill)                                   1.47.24
37 Scott Wippermann (Beans Bike Shop)                                    1.49.43
38 Mark Werkheiser                                                       1.58.36
39 Darius Mark                                                           1.58.46
40 Ryan Hilaman (Jimmy Legs)                                             1.59.10
41 Scott Miller (Team Jimmy)                                             1.59.11
42 Jesse Pyers (Bike Line)                                               2.00.07
43 Jake Davidson (Intense Cycles/ODI/Evomo)                              2.01.27
44 Rodney Korte (Nittany Mountain Biking Association)                    2.05.00
45 Michael Faust (Sicklers)                                              2.06.13
46 Jacob Stamey (Shirks Bike Shop)                                       2.10.23
47 Mark Incollingo (Shirk's Bike Shop)                                   2.19.12
48 Nathan Ruch                                                           2.21.38
49 Matthew Tinkey                                                        2.29.41
50 Aaron Hofelt (SawCaddy Racing)                                        2.37.57
51 Tom Nieri                                                             2.40.33
52 Matthew Morrison                                                      2.42.47
53 Mark Fitzwater (spot brand/twin six)                                  2.57.29
54 Jim Glover (Mt Nittany Wheelworks)                                    3.11.29
55 Robert Allen                                                          4.06.39
56 Jason Vliet                                                           4.08.55
57 Edward Brandenstein                                                   4.32.57
58 Richard Dinerman (B Team)                                             4.37.28
59 Pete Wallace (YAMBA.ORG)                                              5.36.50
DNF  Frank Maguire (Mt. Nittany Wheelworks)                                     
DNF  Fred Turner (Rocket Power)                                                 
DNF  Harry Sherrill (Mt. Nittany Wheelworks)                                    
DNF  Josh Smethers (Beans)                                                      
DNF  Keith Primozic (Rocket Power)                                              
DNF  Mike Myers                                                                 
DNF  Randall Lewis (Bike line)                                                  
DNF  Ted McDaniel (Secret Henry's Team)      

Women Open

1 Betsy Shogren (WV Big Wheel/Cannondale)                                5.22.42
2 Tiffany Kenny (Summa Care)                                               44.36
3 Chrissy Buerkle (Trek of Pittsburgh)                                   1.04.27
4 Amy Breyla (Henry's Bikes/Bike Line/Twin Six)                          1.18.14
5 Loretta Torres (NCVC/Inova Health System)                              1.21.32
6 Nicole Sheets (DASET Safety, Inc.)                                     2.00.04
7 Sherri Bosley (Team Cycleworks)                                        2.50.53
8 Lindsay Tobias (Ride Happy)                                            4.21.02

Singlespeed

1 Weston Schempf (VisitPA.com)                                           4.30.59
2 Ray Adams (VisitPA.com)                                                   6.08
3 Gunnar Shogren (WV Big Wheel/Cannondale)                                 15.34
4 Buck Keich (Independent Fabrication)                                     29.00
5 Ramunas Katkus                                                           35.42
6 Jamie Huber                                                              38.21
7 Tim Dickson (Guys Racing Club)                                           48.01
8 Topher Valenti (Bikesport)                                               49.56
9 Tom Miller (Sticky G Fixy)                                               52.28
10 Taylor McClain (VisitPA.com)                                            53.00
11 Jordyn Drayton (Bianchi Mid Atlantic/Freeze Thaw Cycles)                53.09
12 Sean Ion (Freeze Thaw Cycles)                                                
13 Chris Larkin (Joe's Bike Shop)                                          55.57
14 Ben Yoder (Beans Bike Shop)                                           1.03.46
15 Matt Thompson (Spot Brand / Twin Six)                                 1.07.19
16 Louis 'thor' Secreto (Human Zoom-Pabst Blue Ribbon)                   1.07.32
17 Eric Nord                                                             1.10.01
18 Rolf Rimrott (Bike Line)                                              1.12.18
19 Jamie Bock (South Mountain Cycles)                                    1.12.32
20 Keith Ridenour (Bikesport)                                            1.13.04
21 Albert Greene (Yellow Breeches Racing)                                1.16.14
22 Barton Kirk (Technocycle BRC/Dynaflo Racing)                          1.18.34
23 Buddy Briggs (Mighty Spot Brand p/b Twin Six)                         1.25.38
24 Mark Riley (Stanky)                                                   1.28.09
25 Fatmarc !!! (Mighty Spot Brand p/b Twin Six)                          1.28.24
26 Andrew Craig (Bike Line)                                              1.30.24
27 Larry Camp (The Bike Lane)                                            1.32.02
28 Brian Burgess (Team Beacon)                                           1.53.39
29 James Bennetch (Downhill From Here)                                   3.15.22
30 Paul Plowright (Team Cycle Works presented by The Harp and Fiddle)    3.19.19
31 Scott Woods (Stackin' Cheddah)                                        3.46.05
DNF  Dmitri Zorine                                                              

Men Masters

1 Shawn Withers (Sugoi/DeFeet/Speedplay/Lake)                            5.07.13
2 Craig Lander (Beans Bike Shop)                                           16.55
3 John Williams (Bike Line)                                                37.00
4 Leif Lucas (Shirks Bike Shop)                                            49.07
5 Erik Lenzing                                                           1.13.47
6 Rob Desruisseaux (Shirk's Bike Shop)                                   1.42.26
7 Kenneth Gordon (Team Cycle Works)                                      2.34.58
8 James Wilson (Human Zoom/Pabst Blue Ribbon)                            2.38.37
9 Colin Tworek (Therapeutic Massage Professionals)                       2.46.20
10 Lawrence Schlaline (BENT SPOKE/ RIDEHAPPY)                            4.36.30
DNF  Alan Daum (Nittany Mountain Biking Association)          

Women Masters
 
1 Andrea Slack (BIKE LINE)                                               6.50.45
2 Kerry Combs (Independent Fabrication)                                  1.19.53
3 Donna Mcnutt (Bike Line)                                               2.09.20