MTB news & racing round-up for April 6, 2007
Welcome to our regular roundup of what's happening in mountain biking. Feel free to send feedback, news and releases to mtb@cyclingnews.com.
Edited by Sue George
Gould dominates American season opener
By Rob Jones and Sue George
Georgia Gould (Luna)
Photo ©: Jon Devich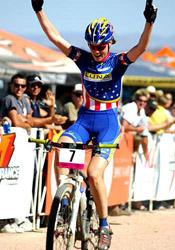 U.S. cross-country national champion Georgia Gould became the hero of the opening weekend of the National Mountain Bike Series held near Phoenix, Arizona, after she won all three women's endurance events.
The Nova National has a long history as the season opener for North American mountain biking, stretching back to the early nineties, when John Tomac and Alison Sydor (Rocky Mountain-Haywood) were racking up wins in the Specialized Cactus Cup. Held at the McDowell Mountain Regional Park, the organizers have access to a network of permanent trails through the sage brush and cacti.
Gould's dominance started Friday when she took the opening time trial. Looking mid-season fit, she was the only woman to go under 23 minutes. Despite being a little more tentative than some of the other women on the drop-off descent before the climb, Gould rode powerfully, winning by 20 seconds over teammate Katerina Nash.
"It was a good ride for me; I felt consistent," she said. "It was a bit of a funny course - you can only go so fast or you overcook the turns. There were a couple of times that I had to slam on the brakes in the middle of a turn, but overall I felt pretty smooth. I tried to be steady, because even the 'long' climb was only a couple of minutes."
On day, two Gould won the short track;; breaking free from a lead group of four which also included Alison Sydor (Rocky Mountain-Haywood), Nash, and Kathy Sherwin (Titus).
"I noticed that I was getting a gap before the last turn in the gravel, so I started to push it when I got onto the pavement," explained Gould, who then increased her lead over the final three laps to cruise in for the victory.
Gould made it three for three with a win in the cross country on the final day. She took an early lead after a gap opened on the first singletrack climb, and she never looked back. She won in front of Mary McConneloug (Kenda/Seven Cycles) and Susan Haywood (Trek/VW). Haywood was showing a strong return to cross country form in her season debut.
Kabush showed his Pan Am form
Geoff Kabush (Maxxis)
Photo ©: Jon Devich

Like Gould, Geoff Kabush (Maxxis) also won the Pan Am Mountain Bike championships in Argentina three weeks ago. Although he wasn't quite as dominant on the men's side, Kabush still took an impressive two victories this weekend.
The only endurance race Kabush didn't win was the time trial in which Jeremy Horgan-Kobelski (Subaru-Gary Fisher - on a Gary Fisher 29er with a single chain ring) took a nine second victory over Adam Craig (Giant).
But Kabush showed his form in both the short track and cross country races by emerging victorious from a field of nearly a hundred riders. A good start was essential to avoid getting hung up in traffic and choking on dust. Kabush, counted among the winningest short track racers in history, leapt off the line to grab the holeshot onto the gravel and opened up a slight gap by the end of the first lap of the short track. He was quickly joined by a group containing Horgan-Kobelski, Wells, Craig, Sam Schultz (Subaru-Gary Fisher), Jeremiah Bishop (Trek), Ryan Trebon (Kona) and Ross Schnell (Trek). This group worked together to build up a gap on the rest of the field, and soon started to catch the tail end of the field, which was being steadily pulled from the race. Eventually the group splintered and Kabush broke away for a win over Wells and Horgan-Kobelski.
In the cross country, the race ultimately came down to a battle between Kabush and Wells, with both looking strong. In the end, it was Kabush who would solo in for the win, after dropping Wells in the second half of the final lap. "I felt really comfortable on the third lap, and then I took over the pace on the fourth and kept winding it up," said Kabush. "(Wells) stuck with me, though, and I was getting a bit worried, but the back side of the course was pretty rough, and I got a gap on a step up before a steep climb."
Look for more of Kabush and Gould in less than two weeks at Sea Otter in Monterey. For full coverage of NMBS #1, click here.
Hundreds finish gruelling Cape Epic
The peloton battles through
Photo ©: Frank Bodenmuller
The final 80km stage eight of the eight-day Cape Epic mountain bike race in South Africa took a physical, mental, and emotional toll on exhausted racers as it took them through Winelands territory, but the were welcomed by thousands of supporters at the finish in Lourensford.
Out of 603 teams that started last Saturday in Knysna, 468 completed all eight torturous stages - 278 Men, 125 Masters, 52 Mixed and 13 Ladies Teams crossed the finish line in Lourensford Saturday for a finishing rate of 77.6 percent. However, only 15.7 percent of the total number of riders dropped out of the race. Cape Epic rules allow participants who lose a team partner to continue to race.
It came down to the very last stage but Karl Platt and Stefan Sahm of Team Bulls managed to defend their tenuous hold on the lead. The Germans headed into the final 75km day with only a 3.5 minute margin, but they pulled off a third-place finish, only one place and 11 seconds behind challengers Belgian Roel Paulissen and Dane Jakob Fugslang (Cannondale-Vredestein 1), who tried everything to win on the final stretch. The stage itself was won by Swiss Team Texner-Stoeckli's Thomas Zahnd and Sandro Spaeth.
Check out all eight days of our Cape Epic coverage here (which includes some amazing photo galleries. Cyclingnews diarist Myriam Suagy also sent in notes from each day's competiton as she and teammate Fabienne Heinzmann managed to finish second overall in the women's competition (see below).
US Development team opens season in Arizona
At the first NMBS race in Fountain Hills, Arizona, just outside of Phoenix, the future of US mountain biking showed two bright spots. Sam Jurekovic and Colin Cares, both members of the US National Development Team, logged strong performances on the March 30 to April 1 weekend.
Beginning with Friday's time trial, the two U23 riders grabbed top ten finishes, with Jurekovic placing fifth in a time of 20:29.93 and Cares turning in a 20:45.78 to place eighth. For comparison, the winning time was set by Jeremy Horgan-Kobelski in 19:44:10.
In Saturday's short track cross country race, Jurekovic crossed the line in seventh place, less than 15 seconds back from the day's winner, Canadian Geoff Kabush. Cares finished just out of the top twenty, placing 22nd.
In the final day's pro men's cross country race, Jurekovic and Cares finished 23rd and 27th respectively in the 100+ rider field. Kabush again took the win.
The team will next race the Sea Otter Classic in Monterey, California from April 12-15.
SwissPower Cup #1
Julien Absalon
Photo ©: Eduard Aguilera

The SwissPower Cup #1 opened April 1 in Schaan, Liechtenstein. It was the first-ever foreign opener for the series. Julien Absalon (Orbea) and Sabine Spitz (Ghost International) won the elite men's and women's categories.
Racing started right from the gun for the 160-rider elite men's field. Absalon pushed the pace early, and racers started dropping off almost immediately. His victory was almost assured early on, and the battle raged behind him for the other podium places. Florian Vogel (Swisspower), Nino Schurter (Swisspower), Fredrik Kessiakoff (Cannondale-Vredestein), and Inaki Lejarreta Errasti (Orbea) worked together on the final lap. Kessiakoff and Vogel took second and third.
Irina Kalentieva (Topeak-Ergon) and Spitz fought a duel in the women's race. Initially, on the first three laps, Renata Bucher (Stockli-Craft) was able to keep up, however she fell back to sixth place in the end.
2003 World Champion Spitz got away on the second lap from the end and to take her first Swisspower Cup victory of the season. Third place was decided in a battle taken by Italian Eva Lechner (Colnago) and Sabrina Enaux (Lapierre International).
The next Swisspower Cup stage takes place in two weeks in Winterthur.
For complete results, click here.
Downhiller Minnaar completes second Cape Epic
Minnaar was 2003 World Champ
Photo ©: Colin Meagher

Pietermaritzburg's Greg Minnaar once again tackled the famous Cape Epic stage race this past week, and for the second time in two attempts, he made it to the finish after a gruelling week of racing eight days and 886km.
This year, the downhiller rode with top South African female cross country rider, Hannele Steyn-Kotze in the Mixed Category. Both were part of Addidas team #27.
The first few days were tough on the pair, and with a total of six punctures, the pair lost valuable ground early. Well outside the top 10 in their category, the pair fought back to finish seventh in the mixed category and 70th overall.
"The event was super tough, and a lot harder than the first year I rode it, with longer distances to cover and much more climbing," said Minnaar. "The event has also really grown a lot too. This is a really big deal now. It was good riding with Hannele as I learned a lot about how to eat while riding a seven-hour day, and how much it can help you with your endurance.
"I basically did this to support the event and for the challenge. It's not a major or strategic part of my downhill season preparation, but I think a little bit of extra fitness is never a problem!"
In the final four days, the two South Africans put in some big efforts to gain ground on some of the more fatigued competitors. Their efforts paid off with some good time gains made.
When asked if he would do it again, Minnaar said, "Yah, for sure. Maybe next year I'll ride with a male competitor and try and mix it up with the top teams!"
Saugy's Cape Epic Diary: The last stage
Stage 8 to Lourensford was the shortest of the stages. You'd think that was the easiest, too, but no, no. It was a hard day throughout, and I can tell you we had to push ourselves to get there.
Stage 8 started in Kleinmond
Photo ©: Sven Martin/Dirt Agency

It was amazing to have a start by the sea in Kleinmond. Just before the start, the announcer appealed to all the racers, and we put our hands in the air and clapped enthusiastically. That was crazy. (Due to the excitement), all my hair was all standing up on my arms--you should have seen it.
As I told you, we couldn't take it easy as we didn't have that much time on the (third-place) Rotwild team in the overall ranking. So we started very fast again. We actually climbed back up the National Park jeep track we had come down on Friday. With less heat, it seemed easier than the day before. We managed again to get in the track before the Rotwild girls. However, we could see that they were not far behind us.
The good thing was that overtaking was really not easy. We got into the first water station in second position. But we were soon overtaken by Rotwild as we were lacking some juice on the way up the longest climb. The Danish girls were also just behind us as we hit the top and entered the compulsory walk(ing section) that was part of this last stage.
To read the complete diary entry detailing second-place finisher Myriam's final stage of the Cape Epic, click here. To read her other entries from the race, click here.
Nick Martin Diary: Who is this character called Martini?
Taste testing Malibu,
Photo ©: Nick Martin

With this entry, I am popping my Cyclingnews diary cherry and kicking off the fast approaching 2007 mountain bike season. Maybe you have heard of this Nick Martin character from the blog'o'sphere, over at www.ridewithnickmartin.com. If not, swing by and catch up on your homework. I am a 27 year-old professional mountain biker based out of Boulder, Colorado, and am chasing this cycling dream daily.
I am not that young prodigy that just fell into a huge natural VO2 max.... I am more of the stubborn, live-out-of-the-VW-van and live-off-powerbars kind of athlete. This will be my third season racing professionally under the flag of Trek/VW, and I am hoping that persistence pays off.
This off-season, like so many before them, has taken me on some great adventures. It was kicked off in style last August when Zap Espinoza invited "Rad" Ross and I down to Wisconsin to check out the Trek factory and hang out with some dealers. Well there must be something in that dairy air because I met a woman and ended up leaving Madison engaged after only three days! Crazy I know, but when you meet her you'll understand....
To read the complete diary entry, click here.
World champion set for Australian 24 Hour Solo nationals
Craig Gordon
Photo ©: Evan Jeffery

Current 24 Hours of Adrenalin World Solo Champion Craig Gordon will take the first step toward defending his title by racing the Australian Solo 24 hour championships this weekend, April 7-8 in Canberra, which will be held for the first time at Mt Majura pine forest.
The physically-demanding 24-hour race, hosted by Canberra Off Road Cyclists (CORC) in conjunction with Apis Events, is the Australian qualifying event for the 2007 24 Hours of Adrenalin World Solo Championships scheduled for California in October.
Racers will tackle an 8.2km circuit at Innabaanya Guide Camp with 110m of climbing per lap - meaning the top riders could ascend more than 5,000m and pedal over 400km in 24 hours. The race starts at noon on April 7.
See also: 2006 24 Hours of Adrenalin World Solo Champinonships coverage
Pro Bike: Sharp-edged full-suspension for the tight-and-twisties
By James Huang
Adam Craig's race machine of choice
Photo ©: James Huang

Team Giant rider Adam Craig played a key role in developing Giant's dedicated short-travel Anthem XC-racing platform two years ago, and has been heading straight down the dual-suspension path since then with virtually no looking back. At the first major MTB test of 2007 on U.S. soil in Fountain Hills, AZ, Craig opted to use his Anthem for each stage save only for the twilight short track event that was held downtown on a mix of pavement and dirt.
"I can ride a hardtail as fast in almost all situations, but it would take so much more effort," stated Craig. "If I were to put that much effort into riding a dualie, I'd end up going a teeny bit faster in a much more relaxed and much more composed manner. We're fortunate enough to have a super efficient suspension design that gives you faster rolling over all of the square-edged stuff because of the axle path and it just generally facilitates riding fast."
Craig himself played a key role in the creation of his Anthem, which was formerly launched just prior to Interbike 2005. "I personally, and everyone at Giant, including Rune Hoydahl, involved in development agreed across the board that we could make a super steep, super short, aggressive race bike that would be designed to handle like a razor blade on courses like this where it's just all super turny and twisty," said Craig after his second place finish in the Stage 1 time trial.
Read the complete Pro bike article.
New frames, brakes, and forks found in the desert
By James Huang
Cannondale introduces the Taurine
Photo ©: James Huang

Over in the pit area of NMBS #1 race series sponsor Bear Naked - Cannondale (Bear Naked makes granola, for those of you who were wondering), the CT-based bike company showcased its newest model, the Taurine. Cannondale's first-ever full-carbon hardtail frame utilizes unidirectional high-modulus carbon fiber construction for a claimed finished frame weight of just 1.25kg.
Cannondale uses a tapered oversized down tube just as it does on its upper-end aluminum models, but the Taurine also incorporates fully integrated headset bearings and uniquely flattened chain stays that supposedly offer a bit of vertical give (not quite as dramatic as on the company's Scalpel, of course, but along the same idea). Naturally, Cannondale includes its proprietary Lefty fork and Si integrated crankset, yielding an astonishingly light 9.4kg (20.74lb) complete bike (actual weight without pedals, but with two bottle cages).
Fox Racing Shox isn't launching its new 2008 lineup until Sea Otter time, but that doesn't mean bits of it weren't out in public for the first major US mountain bike race of the season. We already showed you the new revision to the RP23 rear shock, but a new fork was also found on the Anthem Advanced of Team Giant's Adam Craig on the second day of the race.
To read the complete mountain bike tech coverage from the first NMBS event, click here. James Huang also brings us the latest information on new shocks and tires that were on display on racers' bikes last weekend.
British XCracer.com/Trek team announced
The British XCracer.com/Trek team introduced their squad on n a sunny and warm weekend Coed Llandegla just outside Wrexham.
Now into its second year of supporting a race team, XCracer.com has joined forces with Trek Bikes to create a team with a focus on cross country, marathon, and enduro races across the United Kingdom.
The team will tackle the British mountain bike cross country and marathon series as well as the Nightrider12, Bontrager Twentyfour12, Mountain Mayhem, TranScotland, Bristol Bike Fest and the National Championships. Individuals will also visit regional races such as the Pro Cup, Southern XC series, Gorrick Spring Series, Dragon XC series, Soggy Bottom Series.
Besides aiming for podium appearances, the team will provide insight into each race and provide tips and gossip on their website: ww.xcracer.com
The team includes Maddie Horton (Elite), Phil Morris (Expert), Nadine Spearing (Expert), Dave Flint (Veterans), and Charlie Wigfall (Expert/Team Manager).
24 hours of Insomnia for Australia
The inaugural Insomnia 24-hour mountain bike festival will happen June 23-24 near Brisbane, Queensland, in Australia. The race will happen at a new location, recently opened to mountain bikers as part of an adventure race, at Kurwongbah, less than 30 minutes from Brisbane.
The course, with its gentle undulations and wide passing lanes, features 16km of singletrack and fireroads. Solo riders or teams of two, four, or six riders are welcome. For more information, visit www.gar.com.au.
EFTA announces summer race calendar
The Eastern Fat Tire Association released its mountain bike race series calendar for 2007, now in its fifteenth year. The non-profit organization has added elite and touring classes to all events making up the New England Championship series. The touring class caters to recreational riders who want to be part of the mountain bike race scene. New for this year is an enduro race. The inaugural Hampshire 100 will run throughout New Hampshire. For more information, visit www.EFTA.com.
The 2007 New England Championship Series:
May 6, 2007 NECS #1, Glocester Grind Glocester, Rhode Island
June 10, 2007 NECS #2, Sterling Sizzler Sterling, Connecticut
June 24, 2007 NECS #3, Clifford Park Assault Biddeford, Maine
July 1, 2007 NECS #4, All Out in Moody Park Claremont, New Hampshire
July 8, 2007 NECS #5, Horror at Harding Hill Road Sunapee, New Hampshire
July 29, 2007 NECS #6, Bradbury Mountain Enduro Pownal, Maine
August 5, 2007 NECS #7, Fort Rock Revenge Exeter, New Hampshire
August 26, 2007 NECS #8, The Pinnacle Newport, New Hampshire
September 16, 2007 NECS #9, GrillZ Memorial Georgetown, Maine
Desert Trophy for Morocco
The first-ever Desert Mountain Bike Trophy race will be held from October 13-20 from Merzouga to Zagora in Morocco. The five stage race will cater to those who want to test their endurance and orienteering skills. The A.S.D. Linea d'Ombra club is hosting the event.
For more information, visit www.merzougatrophy.com
(All rights reserved/Copyright Knapp Communications Pty Limited 2007)