MTB index page for all MTB content
National Mountain Bike Series #1 (NMBS) - 2
Fountain Hills, Arizona, USA, March 30-April 1, 2007
Main Page Results Overall standings Previous Stage
Stage 4 - April 1: Cross Country
Déjà vu for Kabush and Gould
By Rob Jones in Phoenix, Arizona
Geoff Kabush (Maxxis)
Photo ©: Jon Devich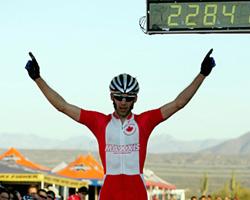 Three weeks ago, Georgia Gould and Geoff Kabush won the Pan Am Mountain Bike titles in Argentina, and on Sunday they once again were the champions at the first round of the US National Mountain Bike Series. The results were extremely similar to Argentina, with Gould - racing for Luna Chix - once again beating Mary McConneloug, and Canada's Geoff Kabush (Maxxis) battling American Todd Wells (GT). Wells finished third in Argentina, behind Canada's Seamus McGrath, but spent the day at the front of the race, just like this weekend.
Held at the McDowell Mountain Regional Park, North-East of Phoenix, the competitions were expected to be ones of attrition. Technically demanding terrain, cacti, sharp rocks and temperatures in the high 80s (low 30s Celcius) meant that if you weren't on your game, you likely wouldn't finish. The women completed three laps of the 16 kilometre loop, and the men four: both very long for the time of year.
How it unfolded
Elite men
Lots of ups and downs on the course today.
Photo ©: Jon Devich

The plus-100 rider strong men's field got off to a fast start, with a lead group of 15 established after a few kilometres. Todd wells was the main animator in the early stages, closely marked by Kabush. Also in the group were Jeremy Horgan-Kobelski (Subaru-Gary Fisher), his team mate Sam Schultz, Jeremiah Bishop (Trek), Seamus McGrath (Rocky Mountain-Haywood), US champion Ryan Trebon and his Kona team mate Barry Wicks, and Adam Craig (Giant) all present. Missing was Max Plaxton (Rocky Mountain-Haywood), who had a poor start after pulling his foot out. Plaxton would catch the group by the second lap and then break his chain, ending his race.
"I knew no one would get away early," commented Kabush. "Wells got the holeshot into the singletrack, but we had a big train going there. He kept the pace high on the first lap, and I took over on the second. It just whittled down as people made mistakes, and then we were down to five."
By the second lap the lead group was down to five - Wells, Kabush, Bishop, Trebon and Wicks. Horgan-Kobelski, as with team mate Schultz, was yet another rider to flat and had to chase after a wheel change in the tech zone. Craig was chasing alone and McGrath had faded to seventh, followed by Michael Broderick (Kenda-Seven) and Carl Decker (Giant).
Barry Wicks (Kona)
Photo ©: Jon Devich

A lap later it was down to Kabush and Wells at the front: both looking very strong. Trebon was at 30 seconds - holding his own but not making any headway - and Horgan-Kobelski had made an impressive recovery to join Bishop in the final podium spots as Craig and Wicks started to fade.
The final podium was set - except for Craig moving into fifth after Bishop (you guessed it) flatted on the final lap. However it was still undecided who would get to stand on the top step of the podium, as Kabush and Wells continued to ride head-to-head into the final lap.
In the end it was Kabush who would solo in for the win, after dropping Wells in the second half of the final lap.
"I felt really comfortable on the third lap, and then I took over the pace on the fourth and kept winding it up," said Kabush. "He stuck with me, though, and I was getting a bit worried, but the back side of the course was pretty rough, and I got a gap on a step up before a steep climb. I knew that I would be at an advantage there on my full suspension Litespeed."
Wells admitted to being frustrated after losing again to his rival "There was nothing I could do on the last lap: I blew up a bit and then he attacked," explained Wells. "At that point it was all I could do to finish the race."
Elite women
Georgia Gould (Luna)
Photo ©: Jon Devich

Gould, already the winner of both the time trial and the short track over the past two days, took an early lead after a gap opened on the first singletrack climb.
"Kathy Sherwin was second to Georgia and she couldn't hold the pace," explained McConneloug. "After I got by I was able to get back up to Georgia and was feeling pretty good, sitting on her wheel."
Unfortunately for McConneloug, a rut had her name on it. "I was right on her wheel and didn't see it in time, so I went down pretty hard and lost a bunch of time," she said.
Alison Sydor (Rocky Mountain)
Photo ©: Jon Devich

Alison Sydor (Rocky Mountain-Haywood) had been sitting third and moved into second, but then had her own problems with a flat. "It was so rocky, you just couldn't avoid all the rocks, and I hit one pretty hard," said Sydor. "I tried to air it, but it wouldn't hold so I had to change the tube and then get a wheel change at the tech zone."
This left Sydor in the 30s, but she had one of the most impressive rides of the race to eventually finish 10th.
Meanwhile, McConneloug moved back into second but couldn't make much headway on Gould's 40 second cushion. Behind the front two, Sue Haywood (Trek), Shonny Vanlandingham (Luna Chix), and Katerina Nash (Luna Chix) were riding within sight of each other for most of the race until Nash flatted on the last lap and Vanlandingham succumbed to the heat and had to allow Haywood to open a gap. Kelli Emmett, sporting her new Giant colours, moved up to fifth.
Race Notes
- Prior to the race McGrath had talked of contesting for the victory after his strong silver medal performance in Argentina, but things didn't go to plan. "I just had a bad day today: no energy, no go," he explained. "I was pretty close to the limit on the first lap, so I knew that I couldn't hold it and had to back off a bit. At that point all I could do was just suffer through it and try to salvage a few (UCI) points."
- Horgan-Kobelski, while disappointed, was pleased with his performance. "The flat happened on the first lap at the far end of the course," he recalled. "I got a new wheel in the tech zone, but it (the flat) happened right when Todd (Wells), Geoff (Kabush) and I were getting a split. At that point it was impossible to make it back up to them, so I'm really happy that I was able to ride back up to fourth."
Photography
For a thumbnail gallery of these images, click here
Images by Jonathan Devich/epicimages.us
Results
Men
 
1 Geoff Kabush (Can) Team Maxxis                   2.28.40
2 Todd Wells (USA) GT Bikes                           0.58
3 Ryan Trebon (USA) Kona                              2.36
4 Jeremy Horgan-Kobelski (USA) Subaru-Gary Fisher     3.21
5 Adam Craig (USA) Giant                              4.41
6 Carl Decker (USA) Giant                             5.33
7 Michael Broderick (USA) Kenda/Seven Cycles          5.46
8 Barry Wicks (USA) Kona                              6.04
9 Jeremiah Bishop (USA) Trek/VW                       7.54
10 Seamus McGrath (Can) Rocky Mountain/Haywood        8.27
11 Mathieu Toulouse (Can) Team Maxxis                 9.13
12 Andy Schultz (USA) Bear Naked/Cannondale           9.22
13 Jay Henry (USA) Ind                                9.34
14 Jeff Schalk (USA) Trek/VW- East                    9.49
15 Ross Schnell (USA) Trek/VW                        11.46
16 Matthew Hadley (Can) Rocky Mountain Business      12.20
17 Roddi Lega (Can) Norco Factory Team               12.40
18 Dana Weber (USA) Jax Bicycle Center               12.53
19 Nat Ross (USA) Subaru-Gary Fisher                 12.54
20 Leonardo Sandoval (USA) Socal Specialized Team    13.06
21 Ryan Woodall (USA) Premier Mortgage Fundin        13.31
22 Jeff Hall (USA) Salsa Cycles                      15.40
23 Sam Jurekovic (USA) U23 National Team             15.43
24 Tim Heemskerk (Can) United Cycling Racing         16.18
25 Thomas Turner (USA) Bear Naked/Cannondale         17.39
26 Cody Peterson (USA) Scott Bicycles                17.51
27 Colin Cares (USA) U23 National Team               18.45
28 Brian Fuentes (USA) Waltworks/Fuentes Design      19.29
29 Sean Donovan (USA) Cytomax/KHS                    19.43
30 Troy Wells (USA) Tokyo Joes                       20.15
31 Brandon Draugelis (USA) Bear Naked/Cannondale     20.22
32 Travis Livermon (USA) Cycling Spoken Here         21.09
33 Damian Calvert (USA) Bear Naked/Cannondale        21.19
34 Rick Wetherald (USA) Tamarack Resort              22.09
35 Ryan Lynch (USA) James Frames/Mafia               22.13
36 Eric Ransom (USA) Team Tamarack Resort            22.16
37 Kamden Reedy (USA) Titus Cycles                   22.20
38 Bryan Alders (USA) Mona-Vie/Cannondale            22.35
39 Grant Kier (USA) Redbarnbicycles.Com              23.10
40 Keith Hickerson (USA) Tamarack                    24.14
41 Paul Hanson (USA) Bear Naked/Cannondale           25.21
42 Aren Timmel (USA) Ind                             25.24
43 Tristan Uhl (USA) Team Hotel San Jose             25.41
44  Garcia Velarde, (MEX) Crazy Cat                  26.40
45 Bryan Fawley (USA) Kenda/X-Fusion/Titus           27.00
46 Kelly Magelky (USA) BMC/Sports Garage             27.13
47 Mitchell Peterson (USA) Devo                      27.39
48 Alan Obye (USA) Jamis                             27.53
49 Brig Brandt (USA) Bend Elite                      28.04
50 Paul Freiwald (USA) Titus Cycles                  28.57
51 Michael Raney (USA) Voo-Doo                       29.10
52 Shun Matsumoto (Jpn) Trek Japan                   29.30
53 Sloane Anderson (USA) Clifbar/Smith               30.04
54 Aaron Snyder (USA) Ind                            30.13
55 Kris Sneddon (Can) Kona                           30.14
56 Ken Burt (USA) Jamis/Garmin                            
57 Kevin Smallman (USA) Bear Naked/Cannondale        32.23
58 Andrew Freye (USA) Bikeman.Com/Salsa Cycles       36.15
59 Trevor Downing (USA) Bear Valley Bikes            36.48
60 Mcconnell Franklin (USA) Devo                     36.53
61 Scott Keller (USA) Deft Cycling                   37.08
62 Kyle Hammaker (USA) Ind                           37.24
63 Joshua Powers (USA) Shampa                        37.39
64 Yuki Saito (USA) Fuentes Design/Walt Wor          42.51
65 Ben Thompson (USA) Bend Elite                   1.05.47
DNF Jamie Morgan (USA) Moots Cycles                       
DNF Travis Brown (USA) Trek/Frs                           
DNF Dustin Wanstrath (USA) Team Tamarack                  
DNF Bruce Muhlfeld (USA) Trek/VW                          
DNF Michael Tobin (USA) Georges                           
DNF Evan Sherman (Can) United Cycle                       
DNF Brett Morgan (USA) Bear Naked/Cannondale              
DNF Alex Ryan (USA) Landrover/Cannondale                  
DNF Christian Ball (USA) Independent Fabrications         
DNF Mike Sarnecki (Can) Team Ing                          
DNF Charles Jenkins (USA) Cytomax/KHS                     
DNF Cale Redpath (USA) 3d Racing                          
DNF Charles Pendry (USA) Inland - Btd                     
DNF Michael Janelle (USA) Tokyo Joes/Catlin               
DNF Nicholas Stevens (GBr) Orbea Usa                      
DNF Raita Suzuki (Jpn) Bridgestone Anchor                 
DNF Adam Snyder (USA) 3-D Racing                          
DNF Max Plaxton (Can) Rocky Mountain-Haywood              
DNF Nick Martin (USA) Trek/VW                             
DNF Tim Bolton (USA) Titus Cycles/Maxim Compo             
DNF Bart Gillespie (USA) Mona Vie/Cannondale              
DNF Eric Neat (USA) Deft Cycling/Schampa                  
DNF Sam Schultz (USA) Subaru-Gary Fisher                  
DNF Brent Miller (AUS) Kenda/X-Fusion/Titus               
DNF Bear Perrin (USA) Kenda/Jamis                         
DNF Matt Freeman (USA) Pass Physical Therapy              
DNF Kevin Rice (USA) Tokyo Joes                           
DNF Daniel Corum (USA) Inland/Btd                         
DNF Keiitchi Tsujiura (Jpn) Bridgestone Anchor            
DNF Travis Woodruff (USA) Momentumendurance.Com           
DNF Glenn Fant (USA) Ind                                  
DNF Michael Mccalla (USA Ind                              
 
Women
 
1 Georgia Gould (USA) Luna Womens MTB              2.06.20
2 Mary McConneloug (USA) Kenda/Seven Cycles           0.51
3 Susan Haywood (USA) Trek/VW                         2.31
4 Shonny Vanlandingham (USA) Luna Womens MTB Team     2.58
5 Kelli Emmett (USA) Giant                            3.40
6 Wendy Simms (Can) Kona                              5.20
7 Zephanie Blasi (USA) Kenda/X-Fusion/Titus           5.44
8 Heather Irmiger (USA) Subaru-Gary Fisher            7.22
9 Chloe Forsman (USA) Luna Womens MTB Team            9.35
10 Alison Sydor (Can) Rocky Mountain/Haywood          9.45
11 Jenna Zander (USA) Bear Naked/Cannondale          10.01
12 Rie Katayama (Jpn) Trek                           10.22
13 Melanie Meyers (USA) Kenda/Titus/X-Fusion         10.30
14 Catherine Pendrel (Can) Norco                     10.53
15 Chrissy Bono (USA) Intense Cycles                 10.57
16 Mical Dyck (Can) Trek/Terrascape Racing           12.19
17 Kathy Sherwin (USA) Titus                              
18 Kristen Danielson (USA) Velo Bella/Kona           12.50
19 Shannon Gibson (USA) Velo-Bella/Kona              13.46
20 Krista Park (USA) Colavita                        13.48
21 Patricia Sinclair (Can) Scott                     14.03
22 Katerina Nash (Cze) Luna Womens MTB Team          14.11
23 Megan Monroe (USA) BMC-Sports Garage              14.52
24 Jennifer Smith (NZl) Trek/VW                      15.05
25 Emily Van Meter (USA) Bear Naked/Cannondale       15.12
26 Sue Butler (USA) Bear Naked/Cannondale M          18.06
27 Nina Baum (USA) Bear Naked/Cannondale             18.36
28 Jennifer Gersbach (USA) BMC/Sports Garage         18.38
29 Sara Bresnick-Zocchi (USA) Lynskey Performance    19.41
30 Melanie McQuaid (Can) BMC/Natures Path            19.51
31 Kimberly Flynn (USA) Vantaggio/Specialized        19.59
32 Jennifer Tribe-Wilson (USA) Ind                   20.22
33 Natasha Cowie (USA) Velo Bella/Kona               21.12
34 Monique Sawicki (USA) Ergon/Ellsworth             21.17
35 Theresa Richardson (USA) Bear Naked/Cannondale    22.57
36 Jennifer Tilley (USA) Velo Bella/Kona             24.08
37 Barbara Howe (USA) Velo Bella                     24.20
38 Heather Holmes (USA) Kenda/X-Fusion               24.44
39 Stacey Scanlan (USA) Team Tamarack                25.36
40 Heather Ranoa (USA) Intense                       25.56
41 Alexandria Fabbro (USA) Velo Bella                26.03
42 Becca Blay (USA) Bear Naked/Cannondale            26.57
43 Christie Pleiss (USA) Pass Physical Therapy       27.00
44 Carolyn Popovic (USA) Trek/VW East Coast          27.03
45 Lorena Candrian (USA) Dcmtb                       28.24
46 Erika Krumpelman (USA) Velo Bella/Kona            28.56
47 Jona Bollinger (USA) Pragon Racing                29.27
48 Paula Burks (USA) Vantaggio/ Specialized          29.40
49 Amy Drumm (USA) Denver Bicycle                    30.33
50 Jana Repulski (USA) Team Tamarack Resort          30.37
51 Kim Jennings (USA) Ortho/Bicycles Outback         30.40
52 Jane Pearson (USA) Maverick                       30.45
53 Rebecca Gross (USA) Velo Bella/Kona               31.45
54 Kathy Bodie (USA) Great Adventures Sport          32.10
55 Patricia Buerkle (USA) Tahoe Northstar/Giant      32.30
56 Sonya Looney (USA) Tough Girl Cycling             32.55
57 Jennifer Sica (USA) Deft Cycling/Schampa          36.32
58 Judy Freeman (USA) Bear Naked/Cannondale          40.08
59 Hilary Wright (USA) Devo                          42.34
60 Rachel Throop (USA) Devo                          45.53
DNF Danae York (USA) Velobum.Com/Turner Sus               
DNF Mandy Eakins (USA) Pass Physical Therapy              
DNF Willow Koerber (USA) Subaru-Gary Fisher               
DNF Sabina Kraushaar (USA) Healthfx                       
DNF Sarah Barber (USA) Titus/Kenda/X-Fusion               
DNF Lea Davison (US) Trek/VW                              
DNF Heather Svahn (USA) Ritchey Regional Team             
DNF Christina Smith (USA) Ortho Sage Cycles/Colon         
DNF Maria Pugliese (USA) Fetish Cyles                     
DNF Shannon Holden (USA) Velo Bella/Kona                  
DNF Kristina Maier (USA) BMC/Sports Garage                
DNF Kristi Lewis (USA) Orbea