MTB index page for all MTB content
National Mountain Bike Series #1 (NMBS) - 2
Fountain Hills, Arizona, USA, March 30-April 1, 2007
Main Page Results Overall standings
Stage 1 - March 30: Time Trial Race
Horgan-Kobelski and Gould take first wins of US MTB season
By Rob Jones in Phoenix, Arizona
Jeremy Horgan-Kabelski (Subaru/Gary Fisher)
Photo ©: Jon Devich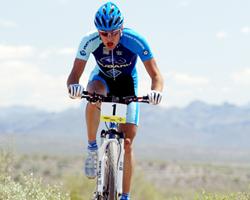 The Nova National opened the North American mountain biking season on Friday, with a couple of US Olympic hopefuls showing that they are building their form nicely with the World Cup season less than a month away. Jeremy Horgan-Kobelski (Subaru-Gary Fisher) took a nine second victory over Adam Craig (Giant) to win the men's time trial, while Pan Am champion Georgia Gould (Luna Chix) was 20 seconds in front of team mate Katerina Nash in the women's race.
A number of top competitors passed on the time trial, because the Nova National is not a stage race, and only the cross-country awards UCI points (UCI C2). Among those not racing the time trial were a strong Canadian contingent, including Rocky Mountain-Haywood riders Alison Sydor, Max Plaxton and new signing Seamus McGrath. The Canadian Maxxis duo of Geoff Kabush and Mat Toulouse skipped the event, as did Wendy Simms (Kona). Other's missing the event were Subaru-Gary Fisher's Heather Irmiger and Willow Koerber, Trek's Sue Haywood, Kenda's Michael Broderick and Mary McConneloug, and GT's Todd Wells.
The Nova National has a long history as the season opener for North American mountain biking, stretching back to the early nineties, when John Tomac and Alison Sydor (Rocky Mountain-Haywood) were racking up wins in the Specialized Cactus Cup. Held at the McDowell Mountain Regional Park, the organizers have access to a network of permanent trails through the sage brush and cacti.
The time trial took the riders on a twisty loop that included one longer climb of two minutes and lots of rollers. Of equal difficulty was the dusty gravel on the trails, which could send a rider off into the nasty, barbed Cholla cactus if they weren't careful. It was just as important to be smooth on this course as it was to be fast.
How it unfolded
Troy Wells
Photo ©: Jon Devich

Horgan-Kobelski was first off in the men's field, sporting the Number 1 plate as the defending champion. It proved to be prophetic, as he powered to a convincing win ahead of Craig with a time of 19:44. Horgan-Kobelski and Craig would prove to be the only two riders to go under 20 minutes. Ross Schnell (Trek) took third with a time of 20:12, followed by two U23 riders - Sam Schultz (Subaru-Gary Fisher) in fourth (20:29) and U23 USA team rider Sam Jurekovic a couple of tenths further back.
Horgan-Kobelski had something to prove today, after a less than perfect performance at the Pan Am Championships in Argentina a couple of weeks ago where he finished fifth.
"Yeah, this makes me pretty happy: I was sick at the Pan Ams and couldn't have the race I wanted," explained Horgan-Kobelski. "These races, Nova and Sea Otter, build towards the World Cup (in Houffalize, Belgium), so I am happy with where I'm at: it means I have a pretty solid foundation."
"I just wanted to race the time trial for fun, for training", he added. "So I eased into the effort, but I hit the climb as hard as I could. It felt good: I was cornering well, riding it smooth. This was a good test today."
Georgia Gould (Luna)
Photo ©: Jon Devich

He also made an interesting equipment choice - a Gary Fisher 29er with a single chain ring. "The 29er was definitely the right choice. There were a bunch of difficult, drifty corners where you could get into a lot of trouble, but I was able to do some two-wheel drifts," he explained. "It also smoothed out the rough trail sections, especially on the climb. I did blow one corner, and hit a cactus but, all things considered, it was a clean run."
Gould, looking mid-season fit, was the only woman to go under 23 minutes. Despite being a little more tentative than some of the other women on the drop off descent before the climb, Gould rode powerfully.
"It was a good ride for me: I felt consistent all ride," she explained. "It was a bit of a funny course - you can only go so fast or you overcook the turns. There were a couple of times that I had to slam on the brakes in the middle of a turn, but overall I felt pretty smooth. I tried to be steady, because even the 'long' climb was only a couple of minutes."
The Nova National continues on Saturday with a fat tire criterium downtown in neighbouring Fountain Hills, followed by the cross-country on Sunday.
Photography
For a thumbnail gallery of these images, click here
Images by Jonathan Devich/epicimages.us
Results

Elite Men

1 Jeremy Horgan-Kobelski (USA) Subaru-Gary Fisher      19.44.1
2 Adam Craig (USA) Giant                                0.09.6
3 Ross Schnell (USA) Trek-VW                            0.28.4
4 Sam Schultz (USA) Subaru-Gary Fisher                  0.42.3
5 Sam Jurekovic (USA) U23 National Team                 0.45.8
6 Jeremiah Bishop (USA) Trek-VW                         0.51.1
7 Travis Brown (USA) Trek/FRS                           0.53.9
8 Colin Cares (USA) U23 National Team                   1.01.7
9 Jeff Schalk (USA) Trek VW- East                       1.03.1
10 Andy Schultz (USA) Bear Naked/Cannondale             1.10.9
11 Jay Henry (USA) Ind                                  1.19.9
12 Nick Martin (USA) Trek-VW                            1.22.8
13 Keiitchi Tsujiura (JPN) Bridgestone Anchor           1.30.1
14 Ryan Woodall (USA) Premier Mortgage Fundin/Titus/    1.30.5
15 Bart Gillespie (USA) Mona Vie/Cannondale             1.35.8
16 Michael Janelle (USA) Tokyo Joes/Catlin              1.45.5
17 Thomas Turner (USA) Bear Naked/Cannondale            1.49.8
18 Brian Fuentes (USA) Waltworks/Fuentes Designs        1.54.3
19 Damion Calvert (USA) Bear Naked/Cannondale           1.58.3
20 Grant Kier (USA) Redbarnbicycles.Com                 1.58.8
21 Brig Brandt (USA) Bend Elite                         2.04.8
22 Troy Wells (USA) Tokyo Joes                          2.08.0
23 Matthew Hadley (Can) Rocky Mountain Business Obj     2.10.1
24 Nat Ross (USA) Subaru-Gary Fisher                    2.10.4
25 Eric Ransom (USA) Team Tamarack Resort               2.10.9
26 Travis Woodruff (USA) Momentumendurance.Com          2.13.0
27 Noah Singer (USA) Mercy Development Cycling          2.13.4
28 Bruce Muhlfeld (USA) Trek-VW                         2.13.4
29 Cody Peterson (USA) Scott Bicycles                   2.14.8
30 Rick Wetherald (USA) Tamarack Resort                 2.15.3
31 Michael Tobin (USA) Georges                          2.17.8
32 Bryan Fawley (USA) Kenda/X-Fusion/Titus              2.18.9
33 Raita Suzuki (Jpn) Bridgestone Anchor                2.22.3
34 Aaron Snyder (USA) Ind                               2.22.6
35 Keith Hickerson (USA) Tamarack                       2.23.8
36 Kelly Magelky (USA) Bmc/Sports Garage                2.25.1
37 Yuki Saito (USA) Fuentes Design/Walt Works           2.27.2
38 Leonardo Sandoval (USA) Socal Specialized Team       2.31.8
39 Ryan Lynch (USA) James Frames/Mafia                  2.32.3
40 Glenn Fant (USA) Ind                                 2.32.5
41 Trevor Downing (USA) Bear Valley Bikes               2.32.8
42 Paul Hanson (USA) Bear Naked/Cannondale              2.43.5
43 Eric Neat (USA) Deft Cycling/Schampa                 2.50.0
44 Andrew Freye (USA) Bikeman.Com/Salsa Cycles          2.57.6
45 Daniel Corum (USA) Inland/Btd                        2.59.3
46 Bryan Alders (USA) Mona-Vie/Cannondale               3.03.2
47 Scott Keller (USA) Deft Cycling                      3.03.7
48 Michael Raney (USA) Voo-Doo                          3.09.1
49 Brandon Dragelin (USA) Bear Naked/Cannondale         3.13.7
50 Kyle Hammaker (USA) Ind                              3.22.0
51 Shun Matsumoto (Jpn) Trek Japan                      3.26.0
52 Charlie Pendry (USA) Inland - Btd                    3.48.1
53 Mcconnell Franklin (USA) Devo                        4.07.9
54 Sloane Anderson (USA) Clifbar/Smith                  4.46.8
55 Dave Harrison (USA) Reddrox/Tamarack Resort          6.07.8

  
Women

1 Georgia Gould (USA) Luna Womens MTB                  22.47.5
2 Katerina Nash (USA) Luna Womens MTB Team              0.20.2
3 Jenna Zander (USA) Bear Naked/Cannondale              0.49.2
4 Kelli Emmett (USA) Giant                              0.51.8
5 Jennifer Smith (USA) Trek-VW                          0.52.9
6 Zephanie Blasi (USA) Kenda/X-Fusion/Titus             1.00.0
7 Nina Baum (USA) Bear Naked/Cannondale                 1.06.8
8 Mical Dyck (Can) Trek/Terrascape Racing               1.26.9
9 Chloe Forsman (USA) Luna Womens MTB Team              1.30.0
10 Melanie Mcquaid (Can) Bmc/Natures Path               1.30.6
11 Shonny Vanlandingham (USA) Luna Womens MTB Team      1.48.0
12 Megan Monroe (USA) BMC-Sports Garage                 2.15.5
13 Carolyn Popovic (USA) Trek-VW East Coast             2.18.3
14 Jennifer Gersbach (USA) Bmc/Sports Garage            2.20.1
15 Sara Bresnick-Zocchi (USA) Lynskey Performance       2.24.9
16 Sue Butler (USA) Bear Naked/Cannondale MTB Tm        2.30.5
17 Monique Sawicki (USA) Ergon/Ellsworth                2.41.3
18 Stacey Scanlan (USA) Team Tamarack                   2.55.4
19 Sarah Barber (USA) Titus/Kenda/X-Fusion              3.05.2
20 Sonya Looney (USA) Tough Girl Cycling                3.07.3
21 Jennifer Sica (USA) Deft Cycling/Schampa             3.14.5
22 Mandy Eakins (USA) Pass Physical Therapy             3.47.2
23 Kristina Maier (USA) Bmc/Sports Garage               3.50.9
24 Jana Repulski (USA) Team Tamarack Resort             4.08.3
25 Patricia Buerkle (USA) Tahoe Northstar/Giant         4.26.7
26 Natasha Cowie (USA) Velo Bella/Kona                  4.32.1
27 Alexandria Fabbro (USA) Velo Bella                   4.50.9
28 Christie Pleiss (USA) Pass Physical Therapy          5.22.7