On test: Giant Anthem LE, February 15, 2006
Race day weapon
When Giant launched its Maestro range of mountain bikes in late 2004 bikes like the Trance trail bike and Reign freeride rig were well-received, but cross-country racers asked "Where's ours?" The wait is over as Giant's Anthem range arrives in your friendly neighbourhood bike shop. Dave Hughes hits the race track on the top-line Anthem LE to find out if the new machine lives up to the promise of its longer-travel brethren.
Giant Anthem LE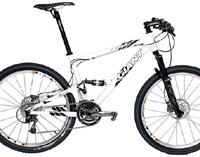 Giant introduced its Anthem short travel cross country bike at last year's Interbike show. It was the logical completion of the Maestro range; a lightweight, short-travel bike for cross-country racers to replace the aging NRS design in Giant's range. At the time we were given a few test rides, but we wanted a longer term test on trails we knew so we could really see how Giant's claims stacked up.
In late December our White Christmas arrived - a shiny new Australian-edition Anthem LE with a gorgeous white paint job, thoroughly decorated with top shelf components including XTR brakes and drivetrain and Mavic Crossmax SLs. The Cyclingnews team thought we'd done a very good job of making Santa think we'd been good, until Giant told us we'd have to give it back after our testing. Darn.
Given that I was racing a short course cross country (aka Dirt Crits) event the next day, I was the lucky reviewer who got to take it home.
The frame
Mavic Crossmax LE wheels

Manitou R7 fork

Reverse arch

The front end

Race Face's Next handlebar

Shimano XTR Dual Control levers

Full XTR transmission

Shimano XTR rear derailleur

Shimano XTR chainset

Saddle and post

How much have you cut off?

Unusual seat clamp

The rear sub-frame

Shimano XTR disc brakes

The linkage assembly

Manitou S-type shock

Hutchinson Python tubeless tyres

Giant has been extolling the virtues of dual suspension for cross country racing since the introduction of its NRS platform in 1999. Seven years later suspension design has come a long way, and Giant's Maestro range of bikes takes full advantage of those changes. 'Stable platform' shock technology and floating pivot points, combined with extensive R&D to determine the optimum pivot, shock and linkage locations have produced a design that lives up to Giant's "No power loss" claim. The Anthem is the very specific cross country race incarnation of the Maestro design, with short travel and tight geometry.
The frame is made of Giant's 6013 ALUXX aluminium, which Giant says is extremely strong, while also remaining easy to weld and work. In the case of the Anthem this is shown off with intricate hydroformed tubes welded together to create an almost traditional front triangle, coupled via multiple linkages to the rear triangle. The Anthem offers 85mm (3.5in) of travel out of a Manitou S-type SPV shock. This is short by the standards of modern suspension designs, but cross-country racers are happy to trade off suspension travel and comfort for low weight and performance. The seat angle is 73 degrees - pretty standard for cross-country bikes - while the head angle is a steep 72 degrees, but this is offset by a fairly long top tube. The chainstays are 16.7in/425mm, again a standard spec for a cross-country bike.
With a built up bike weight of 11.4kg (25lb) for an 18in frame, the Anthem is well into the cross-country weight range. While it's technically possible to build a lighter dual suspension bike, this often involves exotic ultralight components. The Anthem has a top shelf build, but all the components are mainstream for top level racing.
The build
Our test bike came equipped with a fairly typical top shelf race build. All the components were premium quality, without going into the super-exotic realm. Giant's bikes are differently specced for different territories, and the Anthem LE is unique to Australia. In the US and Europe, Giant offers the Anthem 1 with high-end SRAM, Race Face and Hayes components in place of the LE's Shimano XTR group. The Anthem 1 has a Manitous R7 Super fork in place of the LE's R7 Platinum and a WTB saddle instead of the Selle Italia. However, The Anthem 1 and Anthem LE have the same shock, wheels, tyres, bar, stem, and seatpost.
The job of holding the bike off the ground is performed by Mavic Crossmax SL wheels, garbed in Hutchinson Python tyres. Giant has specced a UST tyre on the rear and a conventionally-tubed model on the front. Although the UST system does weigh about 30g more than a lightweight tube in a conventional tyre, any time losses due to this weight are more than offset by not having to replace a pinch flatted tube. The risk of the front pinch flatting is fairly low, so the few grams saved on the front is unlikely to cause any problems.
Suspension components are provided by Manitou, with a Stable Platform Valving-equipped R7 Platinum fork on the front and an S-Type shock on the rear. The fork provides 80mm of travel, which suits the 85mm of rear travel well. At 1360g claimed weight the R7 is a lightweight fork, but provides an impressive degree of shock absorption, with reasonable rigidity. Some flex was detectable but the R7 is a vast improvement over lightweight forks of only a couple of years ago.
The drivetrain and brakes come from Shimano's XTR range, with an external bearing 22/32/44 crankset and an 11-34 rear cluster combined with Shimano's Dual Control levers. If you're going to spec a tubed tyre on the front to save a few grams, it seems odd not to spec the 11-32 cluster on the rear and save some more weight, especially since this bike is aimed squarely at racers. Then again, you might be grateful for the 34 at the end of a longer race.
The bar and seatpost were carbon items from Race Face's Next range, complemented by a Race Face Deus stem. The saddle is clamped by a novel system; the rails are pinched from the side, while the saddle angle is controlled by a linkage joined to a sliding clamp on the seatpost. Calibrated markings on the seatpost allow precise adjustment, and the system did a good job, but it's a fairly complex solution to the problem of attaching a saddle to a seatpost.
A conventional, non-quick release seatpost clamp is provided. We prefer quick releases on trail bikes, but there's a good argument that racers will adjust the saddle once, and that every gram counts. As a race focussed bike, this style of clamp isn't out of place on the Anthem.
A miniscule Selle Italia SLR XC saddle completes the build, and is very much in line with the racing image of the Anthem. Despite it's skeletal appearance the saddle was comfortable in use.
The ride
The Anthem's first outing was at a local short course cross country race. Its luminous white paint job and top shelf build attracted quite a few stares, even from sponsored riders. With that much attention there was a certain incentive to perform well, and the Giant was beautifully responsive. The Anthem feels like a hardtail when you're out of the saddle, and accelerating out of tight corners was a joy. The XTR brakes provided excellent stopping power, and the tyres offered plenty of grip. After victories in C and B grade, the rider let the bike down with a back of pack finish in A grade. Given I'm normally somewhere in the top half of B grade on a 100mm travel duallie, this bike is well suited to XC racing.
While its cross-country racing credentials are fine, there remained a question of this bike's ability as a general trail bike. Technical climbing was easy, due to the light weight and responsiveness, and tight technical descents were generally handled with aplomb. In and out of the saddle the Anthem felt fast and nimble, but not twitchy. Rough firetrails and rocky descents begged to be attacked out of the saddle, and I often found myself several gears higher than I'd normally be riding.
On a very rocky flat firetrail the Anthem provided a certain degree of cushioning, but pedalling ability was definitely compromised. A fast descent with multiple 30cm drops in rapid succession also showed up the Anthem's shortcomings, with it feeling very unstable halfway down until the brakes were put to good use. In the Anthem's defense these trails aren't typical of the majority of XC courses, and would unsettle a hardtail with race geometry even more, but it's worth noting that with only 85mm of suspension this bike will become unsettled on rougher trails.
The balance turned out to be a little rear-heavy on some very steep climbs. Out of the saddle there wasn't an issue, but if I tried to remain seated the front became very light, to the point that I was using almost as much energy to control the bike as to power it. Under race conditions it'd be rare to be seated on a climb as steep as these, since they're prime spots to make up time, but a pinch in the middle of a longer climb might present problems.
The drivetrain did seem a little broad for a race bike. I rarely reached for the larger sprockets at the back, and only used the granny for the seated climbing test, which showed it to be the wrong way to attack steep climbs on the Anthem. Dropping the 22 tooth granny gear would save a few more grams, and it'd be worth considering doing so, possibly replacing the 32 tooth middle ring with a 29. This is a relatively easy change to make, so presumably Giant have left it as an option for the rider rather than tying them to a 2x9 setup.
Conclusion
Giant has definitely aimed the Anthem squarely at cross country racing, and succeeded extremely well. This is a bike that begs to be ridden flat-out in races, and delivers race-winning performance. If your heart, legs and lungs are up to it, the Anthem won't let you down.
The Anthem's nimble handling, light weight, and hardtail like responsiveness scream race bike, and it's a joy to attack out of the saddle. At 25lb it's not quite the lightest dual suspension bike I've heard of, but it's a bike that you can ride with confidence in the strength of the frame and parts, which is worth more time than a few grams.
However, as a do-everything trail bike with race capability the Anthem doesn't quite work. That job falls to the 100mm travel Trance, which will handle the really rough stuff a little better. As a race bike that can handle almost any trail, though, the Anthem works well. This is a bike you buy as a race day weapon to complement your existing trail bike.
At AU$5,599 (and equivalent prices elsewhere for the Anthem 1) the Anthem LE is also excellent value for money. if I were in the market for a cross-country race bike I'd be having a very close look at the Anthem. This is a bike designed and specced to provide race performance.
Pro: Light weight, nimble, race-specific bike
Con: Race-specific bike
Suggested retail prices: AU$5,599. USA (Anthem 1): US$4,000, UK (Anthem 1): UKP2,999, Europe (Anthem 1): €4,000
Weight: 11.4kg/25lb
Cyclingnews Rating:

Update: Giant responds
Shortly after the above review was posted on Cyclingnews, we recieved the following comments from Michael Howes at Giant Australia clarifying a couple of details of the Anthem LE.
"Regarding the mix of UST and non-UST tyres, our apologies - this must have been a mistake on our sample bike that I did not pick up. The production bikes will be UST front and rear!

"Regarding the comments about the rear-weighting of the bike during climbing, please bear in mind that in Australia, we spec the whole Anthem range with 100mm forks (in other markets, the bike uses 80mm forks). We do this for several reasons.

"With Fox 80mm travel forks, you cannot convert them to 100mm (you can however convert the 100mm Fox forks down to 80mm). Accordingly, we spec the Fox at 100mm to give the consumer the option of lowering them and we spec the rest of the range at 100mm for consistency. Overall, we'd rather the consumer had the relatively cheap option of having the forks lowered to 80mm if they choose to drop the front end of the bike (and steepening up the head angle to the true 72 degrees. The AU bikes are more like 71 degrees with 100mm travel fork).

"Also, in our opinion, the trend even in XC/race in Australia has been leaning more toward 100mm travel forks in the past couple of years. The platform technology allows the forks to still perform very efficiently at this travel and the added travel allows a more aggressive style."
Photography
For a thumbnail gallery of these images, click here
Images by Paul Henderson-Kelly/Cyclingnews
Full specification: Giant Anthem LE

Frame: Giant 6013 ALUXX Maestro 3.5in travel, multiple linkage
Shock: Answer Manitou S-Type SPV
Fork: Answer Manitou R7 Platinum
Colour: White
Sizes: 14.5in, 16in, 18in, 20in, 22in
Seat Angle: 73°
Head angle: 72°

Cranks: Shimano XTR 22/32/44
Bottom bracket: Shimano XTR
Front derailleur: Shimano XTR
Rear derailleur: Shimano XTR
Rear cassette: Shimano XTR 11-34

Levers: Shimano XTR Dual Control
Brakes: Shimano XTR disc

Wheels: Mavic Crossmax SL UST
Tyres: Hutchinson Python MRC folding 2.0in

Stem: Race Face Deus XC
Bars: RaceFace Next XC Composite
Headset: FSA integrated
Grips: Giant lock-on

Pedals: Shimano SPD
Seat post: Race Face Next Composite, 350x30.9
Saddle: Selle Italia SLR XC

More information:, www.giantbicycles.com