MTB News & racing round-up for July 13, 2005
Edited by Steve Medcroft
Welcome to our regular round-up of what's happening in the dirt. Feel free to send feedback, news and gossip to mtb@cyclingnews.com.
JHK puts early-season injuries behind him
By Steve Medcroft
In another sign of the second coming of American mountain biking, US cross-country national champion Jeremy Horgan-Kobelski (Subaru - Gary Fisher) scored a fifth in the Angel Fire World Cup cross-country race; his best ever finish in World Cup competition.
The remarkable thing about the result is that Horgan-Kobelski is just reovered from a horrible fall early in the year at the Sea Otter Classic where he had to be airlifted to a nearby hospital for treatment. "I broke seven ribs and my sacrum," he says about the crash. Sacrum? "It's the lower-most bone in your spine, at the base of the tailbone. I fractured it and was pretty lucky I didn't do more damage." Lucky because the bone is a junction which routes the bundles of nerves that feed a racers second-most important asset: his legs.
The crash was season threatening for both physical and mental reasons but Horgan-Kobelski focused on recovery and not on the potential damage to his season. "I was on the trainer after a week," he said. "Then on the road bike. Then the mountain bike a couple of weeks after that. It was about a month before I could de really intense workouts."
It's been three months since Sea Otter and Horgan-Kobelski is still feeling the effects of the crash. "I bruised my right rotator cuff so I have instability in my shoulder that still bothers me," he says. "But the ribs feel great."
He's been able to race well at recent NORBA and World Cup events, but the true test of his recovery would come at what Horgan-Kobelski says was one of his major goals of the year - to stand on the World Cup podium at Angel Fire. The first U.S.-based World Cup in three years, Angel Fire's altitude seemed to suit Horgan-Kobelski's style. "I feel this was a good course for me."
The rest, as they say, is history. The U.S. champion placed fifth at Angel Fire and took his step on the podium alongside Christoph Sauser (Siemens Cannondale), Geoff Kabush (Maxxis), Erwin Bakker (Heijdens-Ten Tusscher) and Kashi Luechs (Bianchi Agos).
The 24-hour kid - how Cameron Chambers just may take over the 24-hour world
Cameron Chambers
Photo ©: Ryan Atkinson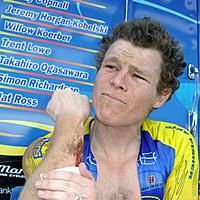 Cameron Chambers was a surprise winner of the recent US national solo 24 hour mountain bike championships, but with roots deep in cycling and plenty of singlespeed training time behind him, the 23-year-old is no rookie. And his approach to 24-hour racing is considered beyond his years, as Steve Medcroft found.
In solo 24 hour racing, there is an accepted tactic of the elite-level pros where they race at or as close to World Cup cross-country pace in the opening laps, hold their position through the night, then, if necessary, surge in the morning to chase down the leader (or put the nail in the coffin of your competitors if you are the leader). Many people attribute the approach to Tinker Juarez, who came to endurance racing after a long and successful World Cup career and forgot to slow down when he took on longer events.
So in the 2005 24-hours U.S. National Championship race (May 28-29, 2005 in Spokane, Washington), it was no surprise when 24-hours big guns Tinker Juarez, Nat Ross, Chris Eatough screamed around the dusty and hot course from the sound of the air horn.
The 24 hour kid
Behind them on the trail sat Cameron Chambers, a 23-year-old Fisher/Subaru sponsored rider from Great Bend, Kansas. "I don't follow that tactic," Chambers said after the event. "We all have so much fitness and it's obvious that we're all going to use every last ounce of it and no matter where I spend it in that race, it's going to be thin. I don't see the benefit in going that fast right away."
See the rest of the profile here.
Three World Cup series competitions get settled in Angel Fire
Steve Medcroft
Christoph Sauser (Siemens Cannondale)
Photo ©: Marek Lazarski

Three World-Cup series were settled in Angel Fire, New Mexico when Gunn-Rita Dahle (Multivan Merida), Christoph Sauser (Siemens Cannondale) and Greg Minaar (Team G-Cross Honda) won their respective events and put enough World Cup points between themselves and their second-place rivals to close out the Cross Country and men's Downhill competitions.
The Angel Fire World Cup, the seventh round of cross country and sixth rounds of four-cross and downhill, were the first World Cup races held on U.S. soil since Telluride, Colorado in 2002. And after many top competitors skipped the previous week's races in Balneario Camboriu, Brazil (July 2-3), more than 300 riders - many of them Americans - showed up in New Mexico.
Minaar, Sauser and Dahle were clearly the favorites but a combination of altitude, heat, dry-dusty mountain air and North Americans with podium ambitions (like Marie-Helene Premont (Rocky Mountain Business Objects) and Geoff Kabush (Maxxis)) meant that nothing was assured.
In the men's cross-country competition, second-place José Antonio Hermida Ramos (Multivan Merida) skipped Angel Fire in favor of preparing for the Spanish national championship race and all Sauser needed to do was place well to take the series. Instead of settling though, he set the pace and won ahead of Canadian national champion Kabush. The win was a stamp of authority on the series and sets Sauser up as a clear favorite in next month's World Championship (September 4, Livigno, Italy).
Gunn-Rita Dahle (Multivan Merida)
Photo ©: Marek Lazarski

For Gunn-Rita Dahle, Angel Fire was her twenty-first World Cup win and her third World Cup series win in a row and was won only after a battle with her young nemesis. Dahle would open a gap over Premont on the course's technical downhills only to find the young Canadian creeping back on the climbs. In the end, Dahle prevailed. "I am totally happy about my victory here," the Norwegian said afterwards. "I had no idea how I would cope with the extraordinary altitude. I have only arrived Tuesday, which is not the optimum way to get used to the thin air."
Dahle says she now wants to break Julie Fortado's 28-race World Cups Wins record.
South African Greg Minaar (Team G-Cross Honda) won a close race in Angel Fire. In the downhill final, Minaar first put a five second gap over a long-standing best time set early in the run by Chris Kovarik (AUS). The only racer left with a chance to upset Minaar was Aussie Jared Graves, who had beaten Greg in the opening round of the NORBA series in Tapatio Springs, Texas. At the interim timing checkpoint, Graves was 0.49 seconds faster that Minaar and it wasn't until the dust settled after Graves' run that Minaar's win was secure.
Greg Minnaar (RSA)
Photo ©: Marek Lazarski

The win was Minaar's third World Cup in a row and put an end to the Downhill series. "It hasn't really sunk in yet, I can't believe it," Minaar said after the win. "I knew there was a chance of taking the overall today but I didn't want to have that distract me, so I just focused having a strong result. In the top section of the final I wasn't as quick as would have liked so I really hammered down the bottom to make up the time."
NORBA competition resumes this weekend (July 15-17) at Schweitzer Mountain Resort in Sand Point, Utah. The rest of the mountain-bike racing world will be contesting various Northern Hemisphere national championships.
Click here for full results, photos and race reports from Angel Fire.
Bad Goisern MTB Marathon World Cup wrap-up
By Steve Medcroft
Moritz Milatz (Multivan Merida)
Photo ©: Erwin Heiden

Angel Fire wasn't the only site of World Cup racing the weekend of July 10. Five thousand miles away, in Bad Goisern, Austria, 130 racers competed in the fourth round of the UCI's Marathon World Cup.
Held in the picturesque mountain country of upper Austria, German Moritz Milatz (Multivan Merida) put almost five minutes on the second place rider to earn the first-ever marathon World-Cup win for a German rider.
"I couldn't believe no-one had caught me," he said at the finish after racing the final forty kilometers solo. "Not until I crossed the finish line, did I realize I had won."
Moritz wasn't the only rider surprised by his victory. Current World-Cup leader and pre-race favorite Massimo De Bartolis (Ita.) finished fourth, seven minutes behind Milatz. The only rider to come close was Colombian marathon specialist Hector Leonardo Paez, who stayed with Milatz to the sixty-kilometer mark, after everyone else from the lead group had been dropped, then threw a chain and never saw Moritz again.
To cap off the day's racing, in a field that contained Paolo Pezza (Specialized), Swede Anna Enoccson (Ghost International) won the women's race over Sandra Klose (Rosenheim/Fuji Bikes).
Click here for the full results and Marathon World Cup standings
George Bush falls off mountain bike on birthday ride
By Steve Medcroft
U.S. President George Bush wanted to celebrate his fifty-ninth birthday with a little mountain biking after Air Force One got him to Gleneagles, Scotland for the beginning of the G8 Summit last Thursday.
Bush is well known for mountain biking on protected government-owned land around Washington D.C. and on his ranch in Crawford, Texas; always under the watchful eye of a Secret Service accompaniment.
But not one of his body guards was quick enough to stop Bush from taking a tumble into a Scottish police officer forty-five minutes into his ride.
"We were flying," Bush said to reporters after the incident. "When you ride hard on a mountain bike, sometimes you fall. Otherwise, you're not riding hard enough."
Through his comments, Bush revealed that he is at least paying cursory attention to the world's biggest bike race. "The pavement was slick and the bike came out from underneath me," he said about his crash. "Just like that person in the Tour de France the other day."
Bush suffered scrapes on his hands and was able to resume work as normal later the same day.
Unfortunately, there was no report on the state of his Trek Fuel mountain bike and calls to the Whitehouse to confirm whether or not Mr. Bush has any post-presidency racing aspirations were not returned.
US MTB Nationals return to Mammoth in July '06
The USA Cycling Mountain Bike National Championships will return to Mammoth Mountain, Calif. in 2006 but will shift to an earlier date, the national governing body announced yesterday.
Scheduled for July 20-23, 2006, next season's USA Cycling Mountain Bike National Championships falls more closely in line with the traditional mid-summer UCI date.
"I think this will be another welcome change for our members," commented USA Cycling chief executive officer Gerard Bisceglia. "With last year's new format and now a more attractive date during the heart of the mountain bike season, we're much better aligned with the rest of the international mountain biking community."
In 2004, the adoption of a one-day USA Cycling Mountain Bike National Championships altered the way national champions were crowned as a season-long national championship series was no longer used.
2006 will mark the third consecutive year that Mammoth Mountain has hosted the event.
With a new date in place for '06, a new qualifying timeline has also been introduced. Riders who meet the qualifying standards beginning August 1, 2005 will be eligible to compete at the 2006 USA Cycling Mountain Bike National Championships.
As a result of the new date and new qualifying window, a six-week period late this summer also affords the opportunity for USA Cycling members to qualify for both the 2005 and 2006 championship events. Riders who meet the qualifying standards between August 1, 2005 and September 12, 2005 will automatically be qualified to participate in the 2005 and 2006 editions.
Marzio Deho and Pia Sundstedt win 111 kilometer Dolimiti Superbike
Italian Marzio Deho won the 11th Dolomiti Superbike. The 37-year-old marathon specialist beat former Olympic champion Bart Brentjens (Netherlands) by two minutes and eleven seconds on a course that ran 111 kilometers, featured more than 9,000 feet of climbing and wove through the towns of Hochpustertal, Niederdorf, Toblach, Sexten, Innichen and Prags.
Deho knew that Brentjens would be his strongest rival. "But I always believed in victory," he said. "At the first Mountain Prize, I was 15 seconds behind. The difference grew to more than one minute because of a crash. After the second Mountain Prize I had a flat. At that moment I was behind over two minutes. I was able to catch Bart on the uphill to the Plätzwiese, the highest point of the event.
Click here for the full results & report
Australian World Championships team announced
Mountain Bike Australia
Australian National Mountain Bike selectors have chosen the following riders to represent Australia at the UCI World MTB Championships in Livigno, Italy from the (Aug 29 - Sep 4, 2005)
Junior XC Men: Lachlan Norris, Garry Millburn, Cal Britten, Joel Healy , Andrew Arthur, Daniel Johnston.
Junior XC Women: Erica Oldfield.
U23 XC Men: Trent Lowe, Shaun Lewis, Daniel McConnell.
Senior XC Men: (Opportunity exists for additional elite seniors to qualify by 25th July) Dylan Cooper, Sid Taberlay, Brent Miller.
Senior XC Women: Emma Colson, Niki Fisher, Niki Gudex.
Junior DH Men: Amiel Cavalier, Liam Panozzo, Christopher Panozzo, Ayden Eves, Sam Hocken, Hugh Mansfield, Darren Pokoj, Alex Swann (Reserve).
Junior DH Women: Tracey Hannah (TBC)
Selections for senior men and women for DH and 4X - disciplines in which Australia has an almost-embarrassing wealth of talent especially in the men - are yet to be finalised. These will be decided by the end of July.
Just Having Fun - an interview with Adam Craig
World Cup #5 in Canada
Photo ©: Marek Lazarski

After a disappointing year in 2004, Adam Craig's renewed passion for racing is on show in his results. The product of a relaxed outlook in terms of objectives, the young American's approach seems to be paying dividends with strong performances at the MTB World Cup events so far this season. Rob Karman caught up with Craig before this weekend's Angel Fire World Cup round.
For Adam Craig it's all about the podium... and having fun.
As I sit down in Adam Craig's living room for an interview before we go for a short ride and he heads to the airport for the Angle Fire World Cup, I'm struck by a rather odd looking coffee table.
Cyclingnews: Tell us about the coffee table...
Adam Craig: My esteemed roommate, Megan Elliot, who moved here the same time I did in January when we didn't have any furniture, had these plyometrics boxes we turned into a podium/coffee table/magazine, blanket, trophy rack (laughs) with some toys on it too (laughs more). We actually have a coffee table in parts over there, but I haven't had time with all the traveling and riding and racing etc to put it together, and that's how it's generally been around here.
CN: Good stuff. So, last two World Cups, fourth place in both. The best American results in a long time. What's different this year? Why are you doing so well?
See the rest of the interview here.
Hans Rey and Thomas Frischknecht on the Alta Rezia Freeride Tour
A little ride by the lake
Photo ©: Stefan Eisend

Thomas Frischknecht is one of the most experienced XC riders on the World Cup MTB circuit. In a break from competition recently he was given the opportunity to ride the Alta Rezia freeride tour, a transalp odyssey throughout Switzerland and into Italy. It makes for intersting and entertaining reading, and the photos show how spectacular the environment is. Hans Rey takes up the story... Just...wow!
A few days ago I finished my latest 'Hans Rey Adventure Team' trip together with XC legend Thomas Frischknecht from Switzerland. We took a six-day freeride tour in the heart of the Alps, utilising ski-lifts, gondolas, trains and shuttles to get around and to the top of some of the best singletrails in the world. We did close to 60,000ft (20,000m) of vertical downhill trails. The Alta Rezia regions consists of approx. 40 villages, partly Swiss and partly Italian; our route started in St. Moritz via Tirano via Livigno to Bormio, with many detours and surprises along the way.
The "Alta Rezia Freeride" will become a permanent route for people to ride on their own in the future. One can either ride the entire six-day route or choose any individual stage, always using public transportation to get up the mountains or back to the point of origin. The region will provide maps, a DVD and GPS coordinates free of charge in 2006 to follow our tyre marks (www.alta-rezia.com).
Frischi was the perfect partner for this trip. The Freeride boom is just about to hit Europe and our diverse backgrounds - Mr. Cross Country and Mr. Extreme - were the perfect combination for this expedition. But we also have much in common besides our passion for mountain bikes and Italy; we are both Swiss, World Champions, MTB Hall-of-Famers and both of us have been around since the early days of mountain biking. Frischi rode a Scott Genius MC10 (4 inch) with a Fox Trail Tune 130 fork, I rode a brand-new prototype GT i-drive 7 (7 inch) with a Fox 36 fork.
See the complete article here.
Epic prize money at Australian 100km MTB race
Organisers have announced a total prize pool of more than $40,000 including $15,000 cash for the 2005 edition of the Flight Centre Peppers Hidden Vale Cycle Epic, a 100km mountain bike race in southern Queensland on the weekend of September 3 and 4.
Epic promoters Peter Creagh and Tod Horton said the big prize pool is a deliberate strategy to entice elite riders to sign up.
"A significant enhancement to the 2005 Epic is the introduction of the Pro Teams Trophy," said Creagh. "Basically we're giving $2,000 to a team of riders who complete the 100km with the fastest combined time."
"Teams need to be a minimum of three riders, and maximum of four, with the fastest three times taking out the Trophy. This concept has been used successfully in other sports and while it's not new, it is new to mountain bike competitions."
Elite riders can win additional $400 cash for the first rider across the line at each stage checkpoint.
This year's edition has been expanded to two days with a Kids Mini and Minor Epics open to children aged 5 to 13 years of age on the Saturday.
The Peppers Hidden Vale Cycle Epic is one hour's drive from Brisbane, one and a half hours from the Gold Coast, and two hours from the Sunshine Coast and the main event will be held on Sunday 4 September 2005.
For more information see www.cycleepic.com.au
Gunn-Rita Dahle Diary: Doing it tough at World Cup Canada
The World Cup race at Mont Sainte-Anne in Canada turned out to be an experience I won't forget in a hurry. Everything started out just fine, right until my legs suddenly became completely and utterly empty of any trace of energy. The race turned into a fight to simply stay on my bike. I managed to complete the race as number two behind Canadian Marie Helen Premont, but lost three whole minutes to the winner on the last lap.
Sunday evening has arrived here in Mont Sainte-Anne. The place is probably best known for its popular skiing facilities, and is situated a short hour's drive from Quebec. We left the high altitudes of Boulder on Tuesday morning and were in place here on Tuesday evening. We met up with Lene Byberg at the airport and travelled with her up here, where we've been living in rooms together as part of the Multivan Merida Biking Team, only a short kilometre from the World Cup race circuit.
Kenneth and I focused on rest and recuperation all week in order to gather as much energy as possible before the five World Cup races of the season. I had two really tough weeks of training at high altitudes in Boulder, so my legs weren't great during the week, but not too bad either. The race-day was to be Saturday, and not Sunday like last year, meaning that we had one day less at low altitude after our stay at Boulder. Apart from that the weather had been reasonably good in the run-up to the race day, with only a few afternoon showers on a couple of days.
See the entire diary entry here.
Geoff kabush diary: High times in New Mexico

After getting lucky and avoiding the rain again in Mt St Anne I headed down to Albuquerque for a couple weeks training before my next WC in nearby Angel Fire, NM. It definitely wasn't anywhere close to raining in Albuquerque, and at 95F every day I set some new records for bottles consumed on my long training rides. Had time to get our apartment in order and we can now finally park the car in the garage...barely.
Toulouse came down a few days early to set up camp in the living room and train in Albuquerque; we waited to head up to Angel Fire until Friday to avoid the 8500ft of altitude.
See the entire diary entry here.
On test: Giro E2 helmet
For mountain bikers only?
Photo ©: John Stevenson

John Stevenson straps on Giro's cross-country mountain bike racing lid and decides he likes it so much he keeps it on for an entire day.
Giro's helmets are very much in the public eye at the moment as the company supplies the Discovery Channel team with Atmos road helmets and the sleek and slippery Advantage time trial lid. Away from the tarmac, Giro's E2 is the company's top model for cross-country mountain bike riding and racing, and since Giro stopped offering a peak on its road helmets it's also the highest-spec model Giro makes with a handy plastic protrusion to keep the elements out of your eyes.
See the entire review here.
(All rights reserved/Copyright Knapp Communications Pty Limited 2005)