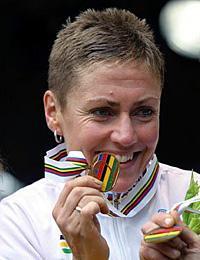 Photo ©: Birke Ulrich
On top of the world: The Gunn-Rita Dahle diary 2005
Norwegian cross-country mountain bike racer Gunn-Rita Dahle is probably the best female rider this relatively young branch of the sport has ever seen. World champion in 2002 and 2004, Olympic champion in 2004 and unbeaten in the World Cup in 2003 and 2004, she has a breath-taking palmares.
Dahle says her success is due to an unrelenting focus - she describes herself as a '24-hour athlete' - and the constant support of her boyfriend and coach Kenneth FlesjŚ. Follow her exploits on Cyclingnews as she works to stay at the top of her game in 2005. Or, for more Gunn-Rita, see her personal website: www.gunnrita.com
July 6, 2005
Doing it tough at World Cup Canada
Gunn-Rita Dahle
Photo ©: Marek Lazarski

The World Cup race at Mont Sainte-Anne in Canada turned out to be an experience I won't forget in a hurry. Everything started out just fine, right until my legs suddenly became completely and utterly empty of any trace of energy. The race turned into a fight to simply stay on my bike. I managed to complete the race as number two behind Canadian Marie Helen Premont, but lost three whole minutes to the winner on the last lap.
Sunday evening has arrived here in Mont Sainte-Anne. The place is probably best known for its popular skiing facilities, and is situated a short hour's drive from Quebec. We left the high altitudes of Boulder on Tuesday morning and were in place here on Tuesday evening. We met up with Lene Byberg at the airport and travelled with her up here, where we've been living in rooms together as part of the Multivan Merida Biking Team, only a short kilometre from the World Cup race circuit.
Doing it tough
Photo ©: Marek Lazarski

Kenneth and I focused on rest and recuperation all week in order to gather as much energy as possible before the five World Cup races of the season. I had two really tough weeks of training at high altitudes in Boulder, so my legs weren't great during the week, but not too bad either. The race-day was to be Saturday, and not Sunday like last year, meaning that we had one day less at low altitude after our stay at Boulder. Apart from that the weather had been reasonably good in the run-up to the race day, with only a few afternoon showers on a couple of days.
On Friday evening we experienced a change in the weather which really let us know the meaning of extreme humidity. So when we all lined up for the race on Saturday morning at 11am, the sun was extremely hot; a good 30c, combined with very high humidity. Usually I don't react badly to hot weather, so I didn't expect to have any problems on the race day.
During my warm-up, which I usually do on rollers for 45 minutes in all, I felt fine and my body felt all geared up, ready to race. The women were to ride five laps, each 5.4km, plus one start lap. Marie Helen Premont took the lead up the first climb after the starting round, but I passed her before the top and into the first technical section. I rapidly gained a few seconds which I kept stably through the first lap, and I completed the first lap a good 10 seconds in front of Premont.
During the second lap I increased my lead by a few more seconds, but Premont turned out to be very strong today and refused to let go. I had a few places on the course where I counted seconds back to her while she caught up others in previous parts of the round. At the most I had a good 30 seconds' lead back to Premont, which is not a comfortable distance at all, especially not in this kind of technically demanding and tough race circuit which they have at Mont Sainte-Anne.
Battling on
Photo ©: Rob Jones

When the fourth round was half finished I still had a lead of about 30 seconds, but then suddenly everything said stop. It felt as if my legs had absolutely no energy left in them at all, my skin was covered in goose-bumps, and my arms started shaking. My water bottle and energy gel were frantically emptied in the hopes of getting a bit of feeling back into my legs, but this time nothing would work. I hardly noticed Marie Helen passing me on the last hilltop of the fourth lap, and at the next check-point I was a good 30 seconds behind her.
The fifth and last lap was extremely long for Ms Dahle! I didn't know how I was going to get up all those steep climbs that still remained, much less how I was going to stay on my bike through all those technical and demanding descents. Gratefully there were long distances back to our closest competitors, so luckily no other fit women caught up with me. The last lap included a few extra spills and knocks, as my entire body just felt completely powerless, and my eyesight was blurred too. I crossed the finish line almost three minutes behind Premont.
Gunn-Rita Dahle
Photo ©: Rob Jones

I was placed on a chair at the finish-line, drank copious quantities of water and energy drink, my cuts and scrapes were cleaned, my arms and legs were washed for me, and I talked to countless reporters all at the same time. The noise from thousands of people who had came to see Premont (who lives in this area) race was deafening, and they naturally welcomed their hero with plenty of cheering.
After a while I regained some energy in my legs, and managed to change into a clean and dry uniform. After that came the ceremony, and all the usual business. I was naturally very pleased to have managed to crawl my way to the finish-line and be number two again, and as I still keep the combined lead in the World Cup I can't be too disappointed.
Kenneth and I have gone through the race and evaluated the good and not so good happenings, as we always do. It was somewhat unusual this time, because I never usually go completely empty. In other words, a totally new situation for the both of us, and we've looked at various possible reasons for what went wrong yesterday. A second place isn't a bad result at all, and the strongest woman won.
Today we've been out cycling for a few hours together, and Lene and I have both had a great massage from Kenneth this afternoon. It's very important to get the circulation properly running again for a quicker restitution, thinking of the weekend. We're now as good as all packed up and ready for a new trip, and we're looking forward to seeing new places. We have a long trp ahead of us, but with time we've gradually learned that a travel day is something you've got to get used to.
We really hope that things are going well with all you people who love to cycle, and that your motivation is at an all-time high. If you feel you lack that essential spark, take a break and think through what you're missing in your exercise set-up. The trio from Norway wishes you all a continued great summer and exciting training. You'll hear from us again in a couple of weeks. On our schedule we have the World Cup race in Brazil, and after that there's a new race in New Mexico the weekend before we come home again to good old Norwegian soil and fresh west coast air.
Training stint of the week
Today Lene, Kenneth and I had a relaxing two-hour ride during which we stopped for a lovely Coke-break in gorgeous sunshine at the halfway mark, followed by a great cruise back to our little hideaway here at Mont Sainte-Anne.
Dinner of the week
Lene and I have been cooks together this whole week here, and we've had tasty dinners in the living room every evening. Mostly we've eaten salmon, trout, chicken and sole, and it's really tasted fantastic. Maybe we've all smelt somewhat strongly of garlic each day, but so be itÖ
Weekly advice
Tomorrow we're off travelling again and our water bottles are standing at the ready...but a good drink of water should be within reach at any time, no matter what your daily programme may be. Water is good for your circulation, your mood, your energy level, your metabolism, your wellbeing, and your rosy cheeks.
Cyclist's greetings from Gunn-Rita
(Multivan Merida Biking Team)
[Translation: Crispen T. P. de Lange]