An interview with Adam Craig, July 10, 2005
Just having fun
After a disapointing year in 2004, Adam Craig's renewed passion for racing is on show in his results. The product of a relaxed outlook in terms of objectives, the young American's approach seems to be paying dividends with strong performances at the MTB World Cup events so far this season. Rob Karman caught up with Craig before this weekend's Angelfire World Cup round.
Adam Craig
Photo ©: Mike Gladu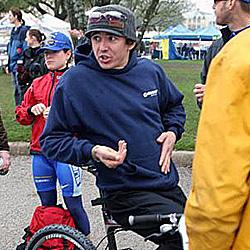 Age: 23
Date of birth: August 15, 1981
Place of birth: Bangor, Maine, USA
Resides: Corinth, Maine and Bend, Oregon.
Racing disciplines: MTB XC, cyclocross, Super D...
Teams: Devo, Giant/Pearl Izumi
Career highlights
2004:
NORBA Super D National Champion 2004
5th, World Cup Finals (1st American man on a WC podium since 1995) -
17th, MTB World Cup
1st, USGP CX, Tacoma, WA
2003

NORBA U23 National Champ
2002

NORBA U23 National Champ2002 -
CX U23 National Champ
2001

NORBA U23 National Champ
CX U23 National Champ
1999

NORBA Junior National Champ
For Adam Craig it's all about the podium... and having fun.
As I sit down in Adam Craig's living room for an interview before we go for a short ride and he heads to the airport for the Anglefire World Cup, I'm struck by a rather odd looking coffee table.
Cyclingnews: Tell us about the coffee table...
Adam Craig: My esteemed roommate, Megan Elliot, who moved here the same time I did in January when we didn't have any furniture, had these plyometrics boxes we turned into a podium/coffee table/magazine, blanket, trophy rack (laughs) with some toys on it too (laughs more). We actually have a coffee table in parts over there, but I haven't had time with all the travelling and riding and racing etc to put it together, and that's how it's generally been around here.
CN: Good stuff. So, last two World Cups, fourth place in both. The best American results in a long time. What's different this year? Why are you doing so well?
AC: 'Cause I've got no goals and no plans (laughs). That's why. I came into this year after last year being so serious with Olympic stuff and having it not work out for a bunch of reasons with no real focus to the year. I'm just going to race all the World Cups, see what I learn, ride a bunch, have a good time, enjoy travelling and going places and keep morale really high. I've just been having a really good time this year and nothing's gone wrong physically or just in general. The form's been staying strong because I've been happy and rested and having a good time so it's translated into really good races. On the podium in the last two World Cups, so it's good when it works out for sure.
World Cup #4, 2005
Photo ©: Mike Gladu

CN: You're going to need a World Cup podium in your living room soon.
AC: (laughs) I guess so!
CN: Now, when you say less serious, does that mean training less structured, just going out for fun rides?
AC: I've just been doing a lot of entertaining rides, which is really nice. Like two days ago Chris Sheppard and I went and got dropped off on the other side of Mt Bachelor and rode like 60 miles of single-track home. Took five hours, it was awesome. It was probably not what the doctor ordered as far as optimum training to prepare for this weekend's World Cup, but it was sweet, so whatever (laughs). I've been doing a lot of that this year.
"I'm just going to try and keep the steady riding good streak together"
- Craig's plan is simple and effective.
CN: Do you have a coach, or have you been self coached?
AC: I work pretty casually with a guy from Seattle, Craig Undem, who has the cycling university programme up there. He does a lot of skills coaching and clinics and stuff like that, but he also does a bit of proper coaching. I've been working with him since I started riding for Giant. Just super casually, like I talk to him every couple of weeks and we kind of bounce some ideas off and get an idea of what I probably should do if I'm not going to just be going out for long mountain bike rides or something (laughs).
World Cup #5 in Canada
Photo ©: Marek Lazarski

I do some intervals and some structure and there is a group of guys in town here with the Rebound Sports Performance Lab that do some Nordic skiing philosophy that I've been learning about. So applying some of their intervals and stuff like that. I mean definitely doing some smart scientific stuff in between having a good time so it all balances out.
CN: So this weekend, Hermida won't be there, how do you rate your chances of actually getting on top of one of these blocks here (pointing to podium)?
AC: I never count my altitude cookies at all. I have no idea what is going to happen this weekend. I've been feeling fairly gutted this week from the whole 30 hour travel the day after a really really hard World Cup, but generally when I feel terrible I race great.
Riding strong in the time trial
Photo ©: Rob Jones

There are going to be other guys like Christophe Sauser who won at Quebec, and Kabush and all the North Americans, so it'll be a lot fuller field this weekend. I'm going to use the 80 percent rule for altitude racing and hope that the World Cuppers who love to just kill it from the gun, which is what they do and you have to do; but you only can do at sea level, and at 8500 feet I think that is going to backfire on a lot of people. I'm going to try and race smart and drink a lot and catch a bunch of people in the last couple of laps. See where it takes me. Should be a good time.
I'm just going to try and keep the steady riding good streak together. I think I'm seventh overall in the World Cup right now and I think if I play my cards right I can get to sixth so I'm going to try and keep 'er steady and not do anything dumb. We'll see. The top step will probably be some other time, but you never know, maybe it'll be this time (laughs).
See also:
Adam Craig: Student of the sport - November 2004