On test: Giro E2 helmet, July 6, 2005
Comfort and style
John Stevenson straps on Giro's cross-country mountain bike racing lid and decides he likes it so much he keeps it on for an entire day.
Giro E2
Photo ©: John Stevenson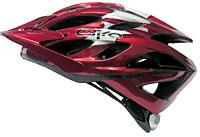 Giro's helmets are very much in the public eye at the moment as the company supplies the Discovery Channel team with Atmos road helmets and the sleek and slippery Rev 6 time trial lid. Away from the tarmac, Giro's E2 is the company's top model for cross-country mountain bike riding and racing, and since Giro stopped offering a peak on its road helmets it's also the highest-spec model Giro makes with a handy plastic protrusion to keep the elements out of your eyes.
The E2 shares many features with other high-end Giro helmets: adjustable Roc-Loc 4 occipital cradle; in-mold constriction and plenty of vents. In this case there are 24 holes for the wind to whistle through and keep your head cool, and they're connected with Giro's Wind Tunnel channels. One nifty feature is Giro's POV visor, which can be tilted up 15 degrees for situations where you need to get your head down and therefore want the visor out of your field of view. This is handy if you switch between road and mountain bike and use the same helmet for both.
For mountain bikers only?
Photo ©: John Stevenson

View from the top
Photo ©: John Stevenson

The peak
Photo ©: John Stevenson

Here's a gratuitous shot of the logo.
Photo ©: John Stevenson

Roc Loc occipital cradle
Photo ©: John Stevenson

The peak mounting
Photo ©: John Stevenson
The E2 is available in three sizes: S (51-55cm), M (55-59cm) and L (59-63cm) so, provided the internal shape is right for your head, you should be able to find a helmet that fits, no matter what.
I have a somewhat 'round' head shape and have always found I get on extremely well with helmets from Giro and its sister company Bell. The E2 was no exception - it could have been custom-moulded for me. I know I'm not unusual in finding Giro helmets are a spot-on fit - the number of them you see at races attests to the large number of happy Giro wearers out there. Speaking of races, I wore the E2 throughout the entirety of an eight-hour event last weekend and it was comfortable from start to finish. I was in a two-man team, swapping laps, so I could have taken it off between turns, but it was a cold day and the prospect of pulling a cold, soggy helmet back on was too unpleasant to contemplate.
The E2 also scores well in the cooling department, with plenty of vents and channels to keep the air whooshing over your head. It works, and in cooler weather I have to add a bandana to stop it working too well.
I'm happy to say I haven't had opportunity to test the E2's ability to protect my head in a crash. It passes Australian standards, which are generally considered to be the world's most stringent, and it's done a fine job of warding off low-hanging branches, which is the main thing I want to use a helmet for.
Looks aren't everything, but one thing you seem to get as you move up the price scale in helmets is better shaping and style. This is probably because the more complex moulds needed to create clever, detailed helmet shapes are more expensive to make, but the upshot is that top-end Giro helmets just look right. The company undoubtedly has some excellent product designers, and while the look of a helmet makes no difference to its comfort or crash-worthiness, can anyone honestly claim they don't care at all what they look like? I may not be able to ride as fast as Giro's sponsored mountain bikers but at least I can look the part.
It's always foolish to believe manufacturer's claimed weights, but the E2's actual weight of 345g is considerable more than the claimed 285g. It's still not heavy, but it's no featherweight. My only other gripe with the E2 comes from the ratchet strap in the Roc-Loc 4 occipital cradle, the widget that grabs the back of your head. Opening this up to accommodate a bandana in cool weather, I found it rather too easy to pull the ends of the strap out of the mechanism, and they're fiddly to re-insert. A small point, but an irritation, nonetheless.
Weight: 345g
Typical retail prices: USA - US$125; Australia - AUS$229
Colours: Red/white; blue/white; white/silver; pewter; lavender/white
Pro: Comfortable, stable, excellent ventilation, great looks
Con: Heavier than claimed; Roc-Loc 4 can be troublesome
Cyclingnews Rating:


More information: www.giro.com