MTB News & racing round-up for July 6, 2005
Edited by Steve Medcroft
Welcome to our regular round-up of what's happening in the dirt. Feel free to send feedback, news and gossip to mtb@cyclingnews.com.
What Jeremiah Bishop does on his summer vacation
By Steve Medcroft
Jeremiah

Bishop

in action at Mt St Anne
Photo ©: Marek Lazarski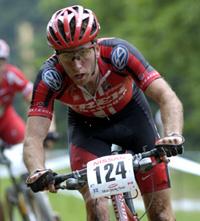 Many of the top mountain bike pros took the week between World Cups in Mont Sainte-Anne, Quebec (June 24-25) and Angel Fire, New Mexico (July 9-10) to get some quality recovery and training time. That means workouts at altitude, leisurely recovery rides, road work, massage and maybe some downtime to mentally prepare for the next event.
One American cross-country racer is taking a more active approach to his preparation, though. During his break, Trek's Jeremiah Bishop entered the six-day, 300-mile Tour de Burg stage race; a Harrisonburg, Virginia grass-roots event now in its tenth year.
Bishop describes the event as "hard core, back-country mountain biking and road riding" and "no way to spend the week off" but says his trainer put him up to it. "My coach (Hunter Allen) is a maniac. He wanted me to have a really hard week. But this race is tough."
Tough because you're racing on unfamiliar terrain? "Well," he says "this is my stomping ground. I know all the local trails; although we have done some I've never seen before. And the guys who put on the race has a habit of adding trails that I know would make some of my competitors whine." Like? "An absurd, hair-raising, never-seen-it-before three miles, 2,500-foot descent. Something right out of Lord of the Rings."
Tough because of the competition? "It does attract a bunch of tough yahoos that love nothing more than to ride really hard trails," he says, laughing.
Tough because your coach is asking you to pull such a long week? "Well, it's not so bad being asked to do a 30-hour week when the guy asking has done it himself." (Allen is an elite-level USA Cycling coach and a former roadie with the Navigators Pro Cycling team)
Okay, so maybe tough is not the right word, Bishop concedes and instead says the event is "hard, but it's the most fun I've had racing my bike all year."
Has the race, which Bishop currently leads, been good training? "It has. I'm building towards marathon worlds - which is my goal for the year - and this is the perfect training at the perfect time."
The Harrisonburg-based Tour de Burg (shenandoahmountainbikeclub.com/tdb2005.html) ends today.
Hermida storms the mountains of Brazil in World Cup win
By Steve Medcroft
José Antonio Hermida (Multivan Merida)
Photo ©: Multivan Merida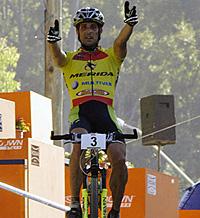 The UCI held its sixth round of World Cup cross-country racing and fifth round of downhill last weekend in Balneario Camboriu, Brazil. Citing the difficulty and expense in traveling to South America between two North American World Cups (Mont Sainte-Anne, Quebec, June 24-25 and Angel Fire, New Mexico), many top pro cross-country riders passed on the event though. Notably missing were series leader Christoph Sauser (Siemens-Cannondale), Canadian national champion and NORBA series leader Geoff Kabush (Maxxis) and women's cross country sensation, Marie-Helene Premont (Rocky Mountain-Business Objects).
Most of the usual suspects in the gravity world showed up though and contested downhill and four-cross on Saturday. For Brazilian Markolf Berchtold (Maxxis-MSC), the first ever South American MTB World Cup was a chance to perform well in front of a home crowd. Coming second to Greg Minaar (Team G-Cross Honda) by less than a second in a nail biting finish, Bechtold didn't disappoint and almost pulled off the dream upset.
But under sunny skies (temperatures in the mid eighties, sixty-five percent humidity and negligible inland breezes) on a dusty clay course that overlooked the Atlantic Ocean and included rider-high boulder drop-offs and launches, it was Minaar on the top step of the podium. Again: the win in Brazil is Minaar's fifth podium in 2005 (two second's a fourth and now two wins) and plants him firmly on top of UCI World Cup series standings.
In the women's event, Tracy Moseley (Kona Les Gets) earned her second World Cup win in a row which puts her just 30 points behind Sabrina Jonnier after the Frenchwomen was only able to post a third place in Brazil against only a fifteen-woman field.
But fifteen starters was a better field than the women's four-cross drew; only four women toed the start line and Jill Kintner (USA) managed to take the win. The men's 4X race was a little more competitive. Roger Rinderknecht (Commencal Oxbow) edged out Cedric Gracia (Siemens Cannondale) and Nathan Rennie (Aus) in the final for the win.
As for Sunday's cross country: without many top-name World Cup competitors, the race was an open door for Jose Antonio Hermida (Multivan Merida) and Gunn-Rita Dahle (Multivan Merida) to bolster their World-Cup series rankings.
For Dahle, winning meant that her World Cup points lead was back in safe territory (barring extreme misfortune in the remaining races) and the win was somewhat of a redemption for her Mont Sainte-Anne performance where, for the second time in 2005, she fell to Premont. It must have been a bittersweet redemption though since Premont wasn't in attendance and Dahle only overtook second-place Sabine Spitz (Specialized) after Spitz broke a chain and lost momentum.
No worries though; a better opportunity for Dahle to assert her dominance (or be challenged for it) will come next weekend (July 10) in Angel Fire, New Mexico where Premont is expected to attend.
The men's race was much more dramatic. Hermida won with a more than five minute margin, beating Roel Paulissen (Giant) Ralph Naef (Multivan Merida) and Adam Craig (Giant). Hermida's win pulls him within 85 points of series leader Christoph Sauser.
On a course that featured 1,500 feet per lap of climbing up beach front granite bluffs, Hermida also showed the kind of form that earned him a silver medal in Athens in 2004. US rider Craig, the only North American in attendance, said Hermida looked comfortable on the hot, steep climbs. "Every time I could see him on a climb, Hermida was charging," Craig said.
Behind Hermida, more than two thirds of the seventy or so confirmed starters originated from South America. With so many racers who don't usually compete in world-class competition, confusion reigned. "We heard someone say we had 15 seconds to go then this air horn blew," said Adam Craig from his hotel room after the race. "Everyone was looking around at each other not knowing whether that was the sign to go or not." Then a wave of riders began to roll and the pre-race favorites lost valuable ground. "The locals went nuts, blocking, throwing elbows." Meaning Craig, Paullison and Naef struggled in traffic while Hermida stormed off at the head of the race.
The only other international name in attendance was Australian Olympian and former national cross-country champion Sid Taberlay (Specialized), who seems to be recovering from the shoulder injury he suffered in the World Cup Marathon event in Mont Sainte-Anne: Taberlay grabbed the final spot on the podium.
Although Brazil, with its thin fields of international competitors, was a chance for riders to advance themselves in the standings, there should be another shuffling of the deck after next week's Angel Fire, New Mexico cross country event since some of the European pros - like Spaniard Hermida - are expected to skip the race in favor of a little prep time for the latter part of their seasons.
Here are the daily race reports and results:
Still got it -- Mountain Bike Hall-of-Famer Ned Overend wins Red Bull Divide and Conquer
Ned Overend (Specialized) has also been keeping his hand in on the road, as here in the Boulder Stage Race in May
Photo ©: Rob Karman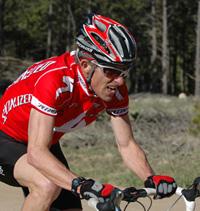 Sixty-four athletes battled cold temperatures, strong winds, high altitudes, raging rapids, and rugged terrain in the second incarnation of Red Bull Divide and Conquer. By winning this year's event, returning team Specialized/Riversports (anchored by UCI's inaugural World Mountain Bike Champion Ned Overend) set a new race record, beating last year's winning team by more than 21 minutes.
The multi-sport relay race featured a 7.5 miles trail run 6,000 feet up Kendall Mountain, a paraglide leg launched from the13,100 ft. peak of Kendall Mountain, the highest altitude competition launch in North America, a 24-mile kayak leg through the Class IV and V rapids of the Animas River and, finally, a 28-mile, 7,000 feet-of-climbing mountain bike leg.
It was on the mountain-bike leg that forty-nine year old Overend took the baton. "The bike leg is about three hours long but starts with a 3,000 foot climb in about 4 miles, a super steep climb, so it kind of sets the tone for the whole ride because your legs are blown after that," Overend said at the finish. "The combination of the prolonged steepness and the altitude, is just brutal, more than any other race I do."
Overend was the decider in the relay. The second-place team were neck-and-neck until the final leg when, with world-class mountain bike skill, Overend took the lead for his team on the final downhill.
Overend retired from World Cup mountain biking in 1996 but never fully retired from active competition. "I went right into, unexpectedly, the X-Terra mountain bike triathlons," he said in an interview from his home in Durango, Colorado. "Did the first one at the end of '96 and stayed with the circuit until 2002."
These days, he picks events that he finds interesting and that fit into his busy lifestyle. The Red Bull race worked because "it was local, which is always nice," he says. "It's also unique. I didn't know anything about it until a buddy of mine (Andy Corra, owner of Four-Corners Riversports and a teammate for the Red Bull event), suggested we put a team together. It was a different kind of race for me because it was a team event and I had never done that before."
The race has been good PR for Overend and his employer, Specialized. "My job with Specialized doesn't say anything specific but it is a mixture of product development, PR and community relations. This event pulled all those things together for me."
Overend says the race was such a good time, you can expect to see him at next year's edition.
The Red Bull Divide and Conquer debuted in Durango, Colo. in 2004 and is fashioned after the Red Bull Dolomitenmann race that has been hosted in Austria for 17 years. The race features four-person mountain sports relay teams dividing efforts by specialty to conquer specialized trail running, paragliding, kayaking and mountain biking courses.
The winning relay team took home their share of the $17,500 prize purse and a guaranteed seed to compete in the 18th annual Red Bull Dolomitenmann race in Austria in September 2005. Athletes with the fastest split times were also awarded a special trophy and $500 prize.
Liam Killeen quietly wins his first UCI World Cup
Liam Killeen (Specialized)
Photo ©: Colin Meagher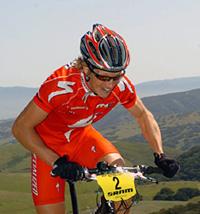 British mountain biker Liam Killeen (Specialized) took his first world cup win two weeks ago in the Mont-Sainte Anne, Quebec marathon World Cup race.
The riders were pretty lucky with the weather as the build up to the event over the past week has seen heavy rain falling all day and night, which completely water logged the course creating large and often very deep puddles, catching many riders off guard.
The field started off from the centre of Quebec City in light drizzle. On the first of many climbs, about 15km into the 96km race, the front group began to take shape with about eight riders, including the Italian squad of Full Dynamix containing the Marathon World Champion Massimo De Bertolis, as well as Liam's two team mates Australian Sid Taberlay and Austrian Alban Lakata.
Unfortunately, 30km into the race, the lead group took a wrong turn and ended up riding more than 3km in the wrong direction. By the time the error was realized and the group rejoined the correct course, they found themselves way down on the leading guys. At around 55km, what had once been the lead group with some main contenders was now a chase group, and this group began to split up on a long steep climb. Liam and de Bertolis broke away and rode together eventually catching the leaders at the 70k mark.
The final loop of the course was where the result was to be determined, as it included a steep wooded climb of more than 15km in length followed by a descent to the finish. Liam set the tempo on the second half of the long climb and managed to gap the other riders. Trying to keep it smooth all the way home, which was pretty difficult after four and half hours of tough off road racing, and a wrong turn with added distance, Liam began to pull away.
Eventually Liam crested the summit and descended to the finish line with a three minute margin over Massimo De Bertolis.
A tired but ecstatic Liam spoke shortly after the podium. "My first World Cup win! Even though it's a Marathon I feel as though this is an important stepping-stone for more important races to come."
Australia and New Zealand announce 2005/2006 MTB series
The Australian and New Zealand national mountain bike championship series calendars are now set.
For Australia, the season is comprised of 4 cross-country and downhill rounds and six rounds of four-cross (aka mountain-cross).
The first mountain-cross competition will be held in conjunction with the 2005 Australian Bike Show at a permanent mountain-cross track at Olympic Park in the middle of Sydney.
The first downhill and cross-country races will be held in Tasmania for the first time since 2000 featuring a newly constructed mountain-cross course. The second cross-country and downhill rounds will be held in WA, the first time since 1999!
The third cross-country round will be the first selection race for Australian elite riders at the 2006 Commonwealth Games, and will also incorporate the 2006 University Games. The 2006 Commonwealth Games cross-country course will be used.
The season finals will be staged once again at Mt. Buller, and cross-country will again be a long loop format, albeit with some minor changes to remove some of the more technically challenging parts of the course to make the race even more enjoyable.
The 2006 National Championships will be split to separate venues for cross-country and downhill to accommodate cross-country Commonwealth Games selection needs and to fit in with other events already scheduled in Thredbo. The National Champs will not be part of the series.
For New Zealand's series, Nelson has been confirmed as host of the 2006 New Zealand Mountain Bike National Championships, to be held on January 28 and 29. The National Championships, which is not part of the National Series, will be crucial build up to elite riders leading up to the Oceania Championships being held 3-5 March in Rotorua, and the Melbourne Commonwealth Games, where the cross country will be held on 23 March.
The 2006 New Zealand National Series includes six Cross Country and six Downhill rounds, with Coronet Peak near Queenstown and Napier hosting UCI points rounds. UCI points are valuable for individual world rankings and eligibility into major international events.
With Rotorua hosting the UCI Mountain Bike and Trials World Championships in August next year, 2006 will see the busiest mountain bike year ever experienced in New Zealand.
Australian National Series schedule
MTN-X #1 - October 25, 2005: Olympic Park, NSW
XC #1/DH1/MTB-X #2 - October 29-30, 2005: Hobart, Tasmania
XC #2/DH #2 - November 19-20, 2005: Nanup, WA
MTN-X #3 - November 26-27, 2005: Perth, WA
MTN-X #4 - December 3-4, 2005: Aemidale, NSW
XC #3 - December 10-11, 2005: Lysterfield, Vic
DH #3/MTB-X #5 - December 16-18, 2005: Thredbo, NSW
MTN-X #6 (finals) - January 7-8, 2006: Newcastle, NSW
XC Championships - January 12-15, 2006: Mt. Beauty, Vic
DH Championships - January 19-22, 2006: Thredbo, NSW
XC #4 (final)/DH #4 (final) - January 17-19, 2006: Mt Buller, Vic
New Zealand National Cross country Series
#1 - January 6-7, 2006: Treble Cone
#2 - January 13-14, 2006: Coronet Peak
#3 - January 20-21, 2006: Christchurch
#4 - February 18-19, 2006: Wanganui
#5 - February 24-25, 2006: Hawkes Bay
#6 - March 3-4, 2006: Rotorua
New Zealand National Downhill Series
#1 - January 8, 2006: Dunedin
#2 - January 15, 2006: Coronet Peak
#3 - January 22, 2006: Waipara
#4 - February 12, 2006: Palmerston North
#5 - February 26, 2006: Hawkes Bay
#6 - March 5, 2006: Rotorua
Pedro's Mountain Bike Festival returns
The 11th annual Pedro's Mountain Bike Festival will return to the Berkshires Aug. 5-7. The largest mountain bike festival in America, "Pedrosfest" is a rendezvous for cyclists of all ages, types, and abilities.
Although the festival retains its muddy mountain bike heritage, this three-day extravaganza is also about music, great food, camping, and family oriented activities.
"Just about every year we have added something to the event to attract new people. Sometimes it's something accidental, like the mud bog drag races. Other times it's an off shoot of that," said Richard Fries, who will return as the emcee of the event. "We started the slip 'n' slide to get the kids all cleaned up after the mud bog! Now it's a favorite event."
The musical acts have always been highlights of the festival, with bands playing Saturday night. A favorite event for families looking for a quieter evening has been the outdoor "ride-in" movie theater held Friday night. Increasingly road cycling events have been included in the schedule to complement the fat tire offerings. This year will feature special rides led by Olympic gold medalist Tyler Hamilton.
This year will also see the Mavic Lymphoma Research Foundation Marathon held Saturday morning.
"I have to say that what makes this event unique is the potluck supper attitude that my colleagues, and even my competitors, bring to this event," said Chris Zigmont, marketing director for Mavic USA. "We do our marathon to raise funds for a great cause. But all of the vendors pull together to offer something fun. It's just a carnival atmosphere."
One of the great features of the festival is the large selection of demo bikes offered by leading manufacturers. There is also a huge selection of components, clothing, and accessories in the expo area.
The 11th Annual Pedro's Mountain Bike Festival will be held Aug. 5-7 at Lanesborough, Mass. For more information visit www.pedrosfest.com.
(All rights reserved/Copyright Knapp Communications Pty Limited 2005)