MTB index page for all MTB content
World Cup XC #6, DH & 4X #5 - B
Brazil, July 2-3, 2005
Main Page Results Overall standings Previous Race
Race 6 - Elite men cross-country
Hermida pummels the competition in Brazilian World Cup XC
José Antonio Hermida (Multivan Merida)
Photo ©: Multivan Merida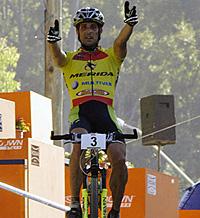 With a winning margin of more than five minutes, Athens silver medalist Jose Antonio Hermida (Multivan Merida) won Sunday's UCI World Cup cross country race in Balneario Camboriu, Brazil beating Roel Paulissen (Giant) Ralph Naef (Multivan Merida) and Adam Craig (Giant).
Amid a strange winter heat wave (temperatures in the mid eighties, sixty-five percent humidity and negligible inland breezes), the race started out with a little confusion. "We heard someone say we had 15 seconds to go then this air horn blew," said Adam Craig from his hotel room after the race. "Everyone was looking around at each other not knowing whether that was the sign to go or not." Then a wave of riders began to roll and the pre-race favorites lost valuable ground. "The locals went nuts, blocking, throwing elbows," Craig said. Hermida though, was free at the head of the race. "The rest of us were stuck in local traffic for the first ten minutes."
Craig says that Hermida was comfortable on the hot, steep climbs. "I settled in but every time I could see him on a climb, Hermida was charging." The Spanish rider built his lead by a minute for each of the five, six-kilometer laps and stayed away to the finish. Paulissen, Naef and Craig split apart on the races steep climbs to finally finish within three minutes of each other.
Australian Olympian and former national cross-country champion Sid Taberlay (Specialized) grabbed the final spot on the podium.
The win moves Hermida within 85 points of World Cup series leader Christoph Sauser (Siemens Cannondale) and sets up a head-to-head battle between the pair at the World Cup Finals in Fort William, Scotland (October 9).
As for the American, the World Cup points Craig earned in Brazil lifts him to seventh in the standings, the highest-ranked North American. And there should be another shuffling of the deck after next week's Angel Fire, New Mexico cross country event since some of the European pros - like Spaniard Hermida - are expected to skip the U.S. World Cup in favor of a little prep time for the last part of the season.
Photography
For a thumbnail gallery of these images, click here
Images by Multivan Merida
Results
1 José Antonio Hermida Ramos (Spa) Multivan Merida    2.05.00
2 Roel Paulissen (Bel) Giant-Racing-Team                 5.16
3 Ralph Naef (Swi) Multivan Merida                       8.04
4 Adam Craig (USA)                                       9.39
5 Sid Taberlay (Aus) Specialized Factory Racing         13.25
6 Milan Spesny (Cze)                                    14.33
7 Ivan Alvarez Gutierrez (Spa)                          15.26
8 Marti Gispert Labarta (Spa) Maxxis-Msc                15.59
9 Jakob Fuglsang (Den) Heijdens-Ten Tusscher            17.15
10 Philip Spencer (GBr)                                 17.52
11 Thiago Aroeira (Bra)                                 18.20
12 Marcio Ravelli (Bra)                                 20.24
13 Lukas Hanus (Svk)                                    22.02
14 Abraão Azevedo (Bra)                                 22.31
15 Cristobal Silva (Chi)                                23.29
                                                             
One lap behind                                               
                                                             
16 Edivando Cruz (Bra)                                       
17 Rubens Valeriano (Bra)                                    
18 Ricardo Pscheidt (Bra)                                    
19 Tacio Camargo (Bra)                                       
                                                             
Two laps behind                                              
                                                             
20 Apolonio Pinto (Bra)                                      
21 Javier Gallardo (Chi)                                     
22 Mauricio Bugarin (Arg)                                    
23 Odair Pereira (Bra)                                       
24 Carlos Paixão (Bra)                                       
25 Robson Silva (Bra)                                        
26 Leandro Rambo (Bra)                                       
27 Jiri Friedl (Cze)                                         
28 Josimar Santos (Bra)                                      
29 Ricardo Ortiz (Bra)                                       
30 Gustavo Oliveira (Bra)                                    
31 Gonzalo Aravena (Chi)                                     
32 Marcio Santos (Bra)                                       
33 Flavio Dal Seco (Bra)                                     
34 Felipe Avelar (Bra)                                       
35 Erlu Lucatelli (Bra)                                      
36 Pedro Bruno (Bra)                                         
37 Carlos Ribeiro (Bra)                                      
38 Carlos Alberto Cristovão (Bra)                            
                                                             
Three laps behind                                            
                                                             
39 Facundo Tizzi (Arg)                                       
40 Francisco Mariano (Bra)                                   
41 Sandro Lorenzon (Bra)                                     
42 Amarildo Ferreira (Bra)                                   
43 Jose Araujo Junior (Bra)                                  
44 Sandro Degracia (Bra)                                     
45 Claudio Girardi (Bra)                                     
46 Renan Poletti (Bra)                                       
47 Jose Souza Junior (Bra)                                   
48 Maikon Santos (Bra)                                       
49 Diego Maia (Bra)                                          
50 Jorge Araujo Junior (Bra)                                 
51 Ricardo Moura (Bra)                                       
52 Jose Larrauri (Arg)                                       
53 Helio Becker (Bra)                                        
54 Adnilson Lima (Bra)                                       
55 Luiz Tigre (Bra)                                          
56 Adriano Malinowski (Bra)                                  
DSQ Ronilson Silva (Bra)                                     
DNF Gilberto Goes (Bra)                                      
DNF Daniel Rezende (Bra)                                     
DNF Javier Puschel (Chi)                                     
DNF Marcos Cruz (Bra)                                        
DNF Pablo Lucatelli (Bra)                                    
DNF Thiago Anjos (Bra)                                       
DNF Leandro Gama (Bra)                                       
DNF Danilo Silva (Bra)                                       
 
World Cup standings
 
1 Christoph Sauser (Swi)                                 1020 pts
2 Jose Hermida Ramos (Spa)                                935
3 Roel Paulissen (Bel)                                    845
4 Julien Absalon (Fra)                                    729
5 Marco Bui (Ita)                                         635
6 Fredrik Kessiakoff (Swe)                                587
7 Adam Craig (USA)                                        512
8 Liam Killeen (GBr)                                      455
9 Ralph Naef (Swi)                                        448
10 Lado Fumic (Ger)                                       383
11 Marti Gispert Labarta (Spa)                            358
12 Erwin Bakker (Ned)                                     353
13 Jean-Christophe Peraud (Fra)                           353
14 Jakob Fuglsang (Den)                                   334
15 Milan Spesny (Cze)                                     294
16 Thomas Frischknecht (Swi)                              281
17 Sid Taberlay (Aus)                                     279
18 Jochen Kass (Ger)                                      262
19 Michael Weiss (Aut)                                    248
20 Kashi Leuchs (NZl)                                     232
21 Miguel Martinez (Fra)                                  226
22 Silvio Bundi (Swi)                                     224
23 Manuel Fumic (Ger)                                     216
24 Marc Trayter Alemany (Spa)                             205
25 Martin Gujan (Swi)                                     200
26 Oliver Beckingsale (GBr)                               192
27 Marek Galinski (Pol)                                   191
28 Bart Brentjens (Ned)                                   187
29 Christoph Soukup (Aut)                                 184
30 Christof Bischof (Swi)                                 178
31 Jerome Chevalier (Fra)                                 176
32 Ivan Alvarez Guttierrez (Spa)                          175
33 Jader Zoli (Ita)                                       174
34 Nino Schurter (Swi)                                    174
35 Geoff Kabush (Can)                                     170
36 Mirko Pirazzoli (Ita)                                  170
37 Bas Peters (Ned)                                       162
38 Carlos Coloma Nicolas (Spa)                            162
39 Michael Broderick (USA)                                160
40 Wolfram Kurschat (Ger)                                 158
41 Sergiy Rysenko (Ukr)                                   158
42 Andreas Kugler (Swi)                                   122
43 Ludovic Dubau (Fra)                                    121
44 Ruben Ruzafa Cueto (Spa)                               120
45 Frederic Frech (Fra)                                   119
46 Stefan Sahm (Ger)                                      118
47 Thijs Al (Ned)                                         118
48 Inaki Lejarreta Errasti (Spa)                          116
49 Maarten Tjallingii (Ned)                               113
50 Florian Vogel (Swi)                                    113
51 Balz Weber (Swi)                                       110
52 Yury Trofimov (Rus)                                    109
53 Peter Riis Andersen (Den)                              104
54 Igor Bogdan (Ukr)                                      103
55 Thomas Dietsch (Fra)                                   103
56 Lukà Hanus (Svk)                                        94
57 Philip Spencer (GBr)                                    88
58 Jiri Friedl (Cze)                                       88
59 Roland Green (Can)                                      80
60 Martino Fruet (Ita)                                     78
61 Till Marx (Swi)                                         77
62 Todd Wells (USA)                                        76
63 Karl Platt (Ger)                                        73
64 Johannes Sickmueller (Ger)                              72
65 Moritz Milatz (Ger)                                     72
66 Thiago Aroeira (Bra)                                    71
67 Emil Lindgren (Swe)                                     70
68 Tim Boehme (Ger)                                        68
69 Carl Friberg (Swe)                                      68
70 Jürg Graf (Swi)                                         68
71 Benjamin Rudiger (Ger)                                  67
72 Marcio Ravelli (Bra)                                    67
73 Abraão Azevedo (Bra)                                    62
74 Ricky Federau (Can)                                     61
75 Cristobal Silva (Chi)                                   61
76 Pierre Lebreton (Fra)                                   60
77 Edivando Cruz (Bra)                                     60
78 Alejandro Diaz De La Pena Lo (Spa)                      60
79 Jelmer Pietersma (Ned)                                  60
80 Rubens Valeriano (Bra)                                  59
81 Ricardo Pscheidt (Bra)                                  58
82 Hannes Metzler (Aut)                                    58
83 Peter Pouly (Fra)                                       58
84 Kris Sneddon (Can)                                      57
85 Tacio Camargo (Bra)                                     57
86 Martin Kraler (Aut)                                     57
87 Andreas Dilger (Ger)                                    57
88 Apolonio Pinto (Bra)                                    56
89 Jeremy Horgan-Kobelski (USA)                            55
90 Javier Gallardo (Chi)                                   55
91 Gion Manetsch (Swi)                                     55
92 Barry Wicks (USA)                                       54
93 Mauricio Bugarin (Arg)                                  54
94 Roman Rametsteiner (Aut)                                54
95 Johann Pallhuber (Ita)                                  54
96 Seamus McGrath (Can)                                    53
97 Odair Pereira (Bra)                                     53
98 Mathieu Toulouse (Can)                                  52
99 Carlos Paixão (Bra)                                     52
100 Andrew Watson (Can)                                    51
101 Robson Silva (Bra)                                     51
102 Haakon Austad (Nor)                                    51
103 Leandro Rambo (Bra)                                    50
104 Cedric Ravanel (Fra)                                   50
105 Chris Sheppard (Can)                                   49
106 Jeremiah Bishop (USA)                                  48
107 Josimar Santos (Bra)                                   48
108 Sam Schultz (USA)                                      47
109 Ricardo Ortiz (Bra)                                    47
110 Gustavo Oliveira (Bra)                                 46
111 Sergio Mantecon Guttierre (Spa)                        46
112 Miha Solar (Slo)                                       46
113 Matthew Hadley (Can)                                   45
114 Gonzalo Aravena (Chi)                                  45
115 Dariusz Batek (Pol)                                    45
116 Derek Zandstra (Can)                                   44
117 Marcio Santos (Bra)                                    44
118 Alban Lakata (Aut)                                     44
119 Peter Wedge (Can)                                      43
120 Flavio Dal Seco (Bra)                                  43
121 Felipe Avelar (Bra)                                    42
122 Erlu Lucatelli (Bra)                                   41
123 Pedro Bruno (Bra)                                      40
124 Jamie Lamb (Can)                                       39
125 Carlos Ribeiro (Bra)                                   39
126 Benoit Simard (Can)                                    38
127 Carlos Alberto Cristovão (Bra)                         38
128 Facundo Tizzi (Arg)                                    37
129 Toni Longo (Ita)                                       37
130 Michael Northcott (NZl)                                36
131 Francisco Mariano (Bra)                                36
132 Keiichi Tsujiura (Jpn)                                 35
133 Sandro Lorenzon (Bra)                                  35
134 Mike Felderer (Ita)                                    35
135 Amarildo Ferreira (Bra)                                34
136 Frederic Bussieres (Can)                               33
137 Jose Araujo Junior (Bra)                               33
138 Radim Korinek (Cze)                                    33
139 Sandro Degracia (Bra)                                  32
140 Friedemann Schmude (Ger)                               32
141 Claudio Girardi (Bra)                                  31
142 Oriol Morata Abril (Spa)                               31
143 Stephane Tempier (Fra)                                 31
144 Martin Lazarski (Can)                                  30
145 Renan Poletti (Bra)                                    30
146 Carl Decker (USA)                                      29
147 Jose Souza Junior (Bra)                                29
148 Nicolas Filippi (Fra)                                  29
149 Juan Carlos Hernandez (Mex)                            28
150 Maikon Santos (Bra)                                    28
151 Oleksandr Yakymenko (Ukr)                              28
152 Bruno Lafontaine (Can)                                 27
153 Diego Maia (Bra)                                       27
154 Alexandre Frappier (Can)                               26
155 Jorge Araujo Junior (Bra)                              26
156 Takahiro Ogasawara (Jpn)                               25
157 Ricardo Moura (Bra)                                    25
158 Jose Larrauri (Arg)                                    24
159 Jean-Sebastien Perron (Can)                            23
160 Helio Becker (Bra)                                     23
161 Fabio Bernasconi (Swi)                                 23
162 Alan Obye (USA)                                        22
163 Adnilson Lima (Bra)                                    22
164 Pavel Boudny (Cze)                                     22
165 Klaus Nielsen (Den)                                    22
166 Guido Visser (Can)                                     21
167 Luiz Tigre (Bra)                                       21
168 Eloi Gispert (Spa)                                     21
169 Roddi Lega (Can)                                       20
170 Adriano Malinowski (Bra)                               20
171 Nick Waite (USA)                                       19
172 Adam Snyder (USA)                                      18
173 Daniel Sessford (Can)                                  17
174 Hans Becking (Ned)                                     17
175 Filip Eberl (Cze)                                      17
176 Jean-Nicolas Lavertu (Can)                             16
177 Charles Pendry (USA)                                   15
178 Damien Bynens (Bel)                                    15
179 Jose Garcia Rodriguez (Spa)                            15
180 John Devine (USA)                                      14
181 Simon Richardson (GBr)                                 14
182 Lars Nordhaug (Nor)                                    14
183 Frank Schotman (Ned)                                   13
184 Sebastien Tremblay (Can)                               12
185 Philip Tavell (Swe)                                    12
186 Amon Pease (USA)                                       11
187 Roland Golderer (Ger)                                  11
188 Leonardo Zanotti (Ita)                                 11
189 Andreas Tiberi (Ita)                                   10
190 Hannes Genze (Ger)                                     10
191 Guillermo Bogas Oliva (Spa)                            10
192 David Gagnon (Can)                                      9
193 Rick Evers (Ned)                                        9
194 Kryspin Pyrgies (Pol)                                   9
195 Jonathan Boulanger (Can)                                8
196 Tomas Vokrouhlik (Cze)                                  8
197 Thomas Roccaro (Swi)                                    8
198 Timothy Madewick (NZl)                                  7
199 Sebastien Delfosse (Bel)                                7
200 Torsten Marx (Ger)                                      7
201 Stuart Houltham (NZl)                                   6
202 Joan Llordella Prat (Spa)                               6
203 Joris Boillat (Swi)                                     6
204 Raffael Schmid (Swi)                                    6
205 Niicholas Ranno (USA)                                   5
206 Tristan Galbraith (Can)                                 4
207 Ivan Schalbetter (Swi)                                  4
208 François Bailly Maitre (Fra)                            4
209 Sebastien Hansen (Fra)                                  4
210 Matt Douglas (Can)                                      3
211 Antonio Ortiz Barranco (Spa)                            3
212 Jiri Novak (Cze)                                        3
213 Jean-Francois Vennes (Can)                              2
214 Bjorn Brems (Bel)                                       2
215 Maxim Gogolev (Rus)                                     2
216 Flavio Derungs (Swi)                                    2
217 Aaron Tuckerman (NZl)                                   1
218 Igor Baretto (Ita)                                      1
219 Andras Melts (Hun)                                      1
220 Fredrik Modin (Swe)                                     1