MTB index page for all MTB content
National Mountain Bike Series #1 (NMBS) - 1
Fontana, California, USA, March 27 - 30, 2008
Schedule
NMBS opens in Fontana
By Sue George
Georgia Gould (Luna MTB Team)
Photo ©: Dave McElwaine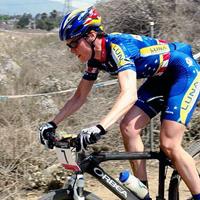 The first round of the National Mountain Bike Series (NMBS) for 2008 heads to Fontana, California. Pro racing starts Friday afternoon with the 4X qualifying, but most of the drama is set to happen the rest of the weekend. On Saturday, the pro men and women will race the cross country and finish off the 4X with finals. Sunday's action-packed day will feature elite downhill qualifying and finals, short track and super D races.
Many top American and Canadian riders are expected to start their season in California; however, a few riders will be busy elsewhere. For example, some NMBS regulars like Jeremiah Bishop and Sue Haywood will be racing for their Trek / VW team at the Cape Epic in South Africa and reports are in that some other top riders like Todd Wells (GT) will be racing instead at the Medalla Light Ultimate Dirt Challenge, a UCI race in Puerto Rico.
Geoff Kabush (Maxxis)
Photo ©: Dave McElwaine

In 2007, Georgia Gould (Luna Women's MTB Team) placed ahead of her team-mates Katerina Nash and Shonny Vanlandingham in the cross country women's final NMBS standings. The trio mixed it up slightly in the short track with Nash finishing ahead of Gould and Vanlandingham. Gould will be back to defend her winning ways and mostly likely her Luna team-mates will be joining her, but look out also for Heather Irmiger (Subaru / Gary Fisher), Willow Koerber (Subaru / Gary Fisher), Wendy Simms (Kona) Mary McConneloug (Kenda / Seven) and Lea Davison (Trek / VW).
Geoff Kabush (Team Maxxis) was the master of the pro men's cross country NMBS race scene last year, and he is expected to return to racing in Fontana. The Canadian won the cross country series ahead of Jeremy Horgan-Kobelski (Subaru-Gary Fisher), and Jeremiah Bishop (Trek/VW). He also captured the short track overall with JHK in second and Todd Wells (GT Bikes) in third. The same players will be battling it out generally this year along with Kona's Barry Wicks and Ryan Trebon, Giant's Adam Craig and Subaru / Gary Fisher's Sam Schultz, just to name a few. How often we see them at the NMBS series remains to be seen as many of them will be focusing on the UCI's World Cup events during their quests to make the US Olympic Team.
Melissa Buhl (KHS Bicycles) should be back to defend her status as queen of the downhill. Lisa Myklak (Leelikesbikes.Co) and Joanna Petterson (Brodie Bikes) are her likely competition.
Georgia Gould and her team-mate Shonny Vanlandingham
Photo ©: Dave McElwaine

On the men's gravity side, Australia's Jared Rando Giant/Michelin) and Amiel Cavalier (Giant) were the fastest overall last year, but they will be challenged by American Cole Bangert (Morewood/Utopia) and New Zealanders Justin Leov (Yeti/Fox) and Kieran Bennett (Ironhorse) among others.
NMBS racers won't have long to rest up after the weekend. Just a few days later, round two, with cross country and short track events, starts near Phoenix, Arizona.
Stay tuned to Cyclingnews for full coverage of the NMBS racing in Fontana!
Photography
For a thumbnail gallery of these images, click here
Images by Dave McElwaine /www.trailwatch.net