MTB index page for all MTB content
National Mountain Bike Series #1 (NMBS) - 1
Fontana, California, USA, March 27 - 30, 2008
Main Page Results Overall standings Previous Race Next Race
Race 5 - March 29: Elite Women Cross Country
Gould proves she's still the woman to beat
By Dave McElwaine in Fontana, California
Georgia Gould (Luna) crossed the line to win
Photo ©: Dave McElwaine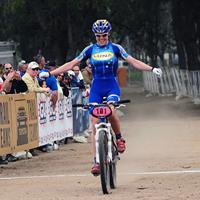 American Georgia Gould (Luna Womens MTB Team) won the elite women's cross country race in 1:57:41 – 2:52 ahead of her Czech team-mate Katerina Nash and 4:21 ahead of Canadian Wendy Simms (Kona).
Everyone you talked with at the Bonelli Park race venue was buzzing about this being an Olympic year. It was apparent than many racers had bumped up their training this winter in hopes of doing well at the early World Cups in Belgium, Germany, and Spain. At the top of this year's list of hopefuls is Georgia Gould (Luna Women's MTB) who went undefeated in the 2007 NMBS Series. In fact, she not only went undefeated, she generally destroyed the competition.
The only time she was defeated on American soil was by Mary McConneloug (Kenda/Seven) at the USA Cycling National Championships at Mt. Snow, Vermont. A possible rematch did not develop at Fontana as McConneloug was reported to be racing this weekend in Puerto Rico.
Katerina Nash (Luna) riding alone
Photo ©: Dave McElwaine

Other women hoping to get their season's off to a fast start included team-mates Heather Irmiger and Willow Koerber (Gary Fisher/Subaru). Koerber had some impressive World Cup results last season. The gnarly, often muddy, courses seemed to suit her North Carolina - riding style well. Canadians racing at Fontana who in the hunt for an Olympic spot included Wendy Simms (Kona) and Catherine Pendrel who was participating in her first race on the Luna Women's MTB Team. Katerina Nash (Luna) is the current Czech Republic National Champion and will certainly make her nation's Olympic team.
The surprise rider of the day would turn out to be Canadian Emily Batty (Trek Bicycles), from Toronto. Riders like Sue Haywood (Trek/ VW) were absent. She's busy racing the Cape Epic in South Africa.
Georgia Gould (Luna) with a two-minute lead
Photo ©: Dave McElwaine
The "urban" course at Fontana was in considerably better shape than in recent years. It was still dry, and there were still bothersome braking bumps, but riders did not have to contend with the deep sand and silt for which this course is known. The race starts with a ten minute climb (partly on pavement), then descends on twisty, fast singletrack. The riders are also treated to a difficult climb on the back side of the course followed by a downhill full of ruts that can easily cause crashes. The pro course was shortened this year to conform with UCI rules, so the women raced four laps instead of three.
How the race unfolded
Georgia Gould won the start and would go on to ride a solo time trial. She was challenged at the start by Kathy Sherwin (Sobe/ Cannondale) and others, but by the time they hit the first long flat section, Gould's power could not be matched. Close behind was her team-mate Katerina Nash, riding for the first time in her Czech Republic National Championship jersey.
Wendy Simms (Kona) finished third
Photo ©: Dave McElwaine

By the end of the first lap, Gould had opened a 38 second lead on Nash. A few seconds behind Nash was a serious chase group that included Catherine Pendrel (Luna) and Wendy Simms. At the end of the second of four laps, Gould doubled her lead to 1:04, but Nash was also pulling away from the chasers. It became apparent early that the tactical racing would be for postions three, four and five. Emily Batty (Trek) was racing in eighth place and seemed to be on the move. Also in the top ten were Lea Davison (Trek/VW) and Heather Irmiger (Gary Fisher/ Suburu). Davison had said the day before the race, "I am starting the season in my best shape ever."
Willow Koerber took a nasty fall on the first lap and lost a lot of time. She sustained cuts and bruises but was able to finish the race, but well off her normal pace. Chloe Forsman (Luna) seemed to be struggling, too. It was later learned that she was riding despite suffering from a stomach bug.
Women's cross country podium:
Photo ©: Dave McElwaine

After three laps Gould led by 1:50, followed by Nash, Pendrel, Simms, Emmette, and surging Batty. Simms seemed to have maintained some of the fitness that won her the Canadian Cyclo-cross National Championships and several European Cyclo-cross podiums.
"I am going to try to follow Georgia's wheel," said Pendrel before the race. Of course, there were a lot of riders who wanted that, and none were able to do so.
"The long cyclo-cross season had helped me start strong," said Simms after the race. In the final lap, Simms was able to pass Pendrel, who seemed to fade slightly. Young Batty was able to pick off Kelli Emmett (Giant) with one lap to go and get on her first-ever NMBS elite women's podium.
Will Gould go undefeated again this year? It would seem that she has few real challengers her in the US. She admitted to being a bit nervous at the race start, but apparently there was little reason for concern. Her real challenge will be to raise her game at the upcoming World Cups. The confidence she gained here at Fontana should help her achieve that goal.
Photography
For a thumbnail gallery of these images, click here
Images by Dave McElwaine / www.trailwatch.net
Results
1 Georgia Gould (USA) Luna Womens MTB Team          1.57.41
2 Katerina Nash (Cze) Luna Womens MTB Team             2.52
3 Wendy Simms (Can) Kona                               4.21
4 Catherine Pendrel (Can) Luna Womens MTB Team         4.27
5 Emily Batty (Can) Trek Bicycle Store Toronto         5.32
6 Kelli Emmett (USA) Giant MTB Team                    5.34
7 Heather Irmiger (USA) Subaru-Gary Fisher             6.45
8 Lea Davison (USA) Trek/Vw                            6.56
9 Mical Dyck (Can) Trek/Terrascape Racing              7.05
10 Monique Sawicki (USA) Ellsworth                     9.55
11 Kathy Sherwin (USA) Sobe-Cannondale                10.42
12 Willow Koerber (USA) Subaru-Gary Fisher            11.24
13 Shonny Vanlandingham (USA) Luna Womens MTB Team    11.39
14 Amanda Sin (Can) 3 Rox Racing                      13.30
15 Nina Baum (USA) Sobe-Cannondale                    14.29
16 Catherine Vipond (Can) Norco                       16.04
17 Judy Freeman (USA) Toughgirl Cycling               16.05
18 Heather Holmes (USA) Kenda/Titus/Hayes             16.45
19 Carolyn Popovic (USA) Cicle/Bear Valley Bikes      16.58
20 Melanie Mcquaid (Can) Bmc/Natures Path             17.43
21 Krista Park (USA) Kenda-Titus-Hayes                17.44
22 Caitlyn Tuel (USA) Trek/Vw /Rocky Mountain         18.17
23 Danelle Kabush (Can) Luna Womens MTB Team          19.01
24 Emily Van Meter (USA) Sobe/Cannondale              19.02
25 Mikaela Kofman (Can) 3 Rox Racing                  19.32
26 Amanda Riley-Carey (USA) Kenda/Titus/Hayes         20.26
27 Sue Butler (USA) Monavie/Cannondale                22.03
28 Jenna Zander (USA) Sobe Cannondale                 22.45
29 Jamie Dinkins (USA) Vantaggio/Xpecialized          22.51
30 Kyia Anderson (USA) Ekho Hrm/Cannondale            25.19
31 Heather Ranoa (USA) Intense                        25.57
32 Kimberly Flynn (USA) Vantaggio/Specialized         27.04
33 Maureen Kunz (USA) Lost Coast Brewery              27.57
34 Patricia Buerkle (USA) Vaderkitten                 28.14
35 Theresa Richardson (USA) Sobe Cannondale           28.36
Pulled
36 Mary-Ellen Ash (Can) Easton/Sugarcrm/Specialized        
37 Joy Duerksen (USA) Team Jose Ole                        
38 Alexandria Fabbro (USA) Velo Bella                      
39 Sarah Kaufmann (USA) Roaring Mouse Cycles               
40 Jamie Stamps (USA) Another Bike Shop                    
41 Danae York (USA) Velobum.Com/Turner Suspension Bikes    
42 Rachel Throop (USA) Devo                                
DNS Zephanie Blasi (USA) Kenda Titus Hayes                 
DNF Chloe Forsman (USA) Luna Womens MTB Team               
DNF Sarah Maile (USA) Ventana Mountian Racing