MTB index page for all MTB content
National Mountain Bike Series #1 (NMBS) - 1
Fontana, California, USA, March 27 - 30, 2008
Main Page Results Overall standings Previous Race Next Race
Race 6 - March 29: Elite Men Cross Country
Kabush's victory brings him one step closer to Tomac's winning record
By Dave McElwaine in Fontana, California
Geoff Kabush (Maxxis) wins his 12th NMBS
Photo ©: Dave McElwaine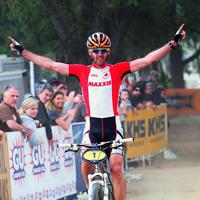 Geoff Kabush (Team Maxxis) convincingly won the elite men's cross country in 2:08:09. The Canadian finished solo 29 seconds ahead of American Adam Craig (Giant MTB Team). Fellow Canadian Max Plaxton (Rocky Mountain-Haywood) finished third one minute and eight seconds after Kabush.
In recent years, the NMBS race in Fontana has been a real "throw-down" between Kabush, Jeremy Horgan-Kobelski (Gary Fisher/Suburu) and Todd Wells (GT). This year proved somewhat different with Wells was off looking for UCI points in Puerto Rico and Jeremiah Bishop racing in the Cape Epic in South Africa. It was also rumored that regular NMBS favorite Ryan Trebon (Kona) had taken some down time after a long, hard cyclo-cross season during which he had suffered a few injuries that needed time to heal. He was not expected to be competitive this early in the mountain biking season.
Kabush chose to ride his hardtail with 285 gram Maxxlite tires. The Canadian has a history of gambling on tires, and it has often paid off as it did in Snowmass [NMBS finals - ed.] last season. Kabush said that one of his goals for this season is to surpass the record set by John Tomac of 14 total NMBS (then called "NORBA") wins. Going into Fontana, Kabush had 11 career NMBS wins.
US National Champion Adam Craig (Giant)
Photo ©: Dave McElwaine

Horgan-Kobelski chose to ride is 29-inch wheeled Gary Fisher Superfly. The bike felt incredibly light when lifted off the ground and was sporting fairly narrow tires.
Involved the Olympic chase this year are Horgan-Kobelski, Wells, Michael Broderick (absent from the Fontana race), Craig, Sam Schultz (Subaru / Gary Fisher), Bishop, and others. Several Canadians in the hunt for their team competed in Fontana, too. Race conditions were nearly perfect with temperatures were in the 70s and overcast skies. The crowds were much larger this year as amateur race registration set a new record.
How the race unfolded
Chaos on first climb
Photo ©: Dave McElwaine

Geoff Kabush got the hole shot but Barry Wicks (Kona) led the charge up the first steep, loose hill. He was closely followed by Kabush, Horgan-Kobelski, Craig, and Sam Jurekovic (U23 National Team). Trebon was forced to the right side of the climb and got stacked up with some other riders. He had to get off his bike and run the hill while the leaders rode away.
At the end of the first lap, Kabush and Wicks rode alone into the start/finish. Wicks had said before the race that he "came to win" and was riding very aggressively. They were followed by JHK, Craig and Jurekovic. During the second lap, Craig caught the leaders and attacked them. He had a gap at the end of the second lap over Canadian Ricky Federau, who also had moved to the front, and Kabush. Fourty seconds behind were chasers Wicks and Max Plaxton (Rocky Mountain).
Most of Kabush's races at Fontana have been tactical, with him attacking only on the last lap in areas where he knew it would be difficult to be passed. This year, however, he not only caught Craig but then laid down a serious uphill attack that nobody could match. At the end of the third lap, he had opened a 30 second gap over Craig, who was then solidly in second place. By the end of the fourth lap, the gap grew to 1:05.
Max Plaxton (Rocky Mountain)
Photo ©: Dave McElwaine

Kabush sailed on to victory, followed by Craig, Plaxton, Jurekovic, and Wicks. Plaxton had also looked very strong at the start of last season. While Jurekovic made a short track podium in Deer Valley last year, Fontana was his first-ever NMBS cross country podium appearance. The rising star credits some of his success to training on the track.
One of the most impressive performances of the day was by Kris Sneddon (Kona) who finished sixth. He literally seemed to have towed JHK around the course for a few laps before dispensing with him and then barely missing the podium himself.
Kabush got his 12th cross country career NMBS win at Fontana and will continue onto the next round with his sights firmly set on Tomac's longstanding record. After the race, he said that while last year he had been dropped on the climbs, this year his lighter tires had turned the tables on his competitors.
The NMBS series moves on to Fountain Hills, Arizona, next weekend.
Photography
For a thumbnail gallery of these images, click here
Images by Dave McElwaine / www.trailwatch.net
Results
1 Geoff Kabush (Can) Team Maxxis                         2.08.09
2 Adam Craig (USA) Giant Mtb Team                           0.29
3 Max Plaxton (Can) Rocky Mountain-Haywood                  1.08
4 Sam Jurekovic (USA) U23 National Team                     1.58
5 Barry Wicks (USA) Kona                                    2.28
6 Kris Sneddon (Can) Kona Les Gets                          2.58
7 Ricky Federau (Can)                                       3.27
8 Jeremy Horgan-Kobelski (USA) Subaru-Gary Fisher           4.00
9 Liam Killeen (GBr) Specialized Factory Team               4.52
10 Sam Schultz (USA) Subaru-Gary Fisher                     6.46
11 Carl Decker (USA) Giant MTB Team                         7.44
12 Cody Peterson (USA) Scott Bicycles                       7.49
13 Andy Schultz (USA) Kenda Titus Hayes                     8.45
14 Charles Pendry (USA) Inland - BTD                        9.54
15 Manuel Prado (USA) Sho-Air/Rock N Road                  10.03
16 Ross Schnell (USA) Trek/VW                              10.03
17 Adam Morka (Can) 3 Rox Cycling                          10.40
18 Troy Wells (USA) Tokyo Joes                             10.57
19 Adam Snyder (USA) 3-D Racing                            11.22
20 Peter Glassford (Can) Trek Bicycle Store Toronto        11.23
21 Mitchell Peterson (USA) Mona Vie/Cannondale             11.25
22 Jeff Schalk (USA) Trek VW- East                         13.04
23 Martin Lazarski (Can) Rocky Mountain Different Bikes    13.20
24 Ignacio Torres (Mex) Turbo Bikes                        13.43
25 Ryan Woodall (USA) Industrynine/Powerbar                13.45
26 Ryan Trebon (USA) Kona                                  14.43
27 Derek Zandstra (Can) 3 Rox Racing                       14.49
28 Evan Plews (USA) ScottUSA/CSC                           14.53
29 Colin Cares (USA) U23 National Team                     14.58
30 Tim Olson (USA) Trek/VW Westcoast                       15.01
31 Tim Allen (USA) Voodoo                                  15.08
32 Mike Phillips (USA) Alterra/Specialized                 15.26
33 Emmanuel Valencia (Mex) Turbo                           15.45
34 Aren Timmel (USA) Team Chico                            15.59
35 Stefan Widmer (Can) Rocky Mountain/Different Bike       16.04
36 Travis Livermon (USA) Kobold Watch Comp                 16.25
37 Matthew Hadley (Can) Xprezo                             16.27
38 Miguel Valadez (Mex) Valle Congelado                    16.35
39 Eric Salstrand (USA) Bicycle Haus/Oakley/Specialized    17.21
40 Dana Weber (USA) Jax Bicycle Center                     17.29
41 Brian Astell (USA) Lost Coast Brewery                   17.31
42 Pablo Voigt (Mex) Turbo                                 18.36
43 Charles Jenkins (USA) IE Bikes Racing                   19.00
44 Aroussen Laflamme (Can) CBSF/Normandin/Faire            19.26
45 Daniel Sessford Blue Competiton Cycles                  19.28
46 Paul Hanson (USA) Sobe Cannondale                       19.28
47 Travis Woodruff (USA) Bmc/Momentumendurance             19.50
48 Nat Ross (USA) Subaru-Gary Fisher                       20.02
49 Chris Peariso (USA) Adventure 212 /Titus                20.17
50 Kevin Smallman (USA) Sobe Cannondale                    20.56
51 Bryan Fawley (USA) TX Tough/Hotel San Jose              21.06
52 Trevor Downing (USA) Devo                               21.16
53 Kyle Douglas (Can) 3 Rox Racing                         21.23
54 Eric Batty (Can) Trek Bicycles Store Team               21.23
55 Sean Donovan (USA) Cytomax/KHS                          22.08
56 Mitch Hoke (USA) Tokyo Jos                              22.40
57 Kenji Takeya (Jpn) Specialized Japan                    23.34
58 Robert Marion (USA) Kenda Titus                         24.00
59 Chad Wells (USA) 3D Racing                              24.08
60 Jason First (USA)                                       25.04
Pulled
61 Lucas Livermon (USA) Inland Construction                     
62 Nigel Hill (USA) Trek/ VW west coast                             
63 Matt Rotroff (USA) BTD/Inland Construction                   
64 Mcconnell Franklin (USA) Middlebury College                  
65 Amon Pease (USA) Team Lost Coast Brewery                     
66 Alex Ryan (USA) Land Rover/Cannondale                        
67 Chanoch Redlich (Isr) City cycling club                        
68 Brian Bain (Can) Cmc/Bow Cycle                               
69 Robert Herber (USA) Intense                                  
70 Yuki Saito (USA) Fuentes Design/Walt Works                   
71 Colin Osborn (USA) Team Bikeparts.Com                        
72 Andre Sutton (Can) Hardcore Racing Team                      
73 Ethan Gilmour (USA) U23 National MTB Team                    
74 Eric Ransom (USA) Team Tamarack Resort                       
75 Nate Whitman (USA) Hammer Nutrition                          
76 Steve Kinney (USA) Steven K Sports                           
77 Chris Peterson (USA) Devo                                    
78 Michael Mooradian (USA) Spin Bike Shop                       
79 Michael Lee (USA) Trek/VW West Coast                         
DNF Mathieu Toulouse (Can) Team Maxxis                          
DNF Ken Burt (USA) Jamis Kenda Hayes                            
DNF Bart Gillespie (USA) Monavie/Cannondale                     
DNF Paul Freiwald (USA) Titus Cycles                            
DNF Chance Noble (USA) Calif Giant Berry Farms                  
DNF Mike Andres (USA) Trek/VW West Coast Team                   
DNF Matthew Paziuk (Can) Norco                                  
DNF Shane Holliongshead (Can) Norco                             
DNF Dylan Stucki (USA) Independent Fabrications`                
DNF Luke Pennington (USA) S & M Young Guns                      
DNF Matt Freeman (USA) Cyclery USA/Gary Fisher