Results Live report Women's Results
Newcomer McDonald wins in three-way tussle
By Karen Forman In Inverell
Peter McDonald
Photo ©: Mark Gunter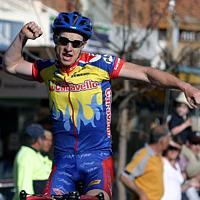 Sydney rider Peter McDonald won the 2004 Grafton to Inverell Cycle Classic and the first race of the Trek Series for his team today at his first attempt, emerging the victor of the grueling 228km race in a race time of 6.43.00 (unofficial) after a three-way sprint against Caravello team mate Richard Vollebregt and 2003 fourth place-getter Jorge Libonatti (Hinchinbrook).
The Caravello riders had been part of a six-rider breakaway which formed just 10km into the race after the entire 170-strong field was waved off by founding committee member Jack Griffin. The break was joined by a hard-chasing Libonatti and another rider a kilometre later. Two of the riders were dropped on the 17km-long climb of the Gibraltar Range, leaving a group of six which led for up to 168km, establishing a time gap back to the main peloton of up to 15 minutes.
The group was whittled down to a trio with 50km to go, swapping turns and doing an equal share of the work and trying to keep ahead of solo rider Trent Wilson, who was riding between the breakaway and the chasing bunch and gaining ground with every kilometre. With Wilson definitely a threat until the leaders were too close to the finish in Inverell for him to catch them, any of the four would have been a deserving winner.
The depleted peloton
Photo ©: Mark Gunter

As it turned out, however, Wilson didn't get there and the other three sprinted with 300 metres to go; Libonatti leading out the sprint and McDonald going around him to take the winner's jersey. Libonatti was second with Vollebregt third. McDonald took the KOM title and Vollebregt was the winner of the sprinter's jersey. The individual placings meant Caravello was the winning team and earned a total of 345 points in the Trek series.
First time for teams
It's the first time the Grafton to Inverell has been a teams event. Eight teams totaling 45 riders started in the Eastmon Camera House A grade race in the 44th edition of the race, which is also a Shimano National Points Series Category One Event.
Prior to the start, eventual race winner McDonald, 25, who normally rides with the Randwick Botany Cycling Club, said he was feeling "pretty good" on the line despite the tough 228km behind him.
Trent Wilson
Photo ©: Mark Gunter

"It was a hard day out there," he told Cyclingnews at the finish. "Richard (Vollebregt) worked hard all day and then in the last few kilometres we were trying to work over Jorge a bit, giving him a bit of one two-ing, but he was too strong and we had to force him to chase. "
McDonald said team manager Dominic Caravello had advised them to make sure they were in every break. "We were just riding for Rob (McLachlan) and Peter (Milostic) but then we got into the breakaway and were lucky to stay away all day," he said. "Jorge went a long way out with around 250 metres to go. I just knew if I got back onto his wheel, I could go around him."
McDonald said he was surprised at his win as he hadn't considered himself a sprinter. "I can't believe it; I think I should be tired now. Shouldn't I? I am just lucky there wasn't much of a headwind." His next event will be the Hornsby to Swansea next week and he said he would definitely be back to defend his Grafton to Inverell title next year.
A disappointed Libonatti, a Uruguayan who is hoping for a visa extension which will allow him to stay in and race for Australia long term, said he had suffered hunger flats in the final 60-70km. "But then I got in some food and some water and I felt better. I felt better this year than last year (when he was fourth behind Uruguay friend Hector Morales, who won the event) but this race was really different because we got away in the first 20km and after that it was really tough."
Then there were three
Photo ©: Mark Gunter

Libonatti said he hadn't had any special race place but regretted his decision to sprint so early. "I prefer to sprint in the last 150 metres," he said, "but I don't know what happened with my mind today." He said he had missed Morales, who has been unwell and was taking medical advice to do only short races until the end of the year, "because we speak Spanish together and understand each other".
Libonatti is in top form, having won the Ride for Life event at Centennial Park in Sydney last month and placing second in the Tour of Sunraysia a fortnight ago. Vollebregt, 37, a married father of two, said he had suffered during the final 10km, but was delighted with his third place. "I did this race 16 years ago and was fourth in B grade so this is a definite improvement," he said.
"I didn't expect to go so well today; I just aimed to finish with the bunch." The trio stopped the clock at 6.43.00 (unofficial), a good 43 minutes away from the race record of 6.00.49, set by Englishman Paul Curran in 1985. The 'Grafton' has a one of the widest time ranges of any one-day race, with a good one hour and 40 minutes separating the fastest and slowest times on record (see history).
The final men's podium
Photo ©: Mark Gunter

Photography
Images by Mark Gunter/http://pbase.com/gunterphotograph
Results - Grafton to Inverell Classic, 228km
A Grade
 
1 Peter McDonald (Caravello Team)                  6.41.53
2 Jorge Libonatti (Hinchinbrook Cycling Club)         0.01
3 Richard Vollebregt (Caravello Team)                 0.03
4 Trent Wilson (Selle Italia-Colombia/ NSWIS)         2.12
5 William Walker (Uno Clothing / VIS)                 3.00
6 Peter Milostic (Caravello Team)                         
7 Russell Van Hout (Selle Italia-Colombia/ NSWIS)     4.25
8 Bradley Mills (Clarence Street Cyclery)             5.21
9 Robert McLachlan (Caravello Team)                   5.32
10 Jonathan Cantwell (Fulchers Cyclery)                   
11 David Tanner (Selle Italia-Colombia/ NSWIS)            
12 Glenn Stojanow (Clarence Street Cyclery)               
13 Matthew Lloyd (Cheeky Monkey)                          
14 Ben Brooks (Cheeky Monkey)                         5.41
15 Klayten Smith (Clarence Street Cyclery)            5.46
16 Scott Lyttle (Fulchers Cyclery)                   13.12
17 Daniel Alcock (Cheeky Monkey)                          
18 Jonathon Clarke (Uno Clothing / VIS)              13.35
19 Joshua Wilson (Hinchinbrook Cycling Club)              
20 Marc Williams (Clarence Street Cyclery)           25.46
21 Robert Lyte (Hinchinbrook Cycling Club)                
22 John Ebeling (Fulchers Cyclery)                        
23 Robert Hodgson (Turramurra Cyclery)               31.25
24 Joshua Marden (Caravello Team)                         
25 Brendan Jones (Cheeky Monkey)                          
26 Stephen Blair (Selle Italia-Colombia/ NSWIS)    1.07.53
27 Grant Webster (Fulchers Cyclery)                       
28 Douglas Robinson (Turramurra Cyclery)           1.25.21
DNF Daniel Brickell (Turramurra Cyclery)                  
DNF Metcalf Adam (Turramurra Cyclery)                     
DNF John Tzinberg (Turramurra Cyclery)                    
DNF Damien Forster (Uno Clothing / VIS)                   
DNF Trent Stevenson (Uno Clothing / VIS)                  
DNF Nigel Dunstone (Caravello Team)                       
DNF Samuel Lee (Selle Italia-Colombia/ NSWIS)             
DNF Nathan Rollason (Turramurra Cyclery)                  
DNF Kieren Cameron (Selle Italia-Colombia/ NSWIS)         
DNF Graham Rutter (Hinchinbrook Cycling Club)             
DNF McDonnell Joe (Hinchinbrook Cycling Club)             
DNF Jai Crawford (Hinchinbrook Cycling Club)              
DNF Owen Macphillamy (Fulchers Cyclery)                   
DNF Tim Hillard (Clarence Street Cyclery)                 
DNF Marcus Hayman (Clarence Street Cyclery)               
DNF Daniel Newnham (Cheeky Monkey)                        
DNF Daniel Bennett (Cheeky Monkey)                        
DNF George Vallins (Uno Clothing / VIS)                   
 
B Grade
 
1 Aaron Little (Tamworth CC)                       7.27.10
2 Richard Munro (Central Coast CC)                        
3 Ian Walker (Gold Coast Goldstars C C)                   
4 Fraser Ashford (Tamworth CC)                            
5 Matthew Shields (Parramatta CC)                         
6 Erin Rogers (Coffs Harbour CC)                          
7 David Obadin (Central Coast CC)                         
8 Graeme Arnott (Central Coast CC)                    1.47
9 Timothy Morris (Illawarra CC)                       5.57
10 Elliot Stevens (Central Coast CC)                 13.18
11 David McHugh (Sydney CC)                               
12 Colin Young (Sutherland Shire CC)                 25.29
13 Luke Chippindale (Toowoomba Cycling Club Inc.)    44.08
14 Martin Mullin (Canberra Cycling Club)                  
DNF Joe McDonnell (Illawarra CC)                          
DNF Scott Brown (Hunter District CC)                      
DNF William Hall (Parramatta CC)                          
DNF Steve Orfanos (Sydney CC)                             
DNF Patrick Hayburn (Clarence St CCC)                     
DNF Paul Amidy (Hunter District CC)                       
DNF Christopher Johnston (Minnesota Cycling Team)         
 
C Grade
 
1 Hamish Mackirdy (Riverland C.C.)                 7.35.40
2 Duncan Bull (Eastern Suburbs CC)                    2.59
3 Craig Paull (Illawarra CC)                              
4 Paul Logan (Coburg)                                     
5 Spencer Flugge (Bathurst CC)                            
6 Darren Byers (Uni Cycle Club)                           
7 Gerard Lai-Smith (Northern Sydney)                      
8 Michael Hoynes (Inverell Wheelers)                      
9 Scott Harmer (Southern Cross CC)                        
10 Kenneth French (Sunshine Coast Cycle Club)             
11 Peter Gwynne (Gold Coast Goldstars C C)            5.53
12 Jeffrey Gray (Illawarra CC)                            
13 Brett Ardron (Hamilton Pine River Wheelers)            
14 Richard Dodds (Sydney CC)                              
15 Bevin Sturm (Lifecycle Cycling Club)                   
16 Will Grey (Gold Coast Goldstars C C)               8.47
17 Graeme Pont (Central Coast CC)                    21.55
18 Christopher Power (Hamilton Pine River Wheelers)       
19 Craig Dempsey (Eastern Suburbs CC)                31.24
20 Kevin Black (Sydney CC)                           34.41
21 Kirk Vandereghe (Illawarra CC)                         
22 Steven Newman (Illawarra CC)                           
23 Joe Grasso (Dulwich Hill BC)                      52.59
24 Kim Crockart (Ffast Cycle Club)                   53.23
25 Ed Knowles (Sutherland Shire CC)                       
26 David Leckenby (Coffs Harbour CC)                 58.54
27 Adam Robinson (Hamilton Pine River Wheelers)    1.17.03
28 Peter Kent (Ffast Cycle Club)                   1.27.33
29 Brad Gooda (Ffast Cycle Club)                          
30 Mark Winn (Victor Cycle Club)                   1.32.50
31 David Gerrish (Central Coast CC)                1.33.37
32 Tim Hooker (The Rider's Club)                   2.05.45
DNF Garth Rees (Bicisport)                                
DNF Andrew Noakes (Moree Services CTC.)                   
DNF David Palfrey (Kooragang Open CC)                     
DNF Chris Locke (Hamilton Pine River Wheelers)            
DNF Mark Hanley (Inverell Wheelers CC)                  
 
Masters
 
1 Paul Wild (C.A.T.S.)                             7.27.32
2 Simon Claringbold (Canberra Cycling Club)           8.08
3 Peter Grivell (Norwood C.C.)                            
4 Ross Hodgson (Northern Sydney)                          
5 Brian Bagster (Tamworth CC)                        11.02
6 David Wighton (Sunshine Coast Cycle Club)               
7 Chass Matters (Victor Cycle Club)                       
8 Kevin Nichols (St George CC)                       27.04
9 Kevin Donovan (Sutherland Shire CC)                     
10 Roger Bird (Nowra Velo Club)                           
11 Gregory Walmsley (Dulwich Hill BC)                     
12 Daniel Iannazzo (Eastern Suburbs CC)              39.50
13 James Burke (C.A.T.S.)                                 
14 Charles Frost (Clarence St CCC)                        
15 Michael Comensoli (Illawarra CC)                       
16 Ross O'Meara (Sunshine Coast Cycle Club)          40.02
17 Bryan Ferris (Hamilton Pine River Wheelers)       42.50
18 Noel Bromage (Port Stephens CC)                   42.51
19 Hans Visch (Eastern Suburbs CC)                   54.35
20 Stephen Brennan (Sutherland Shire CC)             58.32
21 Ian Adams (Sunshine Coast Cycle Club)           1.21.46
22 Mervin Merritt (Sunshine Coast Cycle Club)      1.38.46
23 John Williams (Inverell Wheelers)                      
24 Osbrough John (Sunshine Coast Cycle Club)       1.41.29
25 Anthony Goostrey (The Rider's Club)             1.55.03
26 Gerald Todd (The Rider's Club)                         
27 Harry Berkery (Sutherland Shire CC)             2.07.05
DNF Peter Brown (Port Macquarie)                          
DNF Frank Moon (Bathurst CC)                              
DNF Alan Sumner (Dulwich Hill BC)                         
DNF Steve Darracott (Hunter District CC)                  
DNF Maurice Mathe (Hunter Valley Vets CC)                 
DNF Barry Jones (Inverell Wheelers)                       
DNF John Christensen (Sunshine Coast Cycle Club)          
DNF Don Jeffery (Manning Valley CC Inc.)                  
DNF John Lindsay (Victor Cycle Club)                      
DNF Richard Watson (Toowoomba Cycling Club Inc.)          
DNF Alan Metcalf (Kooragang Open CC)