US Cyclo-cross Championships - CN
Kansas City, Kansas, USA, December 13-16, 2007
Main Page Results Overall standings Live report Previous Race Next Race
Race 8 - December 15: U-23 Men
Espoirs brave the elements for title shot
Selander wins when it counts
By Mark Zalewski, North American Editor in Kansas City, Kansas
Bjorn Sealander (Ridley)
Photo ©: Jon Devich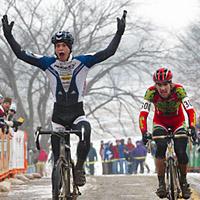 Bjorn Selander (Ridley Factory Team) and Jamey Driscoll (FiordiFrutta) have been battling in the espoir ranks all season, with Driscoll coming out on top - and it was those two that made the race for the men's U23 championship. Selander jumped to an early lead and held it for much of the race while Driscoll marked him close behind, taking over the lead late in the race. But Selander regained his focus and caught back on the final lap, resulting in a two-up sprint on the uphill home stretch, with Selander having just enough more in the tank to take the title.
"I had a slow start to the season because I had a long road season, so I came to the 'cross season slower than some of these guys," said Selander. "But it worked out in the end because my only goal was to win nationals!"
Mentally banking your entire season on one race can result in a let down, but also can give that extra boost in the critical moments of a race - which it did for Selander. "The middle of the race I don't know what happened to me, but I was taking really bad lines," he said. "I fell a couple of times and then I crashed on the stairs. I hit my nose on my frame and thought I broke it! But I thought whatever, it's cold!
That is when the race turned, and Driscoll made his move, passing Selander with less than two laps to go.
"Then Jamey caught up to me... I got it in my head that he's off and that was it. I panicked a little when he caught me and that caused me to slip. But then I thought, 'No, this is the national championships!' I got my composure back and I was in the zone. I just kept going."
For the next laps it was role reversal with Selander following Driscoll, keeping him in sight. And the wear of staying vigilant in terms of bike handling was too much for Driscoll. "There were a few little bobbles and it fell apart those last few laps," he said. "It wasn't anything in particular, it was the small little mistakes that added up in the end."
"It definitely didn't make it a power course," said Driscoll. "You had to really pick your lines the whole time, so that was tricky." Bike handling clearly made the difference today, and Selander had the background for it. "I'm from Wisconsin so I've been riding in the deep snow for a few weeks, but it's more like mud. So this week I went and rode on the ice on the river, to make sure I had my handling skills down."
Selander picked his place for the pass - ironically, the place that cost him his earlier lead. "I was leading up the stairs first, I made sure of it. Then we got to the off-camber section before the road and we both go there at the same time, so I knew it would be a sprint. I stuck with him the whole time then, and I didn't put it down right away. I told myself, 'You are not going to lose this!'"
In the end, Driscoll could not match Selander up to the finish. "I'm pretty wasted... I guess I went a little too early. I had a really good gap on him, and I didn't feel like I was gassing myself too much, but I guess I was and he had more in the tank."
But he will get another shot tomorrow for the collegiate race. Selander, on the other hand, is finished for the weekend - goal accomplished. "My goal this year was to win nationals and that's what I did."
Photography
For a thumbnail gallery of these images, click here
Images by Jonathan Devich/

Images by Mitch Clinton/www.clintonphoto.com
Images by Kurt Jambretz/www.actionimages.cc
Images by Trish Albert/www.southeasterncycling.com
Results
U23 Men (15.4 km)
 
1 Bjorn Selander (Ridley Factory Team)               43.43
2 James Driscoll (Fiordifrutta)                       0.00
3 Danny Summerhill (Clif Bar Development Cyclocr)     1.38
4 Nicholas Weighall (Rad Racing North West)           1.39
5 Jerome Townsend (Ridley Factory Team)               3.18
6 Carson Miller (Fred Meyer/Ics Redzaw)               3.43
7 David Hackworthy (Is Corp)                          3.47
8 Nicholas Keough (Jittery Joe'S/ Sonic Cyclocros)    4.20
9 Chance Noble (California Giant Berry Farms)         4.51
10 Braden Kappius (Clif Bar Development Cyclocr)      5.00
11 Jeffrey Buckles (Alan North America)               6.02
12 Christopher Parrish (Hagens Berman Llp)            6.13
13 Isaac Neff (Alderfer Bergen/Kcv Cycling)           6.19
14 Mike Sherer (IndiaUniversity)                      6.29
15 Eric Thompson (Lees Mcrae)                         6.44
16 Adam Mcgrath (Maxxis/Litespeed)                    6.51
17 Sean Worsech (Rad Racing)                          6.54
18 Kevin Mullervy (Clif Bar Development Cyclocr)      7.06
19 Toby Marzot (Fiordifrutta)                         7.11
20 Scott Stewart (Lees-Mcrae College)                 7.15
21 Mcconnell Franklin (Middlebury College)            7.10
22 Luke Brechwald (Rad Racing Nw)                     7.16
23 Mike Anderson (Lees-Mcrae Cycling Team)            8.32
24 Stephen De Lisle (Fort Factory Team)               9.31
25 Matt Rotroff (Btd/Inland Construction)             9.37
26 Mitchell Peterson (Uniersity Of Utah)             10.09
27 Mitchell Comardo (Bike Barn)                      10.21
28 Kip Spaude (Nova/Iscorp)                          11.06
29 Martin Lang (Dent Wizard Presented By Ha)              
30 Kevin Wolfson (Dartmouth Cycling)                      
31 Conor Mullervy (Clif Bar Development Cyclocr)          
32 Scott Jackson (Lees-Mcrae College)                     
33 Alexander Vining                                       
34 Gonzalo Escobar (Lees-Mcrae College)                   
35 Stuart Louder (Alan North American)                    
36 Alex Hannah (Appalachian State)                        
37 Jake Boyce (St. Olaf)                                  
38 Noah Singer (Mercy Cycling)                            
39 Nick Dale (Lees-Mcrae Cycling Team)                    
40 Duncan Mcgovern (Whitman College Cycling)              
41 Sean Noonan (Carleton College)                         
42 David Forkner (Appalachian State Cycling)              
43 Erik Wilburn (Army)                                    
44 Morgan Whiterabbit (Category Six Racing Squad)         
45 Francis Hamre (Velossimo)                              
46 Adam Lang (Team X Cycling)                             
47 Michael Koballa (Appalachain State)                    
48 Andrew Slater (Kcoi Boulevard)                         
49 Michael Wilson (Appalachian State Cycling)             
50 Geoff Pendry (University Of North Caroli-)             
51 Noah Niwinski (Appalachian State University)           
52 Chris Hall (Team X Cycling)                            
53 Ryan Barlow (Colorado State University)                
54 Jesse Dekrey (Team Spin 12)                            
55 Ian Delaney (Whitman College)                          
DNF Alex Keomany (South Lyon Cycle/Jittery Joe')          
DNF Justin Tucker (Appalachian State)