US Cyclocross Championships - CN
Providence, RI, USA, December 9-11, 2005
Main Page Results Overall standings Live report Previous Race Next Race
Race 10 - December 10: Elite Men (US Title)
Todd Wells wins U.S. Elite National Championship
By Steve Medcroft
Todd Wells
Photo ©: Marek Lazarski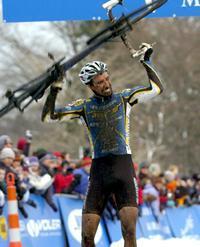 Jonathan Page's reign as U.S. national cyclocross champion came to an end Saturday in Providence, Rhode Island. After spending several hours in the emergency room of a local hospital with stomach flu the previous night, the perennial elite national champion didn't have the power to stay with a hard-charging Ryan Trebon and the wire-to-wire all-out effort of ultimate winner Todd Wells.
The win was Wells' second 'cross championship (he won in 2001) and the second Wells championship of the day (younger brother Troy won the U23 race).
For Saturday's race, the course and weather conditions were dramatically different than the end-of-the-world snowstorm that caused promoters to postpone the last two races of Friday's events (see Saturday's news item). Those postponed races were run Saturday morning, causing the compaction of women and juniors fields (five categories on the course at the same time, for example) and the delay the U23 race by one hour.
For the start of the Elite men's race, the skies were clear and the temperatures above forty degrees Fahrenheit. The hard-packed snow that covered the course yesterday and froze overnight had been cut to applesauce; leaving riders splattered in mud and desperate for dry clothing.
The course, laid out in a corner of the 430-acre Roger Williams Park (just south of Providence, Rhode Island), wove up and down through a bowl-shaped valley and offered plenty of off-camber turns, run-ups, barriers and even a series of stone steps
Racing started aggressively, the speed bringing the back half of the field to the ground in a pile up on the opening straight. Ahead of the trouble, a strong group of riders slipped away including Ryan Trebon (Kona), Jonathan Page (Liberty Seguros), Michael Cody (Fordi Fruitta), Matt White (Fordi Fruitta) and Todd Wells (GT Hyundai). Other pre-race contenders, like Barry Wicks (Kona), Adam Craig (Giant), Mark McCormack (Clif Bar), were just behind.
Johnathan Page
Photo ©: Ed Collier

Missing from the top ten was pre-race favorite Tim Johnson (Louis Garneau/cyclocrossworld.com). "I was hoping for a little bit more snow," he said after the race but added that it was mechanical trouble that knocked him out of contention. "I got a flat in the first corner and rode the whole first lap with it."
After the third of nine laps, the lead group spread out and Trebon and Wells slipped away. Only Page could stay with them. But this wasn't the Jonathan Page we're used to seeing at Nationals; although he may have lost twenty percent of his fitness due to his illness, he never seemed to be in control of his race. "Last night I was in the hospital until 10:30 with an IV in my arm," he said afterwards. "I had nothing in the tank. I was relying on the technical sections where I could catch (the leaders). But they'd get away from me on the grass. Eventually, the rubber band snapped."
When Page's rubber band snapped, Trebon and Wells were twelve-seconds up and far enough away from the rest of the field that they must have felt confident that the win was going to come from one of them. But a cover of clouds moved over the venue and the sun faded, bringing the temperatures back to freezing and causing the technical sections of the course (which had been tacky and rideable in the sun) to harden and become more precarious. Saving nothing, Wells attacked.
"I was frustrated," Trebon said. "I wasn't feeling it. I knew Todd was going to be riding good today but I didn't realize I wasn't going to ride well. I just felt like I couldn't push too much in the pedals."
Ryan Trebon
Photo ©: Ed Collier

Dangling ten second back for the next two laps, Trebon hung his head through the start/finish line then with two laps to go, he found a reserve, changed into his biggest gear, and worked to pull Wells back. "I started to get really annoyed and mad. I wanted to be up there. I was frustrated because I just couldn't ride today. I was taking more risks than I should have." He came close but dropped a chain running over some barriers. He powered through a straight but lost time again on a long, slippery downhill.
"I knew Trebon was coming back," Wells said. "I was going as hard as I could but you never know if it's going to be enough."
It would be enough; Wells made the final turn, onto the three-hundred meter finishing straight, four bike lengths ahead of Trebon and was able to maintain his momentum to win. He hoisted his bike above his head to celebrate. "It was my most emotional victory," he said on the podium after the race. "I was going as fast as I could go. I've been trying to win this race for the last four years. I really wanted it. I focused only on this race (in my training). To focus on something and have it pay off is an amazing feeling."
Mark McCormack
Photo ©: Marek Lazarski

Ryan Trebon took second. Jon Page held on for third ahead of Adam Craig and Tim Johnson.
Photography
For a thumbnail gallery of these images, click here
Images by Ed Collier/Ed Collier Photography
Images by Marek Lazarski/www.lazarskiphoto.com
Images by Keli Medcroft/www.keliskolor.com
Images by Bill Hurley/www.fastshotsphoto.com
Images by Russ and Nancy Wright/www.abbiorca.com
Results

Elite Men, 116 starters, 22.4km
 
1 Todd Wells (GT Hyundai)                                                59.03
2 Ryan Trebon (Kona)                                                      0.14
3 Jonathan Page (Liberty Mutual)                                          1.52
4 Adam Craig (Giant/Pearl Izumi)                                          2.13
5 Tim Johnson (cyclocrossworld.com-louisgarneau)                          3.11
6 Barry Wicks (Kona)                                                      3.34
7 Erik Tonkin (Kona)                                                      4.33
8 Tristan Schouten (Trek/VW)                                              5.00
9 Mark McCormack (Clif Bar)                                               5.16
10 Jonathan Baker (Primus Mootry Racing)                                  5.34
11 Michael Gallagher (U.S. Armed Forced Cycling Team)                     5.40
12 Steve Tilford (Verge/Shimano)                                          6.18
13 Pete Webber (IMBA)                                                     6.31
14 Ryan Leech (Fort-GPOA!)                                                6.41
15 Michael Cody (FiordiFrutta Elite Cycling Team)                         6.54
16 Shannon Skerritt (Vanilla Bicycles)                                    6.55
17 Carl Decker (Giant/Pearl Izumi)                                        7.17
18 Matt White (FiordiFrutta Elite Cycling Team)                           7.26
19 Jeremy Powers (Jelly Belly Pro Cycling Team)                           7.28
20 Joshua Snead (Rock Lobster)                                            8.20
21 Chris McGovern                                                         8.27
22 Noah Taylor (RGM Watches-Richard Sachs-Hudson Valley Velodrome)        8.37
23 Jonathan Hamblen (Fior di Frutta)                                      8.44
24 Whitey Debroux (Denver Boulder Couriers)                               8.46
25 Justin Spinelli (RGM Watches-Richard Sachs-Hudson Valley Velodrome)    9.08
26 Bart Gillespie (biogen-idec)                                           9.22
27 Chris Horner (Saunier-Duval)                                           9.54
28 Matt Kelly (Alan Factory)                                             12.04
                                                                              
One lap behind                                                                
                                                                              
29 Molly Cameron (Vanilla Bicycles)                                           
30 Adam Hodges Myerson (Team Nerac.com p/b Banknorth)                         
31 Jonathan Bruno (Independent Fabrication)                                   
32 Dan Vaillancourt (Giant/Gorham Bike)                                       
33 Johnathan Hanson (Team Nerac.com)                                          
34 Robert Foshag (Cane Creek)                                                 
35 Dan Wilson (Henrys Bikes)                                                  
36 John-christian Flack (The Valley Athletic Club)                            
37 Grant Berry (Rocky Mountain Chocolate Factory)                             
38 Aaron Molloy (1K2GO/S&W SPORTS CYCLING TEAM)                               
39 Andy Applegate (Easton/Kona)                                               
40 Shawn Harshman (Alan Factory Team)                                         
41 Ryan Barthel (Rocky Mountain Chocolate Factory)                            
42 Kurt Refsnider (All9Yards.com/Ralph Henderson Real Estate)                 
43 Jonathan Hansen (Richmond Ciclismo)                                        
44 Gunnar Shogren (Fort-GPOA!)                                                
45 Andrew Wulfkuhle (Alan Mid-Atlantic LSV/Kelly Benefits)                    
46 Greg Marini (coffee plus inc. com)                                         
47 Matt Shriver (Kona/Easton)                                                 
48 Charlie Storm (Inland Construction-Back To Dirt)                           
49 Brandon Dwight (TIAA-CREF/Clif Bar)                                        
50 Greg Wittwer (Fort-GPOA!)                                                  
51 Ryan O'Connor (1K2GO/S&W SPORTS CYCLING TEAM)                              
52 Anthony Wilhelm (Cycling Club of Nebraska)                                 
53 Johannes Huseby (FiordiFrutta Elite Cycling Team)                          
54 Mike Hall (Voo Doo Cycles)                                                 
55 Johnathan Degele (Inland Construction-Back To Dirt)                        
56 Jonathan Card (Cane Creek)                                                 
57 Ian Brown (River City/Tonic Fab)                                           
DNF Matt Kraus (Alan Factory Team)                                            
DNF Andy Jacques-Maynes (California Giant Strawberries/Specialized)           
DNF Brent Prenzlow (Celo Pacific/Salsa)                                       
DNF Ben Turner (TIAA-CREF/Clif Bar)                                           
DNF Jeff Weinert (Cane Creek)                                                 
DNF Jason Tullous (Voodoo/Drunkcyclist)                                       
DNF James Holmes (All9Yards.com/Ralph Henderson Racing)                       
DNF Weston Schempf (Fort-GPOA!)                                               
DNF Joshua Johnson (Big Shark Racing)                                         
DNF Sean Galegher (Hunt Vallet Bicycles)                                      
DNF Simon Vickers (Rocklobster/Traugott Guitars)                              
DNF Justin Robinson (California Giant Strawberries/Specialized)               
DNF Donald Snoop Jr. (Verge Test Pilot)                                       
DNF Matt Wilson (NAV/Pedros)                                                  
DNF Rob Moran (Inland Construction-Back To Dirt)                              
DNF Johnathan McCaffrey (Bicycleattorney.com)                                 
DNF Johnathan Behrens (Celo Pacific/Salsa)                                    
DNF Jeffrey Craddock (CCB/Volkswagen)                                         
DNF Jeremy Walker (Cane Creek)                                                
DNF Jesse Scatton (Bullseye Cycling/esbnb.com)                                
DNF Joseph Brenner (Red Rocks Velo)                                           
DNF Al Senft (NUVO/Bacardi)                                                   
DNF Andrew Weir (Sunrise Sports)                                              
DNF Brad Sheehan (1K2GO/S&W SPORTS CYCLING TEAM)                              
DNF Harry Anderson (SkiHut – Duluth)                                          
DNF Patrick Morrissey (Alan Grassroots)                                       
DNF Samuel Wheeler-Martenis (CCB/Volkswagen)                                  
DNF Tim Haitz (Vicious Cycles)                                                
DNF Mark Wiggans (Colonel's)                                                  
DNF Nathan Phillips (Solar Eclipse)                                           
DNF Ryan Myers (Team Chiropower)                                              
DNF J.P. Partland (Kissena Cycle Club)                                        
DNF Greg Ferguson (Fort-GPOA!)                                                
DNF Charles Pendry (Inland Construction-Back To Dirt)                         
DNF Richard McClung (Broadmark Capital)                                       
DNF Rusty Williford                                                           
DNF Jeff Wardell                                                              
DNF Ben Dodge (Easton/Specialized/LGBRC)                                      
DNF Steve Wallace                                                             
DNF David Goodwin (Human Zoom)                                                
DNF Henry Kramer (California Giant Strawberries/Specialized)                  
DNF John Meehan (Iowa City Cycling Club)                                      
DNF Gerry Pflug (SciFit/Dirty Harry's/Gary Fisher)                            
DNF Marc Bavineau (Essex County Velo)                                         
DNF Joseph Piccillo (Evolution Racing)                                        
DNF Adam Sullivan (Caster's/Majik Coffee p/b Apex Tech Group)                 
DNF Chris Strout (Team MACK Racing, Ltd.)                                     
DNF Ryan Fleming (Alan Factory Team)                                          
DNF Tom Hopper (Bikeman.com)                                                  
DNF Peter Ozolins (SpokePost.com)                                             
DNF Joe Depaemelaere (Primus Mootry Cyclo Cross Team)                         
DNF Daryl Sawyer (A.G. Edwards)                                               
DNF Kevin Attkisson (Texas Roadhouse Cycling)                                 
DNF Kristopher Auer (ALAN Mid-Atlantic)                                       
DNF Michael Seek (Human Zoom / Virginia Tech Cycling)                         
DNF Brian Keegan (La Festa Brick and Brew)                                    
DNF Alistair Sponsel (Colavita Racing)                                        
DNF David Sachs (Vision Quest / EJ's Place)                                   
DNF John Foley (Bike Alley)